Best AI Content Detector in 2023- For Bloggers and Webmasters
Last Updated on September 27, 2023
As AI generated content becomes more and more common, we also see ai content detectors tools popping to detect AI content to check for plagiarism,originality and help with fact checking. Let's check out the top AI content detectors. But first let's understand.
What Is An AI Content Detector?
An AI content detector is a computer program or algorithm that uses artificial intelligence techniques, such as natural language processing (NLP) and machine learning, to identify AI generated content in digital media. The purpose of an AI content detector is to automatically analyze and classify text, images, and videos based on predefined criteria, such as keywords, themes, or patterns and determine if it was generated by artificial intelligence.
Who would need AI content detector
Here are a few examples of entities who would want to use AI content detector.
Bloggers and webmasters
Content agencies
Website buyers
AI content is still considered lower in quality compared to human written content. There are plagiarism issues, incorrect information and SEO issues with AI generated content. So it only makes sense that entities that generate a lot of content or have content written for them would want to check the originality and quality of this content. Same goes for people or companies looking to buy a website with thousands of articles and need to check the quality of the content and if it's not copyrighted.

Originality.ai is an AI content checker that uses artificial intelligence and machine learning algorithms to detect similarities between submitted content and other online sources. The tool is designed to help writers, students, educators, and businesses ensure the originality of their work and avoid potential copyright infringement issues.
Key Features
Deep search: The tool uses advanced algorithms to scan the web and academic databases for matches with the submitted content, including paraphrasing and rewording.
Real-time analysis: The results are generated within seconds, allowing users to quickly identify any potential issues and make necessary revisions.
Multiple file formats: The tool supports a wide range of file formats, including Word documents, PDFs, and plain text.
User-friendly interface: The tool is designed to be easy to use, with a simple interface and intuitive navigation.
Pricing
Originality.ai charges $0.01 per credit, 1 credit scans 100 words for AI and plagiarized content. So if you need to scan 5 2000 words article it will cost you $100.
Overall, Originality.ai can be a useful tool for anyone who needs to ensure the originality of their work. However, it's important to note that no plagiarism checker tool is 100% accurate, and users should always double-check their work and use their own judgment.

GPTZero works by analyzing the text for patterns that are common in AI-generated content, such as repetitive phrases, unnatural word choices, and grammatical errors. This tool has been shown to be effective in detecting AI-generated content from a variety of sources, including news articles, blog posts, and social media posts.
Here are some of the pros and cons of GPTZero:
Key Features
Free to use (limited)
AI detection API.
Chrome extension.
Provides a detailed analysis of the text
Detects most AI language models (ChatGPT, GPT4, GPT-3.5, GPT3, GPT-J).
Pricing
Free up tp 5,000 character limit. Than you have an Educator Plan ($9.99 per month): 50,000 character limit and Pro Plan ($19.99 per month): 50,000 character limit.
Content at scale offers a free AI DETECTOR tool (up to 25,000 words). You can simply paste your content and the tool will check if it contains AI generated content. Content at scale also offers a content creation service that is guaranteed to pass any AI content detector tool check. They also offer a done for you service where they will write 20 optimized for SEO articles for you (including keyword research) for $2000/month.
Key features
Chat GPT, GPT-3 and othe AI writers detector.
Up to 25,000 words free AI content detector.
proprietary content generator that uses a mix of 3 AI engines, NLP and semantic analysis algorithms and than crawls Google, and compose the top ranking content.
Pricing
While the AI content detector is free. Content at scale content generator Plans start at $250/mo.
Copyleaks cloud-based plagiarism detection and prevention platform uses artificial intelligence and machine learning to scan text-based content for plagiarism and copyright infringement. The platform supports over 100 file formats, including Word documents, PDFs, HTML pages, and plain text.
Copyleaks can be a useful tool for businesses, educators, and individuals who need to ensure the originality of their content. However, like all plagiarism detection tools, it is not 100% accurate, and users should always double-check their work and use their own judgment to ensure that it meets the necessary standards.
Key features
Deep search: The platform uses AI algorithms to scan the web, academic databases, and other sources to identify potential matches with the submitted content.
Multiple language support: The platform can detect plagiarism in over 100 languages, making it useful for businesses and educational institutions around the world.
Real-time results: The platform generates results within seconds, allowing users to quickly identify potential issues and take action.
API integration: The platform can be integrated into other applications and systems using its API, making it easy to incorporate plagiarism detection into existing workflows.
Pricing
Copyleaks.AI pricing is credit based where each credit scans 250 words. Pricing starts at $8.33/month for 1200 credits or $9.99/month on a monthly plan. If you need more content scans you can adjust the pricing accordingly .
While INK AI main tool is an AI writer it also offers an AI content shield to ensure your content is plagiarism-free and not flagged as written by AI. They also have a variety of AI tools like AI writing assistant, AI keyword research and an AI image generator.
Key features
Automatically get your content checked in the background while writing it.
Get insights about the originality of the content.
Patented SEO optimization engine.
Pricing
Ink offers a 5 day free trial with 10,000 words to test. Than it's $39/month on annual billing plan or $49/month on monthly billing.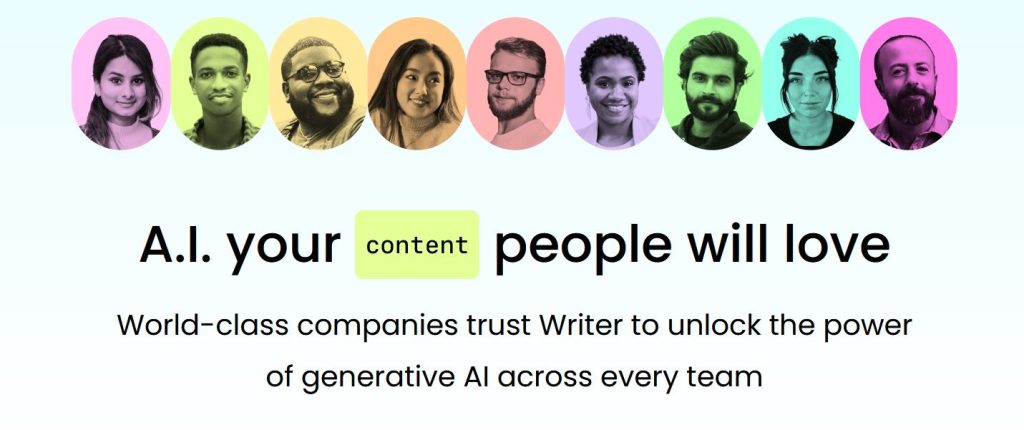 Writer ai is also an AI writing tool that one of it's features is AI content detection. They claim they can write AI generated content that sounds and feels like human written content.
Key features
Automated AI content and plagiarism detection via API.
Snippets- allow you to create content templates that you can reuse to save time when creating content.
Highlights- text that can be improved or suspected to be AI generated or plagiarized is automatically highlighted and also gives you suggestions on how to improve the text.
Pricing
Free trial is available for 14 days. Than it's $18 a month on monthly billing or $162/Year (3 months free basically compared to monthly billing). This is for teams of 1-5 per user. Bigger companies can contact Writer for a custom quote.
Bottom Line
As AI becomes more prominent, businesses that generate content need to make sure they are not using plagiarized content that can lead to lawsuits and/or Google penalties that will hurt their business. I believe the future will be a mix of human generated content plus AI content optimization/moderation.
Always make sure your content is unique, original and adds value to your readers.
FAQ
Is there a chat gpt detector?
There are a few tools out there to detect chat gpt content:
1.Originality AI
2.GPTZero
2.Contentatscale
3.Ink AI
Some are free but limited, if you are creating a lot of content using AI , it is best to make sure it is not easily detected as solely AI generated content.