Best AI Copywriting Software – Automate Your Writing Tasks
Last Updated on September 27, 2023
With AI (artifical intellegience) penetrating into our lives in many fields so it does in copywriting and content writing. Here we review the top 6 Best ai copywriting software out there, so you can make the most informed decision on which software to go with.
What Is an AI Copywriting Software?
An AI copywriting software is a web application that uses deep learning processes to mimic natural human speech and write copy.
AI copywriting software can be used for everything from creating converting headlines, writing product descriptions, social media posts to creating long-form blog posts, all at the click of a button.
Who Is Using AI Copywriting Software?
As AI Copywriting software becomes more developed, the question is, "Who isn't using AI copywriting software?"
From freelance bloggers to massive enterprises, everyone is beginning to use AI copywriting software to help them create content and continue to rank on SERPs. In the words of Hal Koss, "in the future, we'll all be editors."
What Kind of Content Can an AI Copywriting Software Produce?
AI copywriting software can produce a multitude of content.
It can create blog headlines then write the blog, create outlines, create ad copy, write social media descriptions and ads (often tailored to the specific medium), help you brainstorm, and even get you started writing the next great American novel.
Best AI Copywriting Software
The market of AI is constantly changing and we try to bring you the most up to date AI copywriting tools. Here are our top picks:
Content at scale is a reltively new AI copywriting tool, but in our opinion it provides the best value for money. (Although it is more expensive than the other ones). It is currently the top tool for bloggers looking to write SEO optimized long form post with minimum effort. You can write a post based on a keyword an existing blog post a youtube video, podcast, document, or custome audio file.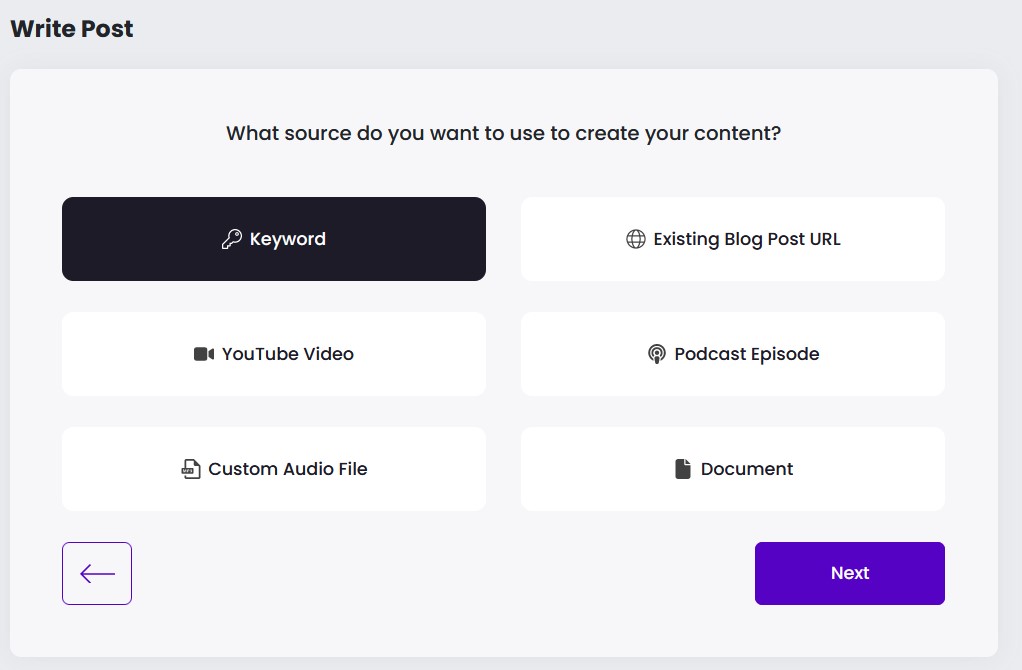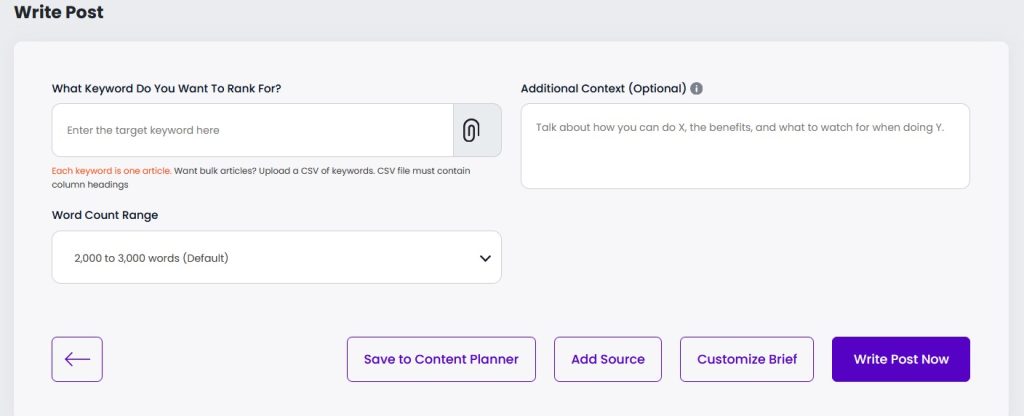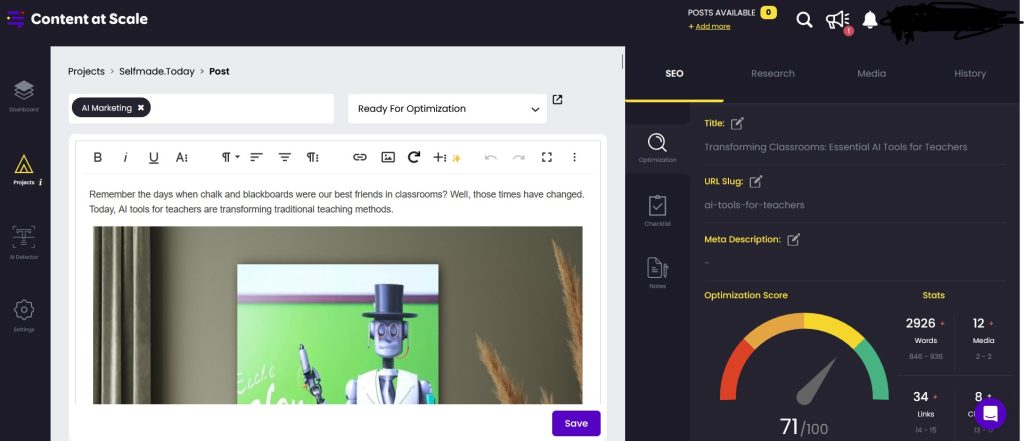 Content at scale also offer a free AI content detector , great support team and very helpful youtube channel that walks you through each and every feature.They also have a wordpress plugin which can automatically publish your posts into wordspress in any status you choose (draft,pending review, published, etc.)
Content at Scale Pricing
You can try out 2 posts at a discounted price of $39.9. Than the basic plan starts at $250 a month for 8 posts. As mentioned this is a bit more pricy compared to the other tools reviewed here. But after trying it out we can tell you it generates the best quality content for blogging. Also when you think about it comes to $31 a post. If you had to pay a writer for a 3000 words well researched , SEO optimized post it would probably cost you at least ($150 at 0.05 a word). So it's still 5 times cheaper than a human writer. Special treat since you made it this far -Get 20% discount at any of content at scale plans if you follow this link==>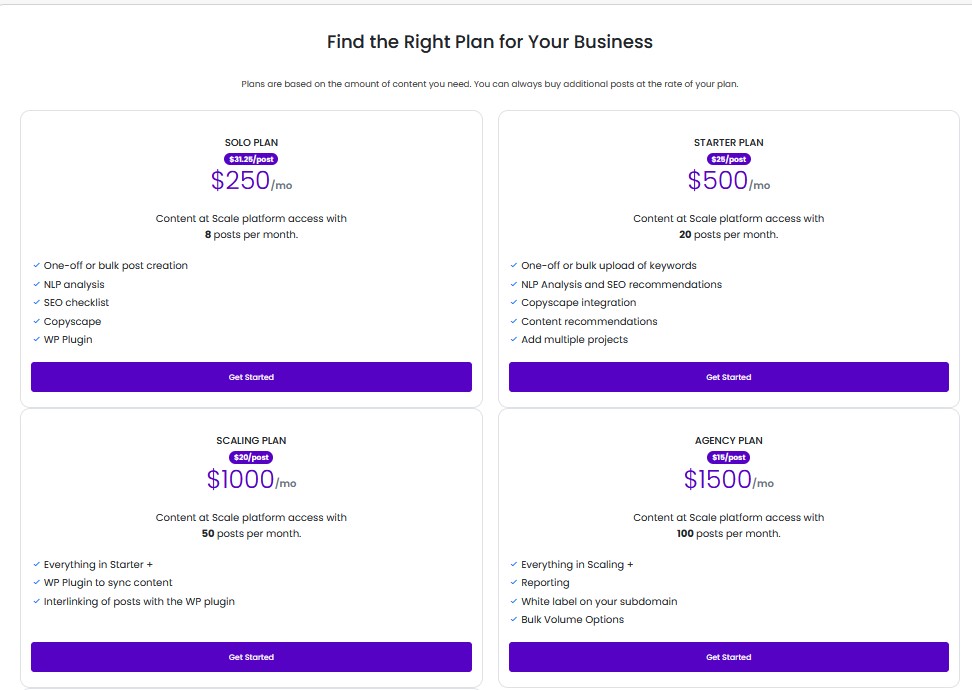 Jasper.ai (previously Jarvis.ai/Conversion.ai)

Founded by a group of friends in Austin, TX to smash writer's block and develop excellent web content, Jasper.ai is just a year old but has already found great success working with such multinational companies as Google, Airbnb, Verizon, and over 30,000 more.
With a highly streamlined and easy-to-use platform, Jasper runs the gambit from helping you to generate topics for blog posts to writing emails to writing engaging short stories for your readers. Let's look at what makes Jasper.ai so unique.
Jasper Features You'll Love
There are plenty of features to love with Jasper. Here are a few of our favorites.
Powerful AI technology: Jasper uses GPT-3 (Generative Pre-trained Transformer-3), a kind of artificial intelligence that uses deep learning to develop high-quality texts that appear to have been written by a human. GPT-3 is a game-changer in machine learning and has been referred to as one of the most "important AI systems ever produced."
Adaptability: No matter what you're using Jasper for, it can adapt to the style, tone, and content type you require. As you're prompting Jasper to create any content item, there's a bar that allows up to 80 characters in which you can input tone. Input terms like "witty" or "formal" are classic, but you can also get creative.
Native speaker-level content for all: Jasper' content is grammar error-free—naturally. Its powerful deep learning techniques allow it to write just like a well-paid native speaker. What sets Jasper apart, though, is it has outreach in 26 languages, meaning no matter what your native language is, you can likely create the kind of content you desire with Jasper.
Recipes: Using Jasper' "recipe" subtab, users can get Jasper to create complete and robust long-form content.
Jasper is excellent at creating this long-form content if you just give it a few prompts. For example, the title of the blog post (which you can generate via Jasper) and the sub-headings (which, yes, you can also generate via Jasper).
What Kinds of Content Can Jasper Write?
Jasper can write all kinds of content—its robust offerings are a big part of the secret of this company's success.
Blog posts: Likely the bread and butter of Jasper' offerings, blog posts are one of the first things that come to mind about Jasper' software. In addition to helping you brainstorm blog post ideas, Jasper will tell you what headings to include to help with SEO. If you're stuck, have Jasper generate an intro and conclusion for you, too.
Frameworks: Using tried-and-true business frameworks like AIDA (Attention Interest Desire Action), Jasper can help you with workflow while helping you to organize your thoughts around a certain product.
Emails: Whether you're writing cold emails and want to be sure you'll get a response or just want Jasper to generate some clickable subject lines, any email is a piece of cake with Jasper.
SEO/SERP: Jasper can create catchy headlines and generate ideas for interesting blog posts that are guaranteed to generate leads by learning from the top-hitting sites on the web.
Social media: Writing compelling captions for your photos, asking engaging questions for your audience, and penning intriguing narratives are just three of Jasper' features that help it save you time on the social media side of your business.
Jasper Pricing
Jasper has two basic modes: "Starter" and "Boss."
Starter: $24/month. Starter mode gives you 20,000 words per month, all the copywriting templates available, access to a copywriter community on the web, and structures like files and folders that help you organize your workflow.
Boss: $99/month. In addition to everything offered by Starter, Boss mode offers you unlimited words per month and long-form blog content (recipes). The additional SEO mode is a nice perk that helps you create posts that rank high on SERPs.
Jasper Pros and Cons
Pros:
Very easy to use.

The content Jasper creates is some of the best AI content I've seen. Everything fits, and Jasper doesn't spin very much nonsense.

The Starter package is extremely affordable for freelancers and smaller companies.
Cons:
The long-form content tends to be less reliably good than the short-form content.
Copy.ai, or CopyAI, is another AI-powered copywriter made by a self-described "scrappy" team of coders from Memphis, Tennessee. For a company with under ten employees, CopyAI has a massive reach and has quickly grown internationally since its 2020 inception.
It now exists in 24 languages but is ever eager for patron input to assess demands for new languages.
Like Jasper, CopyAI uses natural language processing and embedded domain expertise to deliver powerful lead-driven copy for social media posts, blogs, and more.
Copy.ai Features You'll Love
NLP: Using natural language processing, CopyAI isn't just able to read and learn from texts on the internet to help you generate new ideas for blog posts and social media captions. CopyAI can learn from you, quickly adapting its language to fit the tone of voice of your site or blog.
Highest-level deep learning AI: Like Jasper, CopyAI utilizes the most advanced in web-based deep learning technologies, GPT-3.
Personalized AI: Whether you're writing a post for your blog or sending a birthday card to a hard-working employee, CopyAI can run the gamut from formal copy to informal, witty, and sarcastic quips. You don't even need to tell the AI what tone you prefer: it learns based on how you prompt it.
What Kinds of Content Can copy.ai Write?
CopyAI can write content both personal and commercial, informal and formal. Here's an overview.
Digital ad copy: CopyAI can pen headlines, develop variants for ad copy, create Google descriptions and headlines, and even create LinkedIn ad copy.
Brainstorming across the board: CopyAI can help you refine your audience, write your brand mission, perfect your voice, and even generate mottos with your new startup. Beyond that, it can help generate blog post titles, names of products, ideas for startups, and even help you develop viral ideas.
Personal tools: Whether it's writing a birthday card for a favorite employee or a beloved relative, drafting a cover letter for your job search, or even writing a love letter, CopyAI can create language that feels personal, meaningful, and human.
Writing accelerator: If your writing is handled in-house, but you just want a second pair of eyes (or algorithms) to double-check your work for things like word choice and active voice, CopyAI has you covered.
Copy.ai Pricing
CopyAI is priced on a tiered system based on how many users have access to the functions. For small businesses, the "Solo" option is best, as it is the cheapest. With Solo, you gain access to all the functions that make CopyAI so great, but only one person can access the site's tools.
For larger businesses, you can "add seats," meaning you add users to your account.
The current rate for the Solo plan is $35/month (annual plan) or $49/month (monthly plan). For more seats, the price is $420 yearly times the number of users, followed by a 29 percent discount.
For a company that wants to have three accounts on CopyAI, the rate would be 420*3*0.71= $894.60/year or $74.55 per month.
Copy.ai Pros and Cons
Pros:
The basic "Solo" account comes with all the features CopyAI has to offer.

Can help with personal and company projects.

The platform is streamlined and easy to use.

Free trial available for seven days without adding a credit card.
Cons:
CopyAI is best with headlines and attention-grabbing blocks of text. Functionality suffers when writing paragraphs, for example.

There is no "tone" prompt for the AI on CopyAI, meaning you have to put more input to generate a text with an appropriate tone.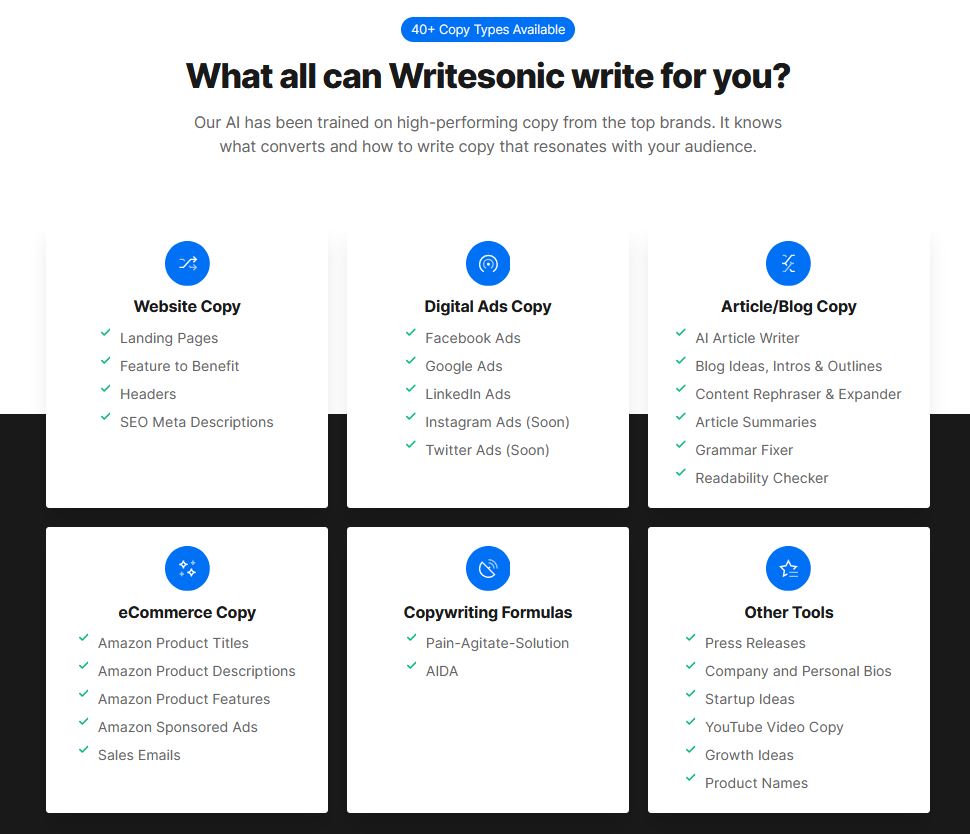 Founded in January of 2021, Writesonic is one of the youngest companies on our list, and yet it is already making news.
Writesonic is the brainchild of a group from Wilmington, DE, whose AI deep learning-powered software works especially well for agencies, e-commerce brands, and marketing teams.
Read Our Full Writesonic Review==>
Utilizing GPT-3, Writesonic takes all the pain out of writing copy and helps anyone generate ideas, create headlines, and even write full articles, all for a no-obligation pay-as-you-go membership.
Writesonic Features You'll Love
Live editor functionality: Writesonic's software utilizes verbosity detection that tells you when your writing is too dry and sparse. In addition, its brainstorming and writing tools can write full articles for you, so you only have to focus on the big picture.
Analogy generator: Caught in a rut? Writesonic's analogy generator can help get the ball rolling.
Expandable use with another writer: Depending on which tier subscription you've purchased, you can share Writesonic's functionality with another user.
Unlimited limited free trial: WriteSonic's free trial has no limit. If you log in with Google or create an account today, you get five credits for free, meaning you can generate five different pieces of content either now or in five years.
What Kinds of Content Can Writesonic Write?
Writesonic offers several powerful, high-quality tools that make them competitive with the biggest AI copywriting software out there.
Amazon ad headlines: Geared specifically for Amazon ads, Writesonic can create better headlines at an increased conversion rate.
Meta titles and meta descriptions: Learning from your writing, Writesonic can read and write up a meta title and meta description designed to optimize Google SEO.
Product descriptions: Stop worrying about having to think of an authentic-sounding product description for your Amazon page or website. Writesonic does it for you!
Writesonic Pricing
Writesonic has a tiered subscription service that companies can opt into or a pay-as-you-go service for business owners who aren't sure how often they'll use Writesonic.
Every time you generate something with Writesonic, whether it's headline ideas or full articles, it costs one credit. You can purchase credits in batches of 50, with 50 credits costing $25. As you buy more credits, the cost per credit decreases.
The subscription services seem to be what Writesonic prefers its customers to choose, and as such, these subscriptions are very reasonably priced.
Basic: Users get 75 credits per month at a rate of $15 per month. One user can use the account.
Professional: Users get unlimited credits per month at a rate of $45 per month. One user can use the account.
Startup: Users get unlimited credits per month at a rate of $95 per month. Two users can use the account, and purchasers of this line receive priority support from Writesonic's team.
Agency: Users get unlimited credits per month at a rate of $195 per month. Four users can use the account, and purchasers of this line receive priority support from Writesonic's team.
Furthermore, purchasers of the Agency package can request custom features and, when it's fully developed, will be able to access the white labeling feature. Presumably, this is a feature in which content is developed and spun by the Writesonic team for their customers' use.
Writesonic Pros and Cons
Pros:
Monthly subscriptions are very affordably priced for the lower-end packages.

Can generate lengthy content, not just headlines.

Available in eight different languages.
Cons:
The highest end of the subscription service is one of the most expensive on our list.

Sometimes the generated content sounds like, well, a bot wrote it.

The pay-as-you-go feature is nice but too expensive to make it worth it.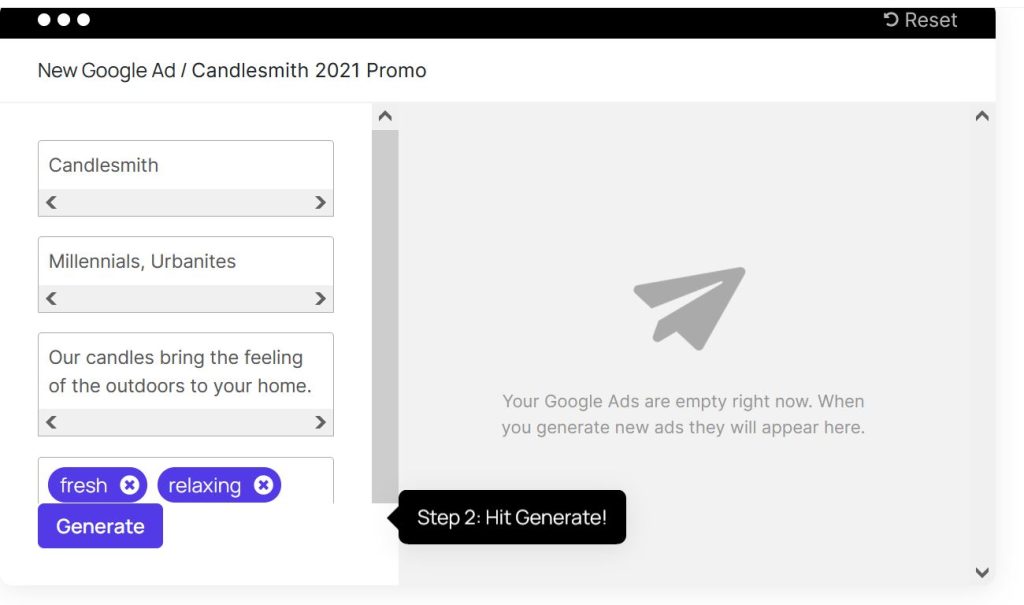 Founded in October 2020 by Anna Wang in Silicon Valley, Copysmith.ai (or Copysmith)'s AI-generated content is perfect for everything from freelancers to e-commerce owners to marketing agencies and in-house marketing teams.
The broad functionality of Copysmith is the reason for its massive funding success, having received 10 million dollars during seed funding.
With this funding, Copysmith is further developing its utility and ability to create excellent copy at the click of a button.
While being great for freelancers, Copysmith has probably found its most significant userbase in enterprises. Big-name brands currently utilize its platform, such as Marshall's and Change.org and the PR and Consulting Agency, Guitar.
Copysmith.ai Features You'll Love
All your copy in one convenient place: In addition to helping you develop your copy, Copysmith.AI is also a platform in which you can store your articles, edit them, customize them, export as CSVs (and import additional CSVs), and share with your team.
Content rewriter: As you're working on your content, you can use Copysmith.AI to help you review and edit your work. Copysmith will check for errors while offering suggestions to improve your writing, like better word choice and more interesting sentence structures.
Brainstorming: As they say at Copysmith, you never have to stare at a blank page again. Using Copysmith's tools, you can input keywords and have Copysmith generate ads, emails, product descriptions, and anything else you might need in this increasingly digital world.
What Kinds of Content Can copysmith.ai Write?
As it exists for freelancers and marketing agencies and everything in between, Copysmith can write a wide array of content.
Ads: Write Instagram, Facebook, Amazon, and Google ads, come up with Amazon product descriptions, and more.
Blogs: Copysmith can do everything from generating blog ideas to coming up with headlines for your blog or even writing an entire blog post.
Brainstorming: For whatever reason, you need to generate ideas, whether at a marketing agency or as a freelance pitcher; Copysmith's brainstorming tools are excellent. The article writing assistant is also very helpful for making work seem polished and professional.
Branding: Come up with SEO metatags, brand essence statements, landing pages, and taglines.
Whatever you're working on, Copysmith's AI can learn and adapt. The "pitch yourself" tool is especially useful for freelancers seeking writing work.
Copysmith.ai Pricing
Choose Copysmith for social media, copywriting, and content marketing needs. Copysmith offers various plans, with annual subscriptions costing less per month than monthly ones.
If you're an e-commerce marketer who produces many content types, this might be the route for you.
Here are the monthly plans Copysmith offers.
Starter: $19/month. The most basic plan. Users receive 50 credits per month. Additionally, 20 plagiarism checks are available as well as all short-form templates and email support.
Professional: $59/month. In addition to everything available at the starter level, a Professional package gives you unlimited credits and 100 plagiarism checks. Long-form blog generations also become available, and 100 are granted per month. Chat support is also available.
Teams: $118/month. In addition to the features of the Professional package, two users can use Copysmith's tools. Each additional user costs $49/month. Finally, five times the number of long-form blog generations are available per month, at 500.
Custom: Custom packages are available upon request with individual prices for anything beyond the preset monthly plans.
Copysmith.ai Pros and Cons
Pros:
Great for freelancers and large-scale enterprises alike.

Long-form content is strong.

The Teams package is a very good deal for enterprises.
Cons:
Only reliably available in English as of now.

Platform less user-friendly than others on our list.

ShortlyAI (*Update Shortlyai was acquired by Jasper)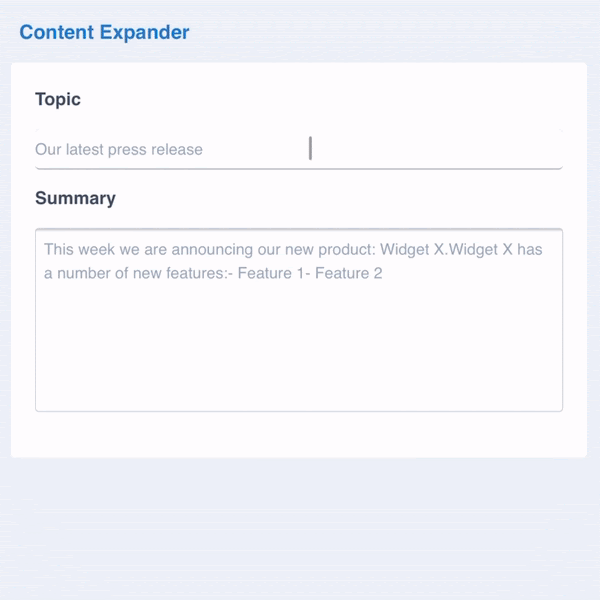 ShortlyAI is a powerful AI copywriter utilizing the most advanced deep learning technology, GPT-3. As of now, ShortlyAI is likely the simplest and easiest-to-use AI copywriting tool that acts more like a collaborator than an AI copywriter.
In terms of minimalism, ShortlyAI takes the cake. Unlike some of the other AI copywriters we've looked at in this article, ShortlyAI's platform doesn't feature a long menu of copywriting content and options.
The platform is simple, with a blank white page like a Google Doc with a small "Write for me" button at the bottom. If you're stuck on a sentence or thought, simply press "write for me," and Shortly will come up with a few sentences to get the ball rolling again.
ShortlyAI Features You'll Love
Intuitive workflow: You can write your blog posts or ad copy directly into ShortlyAI, just as you might have done in a Google Doc or Word Document in the past. With ShortlyAI's simple one-click format, you only have to use ShortlyAI when you're stuck.
Give instructions: You don't just have to rely on ShortlyAI's intuition when writing. You can use AI commands using the "/" key to tell Shortly AI what you want. You can press "/give instructions," for example, to tell ShortlyAI what you want it to write about.
Rewriting: Using a "/" command, ShortlyAI can rewrite your text for you, increasing the creativity and verbosity of your text or simply spinning new content.
Expanding/Diminishing: ShortlyAI can also take a chosen piece of text and shorten it or lengthen it based on your needs.
What Kinds of Content Can ShortlyAI Write?
Blog posts. Probably best with long-form content, ShortlyAI is great at expanding upon blog posts or helping you to refine what your in-house team has already written.
Copy. Because ShortlyAI learns from what you write, when working on short texts, it's probably best to have a prepared text that you put into ShortlyAI that you want it to edit. If you want ShortlyAI to create ad copy for you on the fly, it can sometimes misinterpret what your product is you want it to write about.
ShortlyAI Pricing
Shortly AI has one payment plan that can be billed either monthly or yearly. All known features are available with both plans. At the price of $65 per month for the annual plan or $79 per month for the monthly plan, ShortlyAI may be a little too expensive for single freelancers and may make more sense with a larger company.
ShortlyAI Pros and Cons
Pros:
Streamlined and extremely easy-to-use platform.

Works fast and is very easy to incorporate into existing workflow processes.

Only one payment plan, whose price is lower than other premium services.
Cons:
Don't expect ShortlyAI to write full content for you. It's a collaborator, not a standalone writer.

Unlike other AI copywriting services, ShortlyAI doesn't give you choices: it simply writes the content for you. You'll have to ask it to rewrite it if you don't like what it gives you.

Sometimes the AI with ShortlyAI makes up facts and figures that sound correct but, upon further inspection, are slightly off.
Rytr.me takes pride in a large variety of AI generated content it can create. Blog posts, business pitches, copy writing frameworks, emails, Facebook/Google/LinkedIn/Twitter ads, job descriptions, landing pages copy,product descriptions, SEO descriptions, testimonials, videos outline even lyrics.
Rytr.me Features You'll Love
30+ languages support- Rytr claim that "Unlike other similar tools, we have a proprietary approach for supporting multiple languages that are not dependent on GPT3 limitations, allowing us to deliver a much better quality of output. "
Tone-You can choose the tone of speech of your content generated, 18 different tone kinds (Convincing, assertive,inspirational, casual etc.).
Chrome extension- that makes it very easy to use rytr acroos all websites/web pages.

Friendly interface and work flow- Generate content in just 4 easy steps: Select language, select tone, select use case, add input (provide some keywords, phrases, or titles)
SEO Analyzer– Will find optimal keywords and create a well written content briefs.
3rd party plugins- WordPress, Shopify, Zapier and more.
Rytr.me Pricing
Rytr offer annual pricing at $29 a month. which will give you 5000 words, unlimited characters, 30+ use cases, 30+ languages, 20+ tones, Dedicated account manager, Priority email & chat support and Access to premium community.
Rytr.me Pros and Cons
Pros:
Affordable pricing for all budget types.

Easy and fast workflow.

Dedicated account manager for a premium account.
Cons:
Compared to other tools like Jasper for example, content quality is lower.
Unlike other AI software, closer copy isn't using the GPT-3 language model. Closer Copy take pride in writing the best AI marketing copy.
Top Features
Proprietary AI writing technology.
Comprehensive training.
Support 127 languages.
SEO audits.
700 plus frameworks.
Pricing
Starts at $49.99/month (power plan), than $79.99/month (super power plan) than Superpower Squad plan at $99.99/month. Main differences between the plans is the number of runs you have (unlimited on super power and superpower squad) and number of users.
Closer copy also offers a unique life time deal for $441 (power plan) , $561 (super power plan) and $741 (Superpower Squad plan)
Pros:
1 payment affordable lifetime deals.
proprietary AI writing technology.
Cons:
UI isn't very user friendly.
No plagiarism tools built in.
Basic plan very low on runs (only 300)
Writecream is a fairly new player in the AI copywriting market. It has a lot of the standard copywriting templates like its competitors but also unique ones like podcast script generator, dating profile bio generator and backlink outreach templates for SEO backlink outreach.
Top Features
75+ Language support.
Free forever plan.
Great video tutorials.
Plagiarism and Grammar Check.
YouTube Voice-Over & Podcast.
Pricing
Writecream has a free plan that is limited by words but if you just want to try it out it's a good way to start. Next plan is unlimited at 29$/month, standard at $49/month and extended at $69/month.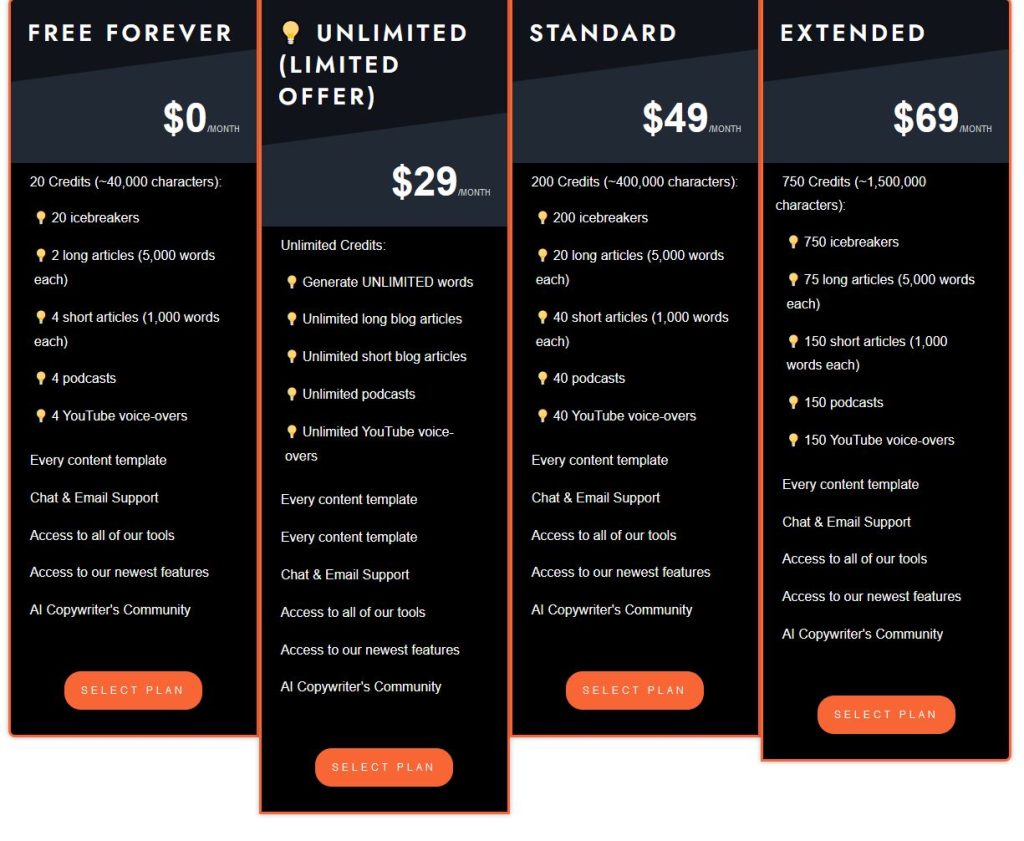 Pros
24/7 responsive support team.
Android and iOS app.
Multi language voice overs.
Cons
Output accuracy needs to be improved.
Can be a bit overwhelming for new users.
Factors To Consider-Best AI Copywriting Software
What should you look for when choosing the best AI copywriting software for you? You need to consider what you're going to use the software for, the price, and some of the features, like whether you can have multiple editors on your software of choice.
What Will You Use It For?
If you're going to just use your AI copywriting software to help refine and edit your work or help you generate, for example, headlines, you'll want to go for a cheaper option. Look at Jasper's "starter" plan or CopyAI "solo."
If you're writing longer-form content, you'll need a service that can do this reliably. Jasper tends to take the cake in this respect.
Cost vs. Benefit
Cost-benefit analysis can go a long way in determining which AI copywriting software is best for you. Going for a cheap option may not make any sense if your needs are better suited for one of the more expensive software, while the most costly isn't always the best for every user.
How Many People Will Use It?
Many of the software on our list are restricted based on how many people can use the software. With Copysmith, for example, you have to get to the third payment tier before multiple people can access the features of the site that they need.
Bottom Line -Best AI Copywriting Software

In the end, our top pick and the best AI copywriting software for us is Jasper. Why?
First of all, Jasper' content is simply the best from a purely personal and subjective point of view. I've tried out all of the copywriting software on this list, and I can tell you I was the most impressed by the ideas Jasper offered.
Second, Jasper is multi-functional. It is excellent at everything from helping you brainstorm blog ideas to writing up long-form content to creating Instagram ads.
Finally, Jasper' prices are reasonable. At just $24/month for the Starter annual plan (or $29 monthly), its functionality far outstrips that of, say, ShortlyAI's $65/month. The highest tier, the $99/month "Boss," is competitive with Copysmith's $119/month but much better in performance in our opinion.
If you're ready to get started copywriting using AI, save time writing copy and/or money hiring writers. now's your chance, this is the future of copywriting. Have you started using AI copywriting already in your business? Let us know in the comments!
FAQ
What's the best software for writing a book?
If you are looking into the future AI tools like Jasper.ai will probably replace most book writers. You can actually write a whole book with AI in less than 1 week. All you need is a topic and an outline really. (even the outline can be written by AI). You can see an example of AI can write a whole book here==>
How good is AI copywriting?
As any AI tool it keep getting better and better. It's still not at a point where it can fully replace writers but I'm sure it will in the future. At the moment AI copywriting can save you a lot of time in your writing tasks. You will still need to do fact checking, check for grammar and proofread. But if in the past writing a 1000 words post would take you 3 hours for example from my personal experience now it will take you less than an hour.