Writesonic Review: How Good Is It For AI Content Generation?
Last Updated on October 6, 2022
This is a review of Writesonic, an AI content generation platform.
After years of writing content, we have experimented with using artificial intelligence (AI) software for writing. We devoted time to in-depth research on Writesonic to see how well it works and how the content generated is compared to a human writer.
We found Writesonic to be a decent tool for AI content generation. It's affordable and user-friendly with a range of tools available. While it might not be the best option for in-depth, technical pieces, leveraging the platform for mundane and high-volume copy can free you up to handle important articles.
This comprehensive Writesonic review includes everything you need to know about what Writesonic is, how it works, and the key features. We will even discuss what customers think about the platform.
Let's dive in!
Writesonic Software Overview
Writesonic is an AI writing software platform that promises to deliver quality copy for websites, digital ads, blogs, eCommerce, and more. The platform serves as a support tool for teams who feel overwhelmed by the amount of work or struggle to refine their messages.
Artificial intelligence has come a long way in recent years with more firms and individuals turning to AI technology to support their workflow. It's no surprise that AI content generation is gaining popularity as teams struggle to keep up with current trends and the growing demand for quality pieces.
What Does Writesonic Do?
Writesonic is a platform that helps brands craft quality content across multiple modes. Teams select a template from the 40 available options. Choose everything from landing pages to blog posts.
Once you select a template, the platform asks you to input some brief thoughts for the piece. You only need to provide a line or two for the description and the AI does the rest.
Click generate to receive the suggested copy that you can edit, copy, and use wherever you need the content. If you don't love the initial copy, click regenerate to find an alternative variation. All of the generated copy belongs to you, and you can use it for anything.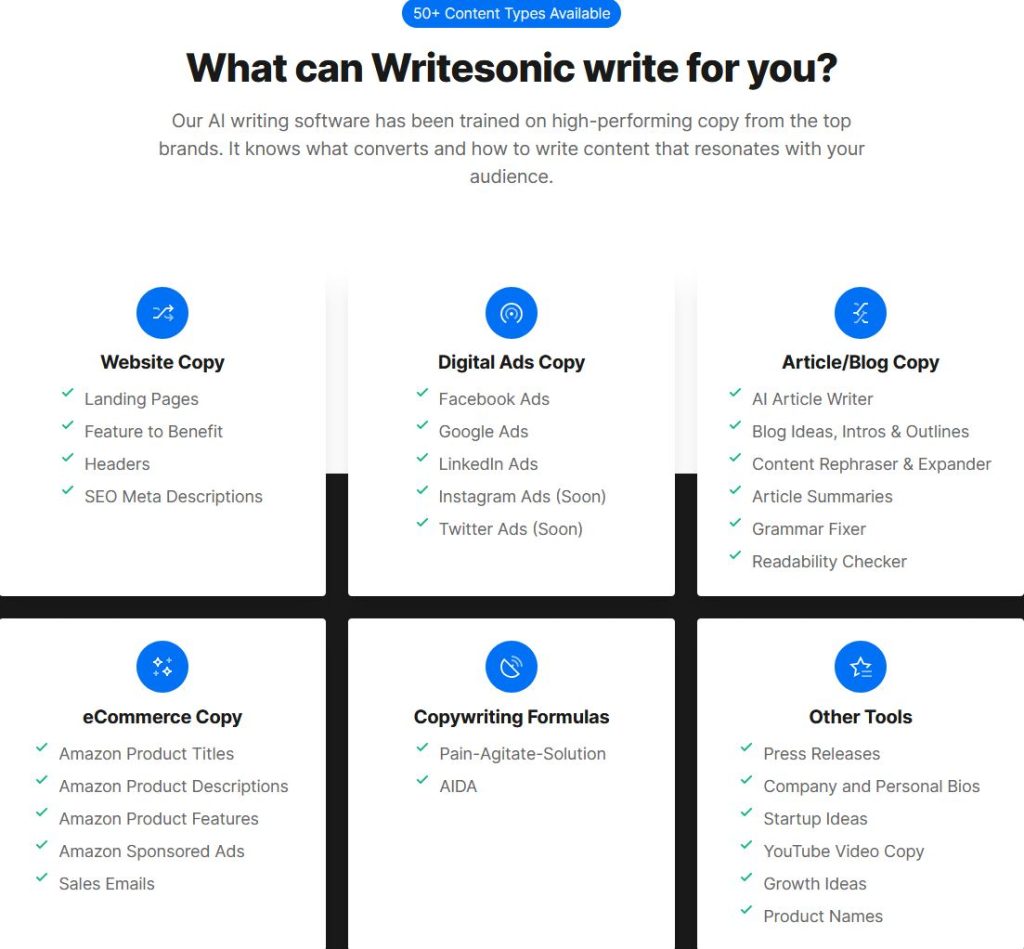 Is Writesonic Good?
Writesonic is highly rated across multiple sites, with thousands of customer reviews. The platform carries a 5-star average on G2 with more than 1100 reviews. On Trustpilot, Writesonic has over 1100 more reviews with an average rating of 4.8 stars.
Most reviewers comment on the ease of use and quality content compared to the pricing. Several commenters note the high readability scores and impressive accuracy across the board. The few complaints center on issues with plans and free credits, and there are surprisingly only a few we could find.
Plus according to writesonic they have quite a few users, you might even know some of them (:

Writesonic Pricing
One of the recurring comments on Writesonic is value. You have several pricing packages to choose from depending on how much you plan to use the software and what tools you need.
The free trial includes ten credits and access to the basic features for one user.
The Basic package is for individuals who only need the basic features, but it includes 100 credits for $15 per month.
Bump up to the professional package level for $45 per month to access unlimited credits.
The next package is the Startup for small businesses that need access to all of the features. For $95 per month, you get two users, priority support, and higher quality content.
Larger businesses and agencies can upgrade to four users for $195 per month with the Agency package.
The Startup and Agency packages feature unlimited credits but differ in the number of users allowed to access the system.
One of the key points is that Writesonic doesn't use contracts, so you can cancel at any time. Further, the platform offers a pay-as-you-go feature for those who only use it occasionally. If you want to save some more you can go with annual billing which will save you about 20% on your plan.

What You Get With Writesonic
This platform is geared toward teams and agencies seeking support for content creation. It's ideal for automating some of the workloads without investing excessive time or money for setup or backend clean-up. After all, who wants to invest in a system that makes more work for you and your team?
Website and Landing Pages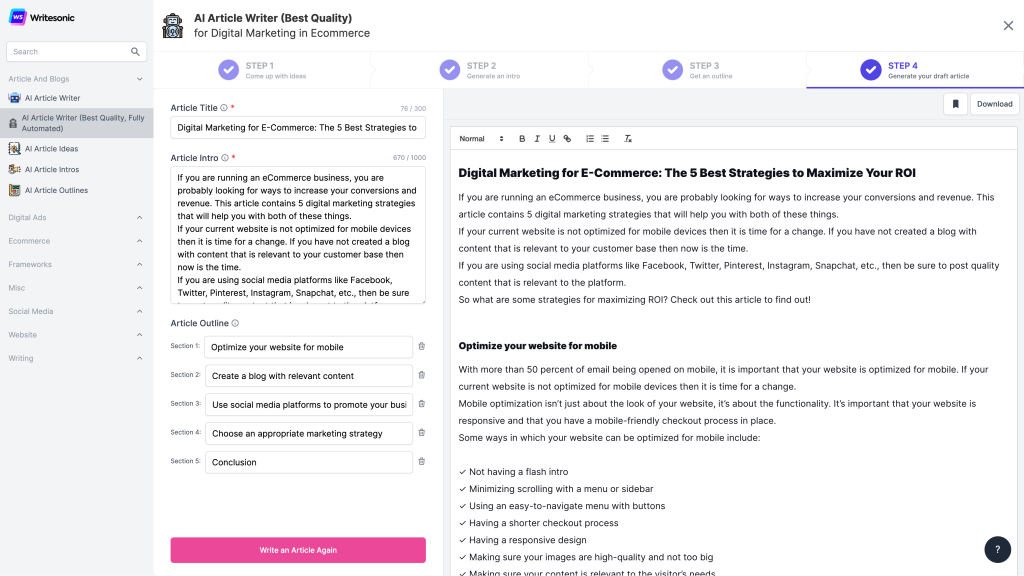 Whether you're refreshing your website or building out new pages to expand, you need a lot of copy to fill space and satisfy those search bots. Writesonic handles everything from compelling headers to those all-important SEO meta tags, meaning your site doesn't miss a beat.
One of the best parts is that Writesonic optimizes the content so you don't have to. You get a range of options that reworks your input into a succinct copy that emphasizes all the right features and benefits.
Articles and Blogs
Writesonic also helps with article and blog writing by generating outlines to help writers create succinct, focused pieces. Aside from long-form articles and introductions, you can access article ideas and introductions to get you started.
You can also look over lists of ideas and see sample outputs to get an idea about what to expect. The varying levels of content generation come with different price points, so be aware that the free trial and basic level may not include everything.
Advertising Copy
The right product title and description can make or break sales, and that's where Writesonic can help. From social media ads to eCommerce copy, having the right content can make or break your business. Writesonic generates ads, product descriptions, and sales emails to help you sell better.
Currently, the platform focuses on Amazon for eCommerce. For social media, Writesonic generates ads for Facebook, Google, and LinkedIn. It plans to expand to Instagram and Twitter ads soon.
Additional Tools
Writesonic provides a collection of helpful tools to guide you through various aspects of writing. Sometimes ideas and an outline aren't enough to round out a bit of copy, and that's where these tools come in handy.
The content rephraser provides alternate tones to reach different audiences.
The content rephraser provides alternate tones to reach different audiences.
Use the text summary tool to succinctly capture the main ideas from your text.
Use the listicle ideas generator to input your target keyword and receive the perfect title for your next list.
*Enhance your writing with the sentence expander by providing content and selecting the desired tone.
These generators are easy to use and often require a few words or sentences. Plus, you can play around with different tones to adjust your copy to work in different spaces.
Available in Multiple Languages
Another key selling point for Writesonic is that it offers 25 different languages. While the platform doesn't translate information for you, it does open the door to better communication in other languages.
You could easily use a translator or translation tool for your basic ideas and input that information to generate content. It might not be ideal for high-quality blog posts, but it could help with Amazon ads in foreign markets.
Educational Resources and Tools
Writesonic is surprisingly easy to use, but that doesn't mean you don't need support from time to time. The platform understands that and crafted a comprehensive resources page that provides access to the top tools and several tutorials to guide users through the finer points.
Tip: for extra help and support, join the Facebook group to interact with other users and exchange valuable information.
Alternatives to Writesonic
Writesonic isn't the only AI software for writing on the market. If you want to shop around to do a comparison, check out these alternatives.
In our in deapth review of the best ai copywriting software we concluded Jasper is our number tool for writing AI copy. The content Jasper generates is unique and high quality. Japer dashboard is very user friendly and the pricing is affordable to all businesses types.
Ryter.Me is a similar platform that uses AI technology to generate content. It delivers everything from blogs and articles to emails and social media posts. Not only is it highly rated, but it also features more than 30 languages and over 20 tones. This platform is also slightly cheaper than Writesonic, but only has three plans available.
Copyshark AI might be the go-to platform for people who need support in multiple languages. The platform features more than 100 languages and has over 50 tools to help individuals and businesses create quality content. Users can create everything from company bios to sales copy with a few clicks on the keyboard.
This platform has it all, but it will cost you. Plus, there are only two plans, premium monthly or annual.
Finally, Copysmith is another viable alternative with many of the same options. It generates the content and allows users to optimize everything faster. This platform integrates with most marketing programs, including WordPress, Shopify, and GoogleAds. You can try it free for seven days before signing up for one of three plans. The pricing is comparable with the others.
Final Thoughts on Writesonic
Writesonic is an AI content generation platform for individuals and agencies that need help managing content production. It's a viable option for short to mid-length pieces and advertising but might not be the best choice for in-depth articles.
The highly-rated platform offers reasonable pricing with several package options that allow you to choose the best one for your needs. It's an excellent way to automate some of your content writing without compromising quality.
If you're looking for a good AI content generation tool at an affordable price, take Writesonic for a test drive on the free credit offered and see the quality of the content it generates for yourself.
Let us know what you thought about Writesonic!
FAQ
How good is Writesonic?
Writesonic is a good option for anyone looking for an AI-based content generation tool. The software offers a wide range of features and customization options, so you can create high-quality content that meets your specific needs. Additionally, they have customer support team that is available 24/7, 25 languages they support and dozens of content template.
Does writesonic offers a free trial?
Yest, the free trial includes ten credits and access to the basic features for one user.
How does Writesonic work?

Writesonic is an artificial intelligence content generation platform that uses natural language processing and machine learning to produce human-readable content.
The platform works by training a model on a large corpus of data, which allows the model to learn the intricacies of natural language. Once the model is trained, it can be used to generate text by identifying and understanding the relationships between words in a sentence. This enables Writesonic to produce accurate and high-quality content that is indistinguishable from human-generated text.