Copy.ai Review: A Great Hands-Off Solution for Content Creation
Last Updated on December 7, 2022

Copy.ai is a cloud-based app that simplifies content creation by automatically generating copy in the form of articles and blog posts on any topic you specify as well as providing suggestions to help improve your copy before publishing it. copy.ai uses artificial intelligence algorithms to analyze your input and provide relevant content based on what you want to say or write about while also factoring in SEO optimization so that you can rank higher in search engines with copy that's optimized for your target keywords. Let's dive in this Copy.ai Review.
The copy generated by copy.ai includes a title, subheadings, images and videos from YouTube, quotes from famous people, sales pages, marketing ads, and social media posts.
copy.ai is the perfect tool for busy professionals who need high-quality content. Bloggers, digital marketers, freelancers, agencies, youtubers, all can use copy.ai, to create compelling copy quickly and easily, without ever having to leave your browser.
Why should you consider an ai copywriting tool in the first place?
Cost
When you consider hiring a freelance writer or agency to write your content prices per word can range from $0.03-$0.15. Consider a medium leangth piece of content (1000 words) at that range that's $30 -$150 for 1 piece of content. And it's most likely that you need at least 10,000 words a month if you run an online business that can get costly. an AI copywriting tool like copy.ai starts at $35/month (annual biling).
Speed up your content creation
At a click of a button, you can generate long pieces of content and content ideas.
Write better copy
Using artificial intelligence will collect data from the web about your content piece and help you generate the best content for your needs.
Copy.ai Demo
Copy ai Features
– 25+ Languages
Copy ai can create content for you in over than 25 languages at a click of a button. English, French, Spanish Portuguese, German , Italian , Dutch, Russian even Greek and many others. If you want to address international readers with your content this is a great quick soultion.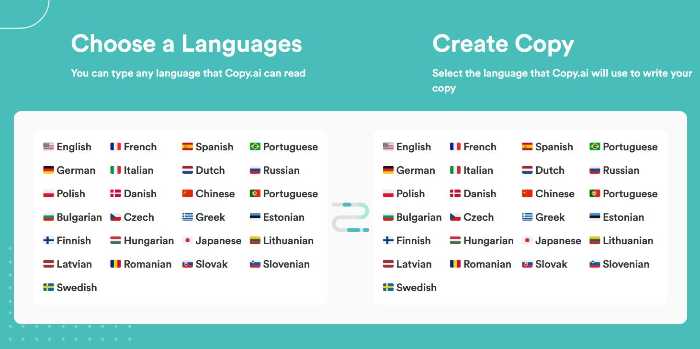 -Plagiarism free
While you will need to double check your content with plagiarism tools like copyscape. Copy ai in most cases will deliver plagiarism-free content.
60+ Templates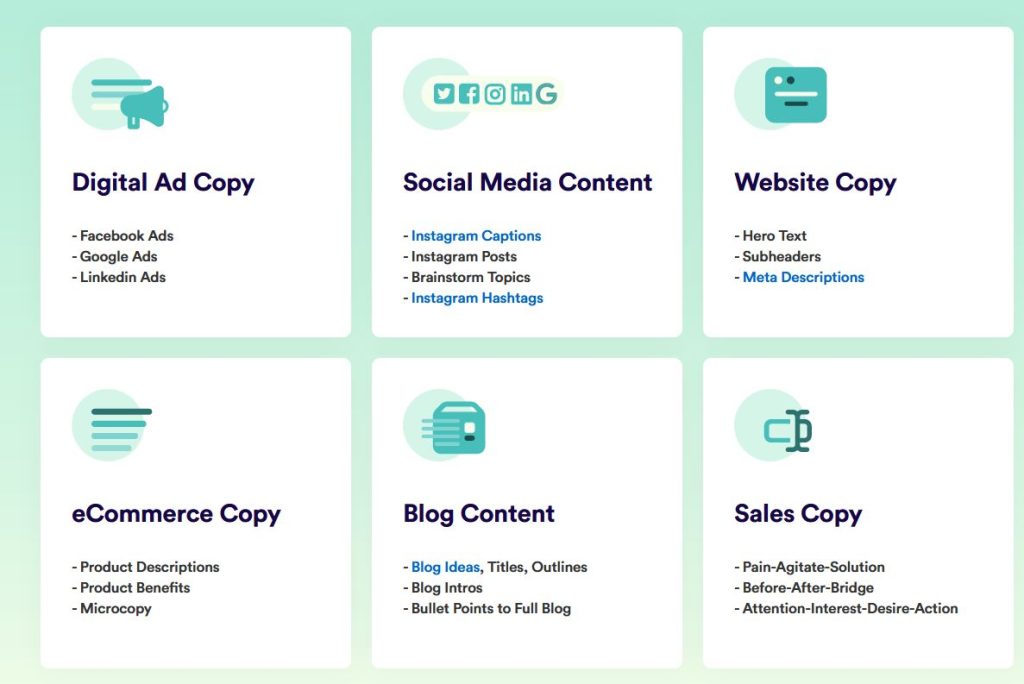 Copy.ai offers over 60 pre-made templates to help get you started on your content creation. These templates are categorized by industry, type or style so it's easy to find the right one for your needs. You can also search by keyword if you have something specific in mind. Some of the most popular templates include:
Product Descriptions
Social Media Content
Blog & Essay Intros
Tutorials
Marketing Ads
Sales Pages
Extensive training and support
Copy.ai offers extensive training and support to help you get the most out of their platform. You can access their training materials from within the copy.ai interface, or on their website. They also offer a help desk and blog to answer any of your questions. Finally they have a huge Facebook group that you can get advice and help on from their community members.
Supercharge
Copy.ai Supercharge is the ultimate content brief generator. Supercharge will help you create a brief/outline for your desired content piece. Currently supercharge is available on the following templates:
Product Descriptions
Facebook Primary Text
AIDA
Before-After-Bridge
Feature-Advantage-Benefit
Pain-Agitate-Solution
Problem-Promise-Proof-Proposal
QUEST
Custom Tone
copy.ai custom tone allows you to personalize the tone of writing in your content. You simply add the tone or the emotion you like and copy.ai will adjust the tone of writing. This certainly can spice up your writing (Try ChuckNorris)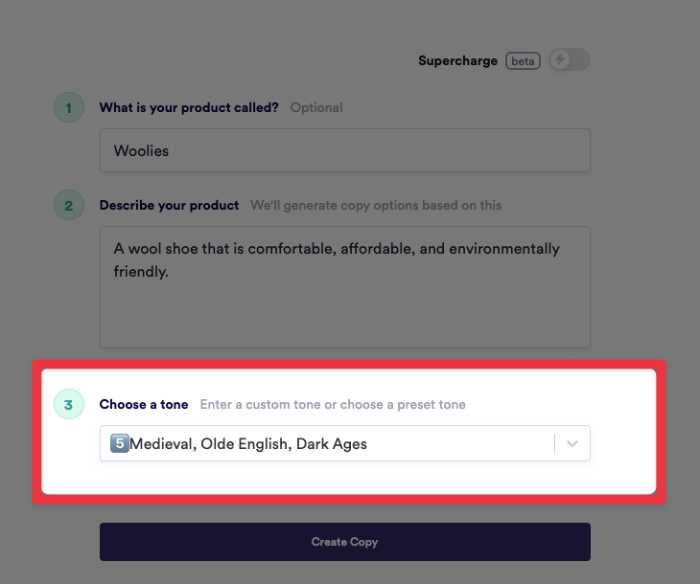 Copy.ai Pricing
Copy.ai offers a 7-day free trial where you can test it free of charge. The options are:
Free account– Which won't take you very far as it's very limited in the amoun of content you can write.
Pro account-$35/month on annual billing or $49/month on monthly billing. The pro option gives you access to all of copy ai features (aside for collaboration feature on the team option)
Team– This is for larger operations and you would need to contact copy.ai to get a quote depending on your needs.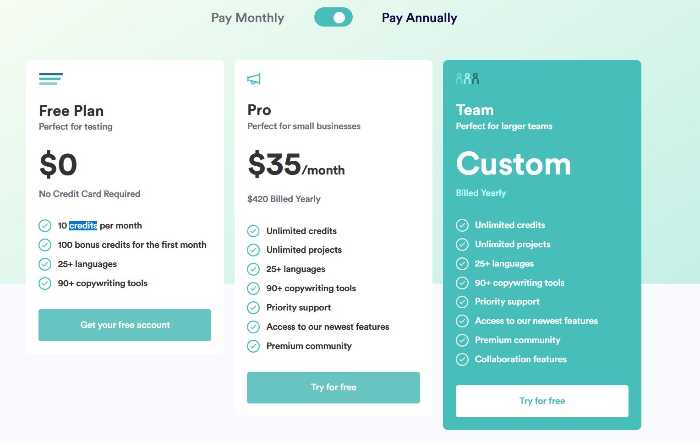 Copy ai Alternatives
Not too long ago we reviewed some of the Best AI Copywriting Software. Let's see how does copy.ai stacks up with them.
Copy ai vs Jasper (Previously Jarvis ai/Conversion ai)
In terms of pricing Jasper does starts with a lower pricing point but with limited options. If you really want access to all the features Jasper offers you will want to get Boss Mode plan which starts at $59/month.
Other key differences to notice are that Jasper will most likely do a better job creating lonlong-formntent like sales pages, blog posts, essays. Also Jasper offers native integrations with SEO tools like surfer SEO, plagarism tools like copyscape and grammer tools like grammarly.
Copysmith stater plan starts at a very competitive price point of $16/month on annual biling or $19 month on monthly billing. But they do limit you in content generation so if you run even a small size operation it is likely you will need their $59/month plan. copy.ai will give you unlimited credits at that price while copysmith will limit you to 50 credits (about 65k words)
Supported languages are 13 for Copy.ai vs. 110+ for Copysmith which is quite a difference.
Like copy.ai writesonic also offers a very limited free plan. Writesonic has more pricing options starting at $12.5/month on annual billing up to $162/month (entreprise plan). Main differences between the writesonic plans are number of credits and integrations options. Their professional plan is most comparable to Copy.ai pro plan and almost priced the same.
Wrapping up- Copy.ai Review
copy.ai is a great tool for content creation, however it does have some limitations when compared to other AI copywriting software. It offers a 7-day free trial so you can test it out and see if it's the right fit for your needs. The pro account starts at $35/month on annual billing or $49/month on monthly billing, which gives you access to all of copy ai features (aside from collaboration feature on the team option). If you're looking for a more comprehensive solution, copy.ai , we think Jasper might be a better fit. Read our Jasper.ai review==>
If you're just getting started with ai copywriting copy.ai is definitely a great option to get started. It is also important to remember that AI copywriting tools are still developing and at the moment they are still not eligible to fully replace a writer. Think of them more as writing assistants that can save you time and money.
Copy.ai FAQ
How many customers Copy.ai has?
According to techcrunch Copy.ai already has over 300,000 customers (including eBay, Nestlé and Ogilvy). Over 250,000 have signed up for a free trial and more than 5,000 premium customers.
Does Copy.ai offers an API?
At this time copy.ai doesn't offer an API
Which technolgy copy.ai uses?
Copy ai uses the GPT-3 (Generative Pre-trained Transformer) language model from OpenAI that uses deep learning to produce human-like text.
How to write a full blog post using copy.ai?
Create a project and choose a tone.
Select a template.
3.Create a headline and give copy.ai a few bullet points you like to write about (each bullet will turn into a paragraph.
Review your post and edit.
Is There a Copy.ai Discount?
If you go with annual billing you can save %30 following this link=>