Rytr.me Review | Testing AI Copywriting Software
Last Updated on October 6, 2022
We like AI copywriting software and we reviewed more than a few on this blog. Now it's time for one that's been under the radar but definitely worth a test. Let's see if Rytr.me is worth it?
I've spent hours researching and testing Rytr's features, benefits, and pricing to uncover its strengths and weaknesses. I've compared the Rytr program to similar AI writers available on the market to bring you everything you ever wanted to know about this powerful AI writing tool.
Overall, I found Rytr very user-friendly but still loaded with useful features. And with a fully-featured free option and low-cost subscription upgrade, the Rytr pricing plan is hard to beat.
In this Rytr review, I'll describe Rytr's features in detail, including how they can help you produce better copy. I'll also compare Rytr to alternative AI writing tools, so you know how it stacks up against the competition.
By the end of this article, you'll have all the information you need to decide whether Rytr.me is the right AI copywriter for you.
Keep reading to learn more about this powerful piece of AI writing software.
Rytr.me Overview
Rytr is a user-friendly, AI-powered content generation tool that helps users brainstorm ideas and craft compelling copy in various formats. It uses an artificially intelligent algorithm to turn a few keywords or a couple of sentences into original blog outlines, emails, ads, and social media captions.
The Rytr interface includes a built-in word processor so users can quickly edit and add to generated content without ever leaving their browser. When they're ready, users can export their generated content for use online or on any content editing platform.
Rytr.me is free forever with a limited number of characters per month, with more content available for a monthly fee.
Is Rytr.me Good? Why?
Rytr is an excellent tool for writers and content creators looking to generate and expand on ideas for their blogs, articles, and ads. Its interface is easy to use with no training required to get in, generate content, and get on with the rest of your day. It offers a broad range of content types and voices at any price, so even brand new freelance writers and marketers can use it.
Rytr is also a great word processing tool for expanding, rephrasing, and spinning existing content. But Rytr isn't so great at generating longer-form content. My experience with Rytr suggests that its AI algorithm is better suited for brainstorming ideas and crafting short, snappy text snippets than long narrative sections.
Rytr.me Features
They say that you get what you pay for, but when it comes to Rytr, you get a lot of value for free. This tool is jam-packed with powerful AI features and writing tools to help writers and content marketers produce more copy in less time. Here's what Rytr has to offer.
Streamlined User Interface
The Rytr user interface is straightforward to use. Everything Rytr does happens inside the "Ryte" window. All the different writing modes and settings, including language, tone, and use cases, are accessible from the settings pane on the left-hand side of the Ryte window.
After choosing your desired settings (more on that in a minute), the Rytr algorithm magically generates text in the built-in word processor. You can review and edit all your AI copy right there inside the Ryte window or download it to edit in your preferred word processor.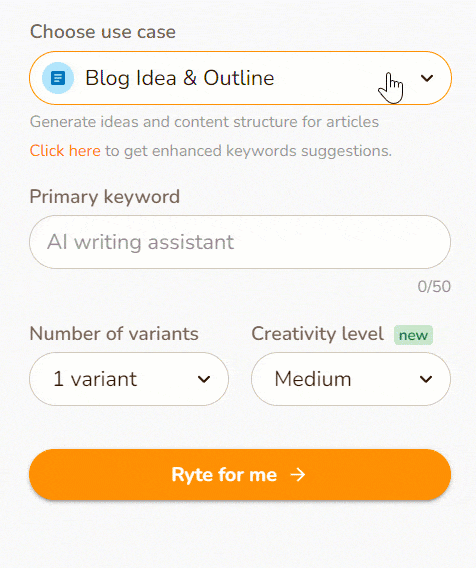 Versatile Use Cases
Rytr has nearly 40 available use cases, which are the various writing modes and tasks Rytr can perform. Each use case adjusts the Rytr algorithm to generate copy that gets results, no matter what you want to write. All use cases are available at every pricing tier, including the free forever option, where other AI writing tools only offer limited features, if any, for free.
Blogging Tools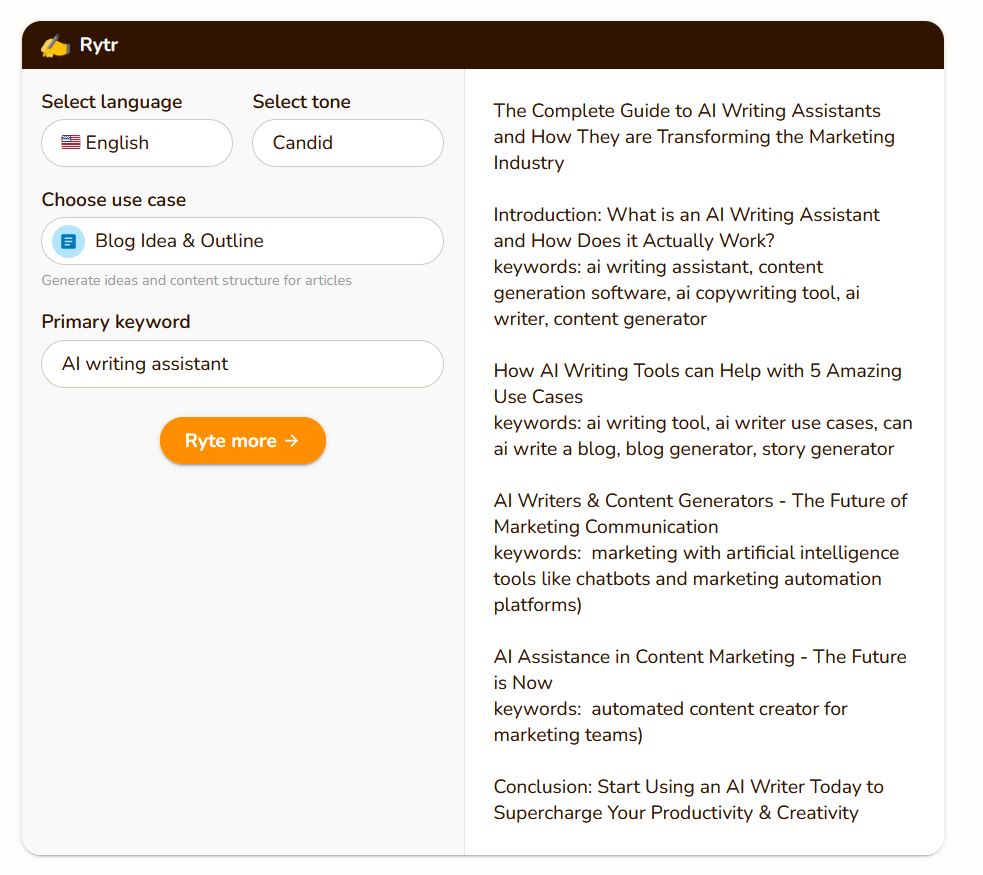 Bloggers and businesses can generate blog ideas, outlines, and even entire paragraphs of content, starting with nothing more than a few keywords.
In my experience, Rytr generates the best content when you give it as much input as possible, and even then, it's not so great at writing more than an outline and a couple of sentences. But often, that's all a writer needs.
With the content written, you can take it to the next level in terms of search engine optimization (SEO) with Rytr's SEO assistant tools. Write a brief description of your blog content and let the meta title and meta description generators create proven SEO elements to drive traffic to your site.
E-Commerce Tools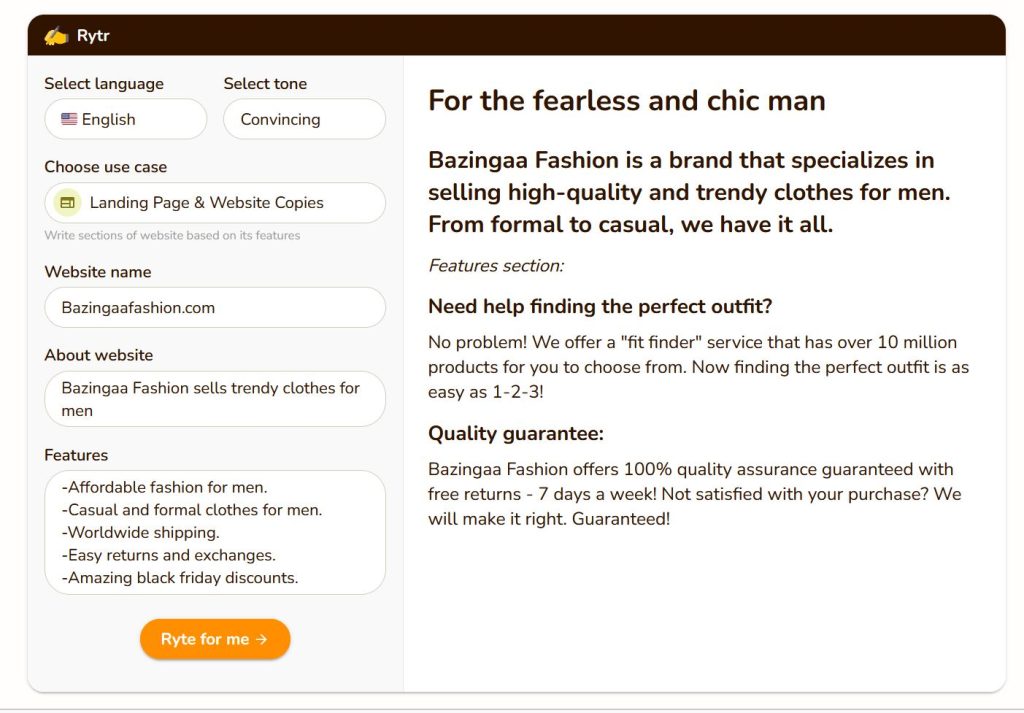 Retailers and service providers can use the landing page use case to produce snappy elements to help your landing page rank higher in search results. The product description tools generate compelling product descriptions that buyers won't be able to resist. Rytr can generate product descriptions in paragraphs and bulleted lists, which are more SEO-friendly.
After the sale is complete, you can use Rytr's reply feature to craft thoughtful and empathetic replies to customer reviews and messages. Each reply is an opportunity to earn the trust of your customers and site visitors and appear in search results, but it can often be hard to say what you mean effectively. Rytr helps you send the right message with your tone and response.
Hiring Tools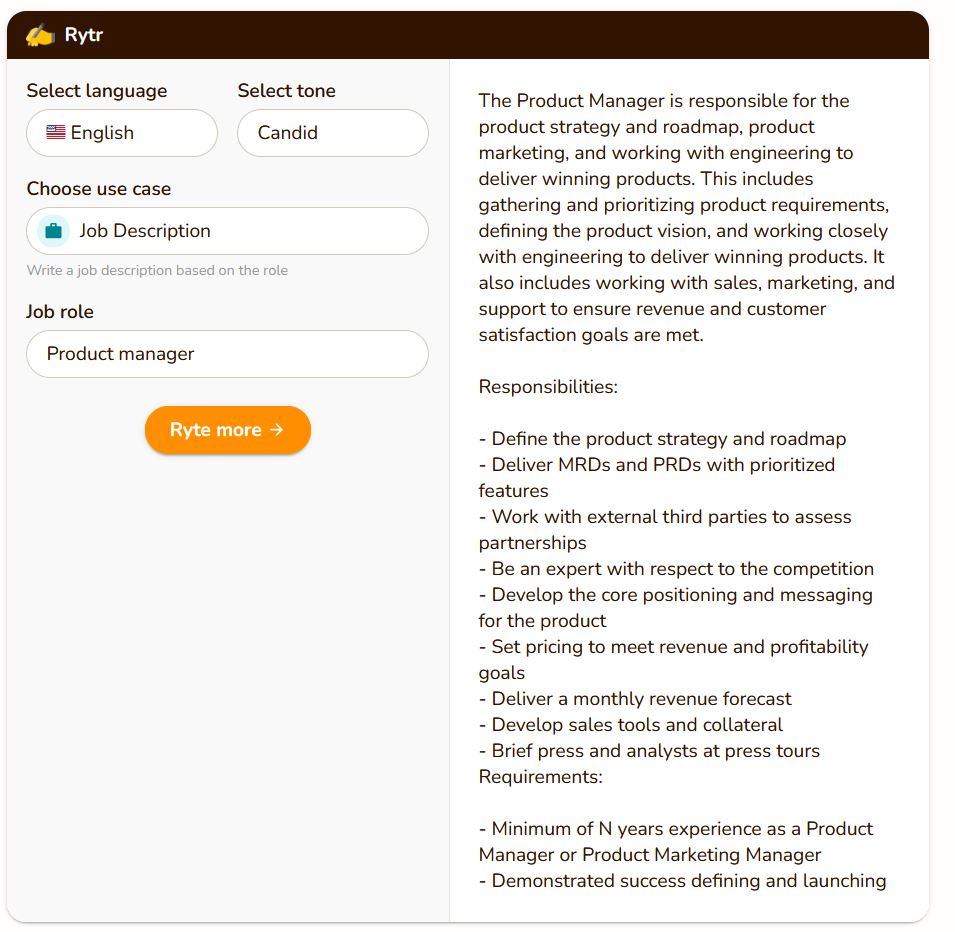 Rytr is about more than just content marketing. Businesses can use Rytr's employer-centered features to hire better employees. The job description use case needs nothing more than a job title to generate a framework detailing the available position. The generated descriptions are surprisingly impressive, and you can fill in more specifics as needed.
Employers can use Rytr to brainstorm custom interview questions inside the Ryte window when the applicants start rolling in. Rytr asks for information about the position and the interviewee to create thought-provoking questions that help you get to know the candidate.
Social Media Tools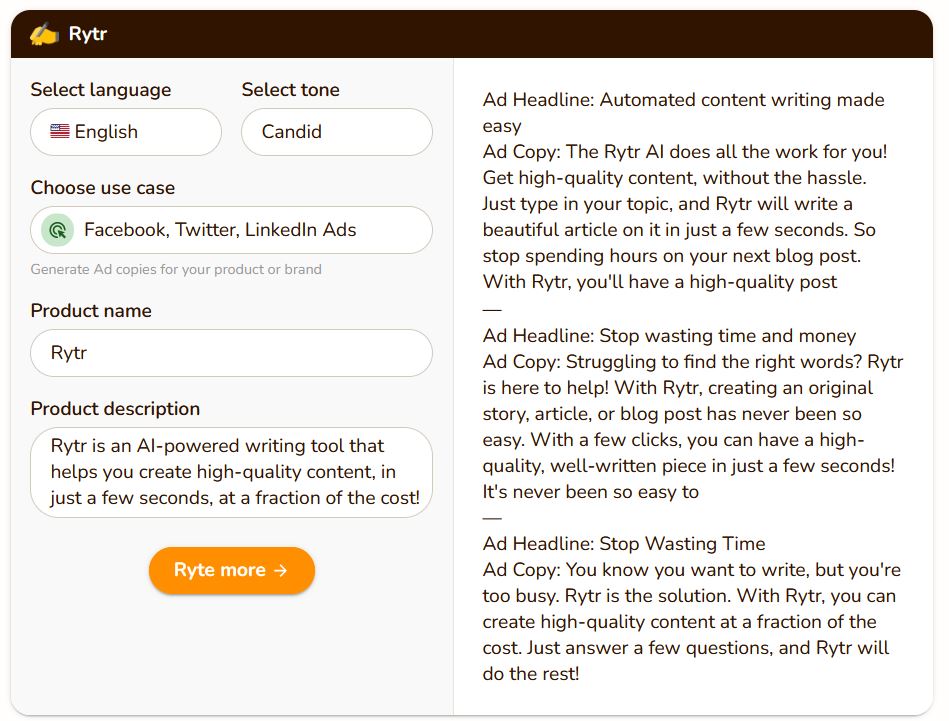 Social media is key to any business's marketing strategy, and Rytr's social media tools can turn anyone into a social media expert. Rytr's use cases include a profile bio builder to help you tell the world what your business is about. The caption generator is a great way to turn a simple status update into a brand message that your followers will listen to.
The social media ad generator can help you expand your reach on Facebook, LinkedIn, Twitter, and more. Rytr can quickly generate multiple variants of related ad copy to reach more potential customers and clients with language that's proven to be effective.
Tone Selection
Rytr's tone selection feature helps writers and businesses get their brand voice just right. No matter what kind of copy you're writing, you can choose your desired tone of voice for a truly custom piece of content. Rytr lets users select from over 20 different tones to help them reach their audience more effectively.
In my testing, I generated several different selections of landing page copy for a garden supply store, each one in a different tone. Formal, casual, informative, convincing, and appreciative, each generated content with the same information presented differently. The tone selection feature makes Rytr's copy sound more fluent and natural than other AI text generators.
Revision Tools
Rytr's simplified word processor has a few features that are easy to miss but incredibly valuable. Inside the document editor, users can select any amount of text, from a few words to an entire paragraph, to reveal the content editor options.
You can expand the selection to add more relevant text or shorten it to get the same message across in fewer words from this menu. You can quickly rephrase the selected text to produce multiple pieces of unique content or let Rytr generate an entire paragraph based on the text you selected.
These tools are also great for getting past writer's block. If you find yourself midway through a sentence and just can't come up with the right words to finish it, select what you've written so far and click "continue writing" to let Rytr break through that wall for you. You can even select text that Rytr has already generated and click "improve" to clean up any awkward phrasing.
Word Processing and Document Management
When you generate a new piece of content with Rytr, the program automatically creates a new document for you. You can create a new document for each piece of content you generate this way, but Rytr's built-in word processor lets you continue building and editing similar content inside the same document.
To add more generated content to your existing documents, simply open it before you start generating content. Rytr will automatically append any newly generated content to the end of that same document. In the settings, you can instruct Rytr to append new content to your cursor location if that's more suited to your drafting process.
For example, after generating a few different landing page examples for the garden supply store mentioned above, I wanted to add some related elements to create a more complete website. All I had to do was scroll up to the top of the Ryte window and select the use case for the next selection of text. In this case, I wanted some basic questions to include on an FAQ page.
I wrote a couple of sentences about the garden supply store, clicked "Ryte more," and Rytr appended five generated questions to the end of my landing page document. Rytr even suggested that I could use the "paragraph" option to auto-generate answers to the questions it had just generated.
Rytr's word processor includes basic font formatting, numbered and bulleted lists, and linking features. It automatically formats generated content with H1, H2, and H3 headings, which is excellent for SEO. Still, users will have to export their content to another word processor if they want to use more nested headings than that.
On the bright side, Rytr lets you export your content in .docx and .html format. That means it's easy for writers to take their content to their favorite word processor for further editing, but it's also easy for web designers to add beautifully formatted content to their existing site.
Plagiarism Checker
Rytr's word processing tools include a built-in Copyscape plagiarism checker so users can feel confident that their AI-generated content is 100% original. It won't flag potential plagiarism automatically, but you can select up to 1,600 characters of text at a time and click "plagiarism" in the tools menu to run it through Copyscape.
If the plagiarism checker does detect similar content on the web, it shows you the source so you can compare the written text, edit it, and cite the source if necessary. The 1,600-character limit is perfect for short to medium-length copy. (For reference, this entire "Plagiarism Checker" section is only 706 characters, less than half of the character limit of the tool.)
Pricing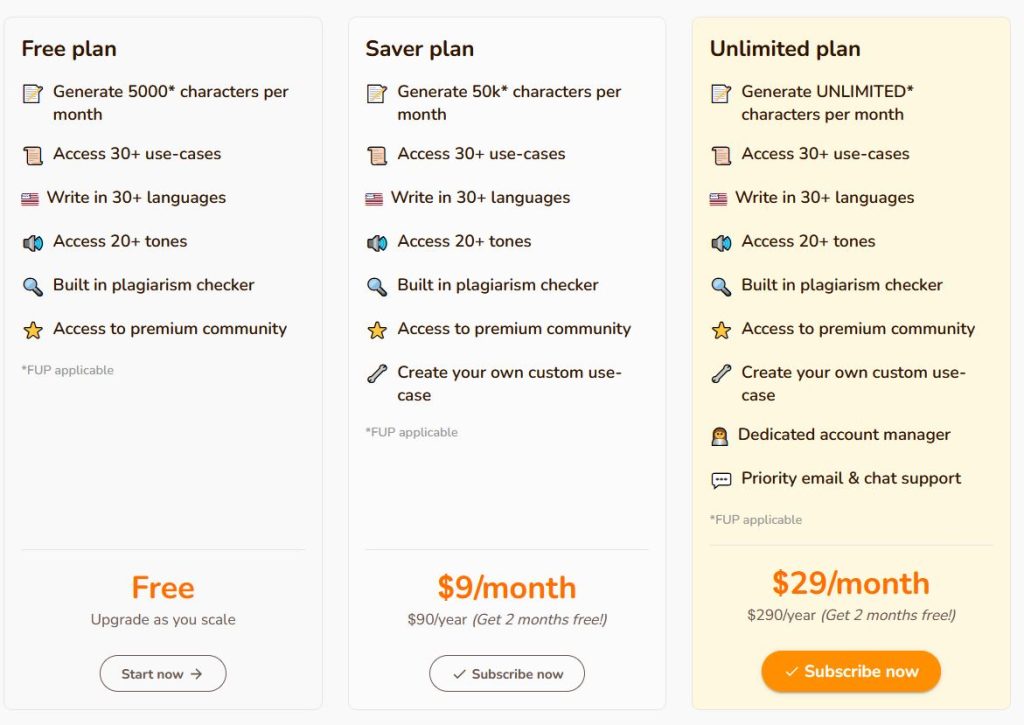 Rytr's free plan gives users access to all of its tools, including over 30 use cases, 30 languages, 20 tones, and the built-in plagiarism checker. So why would you upgrade? The free plan only offers 5000 characters of AI-generated content per month. (For reference, that's about one-third of the length of this article.)
That's plenty of content for a part-time freelancer or hobbyist, but full-time writers and content marketers should consider upgrading to one of the paid plans. The $9/month Saver plan offers users 50,000 characters per month, which is roughly three times the length of this article. It also gives users the ability to create custom use cases, fine-tuning Rytr to their needs.
For truly prolific content producers, the Unlimited plan offers unlimited characters of AI-generated content each month, as the name suggests. In addition, Unlimited subscribers get custom use cases, their own account manager, and priority status for email and chat support. At $29 per month, this is still less than many other AI generators cost for even limited content.
Alternatives to Rytr.me
Rytr isn't the only AI content generation program on the market. There are dozens of programs that use artificial intelligence to generate content, some of which are more successful than others. Each has its unique features, benefits, and pricing, so if Rytr isn't what you're looking for, check out these other four alternative AI writing tools.
Jasper AI is a comprehensive content generator with even more content options than Rytr. It's got tools for bloggers, advertisers, and social media teams to create any copy you can think of, even personal letters. But there's no free version of Jasper aside from a 10,000 word, five-day free trial, so you'll pay at least $29 per month for Jasper's writing tools.
Copy AI's content generation tools make it easy to maintain a consistent brand voice across multiple pieces of content. With Copy AI users can create projects with relevant information about the product, site, or client, which Copy AI will use as a starting point for all the content in that project. Users get a limited number of free uses. Paid subscribers get unlimited uses.
Closers Copy is built for long-form articles and marketing copy. Over 300 built-in marketing frameworks make it easy to generate compelling ads that conform to proven marketing theories. Closers Copy has a more limited range of use than Rytr, but what it does, it does exceptionally well.
Shortly AI is another streamlined content generator with a simple user interface. Unlike Rytr, Shortly only does two kinds of writing – articles and stories. The intuitive user interface allows you to start writing an article and let Shortly finish your sentences, or write out an article brief and let Shortly do it all. It's free for four uses a day, but the paid subscription options are pricey.
Final Thoughts-Rytr.me Review
AI writing is a relatively new area of technology, and the tools available on the market are all over the place in terms of quality, volume of content, and price. But Rytr.me hits all three nails on the head. It generates outlines, catchy snippets, and helpful frameworks to help copywriters get more done in less time, and it's free forever for up to 5,000 characters per month.
Rytr's versatility is one of its best features. Many AI writing platforms are one-trick ponies that focus on generating a few types of copy well. The ones that offer a wide selection of content options usually cost a bundle, but Rytr offers users a fully-featured tool, even at the free level.
Admittedly, it's not the best at generating long-form content, so it can't replace a skilled human writer altogether. But brainstorming and outlining take up a lot of time and energy in a copywriter's day, and Rytr easily cuts that time in half.
Overall, I think every writer should try Rytr at least once. While it's not a miracle writing solution, it's a great free tool to reduce the time it takes to get from "idea" to "finished copy." Even the Saver plan at $9 per month almost certainly pays for itself in time saved.
Try Rytr for free now and see how much time you can save with an AI-powered writing assistant.
FAQ
Is Rytr.me free or offers a free version?
Yes, rytr.me gives you a free plan where you get limited access to most of it's features:
Generate 10k characters/month.
30+ languages.
20+ tones.
plagiarism checker.
Access to premium community.
What Rtyr.me best alternatives?
Does Rytr.me offers a lifetime deal?
Well yes and no. They have a free forever plan with limited features and capacity, but if you want to get the most of it you can sign up to a save plan at $9/month or unlimited plan at $29/month on annual billing plans. you can check it out here==>