Copyshark AI Review- AI Content Generation Tool You Will Probably Like
Last Updated on October 6, 2022

You may have noticed that we like reviewing AI copywriting software in this blog. Today we will review a relatively new artificial intelligence (AI) software writing tool called Copyshark AI.
I am a professional content/copywriter and tech enthusiast with a strong interest in AI. I have tested AI writing services like Copyshark (some of which we discuss in the alternatives section of this article and other blog posts here) as tools to help me with my work. For this article, I have done in-depth research into Copyshark to help you decide for yourself if it's the best writing service for you.
What is Copyshark?
Copyshark is an AI-driven software as a service (SaaS) writing product. That means that it is a piece of software for which you will need an active subscription to be able to use it actively.
I found it to have many potential uses with over fifty tools for specific copywriting needs. With that being said, the quality of those tools is often subpar.
This comprehensive Copyshark AI review will assess offerings, pricing, quality of AI content generation, and the quality of the tools. We'll go over technical and customer reviews as part of that process.
Finally, we'll spend some time discussing alternatives to Copyshark. Keep reading to learn more about this copywriting SaaS.
What Does Copyshark Do?
Copyshark offers over fifty different tools to write content and copy. These tools provide everything from Amazon product descriptions and Facebook ad copy to SEO meta descriptions and personalized cold emails. The website describes it as easy to use, powerful, and fast.
How it Ranks
If you've ever worked with an AI writing software, you already know how hit or miss they can be. Copyshark is no different. It offers dozens of various tools to meet all of your copywriting needs.
Sadly, many of them create little more than gibberish or write copy that is utterly irrelevant to the topic the customer gave it. Tools that work seem to do so quite well in over 100 different languages.
The platform is poorly designed and has numerous bugs that can complicate drafting copy. Despite saying it saves content, numerous users have stated they have found no way to save what Copyshark creates after it is generated.
Copyshark customers who contacted customer service universally found it to be lacking. Several customers had the company charge them for an additional year of service after canceling, and customer service refused to offer them refunds.
Tools
Copyshark's claim to fame is over fifty different tools for customers to use, with more added every month. While it can be incredibly tempting to buy just for the quantity, quality has to be considered.
It is unclear how significant the differences are between similar tools. For example, there are multiple product description tools, including a generic product description, an Amazon product description, and an Etsy product description tool.
Ad Copy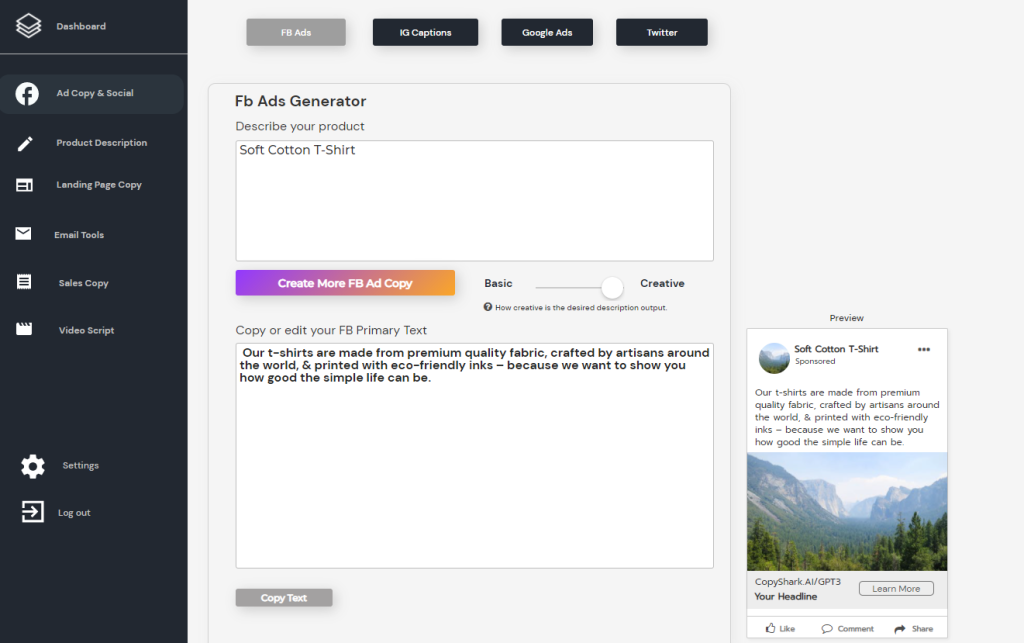 Copyshark's advertising campaign leans heavily on its offerings for numerous ad writing services designed for specific platforms, including:
Facebook
Google, and
Youtube
These tools are meant to create advertising copy to increase product sales and leads.
Once a user selects one of these tools, they input the brand's name and a short passage describing the product they're trying to advertise.
There is a strict word limit for the description, which leaves Copyshark working with less information than may be ideal. This is important because consumers and tech experts have shared a common complaint that these ads tend to be incredibly generic.
Blogs and Scripts
For content creators looking for a starting point, Copyshark has numerous tools that may be of service. If you're a blog writer, check out these:
Introduction writer
Idea creator, and
Titles
These can be a great source of inspiration if you're having trouble getting started. Customers found that Copyshark gave them unique ideas and titles that helped them make great content and increase conversions.
If Youtube is your platform of choice, one of these might be helpful:
Youtube video hook and introduction writer
Video script outline creator
If you are creating content for Youtube, you might find a combination of the tools for Youtube and the tools for blog writing helpful.
Neither of these sets of tools will be the beginning and the end of the process, but all of them will give you a head start and inspiration.
Customers who appreciated these tools felt that they helped them save time by getting them started, and acknowledge that the content typically requires serious revision to be usable.
You'll input relevant information into the sections you're given to generate the content. This is where you might start to notice bugs. Some areas will have word limits listed but may not effectively limit the number of words used (what effect this may have on the output is hard to say).
Others will be mislabelled, such as the blog or video title sections labeled as "product names."
Content Improver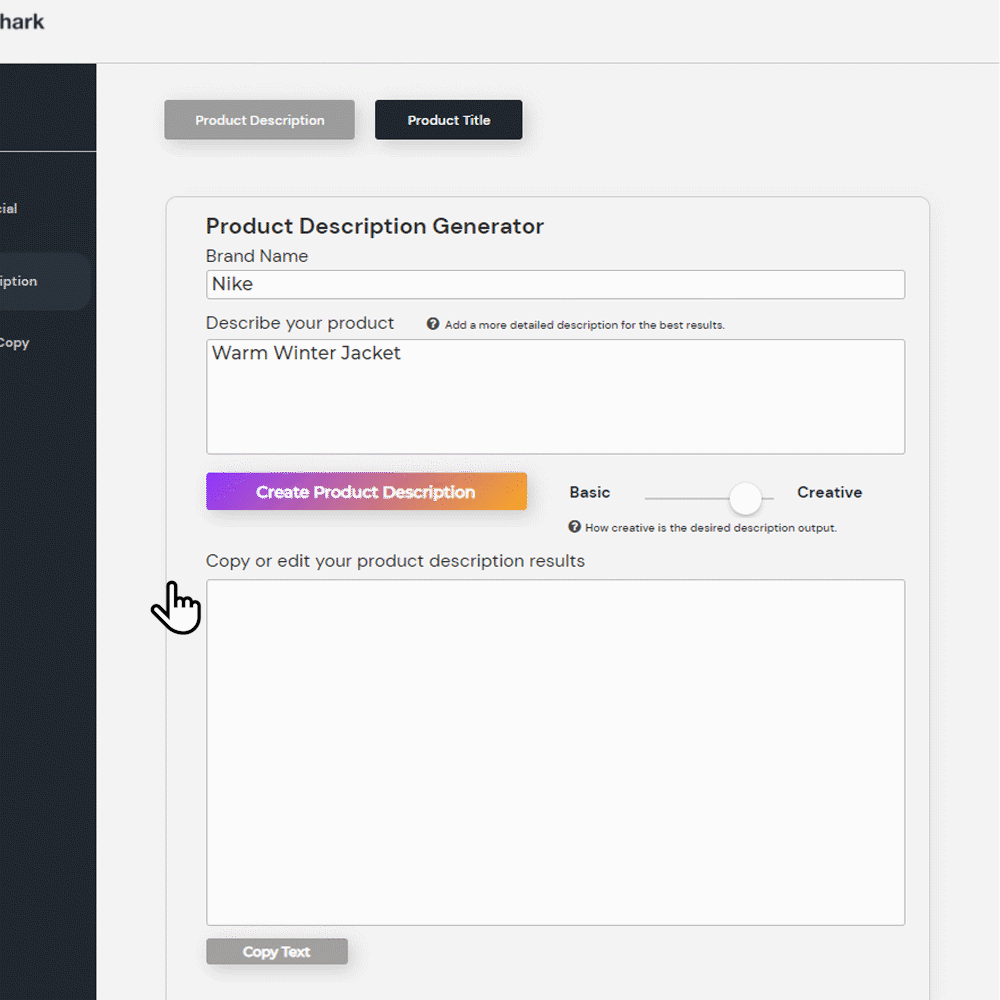 The content improver is pretty self-explanatory. You input the content you've already created and use this tool to expand on it and potentially improve the quality of the content. This is effectively a glorified, AI-driven "spin" tool.
It creates spun content by rephrasing and developing the previously written content you input. Copyshark considers it a way to make your good content great.
If you're using this for work, tread with caution. Some employers frown on the use of content spinning software and services. Depending on the source of the initial content (whether you or someone else wrote it), they can consider it a form of plagiarism.
Product Description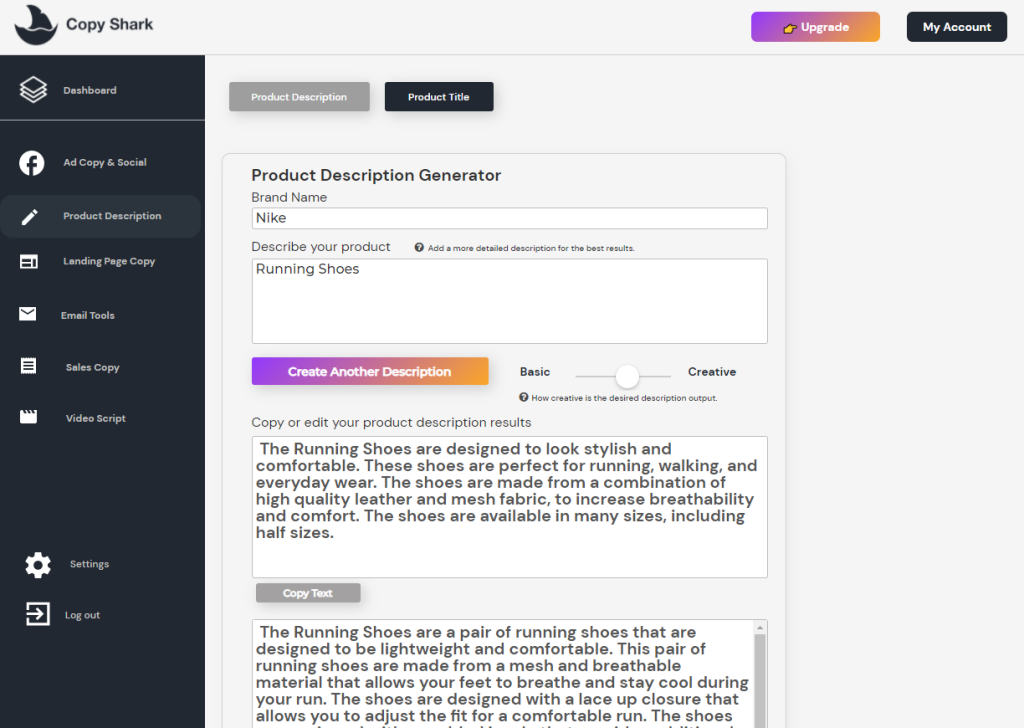 CopyShark product description generator will help you write high-quality product descriptions quickly and easily. Simply enter in some basic information about your product, and CopyShark will generate a well-written description for you based on that data. This tool is great for businesses who want to create unique, appealing descriptions for their products but don't have the time or resources to do so themselves. With CopyShark, you can be sure that your product descriptions will stand out from the competition and help boost your sales
Pricing
Other copy and content writing SaaS options offer three or more packages with widely varying offerings. Conversely, Copyshark offers two packages: a monthly package and a yearly package, simplifying things for customers.
Premium Monthly Package
The Premium Monthly package is $29 a month (around $350 a year)and includes:
20,000 AI generation credits
Access to all Copyshark tools
Save all Copyshark generations
"Normal" Support
These are the included features as listed on the website, but customers and tech experts have negative things to say on the subject.
Customers found they weren't allowed to generate copy because Copyshark incorrectly marked them as having used all of their available credits. Both customers and tech experts could not find how to save generated content within the service, and that content disappeared entirely if they requested more or improved content.
There's no explanation of the difference between "normal" support and the "premium" support offered in the next package up. Customers complained that customer support seemed automated and was unhelpful.
Annual Package
The annual package is $299 and saves potential customers around $50 a year while providing unlimited credits and "premium" customer service.
The majority of information about the annual package focuses on dissatisfaction with customer service, the company repeatedly charging customers or charging after canceling, and the company refusing to give refunds.
Copyshark Alternatives
Read our full review of Jasper AI here==>
If you're looking for solid variety and a copy creator that is constantly innovating, Writesonic is a solid choice for you. You can create everything from ads and product descriptions to entire articles and landing pages.
Writesonic has four different packages ranging from $15 to $195. Higher cost packages offer access to higher quality content generators and additional user seats available. Content created will still need revising.
If you're a freelancer or you work in eCommerce, Copysmith's goal is to serve you by generating:
Product descriptions
Blog titles
Instagram captions, and
Meta Descriptions
Copysmith integrates with numerous other services, including Shopify, Frase, and WordPress.
The company's goal is to revolutionize content creation, so they prioritize content, scalability, SEO, and plagiarism and work with everyone from individuals to enterprises. They have three different plans, starting with their individual plan, which costs $19.
Nichesss
If you're a business-minded individual who appreciates variety, Nichesss might be a good option for you. Through Nichesss you can access pre-made and create niche reports that will analyze the potential for niche markets and products.
Because Nichesss focuses on business, it also drafts high-quality content with companies in mind. With three plans and the lowest starting at $19 a month, Nichesss has a package for content creators and businesses of all sizes.
Copyshark AI Review-Final Thoughts
Copyshark is an AI-driven content and copy creation SaaS that provides a plethora of different tools with more added regularly.
What it has in quantity, it seems to lack in quality, with some tools proving to be more worthwhile than others.
Copyshark is a good option for people who are looking for inspiration, a starting point, or attempting to rewrite preexisting content and aren't necessarily seeking a finished product.
Regarding quality, reviews from customers are incredibly divided between positive and negative experiences.
Customers find that Copyshark's customer service is universally unhelpful and may be entirely automated. Potential customers should be ready to navigate problems on their own and be flexible with clunky user interfaces.
Customers who need clearly and accurately titled input areas (such as "product name") will prefer another service.