Copysmith Review: Everything You Need To Know About This AI Copywriting Software
Last Updated on October 6, 2022

This is our review of Copysmith, an AI copywriting platform.
AI technology has begun to grow more prevalent in many industries, and the content generation market is no exception. Machine-generated content has become very popular thanks to the speed, cost-effectiveness, and volume that an AI software for writing can provide users.
As someone who handles a lot of writing and marketing content, I have tried several AI copywriting software, so I thought I would be uniquely qualified to provide you with a review of Copysmith.
Overall, I found Copysmith to be an exciting entry into the market as it provides some valuable tools and other features, but other similar programs do not. That isn't to say that Copysmith isn't without some shortcomings. We will go over both the good and the bad in this Copysmith.ai review.
In this review of Copysmith, I will go over what the copywriting platform is and if it's worth your money based on a few crucial factors. I will also give you a breakdown of some of the best features and tools that Copysmith offers. Finally, I will provide a list of a couple of alternative AI writing platforms you can research on your own.
Let's get started!
What Is Copysmith?
According to the Copysmith website, Copysmith is an AI copywriting platform designed for eCommerce teams, marketing agencies, and freelancers.
Copysmith generates written content such as Instagram ads, Facebook ads, product descriptions, blog copy, and more. Copysmith also offers other valuable features, such as collaborative workspaces for teams to work remotely and tools for building a marketing campaign.
Is Copysmith Worth Your Money?
If Copysmith sounds intriguing to you, but you still aren't sure if you want to take the plunge and sign up for a subscription, that's okay. In this next section, you will be able to learn more about Copysmith's offerings and whether or not they will be worth your money.
Intended Audience
Copysmith can be a great tool if you work in eCommerce or have a position at a marketing agency, an in-house marketing team, or as a freelancer.
What makes Copysmith a helpful tool is its ability to quickly scale up your content generation without increasing your time commitment or decreasing the quality of your content.
The AI program accomplishes this in several ways, such as generating blog and content ideas, producing bulk product descriptions, and even rewriting content you previously created.
Plans and Pricing
If you want to use Copysmith for your business or job, choosing a plan and price that works for you is important. Here is a basic breakdown of Copysmith's paid plans and prices:
Last Updated on October 6, 2022
In-App Support   
Integrations
50 Credits / mo
20 Plagiarism Checks / Month
Professional
Integrations
In-App Support
400 Credits / mo
100 Plagiarism Checks / Month
Enterprise
Integrations
In-App Support
Bulk Import & Export
Custom Templates
Account Manager
Unlimited Credits
Unlimited Plagiarism Checks
Copysmith also provides a free trial membership that lasts for seven days. And if you work for a nonprofit, Copysmith will give your company a 50% discount on your pricing forever.
Visit the Copysmith site for a full feature breakdown of each plan level.
Customer Support
Copysmith is a powerful technology with tons of features and functionalities. And regardless of what you intend to use it for, you should expect Copysmith to provide helpful and available support when you need it.
Thankfully, Copysmith more than meets expectations in this regard. It is easy to reach out to the support team via email, and they are quick to respond.
The company also has a Feature Request page where you can weigh in on features you would like to see in the tool. The company is constantly working on updating their software and providing what their clients want.
Accessibility
The Copysmith interface is simple, intuitive, and a breeze to navigate. There are helpful tutorial guides that can walk you through all the workflows for the various, and you can organize your content into folders for multiple projects or campaigns.
A fantastic aspect of working in Copysmith is that the content is built around easy-to-use templates that make generating content simple. You can also select content with the "like" button, allowing the Copysmith algorithm to learn and create better copy for you. This means that the more you use the technology, the better your content will become over time.
Accuracy, Plagiarism, and Grammar
A copy-generating AI program is only as good as it is accurate and plagiarism-free. The programmers of Copysmith's algorithms have put a lot of work into their program.
Overall, the content is clean and almost ready to publish, with only a few grammatical errors that need to be corrected. These issues seem to be errors in punctuation and formatting mostly.
As far as plagiarism is concerned, the content created by Copysmith is reassuringly unique. Programs such as Grammarly do detect some plagiarism (1-3% in long-form blog posts), but further investigation reveals that most of the time, this is actually an incorrect identification.
Finally, Copysmith, like pretty much every other AI copywriting platform, can stumble when it comes to producing accurate copy. For instance, it can have trouble identifying differences in things such as desk lamps vs. table lamps. Thankfully, Copysmith generates enough examples that some are inevitably good ones. It just requires a little double-checking on your part.
Copysmith's Best Features
You've been able to read about some of Copysmith's characteristics and how it works overall. However, you may still be curious about some of the features that Copysmith provides to its customers.
Integrations
One of the newest and most exciting features for Copysmith is the Integration tools. Just as the name implies, you can now integrate Copysmith into other applications such as Google Chrome, Google Docs, Microsoft Word, Shopify, and WooCommerce.
This allows you to continue to work in your regular routine while adding in the speed and simplicity of Copysmith. Each integration does different things, and utilizing multiple Integrations along your workflow can take your marketing and writing to another level.
Collaborations
No matter how big of a social butterfly you are, we all get tired of the endless meetings at work. But now, Copysmith has published a new Collaborations dashboard designed to help streamline communication and teamwork for marketing teams and agencies.
Their Workflow Queue lets you assign tasks to team members, collaborate and collect feedback, as well as receive approval from clients before publishing content. It is intuitive to use and can be a great time saver.
Bulk Product Descriptions
If you own or oversee an online store, the chances are that you have experienced the struggle to write product descriptions for multiple products repeatedly constantly.
With Copysmith, all you have to do is upload a spreadsheet, and the AI will create all the descriptions you need. The AI optimizes each description for SEO, and Copysmith provides other tools that will help raise your search engine rankings and drive more traffic to your site.
Templates
The templates on Copysmith are a great tool that makes it easy to plug in a small set of key details and then get multiple choices of AI-generated copy to choose from. Copysmith is constantly updating old templates and creating new ones, but here are a few that they currently offer:
Ad Templates
Copysmith provides lots of engaging ad templates for a ton of different sites, including Instagram, LinkedIn, Facebook, Carousel, and Google.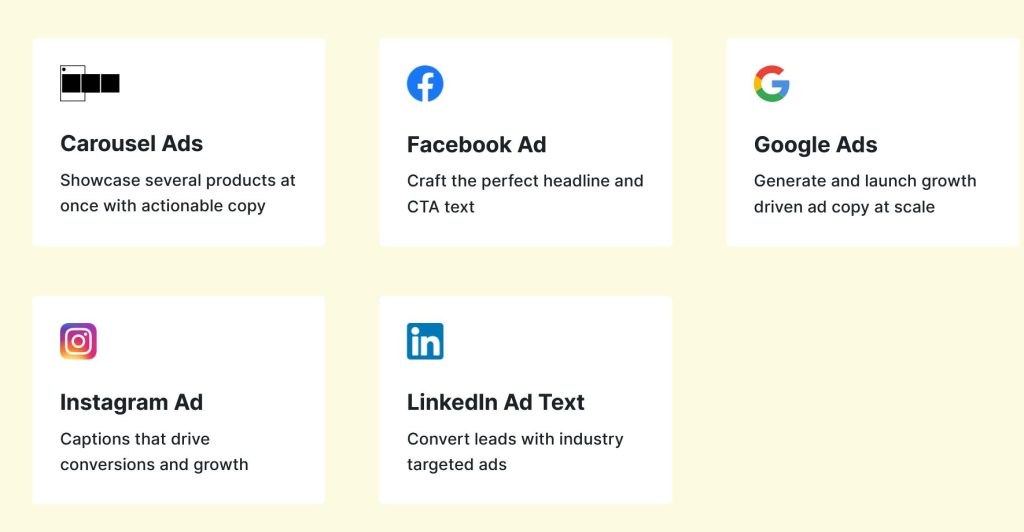 Product Descriptions
Getting people interested in products can sometimes be difficult, but a resonant product description can go a long way to doing just that. Copysmith can create product descriptions optimized for Amazon, Instagram, or other eCommerce sites.

Blogs
Constantly finding new ideas and writing blog posts can be a serious challenge for even the most experienced content writers. If you have ever struggled to develop an idea or complete a long blog post before a strict deadline, then Copysmith may have the tools you've been dreaming of.
Copysmith's blog post tools help you generate ideas, create handy outlines, and create content that is designed to be engaging and incite action from your readers.
Brainstorming Ideas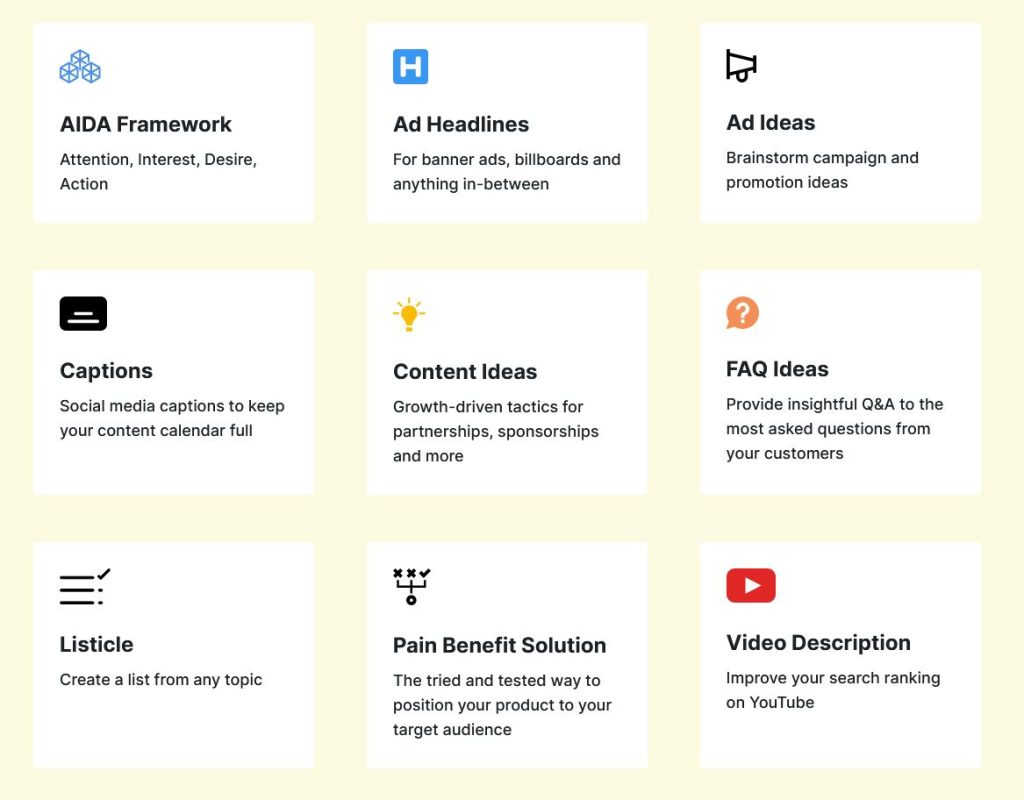 And speaking of generating ideas, Copysmith doesn't just help with blogs. They have tools dedicated to many different facets of a website or online store. Check out a few of the categories for idea creation that Copysmith offers:
AIDA Frameworks
Ad Ideas
Content Ideas
FAQ Ideas
Pain-Benefit Solutions
Listicles
Video Descriptions
To get a complete list of the brainstorming tools they offer, check out Copysmith's website.
Content Enhancement
All too often, professionals in the field of marketing can become too focused on creating brand new content when they haven't even maximized the efficacy of their current content. Copysmith can help you avoid those same pitfalls with their content enhancement tools.
You can use Copysmith to create short pitches for yourself, your business, and your product lines. The program also has a feature that designs short sales emails that can produce results in less time for you and your clients.
Copysmith provides a tool for article summaries as well. This tool will automatically create short, easily digestible snippets that your audience is more likely to read. This can be an excellent tool for increasing interest in you and your offerings.
Finally, you can use Copysmith's content enhancement and rewriting tools to refine your underperforming content or recreate the content from a new perspective to generate further interest.
Campaign Builder
Trying to maintain a cohesive style and consistent schedule for a marketing campaign can be difficult. With Copysmith's Campaign Builder tool, creating a cohesive campaign across multiple social media platforms, websites, and anywhere else you publish content is more straightforward.
The Campaign Builder utilizes templates to help you build a campaign with options like product descriptions, Google Ads, and Facebook posts. Copysmith claims that their tools for building a campaign can cut your time spent setting up and launching a campaign in half.
Bulk Content Generation
Similar to bulk product descriptions, Copysmith can also create bulk batches of other kinds of engaging content. Copysmith's engineers built the tool with large marketing teams in mind, but anyone who needs a lot of content can benefit from using it.
Whether you want to generate a year's worth of blog posts or need to create a hundred SEO meta tags quickly, the bulk content function on Copysmith makes it easy to do.
Additionally, you can upload a spreadsheet and bulk generate content for Facebook ads, Google Ads, and Ad banners. You can also create social media captions and blog outlines or tweak your current content to make copy that will perform better for you.
eCommerce
Scale up your SKU management with Copysmith's helpful eCommerce features. The tool is designed to help you stay up to date on emerging SEO trends so that you can better approach SEO optimization and outperform your competition.
Utilize the simple functions for bulk data imports and exports, unlimited plagiarism checks, and the integrations we mentioned earlier to create better content for your business and clients.
Copysmith also provides an informative eCommerce marketing strategy guide that helps guide you through using all of their tools and resources to launch content that pushes traffic to you.
Additional Tools
There is too much on Copysmith for us to give you an entire list, but we still wanted to highlight a few more tools that add value to your Copysmith subscription.
Copysmith provides a training section on their website called the Knowledge Base. There are a bunch of helpful videos that go over the program and how you can use it. There is also a blog page that has an ever-growing library of informative and entertaining articles about Copysmith, marketing, SEO, and related topics.
Alternatives to Copysmith
Maybe you like the idea of an AI copywriting platform, but you aren't in love with Copysmith. Don't worry. There are many different AI writing programs out there that you can try. Let's take a look at a few of them.
A terrific alternative that you can try if you are not interested in Copysmith is Rytr, an AI writing assistant. There are many Rytr reviews out there that highlight its valuable features and tools, many of which are similar to Copysmith.
Rytr also offers a free trial membership so you can try the program for free. As a final note, Rytr's Unlimited Plan is only $29/mo compared to Copysmith's Professional Plan, which is $59/mo.
With over 6 billion words written and more than 3 thousand five-star reviews, Jasper AI is a fantastic AI writing platform that you might want to take a look at. Jasper AI is an excellent choice if you write a lot of social media or blog-style posts. They have dozens of unique templates as well, including Youtube video script and review responder templates.
Copy.ai is a writing platform designed to streamline the process of creating ad copy and other forms of content so you can focus your energy on other things. The program works in 25+ languages and has an active members' community on Facebook. As an added bonus, Copy.ai puts out weekly live demos and other training materials to help you become a better writer.
The last alternative to Copysmith on our list is Ink. The motto at Ink is "Communicate with Purpose," where the company believes that anyone can perform better with better content. 
The site has a ton of features aimed at marketing and sales, as well as social media and even personal writing. The program is intuitive and straightforward, and it can help you improve your rankings on search engines to reach more people with your content.
Should You Sign Up for Copysmith?
Based on our research, we recommended signing up for Copysmith's free trial period and seeing if the program works for you. We outlined exactly what Copysmith is: a powerful AI-copywriting platform designed for freelancers, marketing agencies, and people who work in eCommerce.
We also took a look at some of the aspects of Copysmith that might factor into your decision of whether or not to use the program. Factors included Copysmith's available plans and their prices, Copysmith's level of customer support and user engagement, and how easy it was to use the tools to generate content.
To make sure you have as much information as possible, we also looked at some of Copysmith's best features, including the Collaboration platform, Integrations, their Campaign Builder tool, their easy-to-use templates, and a few more features.
Finally, we provided you with a couple of alternatives to Copysmith that you could research on your own to make sure you had a good idea of what was out there on the market.
If you're interested, head over to Copysmith's website and take a look at the complete list of features and tools you can use to create clean copy for all your content generation needs.