ClickFunnels Review-Pricing, Features and Alternatives
Last Updated on September 6, 2023
What made Clickfunnels so successful?
ClickFunnels Affiliate program
ClickFunnels Founded in 2014 and took the landing page builders market by storm. The young startup headed by Russel Brunnson reached a net value of $360 Million dollars in 3 years only.
not only that they did it without raising any venture capital money, pretty impressive right?
The short explanation on how Russel Brunsson did it, is he was was able to combine his superb marketing skills with a very good piece of software. Clickfunnels enables any business who uses their software to 2x,5x and even 10x their business. In this clickfunnels review we will do our best to explain what made them stand out in a very competitive market.
What made Clickfunnels so successful?
Clickfunnels perfected the art of creating sales funnels. A sale funnel is a series of pages you put your potential customer through. With the main purpose of capturing a lead (email/phone/address)/making a sale and maximizing customers average spend.
Example 1
Let's say you're selling essential oils for $9 a bottle. When a customer is going about to purchase 1 bottle and put in their payment information, you can offer he or she 3 bottles for the price of 2. if they take that offer you already doubled the customer spend, on the next page you can offer them a complementary product like a Diffuser for $75 and now you got $93 average cart value instead of the original $9 for 1 bottle purchase. See the magic? this is done with clickfunnels features like order bump and 1 click upsell, which let's you sell and resell to your customer in a very user friendly way.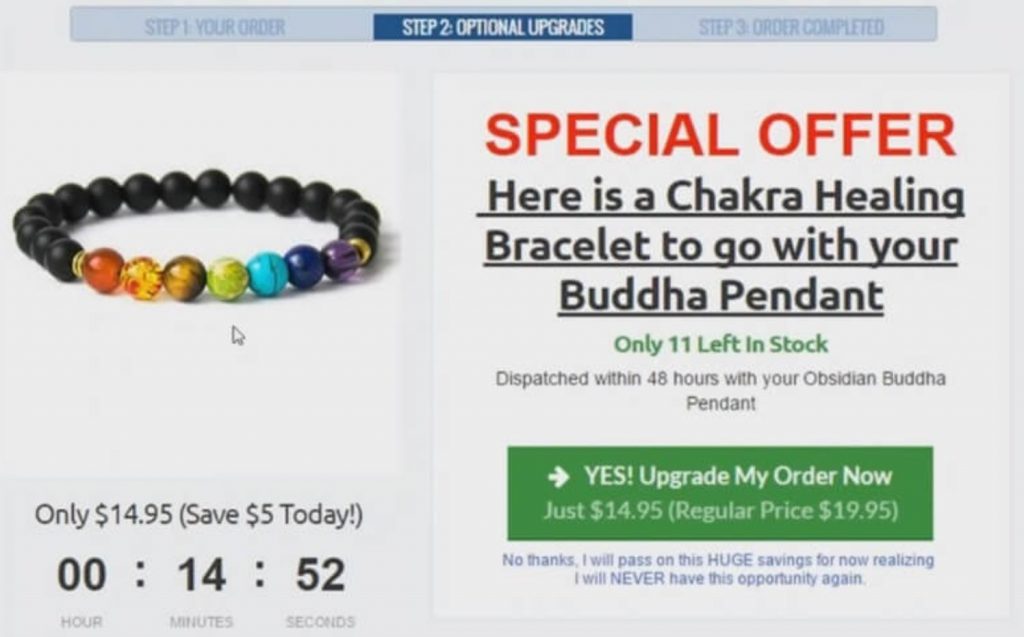 Example 2
A real estate agent looking for new home buyer leads. He can create a sales funnel where he "bribes" potential leads to leave their contact information, in exchange for a free "The complete home buyer guide" book. after leaving their details they get the book , gain value from it and are more likely to schedule a meeting and hear more from that real estate broker. And of course the broker can also contact them as he has their contact information at this point.
That's the magic of sales funnels, and that's how Russel was able to build such an amazing company without raising any venture capital . Russel's best funnels are his free+ shipping funnels. What he would do is give you a a product like one of his great books for Free : DotCom Secrets or Experts Secrets and only ask you to pay for shipping. So basically Russel covers his shipping costs and on the next pages he will sell you on other clickfunnels products (the builder, coaching, etc) so he ends up making a profit by giving away free products and believe it or not that was his secret (and still is) for building a multi million dollars company.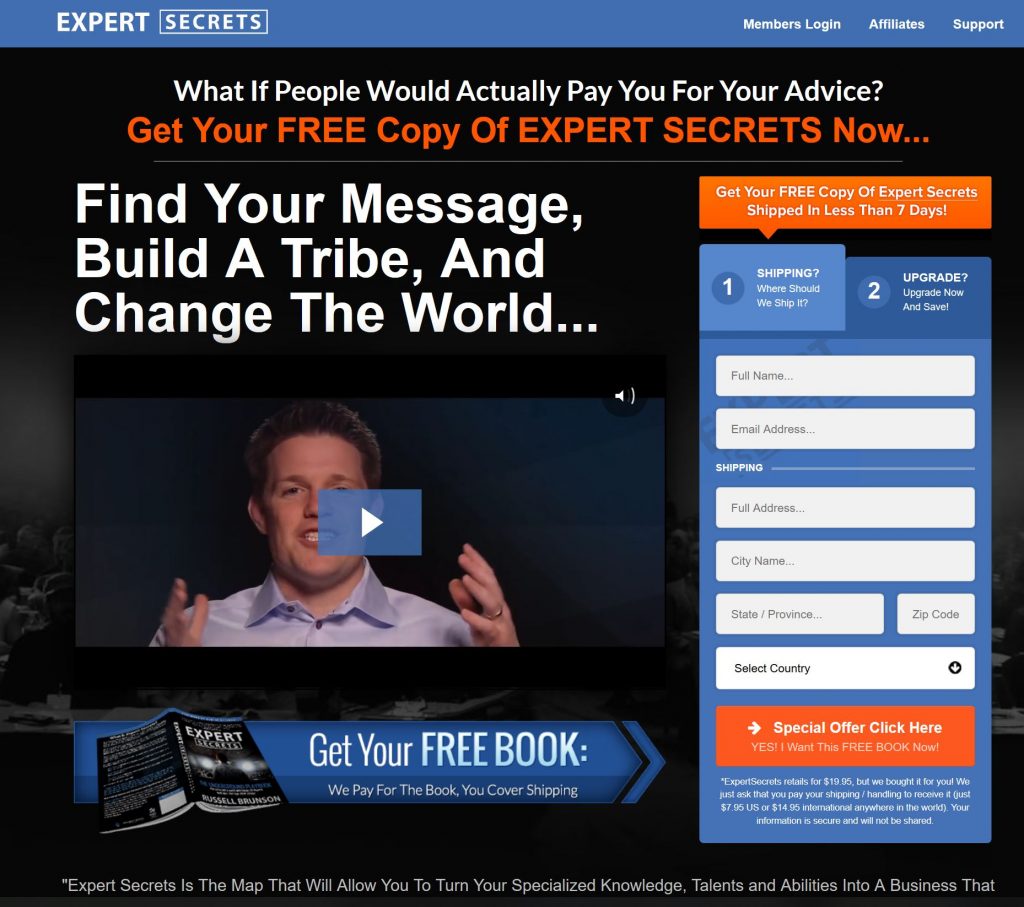 The Builder
Clickfunnels allows you to create sales funnels, landing pages, websites, memberships sites all with a very user friendly drag and drop button editor that anyone can use to build any webpage. You can also integrate Email autoresponders (i.e GetResponse, Aweber), payment gateways (i.e stripe, paypal), upsells, downsells into your sales funnels. If back in the days in order to create similar webpages you needed to hire a designer a programmer and a copywriter (check out FunnelScripts), all you need today is one piece of software called clickfunnels.
You can choose from many available free funnel templates and clickfunnels also helps you decide which one is most suited for you based on your needs: Collect emails, sell product, host a webinar. Or even based on your industry or type of business (eCommerce, Local business, Author etc).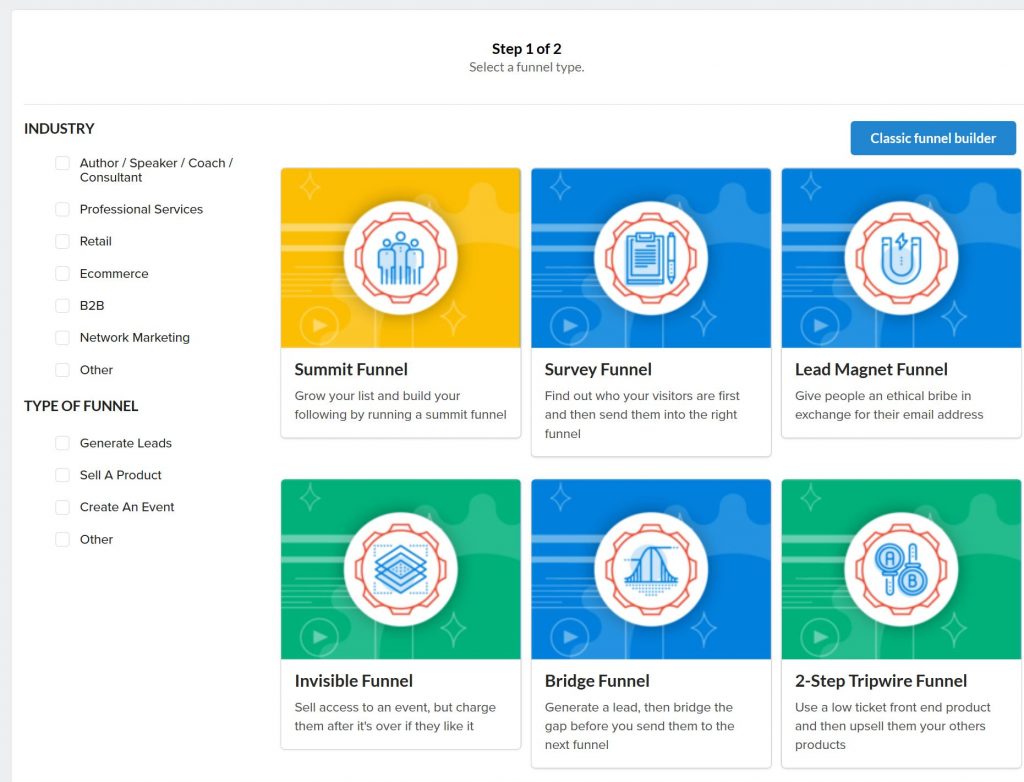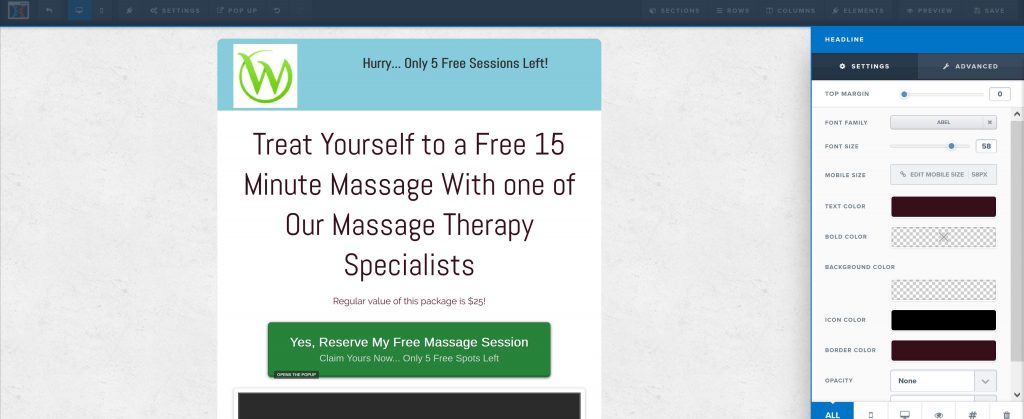 Integrations
ClickFunnels allow you to integrate with dozens of 3rd party software. In this clickfunnels review however, we will focus on the most popular ones.
Email integrations: Integrate your funnels/pages with your email autoresponder:
Payment Gateways:Collect payment in your funnels from your sales/upsells/downsales
Paypal
Stripe
Apple/Android Pay
Authorize.net
CRM Gateways:
Sales Force
Hubspot
Infusion Soft
Webinars: Integrate webinar registrations and hosting in your sales funnels.
Webinar Jam
GoTOWebinar
EverWebinar
Zapier- Zapier is a tool that enables you to integrate your apps to other apps and allow automation
Advanced Features
Actionetics- is a clickfunnels advanced marketing automation platform. Actionetics allows you to follow up with your leads via email, segment them based on their actions and communicate with them accordingly (for example a buying customer will get different emails than a customer who didn't buy). Basically you can do the same with an autoresponder integration but some people prefer the native integration with clickfunnels as it saves time and a bit of a headache if you're not that techie.
Backpack- is a really cool clickfunnels product which allow you to create an affiliate program for your product or service through clickfunnels. You can get people to promote your product/service by signing up via backpack and backpack will take care of their registration, tracking links, revenue reporting and provide both sides a great affiliate management software. If you're looking to scale your business through affiliate partners this is a very user friendly option.
ClickFunnles Pricing 2023 (2.0 Version Update)
Ok so now for the Juicy part how much does all of this cost? Well clickfunnels has 3 Main pricing plans . All plans offer14 days free trial for you to test drive it.
Start Up
$127/month
1 Website
20 Funnels
3 Users
1 Domain
10,000 Contacts
Unlimited Courses
Unlimited Workflows
Unlimited Pages
Unlimited Products
Unlimited Email Sequences
ShareFunnels
Analytics
CF1 Maintenance Mode Plan
Most Popular
Full Suite
$197/month
1 Website
100 Funnels
5 Users
3 Domains
25,000 Contacts
Unlimited Courses
Unlimited Workflows
Unlimited Pages
Unlimited Products
Unlimited Email Sequences
ShareFunnels
Analytics
CF1 Maintenance Mode Plan
API Access
Funnel Hacker
$208/month
3 Websites
Unlimited Funnels
15 Users
9 Domains
100,000 200,000 Contacts
Unlimited Courses
Unlimited Workflows
Unlimited Pages
Unlimited Products
Unlimited Email Sequences
ShareFunnels
Analytics
CF1 Maintenance Mode Plan
API Access
ClickFunnels Affiliate program
ClickFunnels has a really cool and rewarding affiliate program. Basically they pay you 40% Recurring commission for every customer you refer to them. If you refer a start up customer they pay you $38/month and if you refer a full suite customer they pay you $118/Month.
Not only that but they also have this thing called "sticky cookie" which basically means that you also get %40 commission out of every purchase that customer makes of clickfunnels products (remember how we talked about how good they are upselling and cross selling other marketing products to their customers.) On top of all that once you refer 100 customers to them not only will you make 4 figure recurring income, clickfunnels will also pay for your dream car- check out What's Your Dream Car!?!
Let's do some simple math:
100 Referred Startup Plan Customers- $3800/Month, $45,600/Month (at least)
100 Referred Full Suite Plan Customers- $11800/Month, $141,600/Month (at least) .
Not bad right? By the way you don't have to be a clickfunnel customer to become a clickfunnels affiliate, but it's easier to promote it if you do for 2 main reasons:
It's easier to promote an offer you that you use and know first hand.
If you are using clickfunnels you have the option promoting clickfunnels using sharefunnels, which is a really easy way to get new clickfunnels signups- get more information about it here.
Support and Help
Clickfunnels have great 24/7 support stuff and usually their support responds within a few hours for most tickets submitted. But aside from that they also have a very comprehensive knowledge base where you can find answers for almost any question you have plus video guides.
ClickFunnels Review-Final Thoughts
We hope you benefited from this clickfunnels review, if you have any questions you are welcome to leave a comment below. We've been using clickfunnels for about a year now to promote different business, products and services and we can honestly tell it's one of the best solution out there for building sales funnels, landing pages and build a marketing automation machine in any business.
If you need further assistance in setting up clickfunnels in your business contact [email protected] or schedule a free meeting here==>