Top Email Marketing Software Features You Would Want To Pay Attention To.
Last Updated on April 4, 2022
If you been in the online business even just a little while you should know by now the importance of email marketing to grow your business. The email marketing software market is very competitive and there are dozens of great services you can choose from. But how do you know which email marketing software can best serve your needs? Well the first step is understanding which features of an email marketing software are most important for any business.
Let's go over the top email marketing software features you should consider when choosing an email marketing software.
Deliverability
Deliverability refers to the % of emails that are actually getting to your subscribers inbox. Imagine having a a list of 1000 subscribers and your email service provider is only reaching 50% of them, that means half your database isn't getting your messages, needless to say it's huge loss of time and money. You should never settle for less than 99% deliverability rate from your email service provider. Also verify that they follow industry best practices for email deliverability so you can stay compliant with current legislation like CAN-SPAM and CASL. Two companies with great deliverability rates are:
Visual/Drag&Drop Editor
A good drag and drop editor makes writing and sending emails very user friendly as well as fast and easy to customize. You also want to check that your email marketing softwae has plenty of built in ready to use email templates you can use and customize. Also make sure all templates and emails are mobile responsive (pretty much a standard these days , but be sure to check)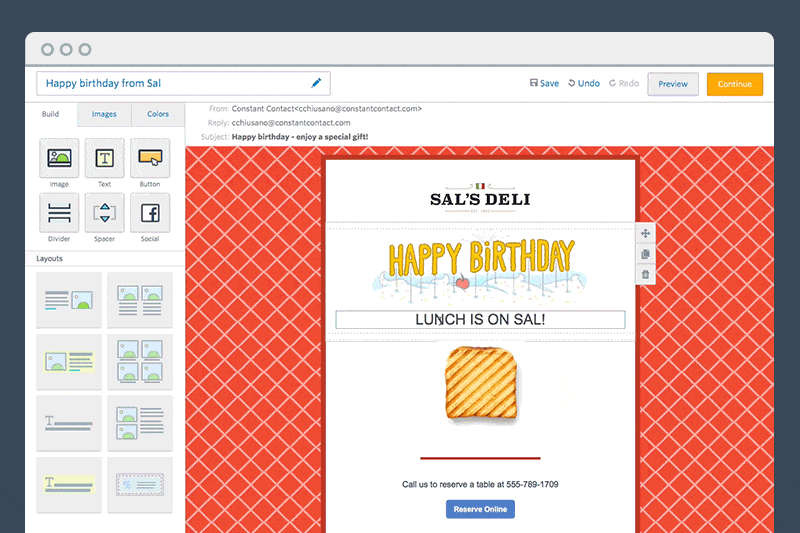 Analytics & Reports
When managing an email list it is very important to know your metrics. How many users been added to your list in a specific time frame? how many unsubscribed? how many people are opening your emails? How many click them? how many share them?Which devices are your emails read from? which countries? and so on.
That data can help you optimize your email marketing campaigns and improve your email marketing metrics and achieve your goals. If for example you know an email with subject line A generated 30% Open rate and 2% Click through rate while email with subject line B generated 15% open rate and 1% click through rate that tells you that the first email yield better results, that's why it's important to have a software that tracks all these things.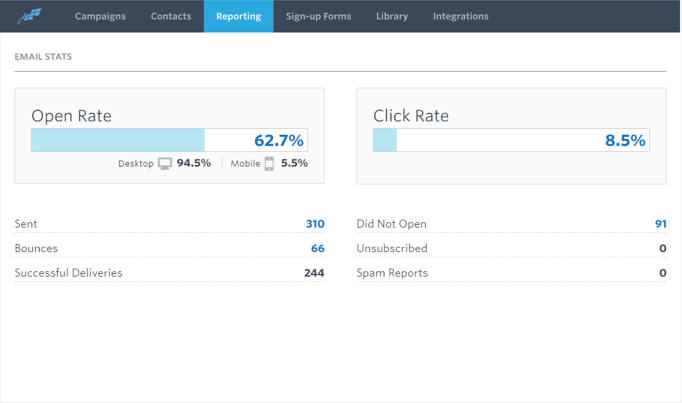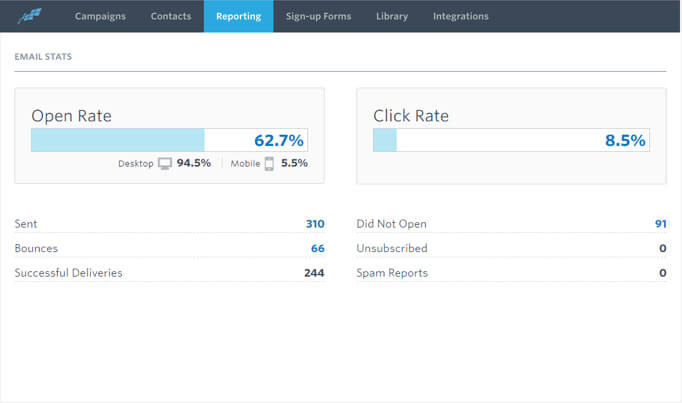 Contact segmentation
a good email marketing software will allow you to create segments/groups based on different conditions such as:
User's country/city
User's Activity/Engagement (Clicks, opens, unsubscribe, spam complaints)
Purchase behavior
Device Used
Subscription Date.
And the number of conditions you can segment your list into is limitless.
Why is contact segmentation is important? Well the more targeted your email campaigns are the more likely your deliverabilty rates will improve, open and click rates, and revenues. A study by marketing Sherpa supports these claims
We always strive to achieve more things in less time. That's why it's important that your email service provider gives you great email automation templates/options like:
When a contact joins list A automatically remove him/her from list B- Imagine having a customer on list A who buys your product for a full price on day 1 and getting an email with a 50% coupon on day 3 for the same product? you would like to remove him automatically from that list once he purchases right? Well you can do that automatically, not having to worry about sending a 50% off coupon to customers who already paid full price for your product or service.
Sending a newsletter with your recent blog post as soon as you publish the post on your blog or on set intervals (once a day, twice a month etc.).
Email scheduling- Schedule holiday coupons emails, welcome emails, happy birthday emails.
Autoresponder sequence-Schedule an x days emails sequence to people who join your list.
Removing inactive contacts – remove contacts who have not opened/clicked your emails never/in the past 2 months and so on. This is a really good practice to keep your email lists clean and improve delivarbility.
Possibilities are endless really when we talk about email marketing automation as you can see.
email automation are designed to save you time and money, so make sure the email marketing software you choose offers pre built automation templates and flows as well as automation flow builder.
3rd Party Integrations
Since we are working with multiple tools and applications in our online business, we want to make sure they integrate with each other. And our email marketing software is not different.
Examples of 3rd party integrations of our email marketing software are:
Shopify store-Add your customer and product data to your email marketing software database and use it in your email marketing campaigns.
Facebook ads– create advertising campaigns from your email service provider.
CRM– Integrate email campaigns with your CRM.
Payment gateways– Add a paying customer to your buyer lists when someone makes a purchase on your site.
Webinars– Add your webinars attendee into your email marketing software.
Send time optimization
This is a very cool feature that when activated will send emails to your contact at a date/time they are most likely to open it based on their past behavior.

A/B Testing
A/B testing or split testing allows you to test different messages on your audience and see which drives the best results for you. You can measure your results in open rates, click rates and of course purchase, lead form submissions etc. For example: If you want to improve your open rates you would want to test different subject lines.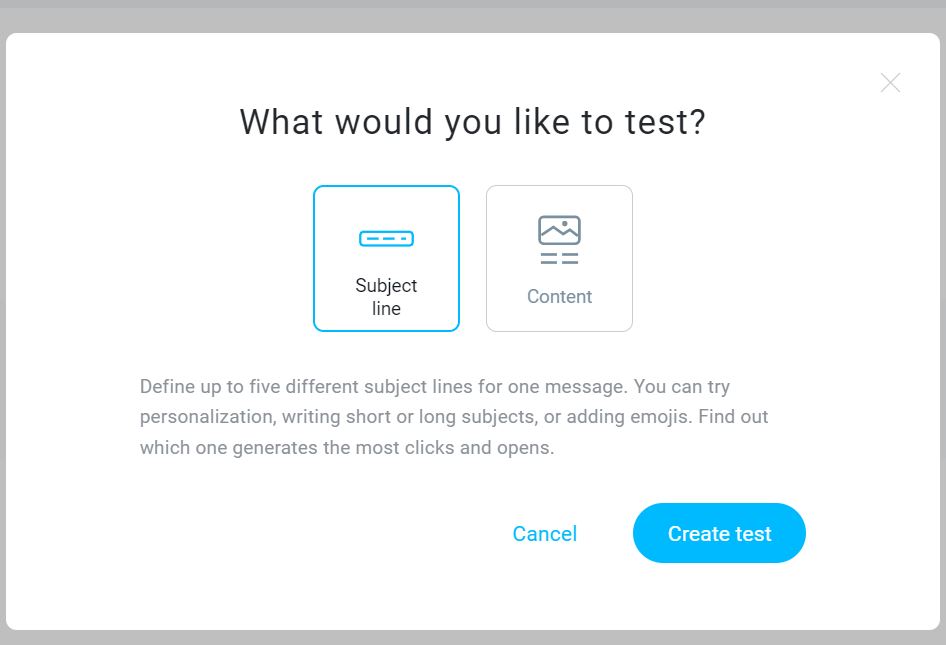 Final Thoughts-Email Marketing Software Features
Hopefully this article will help you make a more informed decision when choosing an email marketing software. While we think the features listed here are the most important email marketing software features, every online business is different and you may value other/more features, so do your research.
Email Marketing Software we Recommend: