Email Marketing Automation Examples You Can Start Using Today
Last Updated on August 4, 2021
Email marketing is one of the most important marketing channels, every successful blogger/online entrepreneur knows that. But a lot of them are not aware of some of the amazing Email Marketing Automation Features you can use that will save you a lot of time and probably bring in more revenue in your pocket. So let's review some email marketing automation examples.
GetResponse All in One Marketing Platform
RSS TO EMAIL
With RSS-to-email you can get your new blog's content to your audience via email and social media as soon as it's published without having to write a new email or post a new update every time it happens. To create this kind of automated message first go to Dashboard>>Email marketing>>RSS-to-email. On the Manage RSS-to-email page, click add new.



You need to add your rss feed link (on wordpress it's your site url/rss- so for this site it is : http://selfmade.today/rss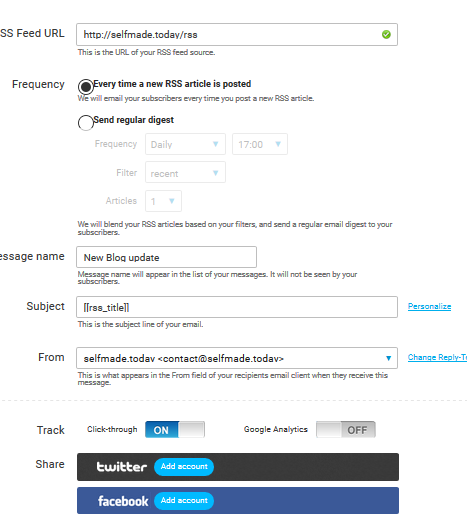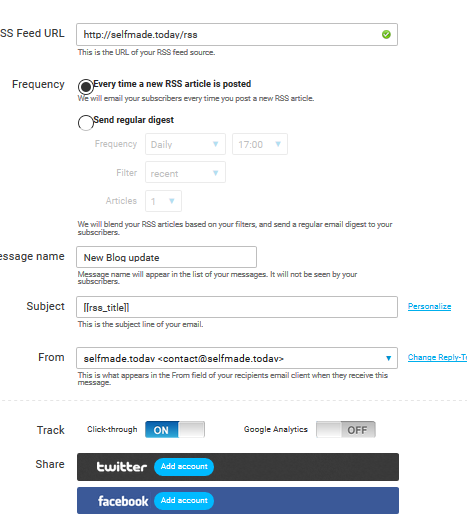 Choose frequency- for example every time you post a new article on your blog they will receive an email from you with a link to the article.
Choose message subject and from email.
Choose if you like to share the message on social media and click next.
Choose one of the predesigned templates.
Choose the list/s you like the messages to go out to and hit save.
That's it, from now on every blog post you will add to your blog will also be emailed to your email list.
Autoresponder scheduling
When someone joins your list you want to follow up with him/her and provide them the content they subscribed to. but of course you are not going to write new messages every time someone joins your list,so what do you do?
Well you just set up an autoresponder sequence in advance and choose what will be sent and when. For example if you have a cooking blog, and someone joins your list via one of your lead magnets   you can send them upon sign up what they subscribed to (i.e a recipe , cooking course, ebook) on day 2 you can send them a feedback survey on day 3 you can send them tips for cooking sweet potato pie, you get the idea.
To acheive this simply go to Dashboard>>Email marketing>>Autoresponders>>Create New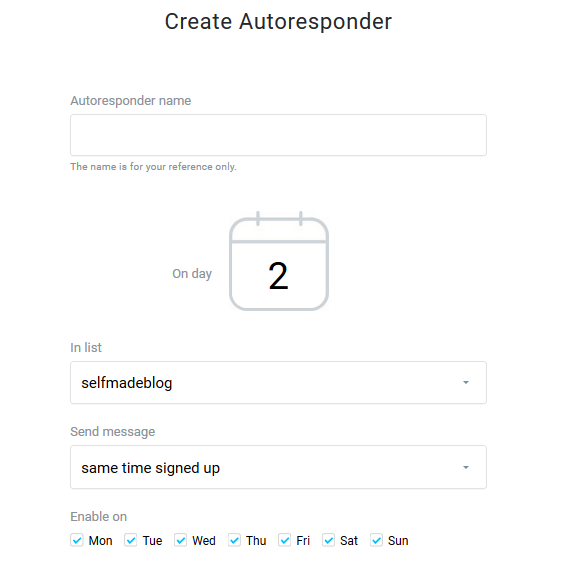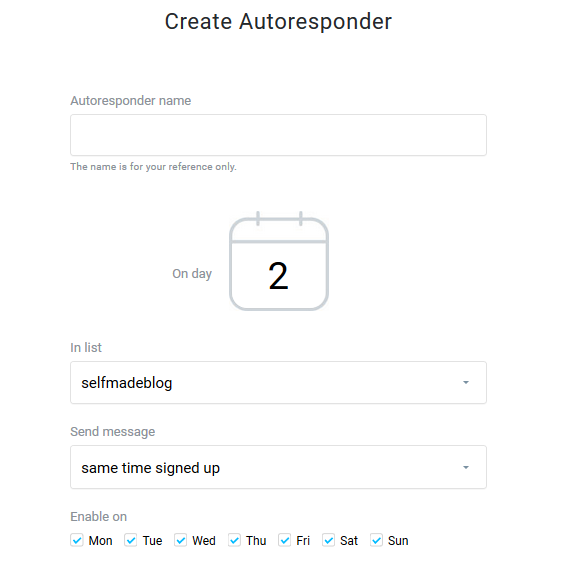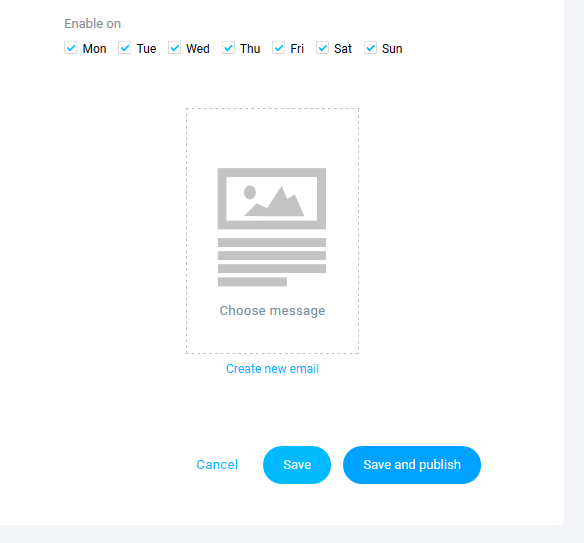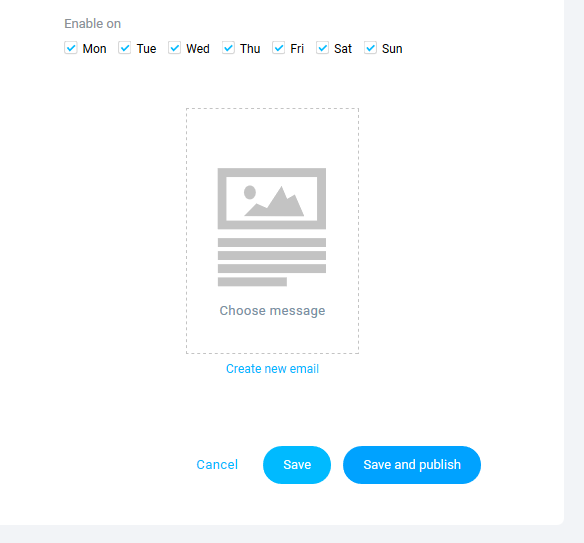 You can see it's a pretty straight forward process you. You choose the marketing list you like to the autoresponder sequence be sent to the time the day of the week , and of course write the message itself so you create a marketing machine for your blog subscribers. All you have to do is get people to sign up for your blog now (:
Automation workflows
This is a really powerful feature and there many ways you can use it but let's look at one example:
Say you are selling a course for $50 to your email subscribers, some buy it , some don't , but for those who don't, you like to offer a coupon after a few days they saw the first email about the course. At the same time though you don't want people who paid the full price to see it cause obviously they wont like it. The solution? You create a workflow that says:
When someone joins the course ==> remove him/her from the original list and add them to a new list: "bought the course list "
There's another integration required here depending on how you notify getresponse of a new course member,  we won't go into that here, but if you use a software like Clickfunnels for creating paid/free memberships you can integrate it with Getresponse to complete that kind of workflow.
You can explore many different workflows by going to Email marketing>>Automation>>Create workflow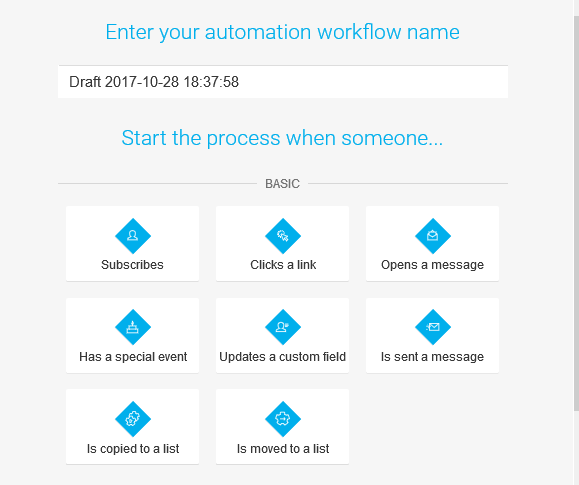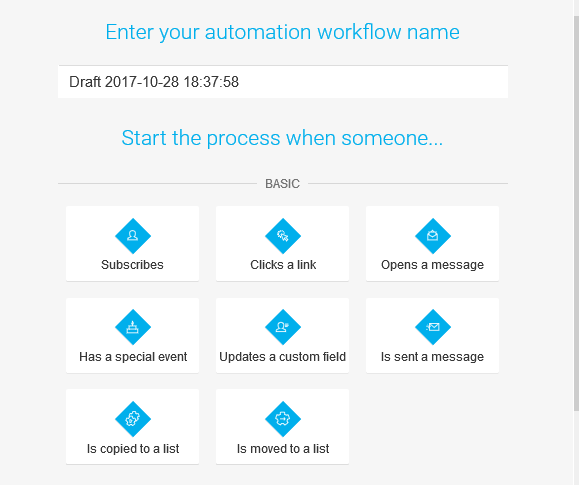 The options here are really endless, here are a few more examples:
Send a more personalized subject line in the email to contacts who don't open your emails.

Send more promotional emails to people who already bought from you.

Send coupons to people who visited your product payment page but didn't purchase.

Send birthday greeting to contacts on their birthday (maybe even a coupon).
Email Automation- Are You Using it?
Whatever your business may be you need to make as many tasks as you can automated, to free more time for the tasks that can't be automated or shouldn't be.Here we discussed Email Marketing Automation but of course this applies to every aspect of your business.
If you are not using an email marketing software, we recommend:
GetResponse (30 days free trial-no credit card required)
Active Campaign (14 days free trial)
Comments, questions? post below!