Be an Insta Stalker: Instagram Anonymous story Viewer Explained
Last Updated on November 13, 2023
Instagram stories are super popular content delivery method by influencers, business and everyday people. In order to watch an Instagram story you need to have an Instagram account and you need to be following the account you want to view stories of.Also when you do watch a story the account will be notified that you watched its story. If you want to bypass these limitations and still be able to watch Instagram stories than you need to use an Instagram anonymous story viewer.
What is an Anonymous Instagram Story Viewer?
An Instagram Anonymous story viewer is a tool or app that allows you to view (and sometimes download) Instagram Stories anonymously and even if you don't have an IG account. This means that the person who posted the Story will not be able to see that you have viewed it.
Why use an Instagram Story viewer?
There are a number of reasons why you might want to use an Instagram Story viewer:
To view someone's Stories without them knowing.
To view Stories from people you don't follow.
To download Stories to your device. Stories disappear after 24 hours so if you want to be able to revisit that content you would want to download it.
How does an Instagram Story viewer work?
Instagram Story viewers work by using a variety of methods to bypass Instagram's security measures. For example, some apps may use a proxy server to view Stories, while others may use a third-party API.
Is using an Instagram Story viewer safe?
While most Instagram Story viewer apps are safe to use, there are a few things to keep in mind:
Some apps may be malicious and contain malware. It is important to only download apps from trusted sources.
Instagram Story viewers can violate Instagram's terms of service. If you are caught using an Instagram Story viewer, your account may be suspended or banned.
It is important to use Instagram Story viewers responsibly. Do not use them to violate someone's privacy or to spread misinformation.
Best Instagram Anonymous story Viewers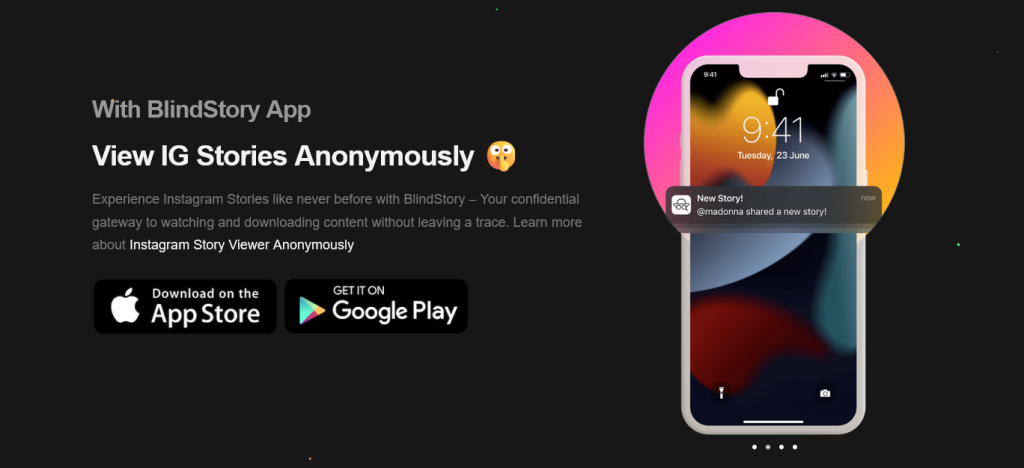 BlindStory is a story viewer app that allows you to view Stories anonymously and download them to your device. It is available for both Android and iOS devices. The free version will let you use it for watching stories, reposting, and adding multiple users to your favorites but for the long run you will need to paid version which starts at $6/month.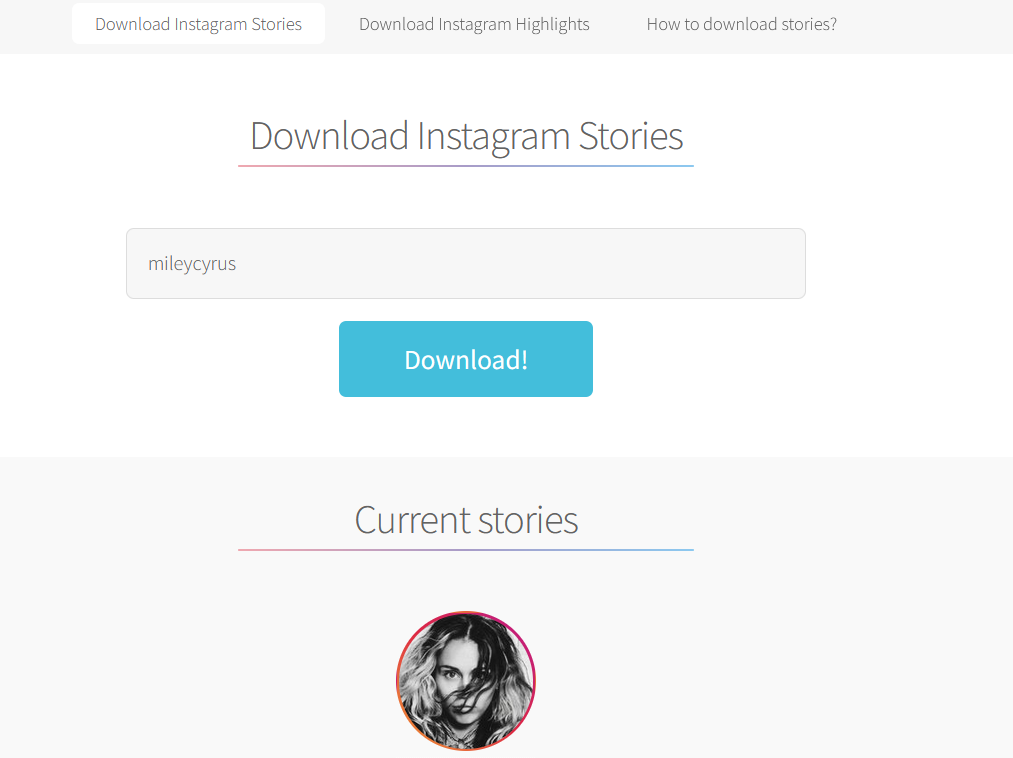 Story Saver is another popular Instagram Story viewer app.It is web based and allows you to download stories to your device. It is free to use and all you need to do is enter the account handle you want to download stories from and storysaver will download them.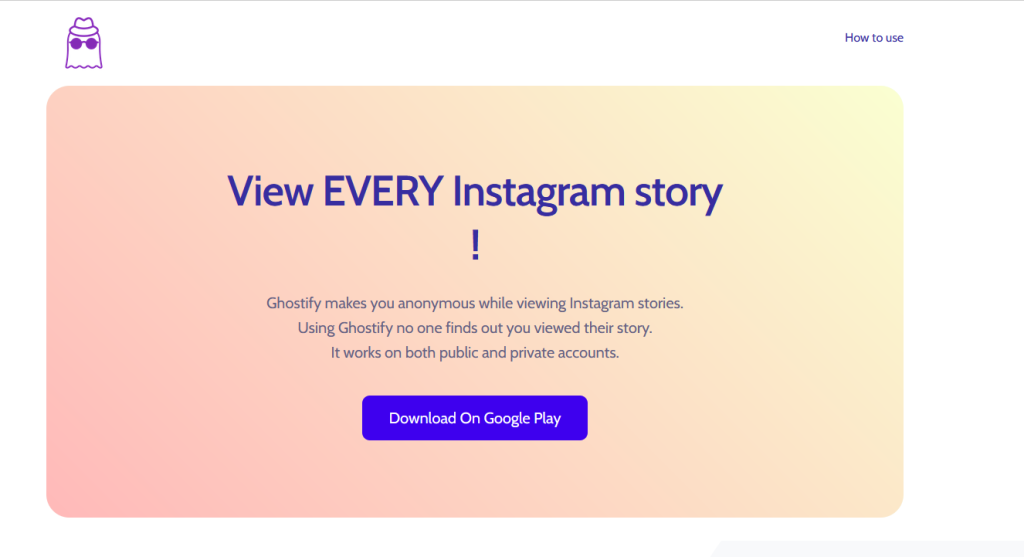 Ghostify is a unique Instagram Story viewer app that allows you to view Stories anonymously and without leaving any trace plus it also works on private accounts.. It is available for Android users, as well as a Chrome extension. Ghostify offers a free trial plan (view 15 stories anonymously), and then it will cost you 2.99$ for unlimited usage. Also know that you do need an Instagram account to use Ghostify.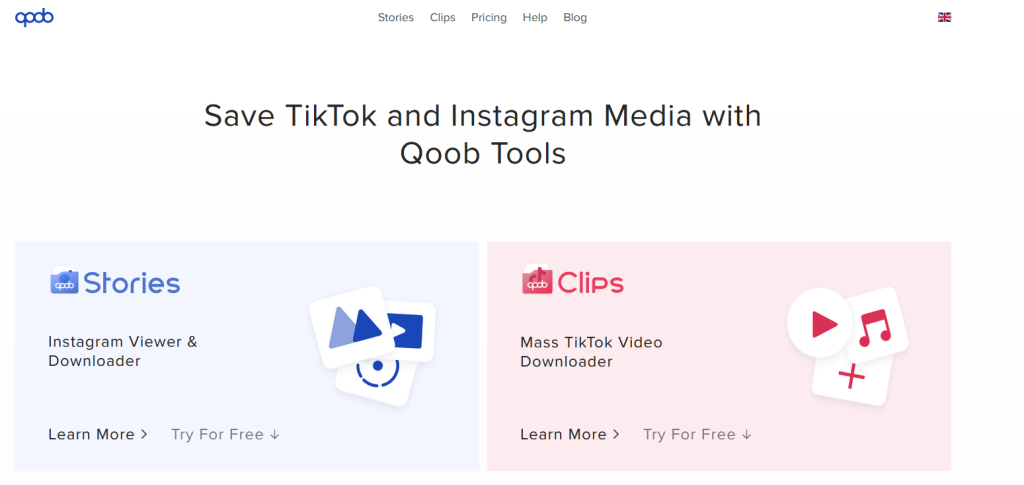 Aside from being an anonymous Instagram Story viewer app,Qoob is also a mass tiktok video downloader. It has a free limited version and than paid version at $7/month and $25/month. It offers a web app only and no mobile app is available at the moment.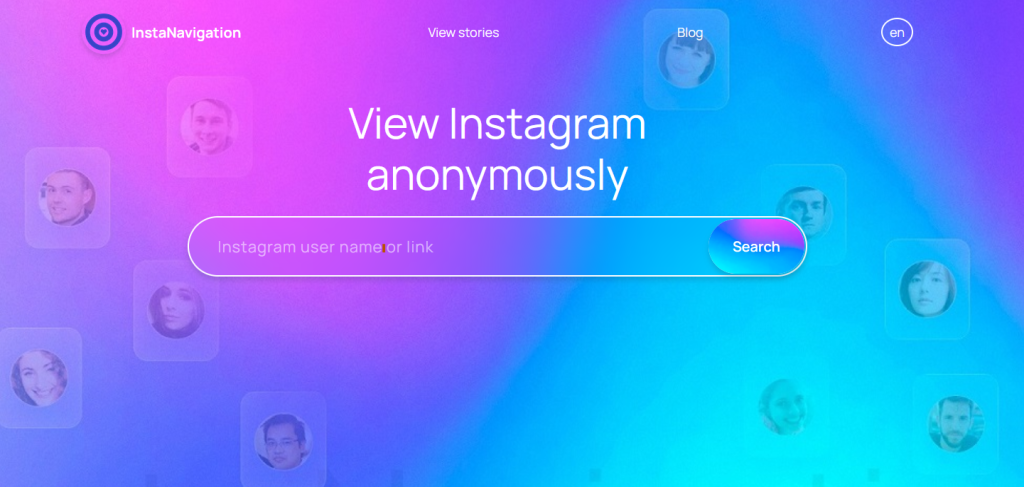 InstaNavigation is a free online Instagram Story viewer tool that allows you to view Stories anonymously and without the need to create an IG account. Similar to Story Saver is very easy to use and does not require any installation.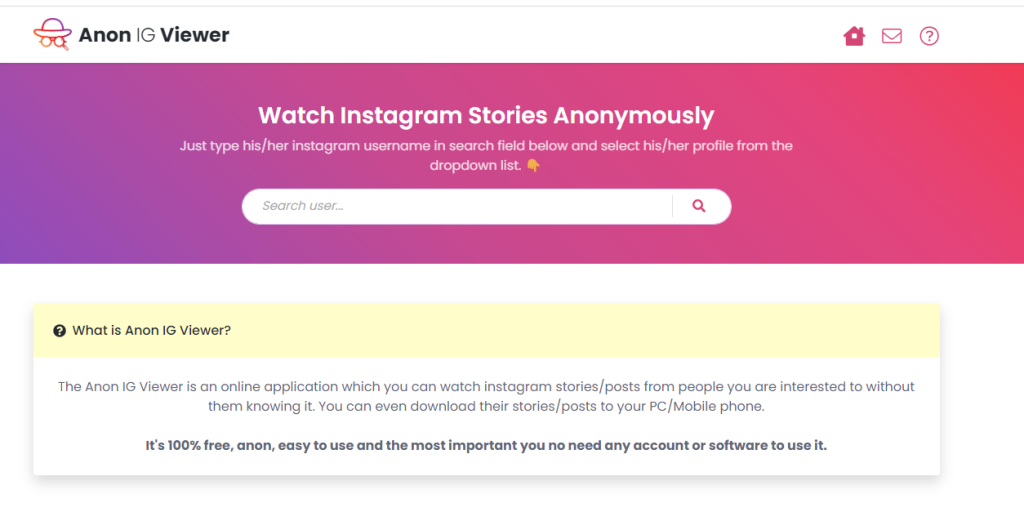 Anon IG Viewer is 100% free instagram story viewer. You can also download videos using their web based app. Very easy to use (all you need is to put in the user name you want to watch) and completely free.
Advantages of anonymous story viewing
The advantages of using Instagram's anonymous story viewer extend beyond simply stalking profiles for gossip purposes. For businesses, it provides a valuable tool for conducting market research and gaining insights into consumer behavior. By anonymously observing how audiences interact with content, businesses can refine their marketing strategies and create more targeted campaigns.
You can also download Instagram stories and repurpose them (while crediting the creators of course) and start your own account based on curated content.
Instagram Story Viewer- Wrap Up
In conclusion, Instagram's anonymous story viewers give you the option to view Instagram stories without letting their creators and other viewers know you did.
Whether you're a business looking to gain marketing insights or simply an individual looking to browse stories anonymously, an anonymous story viewers will safeguard your privacy. You can find on the list of tools we mentioned both free and paid options, for most users the free ones are more than enough. Of course there are plenty of other tools, we tried our best coming up with the best ones we found, but as always it is good to do your own research.
Finally, remember that since these tools are bypassing some of Instagram's restrictions they might not always work.
Happy stalking!
FAQ
Can I use Instagram story viewers for private accounts?
Most IG anonymous story viewers don't let you view private accounts. Ghostify is one that does and it's available on Android and as a chrome extension.
Are Instagram story viewers safe to use?
Usually they are, but don't trust tools that ask for your IG login details.
What info do I need when using an anonymous IG story viewer?
Usually all you need is the name of the account you're looking to view.