Top 5 Platforms for Online Coaching -Scale and Grow Your Coaching Business
Last Updated on December 21, 2022
Drag and Drop Website/Course Builder.
No Transaction Fees.
Hundreds of Integrated Apps.
Powerful Engagement Tools.
⭐ Upcoach-Top Choice⭐
$29/month
Advanced Learning Management System.
Accountability & Encouragement Tools
Agendas and Meetings Tool.
User Friendly Client Management System.
Coach Accountable
$20/month
24/7 Support Team.
Pricing suitable For All businesses.
Easy Client Management.
Whether you're a life coach ,career coach, business coach or a motivational speaker. You must have a platform to manage, track and connect with your clients.
We reviewed the top coach platforms in the market and choose the best five.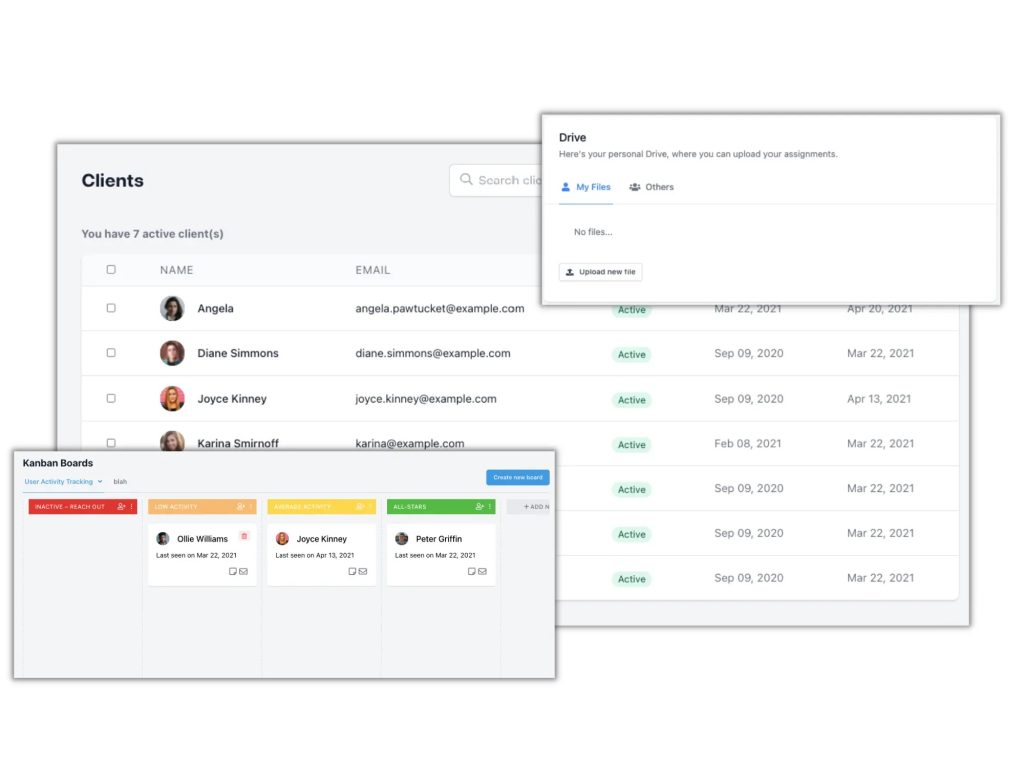 Of all the platforms we assessed, UpCoach offers the most benefits for the best price—and boasts the best reviews.
Customers call it "a gamechanger" and confirm that the website's intelligent, consolidated data system has the potential to revolutionize your coaching business.
Overall Evaluation
UpCoach consolidates all of your reviews in one place. Centralizing your reviews is crucial for a company whose success depends on word of mouth and successful business marketing.
Potential clients can view your reviews in one place and get a snapshot of your excellence through the comprehensive rating system.
The most valuable feature of UpCoach is its streamlined integration of every platform and virtual system you are already using to work, deliver, and serve your clients.
This allows you to save money spent on subscriptions and additional fees. Additionally, your business becomes more time-efficient as you spend fewer hours toggling between incompatible platforms.
Ultimately, UpCoach allows you to scale your impact and reach as many potential clients as possible, which allows you both to make more income and help more clients meet their potential.
Features & Benefits
UpCoach offers Best Overall – UpCoach many valuable features relative to other platforms.
Learning Management Systems: The LMS feature organizes information for your clients and allows you to assign documents and worksheets automatically.
Program Editor: UpCoach boasts a sophisticated Program Editor that allows you to create diverse, functional, and customizable programs. These programs are adaptive to both individual sessions and group or cohort sessions.
Agendas and Meetings: The Calendar feature allows you to schedule sessions and organize your client database. Templates are customizable. You can merge your UpCoach calendar with your Google Calendar and integrate Zoom links into your coaching invitations.
Accountability Tools: The Habit Tracker enables you to track your clients' progress and lend a word of encouragement. You can also create accountability groups to foster interactive support among clients.
Communication: UpCoach offers a forum you will use—one that allows you to communicate with clients instantly on one platform.
Client Database: This integrated client database will .provide the organization you've been craving. Client profiles are easy to create, store, edit, and consult, allowing you to customize your approach to each client.
Integration Tools: UpCoach integrates easily with popular platforms like Google Sheets, Airtable, Miro, Zoom, and Google Decks.
Who Should Use Upcoach?
Upcoach is a versatile tool and works for all coaching businesses—no matter how big or small.
This is a coaching platform for coaches committed to helping their clients and widening their sphere of influence.
UpCoach is also ideal for those who suffer from the time inefficiencies of toggling multiple platforms—which is most of us.
Because the platform is easy to use, it is excellent for coaches who lack technological expertise.
Also, Upcoach reviews on product hunt are very good, 35 reviews 5 star rating.
Pros & Cons
Before you join the platform, consider the pros and cons below.
| | | |
| --- | --- | --- |
| Category | Pros | Cons |
| Pricing | UpCoach has variable, scaled pricing planes. | Specific plans set a limit on customers. |
| Client Database | The CRM allows you to consolidate your client information and connect with current and past clients. | |
| Accessibility | Customer support is available 24/7, and the website boasts an academy tab that teaches you everything you need to know! This program is suitable for beginners. | It exists in only one language. |
| Functionality. | The program offers fully integrated services, workflow features, and HTML Embed blocks. | There is only one payment gateway and no sales landing page. |
| Programs | Allow you to customize your approach to clients and offer unlimited programs fully. | You can't remove the branding from materials on the basic plan. |
Pricing
UpCoach offers scaled pricing programs for each business type.
If the platform is not for you, the company offers full refunds within two weeks of your purchase.
| | | | |
| --- | --- | --- | --- |
| Program Name | Price per member per month | # of clients | Who It's For |
| The Enterprise Program | Variable | Unlimited | Thisprogram is for coaching companies with more than ten employees working within the organization. Prices depend upon the company's needs, and customers must contact UpCoach for exact quotes. |
| The Scale Program | $79 | Unlimited | This program offers a comprehensive platform for organizations that don't want to set limits on employee and client numbers. |
| The Grow Program | $39 | 100 | This program is ideal for medium-sized coaching businesses that don't plan to upscale. |
| The Launch Program | $29 | 30 | This package works for individual coaching businesses or smaller companies that prefer to keep a limited clientele. |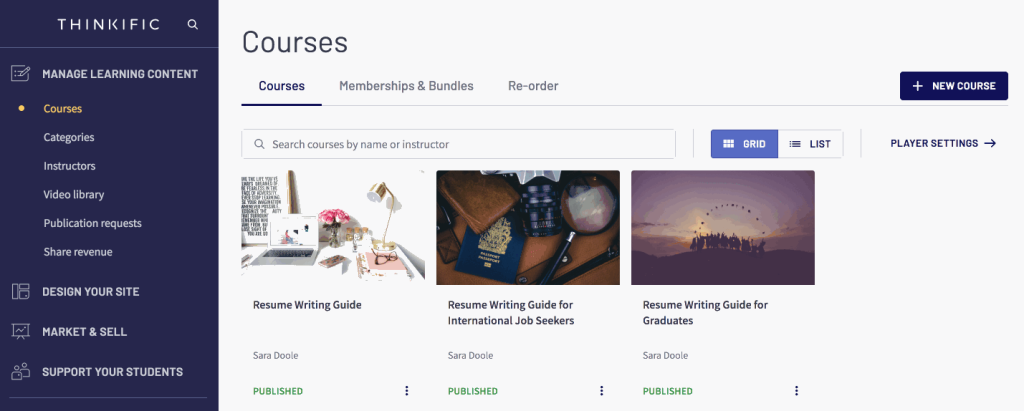 Thinkific is mainly a course creation platform—and works best for coaches who concentrate on teaching and offering classes.
The website boasts many features that facilitate both synchronous and asynchronous courses and lends itself to customization.
Overall Evaluation
Thinkific is a user-friendly course creation platform that empowers coaches to build comprehensive classes on various subjects.
Popular features include embedded video capacity, live-stream integration, in-platform apps, multimedia options, and client certification pathways.
Reviewers express overall positive impressions of the platform, which is still in an early development stage and promises to offer additional features, such as automated tax services.
Features & Benefits
The company boasts several desirable features.
Product creation: The program features an integrated course builder that allows you to select course features without using code. You can schedule classes or assign them as self-paced, and you can deliver live and multimedia lessons to engage your clients.
Marketing services: You can customize website themes and use marketing tools to promote your courses. You can also choose from over 80 apps in the built-in store to customize your courses and improve your marketing strategies.
Financial tools: The website makes it easy to receive payments and incentivizes customers to purchase faster. You can also offer add-ons to boost sales.
Engagement strategies: The program allows you to build communities and host discussions on topics of interest. You can also create consolidated client databases.
Scaling opportunities: The program is fully scalable and allows you to steadily grow your business and learning environment by expanding your course offerings.
Who Should Use ThinkiFic?
Thinkific is best for established coaches seeking to expand their businesses. Most coaches who create courses already have a following.
However, the Basic program allows easy entry into the complex world of course creation and is adaptable to beginners.
Pros & Cons
Consider the pros and cons below.
| | | |
| --- | --- | --- |
| Category | Pros | Cons |
| Overview | The program provides a consolidated learning management system to facilitate course creation and consumption. | The layout is confusing and lacks aesthetic appeal. |
| Pricing | The company does not charge a transaction fee. | Payment plans are steep and coaches looking to expand their business face significant price increases. |
| Integration | The program offers opportunities for multimedia integration and built-in apps. | The certificate design tool is challenging, and the essential quiz function is unsophisticated. |
| Customization | The website makes it easy to customize courses. | As soon as you save a course, it becomes public. Furthermore, you must pay to use sophisticated functions like HTML and CSS. |
| Hidden Fees | N/A | You will incur additional fees for each student after the 100th student. |
Pricing
The company offers four pricing plans with different features.
| | | | |
| --- | --- | --- | --- |
| Program Name | Monthly Price (per month) | Annual Price (per month) | Who It's For |
| Free Program | $0 | $0 | This free trial allows you to test-drive Thinkific's basic functions. The drag-and-drop CourseBuilder will give you an idea of whether or not the site is for you. |
| Basic Program | $49 | $39 | The basic program teaches you to launch your courses and offers all the basic tools you need. It offers only one site admin account. |
| Pro Program | $99 | $79 | This is the most popular program and works best for course creators with an established audience seeking to build courses. It offers two site admin accounts. |
| Premium Program | $499 | $399 | This option is best for advanced businesses seeking to develop sophisticated learning services. It offers five site admin accounts. |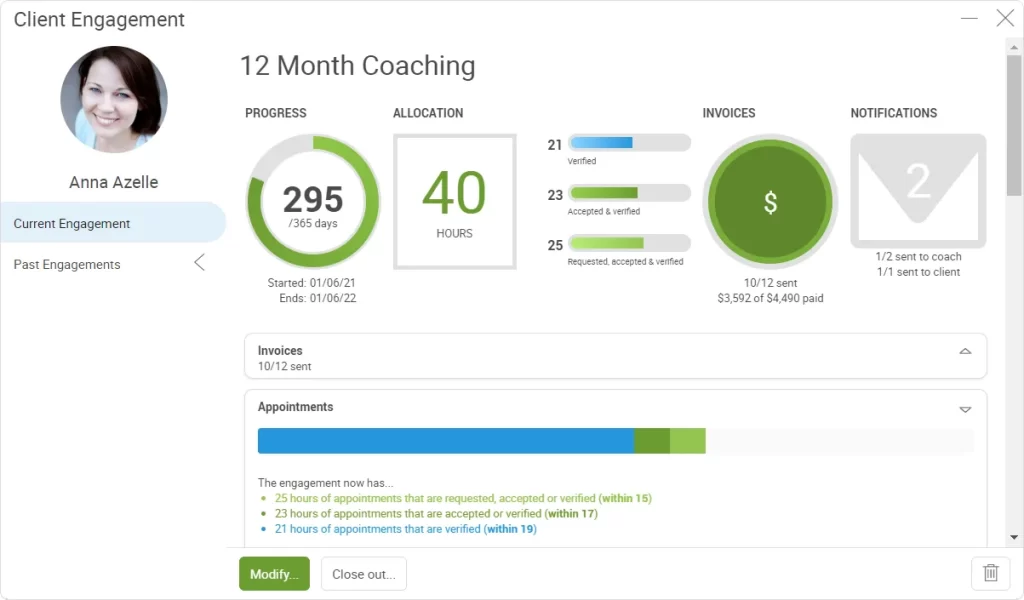 CoachAccountable is a consolidated administrative tool for coaches.
The platform is among the oldest of its kind and has been active since 2012. Reviews are largely positive.
Overall Evaluation
CoachAccountable is a streamlined coaching platform that offers several critical services for your coaching business, including a mobile workspace, a functional calendar, customizable contracts, invoicing and payment capabilities, and client workspaces.
Client-facing features include worksheets, notes, journals, file-sharing, group spaces, courses, and an integrated online portal.
World-class organizations, including Amazon, JPMorganChase, Comcast, Stanford, and Yale University, trust this platform with their business.
Features & Benefits
CoachAccountable offers a long list of features.
Scheduling: This platform allows you to book, schedule, and host individual and group sessions. It is fully compatible with iOS, Google calendar, and Outlook calendars.
Client management: The client database features a client portal, digital contracts, automated reminders, action plans, metrics, and notes (private and shared.)
Team and account management: CoachAccountable allows you to share resources and communicate easily among team members. You can also log hours and create workspaces for coaches.
Metrics and reporting: Track invoices, payments, metrics, data, and various reports.
Assignments and Contracts: Create and assign fillable forms, worksheets, and documents. Assign projects to employees and clients. Create, sign, and automate contracts.
Payment: Enable automated billing, memberships, subscriptions, and packages.
Courses: Create and share self-paced and group courses.
Who Should Use CoachAccountable?
Those with a clear vision of their coaching business will benefit from this diverse and functional program.
Those with specialized experience will have a better experience navigating the complex interface.
Pros & Cons
Consider the benefits and drawbacks below.
| | | |
| --- | --- | --- |
| Category | Pros | Cons |
| Features | Offers many diverse features in one platform. | The platform does not offer accounting services or automate certain operational processes. |
| Support | Includes helpful resources, 24/7 customer chat, and email support. | The interface is poorly organized and difficult to navigate. |
| Integration | You can sync the program with iOs, Google calendar, Outlook calendar, PayPal, Zoom, Stripe, and Square. | The sheer availability of integrated apps can make the presentation appear cluttered. |
| Systems | Introduce accountability to an often complex process. | All members must be equally active for the accountability systems to work |
| Pricing | Offers many different levels of pricing | Larger client databases become exponentially more expensive. |
Pricing
CoachAccountable offers diverse, scalable pricing programs based on the number of clients you are hosting.
| | | |
| --- | --- | --- |
| Program Level | Number of Clients | Price |
| Starter Program | 2 clients | $20/month |
| Level 1 | 5 clients | $40/month |
| Level 2 | 10 clients | $70/month |
| Level 3 | 20 clients | $120/month |
| Level 3.5 | 35 clients | $200/month |
| Level 4 | 50 clients | $250/month |
| Level 4.5 | 75 clients | $340/month |
| Level 5 | 100 clients | $400/month |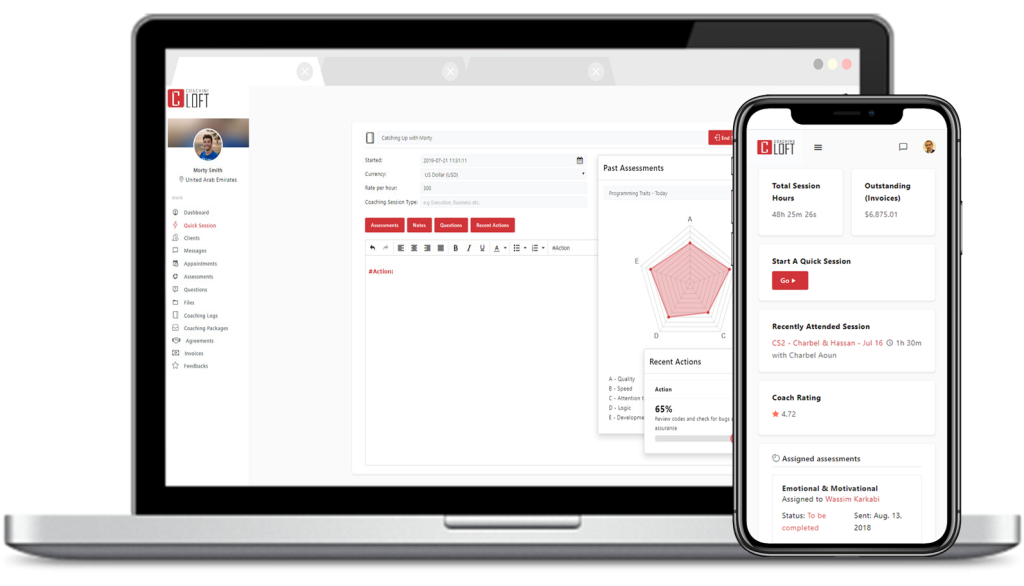 Coaching Loft is a cloud-based coaching management dashboard that organizes and manages coaching programs, client databases, and administrative tasks.
The program's cloud-based storage function allows beginner coaches to draw on valuable resources—like a library of over 500 coaching questions.
Overall Evaluation
Coaching Loft is a coaching learning management tool that offers a centralized platform for your coaching needs and similar apps and tools as others in the industry.
The platform is modern and is frequently updated with new tools and functions. Many features, like logging and management, are automated, making this platform more time efficient than others.
Because the program is cloud-based, users can access the company's online training management system and extensive coaching library at any time using Wi-Fi. Also, cloud-based data storage means you will never lose information and can retrieve your data anytime.
Features & Benefits
The company's extensive list of features caters to every coach's need.
Centralized dashboard: This dashboard gathers the program's every function into one easy-to-use portal that provides access to tools and valuable metrics.
Session Notepad: This feature allows the coach to track client notes—and allows the client to view their progress.
Automated Session Management: Coaches can view their entire history using the session management tool.
Scheduling Tools: The appointment calendar can be synced with other calendar tools (like Google, Outlook, iCloud, etc.)
Client Tracking: This tool allows clients and coaches to collaborate on tracking the client's progress
Coaching Library: This unique feature allows coaches to access over 500 coaching questions relevant to their client's experiences.
Package and Agreement Management: You can manage your payment packages and contracts through the website.
Invoice Management: This tool allows you to manage invoices and send reminders—and links automatically to QuickBooks.
Who Should Use Coaching Loft?
Coaching Loft is best for new coaches because it offers a unique coaching question library tool. New coaches can keep the conversation moving by drawing on this priceless resource.
Coaching Loft is also the only cloud-based coaching platform, which renders it helpful to coaches who travel or move frequently.
Pros & Cons
| | | |
| --- | --- | --- |
| Category | Pros | Cons |
| Accessibility | Reviewers rave about the platform's easy-to-use platform and user-friendly interface. | Invoices only connect to QuickBooks—so you're out of luck if you use a different payment system. |
| Pricing | Pricing is accessible at lower levels, and users receive the first two months free with a yearly subscription. | The pricing is a bit higher than average—especially at higher levels. |
| Modernity | The platform is modern and frequently updated with the times. Its cloud-based storage and access mean you will never lose your data. | It can be challenging to understand at first. |
| Versatility | It is the only cloud-based platform. | This platform is less customizable than others and does not allow users to create courses. |
| Support | The company offers an extensive set of support resources online. | The team behind the company is small so responses may take a while. |
Pricing
Coaching Loft offers various pricing packages for diverse needs.
| | | | | |
| --- | --- | --- | --- | --- |
| Membership level | Number of Clients | Storage Capacity | Features | Price/month |
| Free | 2 | 50 MB | Base functionality, public profile, calendar sync | Free |
| Core | 10 | 500 MB | Free features + inquiries and contacts, engagements, packages, legal, finance, rating+ | $20/month |
| Premium | 30 | 1 GB | Core features + virtual meeting room | $45/month |
| Master | Unltd. | 2 GB | Premium features + white labeling | $95/month |
| Business | Unltd. | 2 GB | All features | $95/month |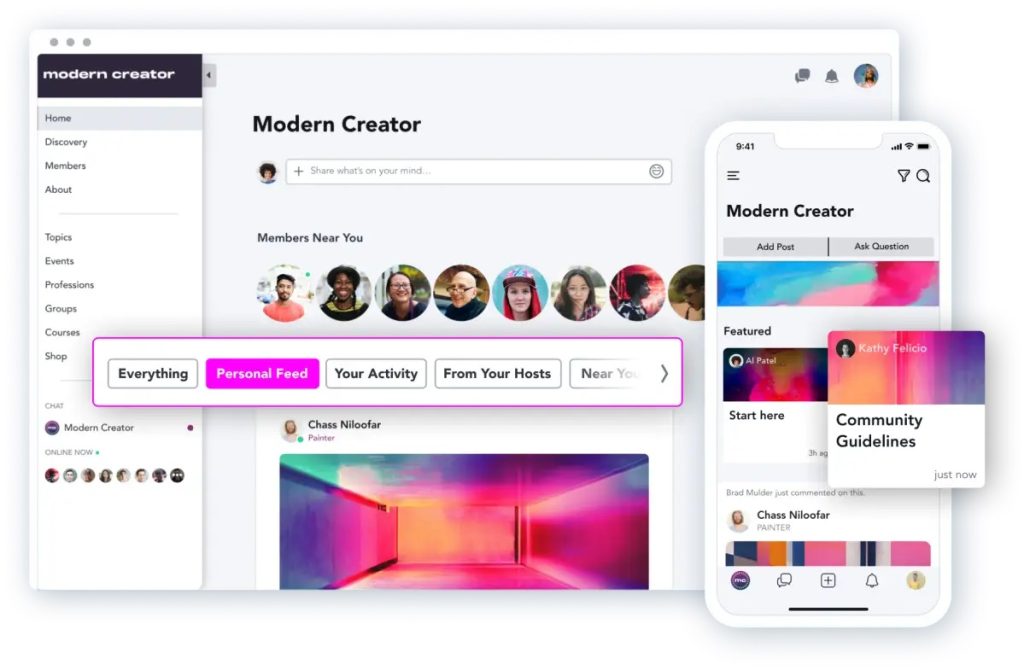 Mighty Networks is the pioneer in group coaching systems.
Founders Gina Bianchini, Tim Herby, and Thomas Aaron set out to merge the best of social networking with virtual coaching—and the result is impressive.
Overall Evaluation
Mighty Networks is best for group coaching because it provides a centralized workspace for micro-communities dependent on mutual support.
The purpose of Mighty Networks is to empower coaches to create their virtual communities and retain ownership of them.
To that end, you can build, personalize, and scale your communities as needed.
Mighty Networks is also fully functional with web, Android, and iOS and offers comprehensive migration services to simplify your community's move to their platform.
Might Networks offers various additional resources to help you learn more about the platform and business in general.
Features & Benefits
Mighty Networks provides several features to streamline your group coaching business.
Centralized work system: A fully integrated platform means you can migrate all your data and resources to one place and limit time lost on toggling between platforms. The migration specialists have an excellent track record.
Built for financial success: An integrated payment system allows you to receive and charge payments more efficiently, and a native course builder empowers you to create courses directly within the program. The Ambassador program incentivizes your clients to refer others, keeping your business alive.
Social media features: The website functions in micro-communities, allowing you to connect with and reach out to more clients. You can direct message or group chat and create sub-categories to classify members.
Communication features: An integrated live streaming tool allows you to host live meetings and events.
Data ownership: Mighty Networks believes in creator ownership, allowing you to own your community data and use it to your advantage with an analytics dashboard and benchmarking tools.
Who Should Use Mighty Networks?
Group coaches and novice coaches will find Mighty Networks most useful.
Companies that wish to scale their communities and expand their businesses will also benefit from this tool, which sets no limit on community size.
Those with a large social media following will likely also benefit from migrating their members to a more personable platform.
Pros & Cons
Consider the benefits and drawbacks below.
| | | |
| --- | --- | --- |
| Category | Pros | Cons |
| Data | The company leaves community and content ownership to coaches. | Course design lacks flexibility. |
| Social Networking Features | The program allows you to build a social network. Unlike other social media platforms, it does not run ads. | It doesn't allow you to record and post videos within the app. |
| Accessibility | The website offers in-depth video tutorials and 24/7 support. | Customers admit the learning curve is steep, and the program is not always intuitive. |
| Branding | Unlike social media companies, Mighty Network allows you to claim ownership of your content and communities. | The company lacks branding capabilities. |
Pricing
The company offers three pricing plans, all of which offer unlimited clients.
| | | | |
| --- | --- | --- | --- |
| Program Name | Monthly Price (per month) | Annual Price (per month) | Who It's For |
| Mighty Pro | Variable | Variable | This program allows you to create your own branded apps. You can offer long-term memberships to clients and develop your brand. |
| The Business Plan | $119 | $99 | This plan is best for established and larger businesses. |
| The Community Plan | $39 | $33 | The least expensive option offers a website, chat and live stream features, website integration, and paid memberships. |
What Are Coaches Looking for When Searching for the Best Online Coaching Platform?
Every coach has different needs and needs top coaching platforms to meet them.
If you are a beginner, start with Coaching Loft and select one of the more modest pricing packages. If your next step is creating courses, it may be time to switch to Thinkific.
Before you choose coaching platform software, determine your unique needs. Draw up your vision and goals for the future and compare them with each program's features.
Here are some essential criteria to consider when choosing a coaching platform for your business.
Accessibility and User-Friendliness
This is a crucial criterion when selecting a coaching platform.
If your management tool is difficult to understand or utilize, you will not use it. And if you don't use it, it isn't worth your money.
Affordable Prices
Pricing is an equally important criterion, as prioritizing profits is at the heart of any successful business.
If you run a small coaching business with 1-2 clients paying a rate of $300 a month each, it doesn't make sense to choose a $400 pricing package.
Consider how much you can afford without digging too deeply into your profits—and how much each feature is worth to you.
Versatility
While some platforms are minimal; others offer a wide array of tools.
Consider which means you will use that sound appealing but may not contribute to functionality.
For instance, Coaching Loft's cloud-based coaching question library might be a valuable tool if you are a new coach.
On the other hand, you may not need the course creation tools on a program like Thinkific.
UpCoach ultimately offers the most comprehensive array of tools for the most reasonable price.
Syncing Capacity
Before splurging on a new coaching platform, consider whether you want to continue using your current media and websites.
For example, if you love Square for payment processing, find a platform that is compatible with Square.
Alternatively, be open to surrendering your attachment to an outdated tool in favor of a much-needed upgrade.
Communication Tools
Successful coach platforms thrive on solid communication, so look for unique, streamlined communication tools.
A program like UpCoach offers encouragement tools that may significantly incentivize your clients to change.
If you love your current conferencing tool, you may not need a program that provides an embedded live streaming function.
Automation and Administration
Depending on your organization, you may benefit from the automated management functions of a program like Coach Accountable.
If you struggle with your coaching business's legal and financial elements, look for a program that offers integrated management tools.
Support
Consider how much help you will need as you begin using your best coaching platform online.
If you are an experienced technology user, you may not need as much support as a coach transitioning to remote work for the first time.
Customization
How much do you want to customize your profile, tools, or courses?
Some programs, like UpCoach, offer numerous customization tools, while others, like Coach Accountable, are less customizable.
Reviews
Always read reviews. Reviews allow you to understand the program's strengths and weaknesses without suffering for your knowledge.
Similarly, ask your clients to weigh which tools and program features appeal to them. Remember that the best coaching platform is virtually ineffective if your clients are not likely to use it.
Bottom Line: The Best Online Coaching Platforms
Considering the above factors, the best coach program is UpCoach.
Whether you are a novice coach or a seasoned veteran seeking to expand your practice, UpCoach offers a program for you.
UpCoach provides the most diverse and versatile tools at affordable and flexible prices. You can set meetings and agendas using one program, build courses and training, embed accountability systems, and communicate consistently with your clients.
If you are unsatisfied with your purchase, the company offers a 100% money-back guarantee within 14 days.
Read the program reviews to understand better whether this platform is the right fit for you, or request a demo here.
Ready to take the plunge? Choose your plan here.
FAQ
What are the best platforms for coaches?
1. Upcoach.
2.Mighty Networks.
3.Thinkific.
4.Coach Accountable.
5.Coaching Loft.
Is Thinkific Good to create a life coaching website?
Yes, you can create a life coaching website, platform using thinkfic. You can use it to create digital products for your clients like worksheets, videos, checklists and exercises.
Does Thinkific pricing includes a free version?
Yes, Thinkific offers a great free version. On the free plan you are limited to 1 course, 1 community and you can't have your own custom domain. You can however have unlimited students, create course quizzes, surveys, and access their website themes. If you're a small course creator it may be a good free soultion.