The Future of Employment: Mastering Resume Writing with AI Technology
Last Updated on November 18, 2023
Crafting a resume that stands out in the digital age requires a strategic approach that marries human expertise with the capabilities of AI. It's no longer just about impressing human recruiters; now, resumes need to pass through AI-powered applicant tracking systems as well.
Understanding how to optimize resumes for AI is becoming a necessity. In this article, we'll share some of the best ai tools for resume writing, and uncover the strategies and techniques that job seekers can leverage to ensure their resumes resonate with both hiring managers and digital gatekeepers. Whether it's incorporating the right keywords or formatting your resume/cv for enhanced readability, AI technology is reshaping the resume writing process, and staying ahead of the curve is key to securing future career opportunities.
Best ai tools for resume writing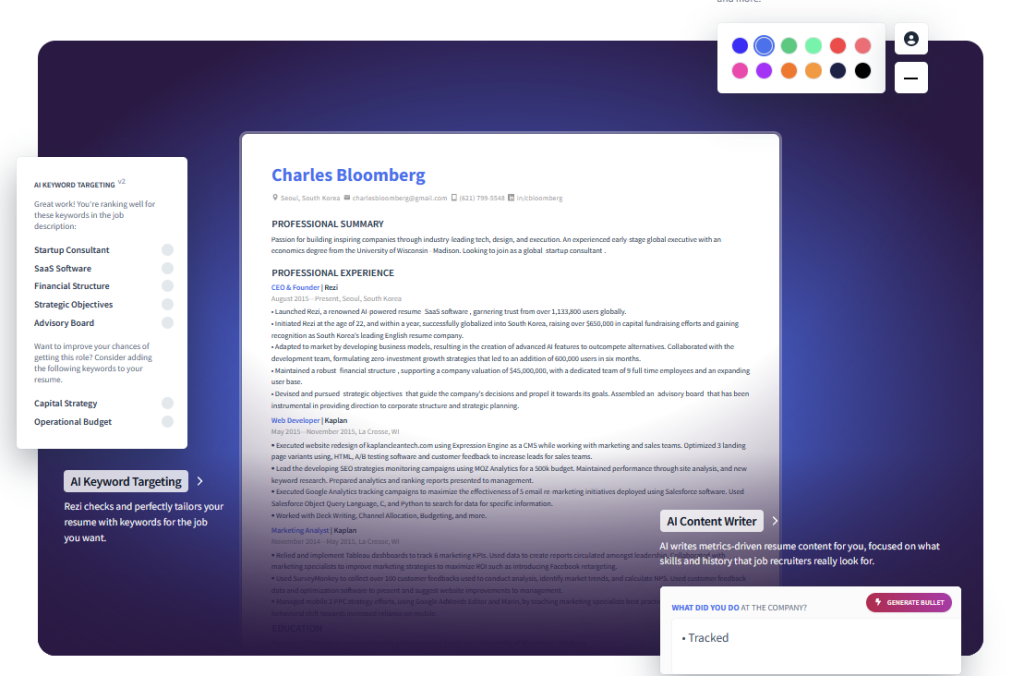 Rezi is an AI resume builder that helps you create a professional and ATS-optimized resume in minutes. It uses AI to analyze your experience and skills and suggest relevant keywords, phrases, and accomplishments. Rezi also has a built-in review tool that helps you identify and correct any grammar or style errors. It can also help HR professionals create ready to use applicants interview.
Top Features
AI bullet point writer and editor.
AI resume summary generator.
AI cover letter writer.
Interview question answer generator.
AI keyword optimization.
Pricing
Free version is available with limited option and for 1 resume only. The pro version will cost you $29/month. And if you want lifetime access it will only cost you $129 which is great. All plans offer 30 day money back guarantee.
Zey CV maker offers a variety of features, including a drag-and-drop interface, professional, done for you templates, and AI-powered content suggestions. Zety also has a built-in cover letter builder that helps you create a matching cover letter for each job you apply for.
Top Features
Resume checker- Get your resume checked and scored.
Cover letter builder.
Resume and CV built in templates.
CV maker.
Pricing
Zety's website and app are 100% free. However if you like to download your resume it will cost you $2.7 for 2 weeks access. If you like further access the price is $23/month.

Novoresume has a user-friendly interface and it does a good job tailoring resumes to specific job openings. By using AI to analyze job descriptions and identify the most relevant keywords and phrases it suggest how you should incorporate these keywords into your resume .
Top Features
Done for you resume and CV templates.
Built in AI assistant.
Easy to use resume workflow builder.
Pricing
If you only need 1 resume then you can get Novoresume free. If you like access to premium features such as: cover letter creator, premim themes and fonts you can get it at a monthly level- $19.99/month, quarterly level- $39.99/quarter or annually at $99.99.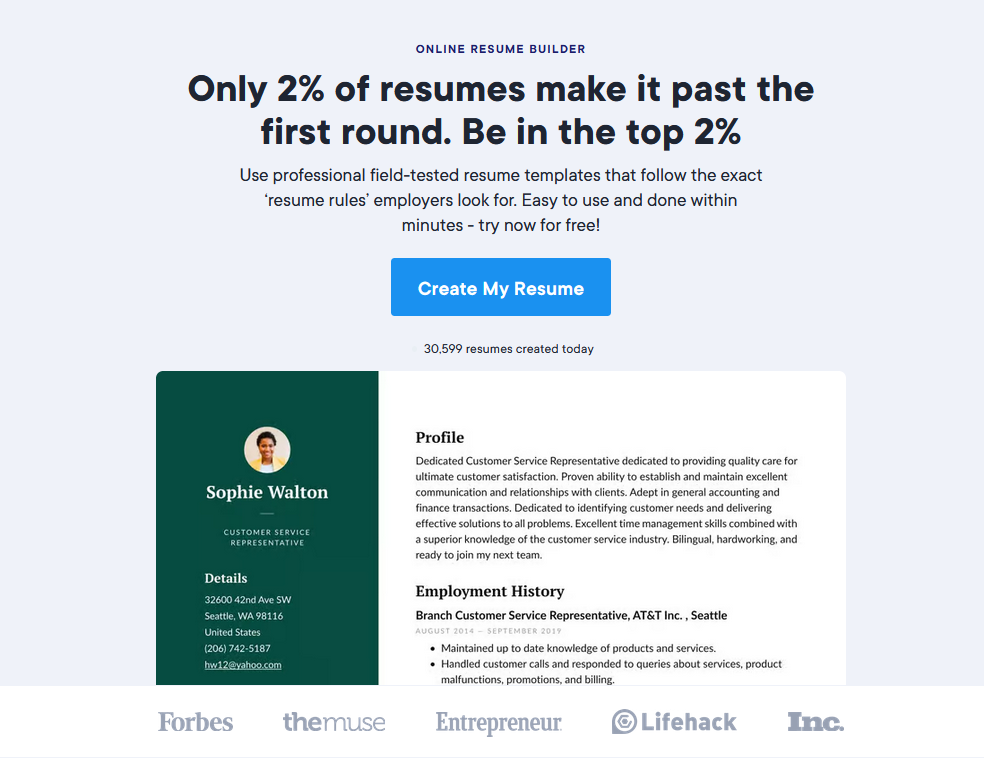 Resume IO offers great resume and cover letter templates you can use to easily build your resume. It also has AI and Research-based writing suggestions to optimize your resume.
Top Features
Premium resume and cover letter templates.
Share your resume via private link.
User friendly resume builder.
Recruiter-tested templates.
Pricing
You can try Resume io for 7 days at $2.95. 6 months access is $44.95, 1 year is $74.95. Free plan is available for 1 resume and cover letter and downloads only in txt format.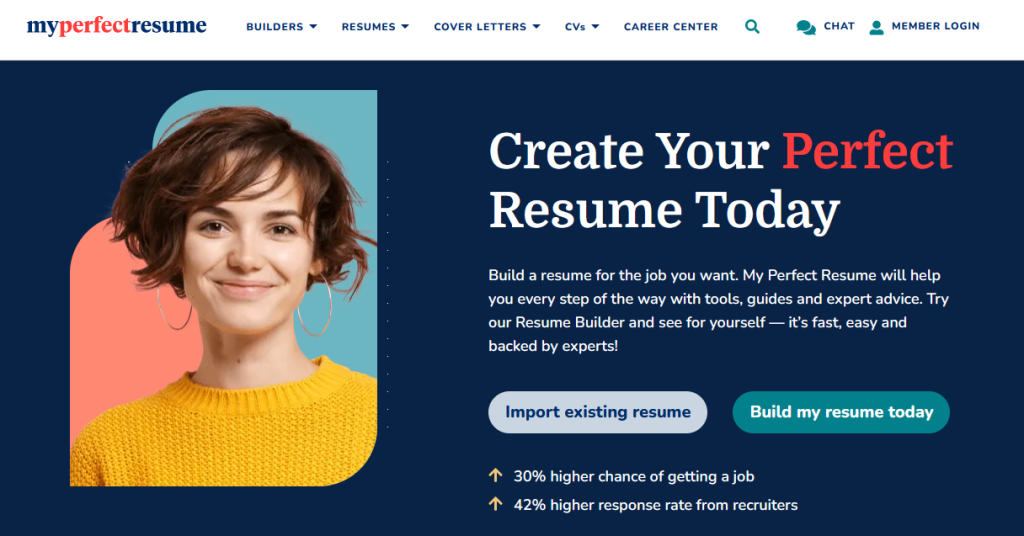 MyPerfectResume Offers a variety of features, including a resume builder, cover letter builder, and cover letter builder. they also have a career center service that can help you improve your resume and prepare for job interviews.
Top Features
Resume, CV and cover letter builders.
Career education and help center.
Pricing
For some reason MyPerfectResume hide their pricing plans. You only see it after creating a resume if you want to download it. You can get 7 days access at $2.95 and than $24.95 a month after.6 month access is $44.95 and annual access is available at $74.95/month.
Examples of AI resume writing tools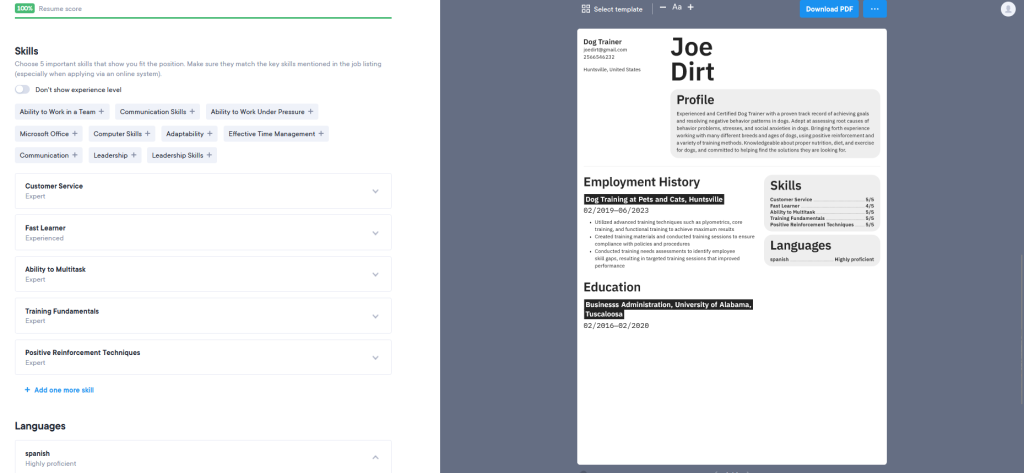 The evolution of resume writing
Resume writing has undergone a significant evolution in recent years, transitioning from traditional paper-based documents to digital, interactive resumes. The rise of online job portals and professional networking platforms has transformed the way candidates present their qualifications to potential employers. Today, a well-crafted resume not only needs to impress human recruiters but also navigate through ATS to stand a chance of reaching the hands of decision-makers.
Understanding Applicant Tracking Systems (ATS)
Applicant Tracking Systems (ATS) are software applications designed to automate the initial screening of resumes by parsing and storing candidate information. ATS enable employers to manage large volumes of applications efficiently and identify potential matches based on predetermined criteria. These systems scan resumes for keywords, qualifications, and experience, ranking candidates based on their relevance to the job requirements. Understanding how ATS operate and the criteria they prioritize is essential for optimizing a resume to increase its chances of passing through the initial digital screening process.
Optimizing Your Resume for ATS
To optimize a resume for ATS, job seekers need to focus on several key elements, including the strategic placement of relevant keywords, clear and concise formatting, and the use of standard file formats that ATS can easily parse. Tailoring the content of the resume to closely match the job description and requirements is crucial for increasing the likelihood of passing through the digital gatekeepers. Additionally, avoiding excessive use of graphics, images, and unconventional formatting can help ensure that the resume is ATS-friendly and can be accurately parsed by the system.
The Role of Keywords in AI-Powered Resume Writing
Keywords play a pivotal role in AI-powered resume writing, as they serve as the bridge between the candidate's qualifications and the specific criteria sought by employers. By strategically incorporating relevant keywords from the job description into their resumes, candidates can increase the visibility of their applications within ATS and enhance their chances of being shortlisted for further consideration. However, it's important to maintain a balance between keyword optimization and natural language, ensuring that the resume remains engaging and compelling for human readers while remaining ATS-friendly.
Crafting a Visually Appealing Resume with AI Tools
AI-powered tools offer job seekers a range of options for creating visually appealing and impactful resumes. AI resume writing assistants provide ready to use optimized templates for ATS and AI-driven content analysis tools that offer insights into keyword usage and readability. These resources can help candidates enhance the visual appeal and effectiveness of their resumes. A well formatted, visually appealing resume is both "user friendly" for ATS and recruiters and will increase the chances of a resume being reviews among the competition.
The Future of Employment and AI-Resume Writing
As AI technology continues to advance, the future of employment and resume writing is poised for further transformation. Job seekers can expect the integration of AI to become even more prevalent in the recruitment process, influencing the way resumes are evaluated and candidates are selected. Understanding how to adapt to the evolving landscape of AI-resume writing will be essential for maintaining a competitive edge in the job market.
Conclusion
The landscape of employment and HR is changing. Job seekers and HR professionals must embrace a proactive approach to adapt to the advancements brought forth by AI technology. This includes staying informed about the latest trends in AI-resume writing, continually refining resume optimization strategies, and leveraging AI tools and resources to enhance the effectiveness of their job search efforts.
Furthermore, adapting to AI advancements in job search strategies entails developing a nuanced understanding of how AI technology intersects with the recruitment process. Job seekers need to cultivate digital literacy and familiarity with AI-powered tools to navigate the intricacies of resume optimization and maximize their visibility to potential employers.
By integrating AI advancements into their job search strategies, individuals can position themselves as agile and resourceful candidates capable of harnessing technology to augment their professional prospects. Embracing AI as a complementary force in the job search journey empowers individuals to proactively engage with the evolving dynamics of employment, ensuring that their resumes resonate with the demands of both AI-driven recruitment systems and human evaluators.