TweetHunter Review – Can This Tool Multiply Your Twitter (X) Following?
Last Updated on September 14, 2023
Twitter (which was recently rebranded as X) is one of the largest social media networks in the world. To date it is estimated to have 350 million users worldwide. So it's no wonder that individuals, entrepreneurs and businesses are using it to communicate with their audience, generate leads and increase sales. It is also no wonder that we wanted to review one of the most popular Twitter growth tools today.
If you are struggling to effectively manage and grow your Twitter presence, than TweetHunter, might be the ultimate solution that will revolutionize your Twitter game. In this comprehensive Tweethunter review, we will explore the features, benefits pricing and alternatives of TweetHunter, and see how it can help you make the most out of your twitter account.
First thing First- What is TweetHunter?
Tweet Hunter is an all-in-one Twitter growth tool that helps users grow and monetize their Twitter audience. It offers a variety of features, including:
A library of over 3 million viral tweets that you can use for inspiration
An AI writing tool that can help you generate engaging and viral tweets
A scheduler that allows you to automate your tweets
A analytics dashboard that tracks your performance
Tweet Hunter is for anyone who wants to grow their Twitter presence, whether you're a business, a marketer, or a personal user. It's a great tool for:
Creating high-performing content
Building an audience around your interests
Monetizing your Twitter account
Engaging with other Twitter users
Here are some of the benefits of using Tweet Hunter:
You can save time by automating your tweets and scheduling them in advance.
You can get more engagement with your tweets by using the AI writing tool to generate more creative and engaging content.
You can track your performance and see how your tweets are doing.
All of the above will eventually create new monetization opportunities from your Twitter account.
Tweet Hunter PRO Features
Viral Tweet Library– Get Insipartion From The Most Popular Tweets in Your Niche
This is a library of over 3 million viral tweets that you can use for inspiration. You can search the library by topic, keyword, or Twitter handle and find high-performing tweets that will increase engagement and followers.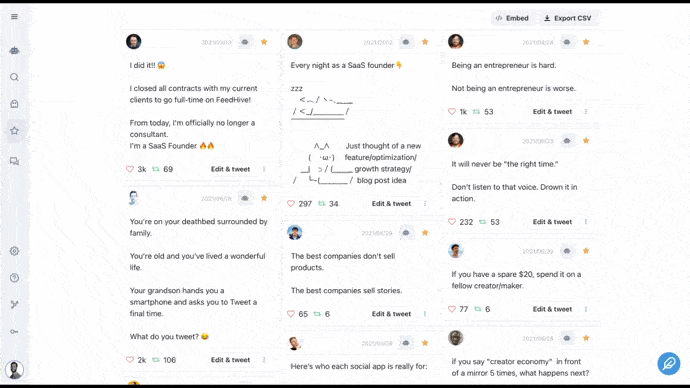 AI Writing Tool– Your Personal Writing Assistance
This tool can help you generate engaging and viral tweets. It uses artificial intelligence to analyze the most popular tweets and then generate new tweets that are similar in style and tone.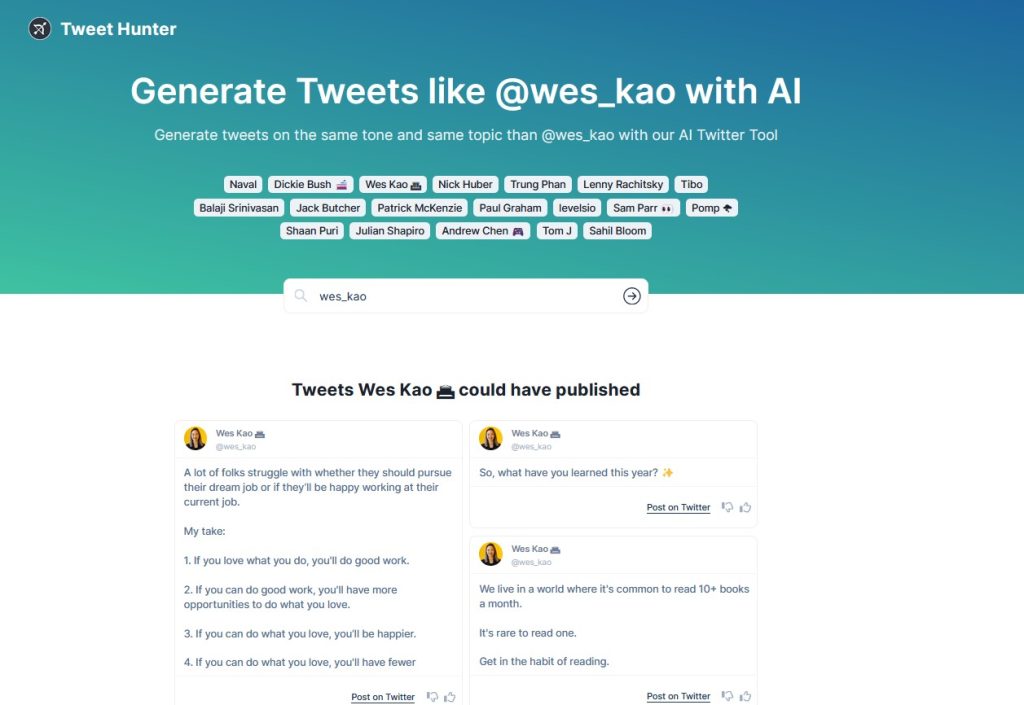 Scheduler-Automate Your Tweets/Post With a
This tool allows you to automate your tweets so that they are published at the best times to reach your audience. You can also schedule tweets in advance, so you don't have to worry about forgetting to post them. You can create all your posts/tweets on the 1st of the month and schedule them all the way till the end of the month for example.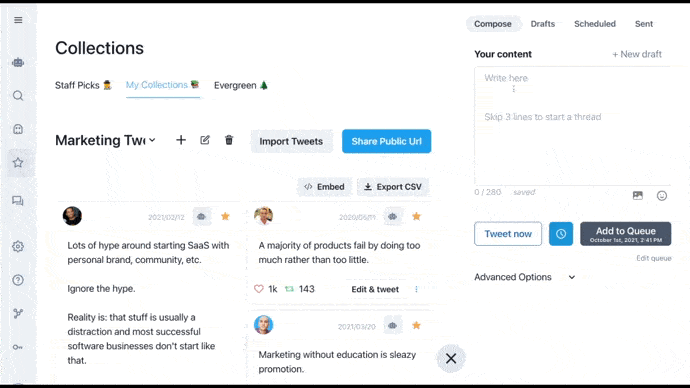 Analytics dashboard-Track Your Efforts and Performance.
This dashboard tracks your performance and shows you how your tweets are doing. You can see how many impressions, clicks, and retweets your tweets are getting, as well as who is engaging with them. This data is valuable as it will help you understand what kind of content resonates best with your audience and produce more of it, which content is not doing so hot and produce less of it. You get the idea,Data is king and it's no difference in your twitter account.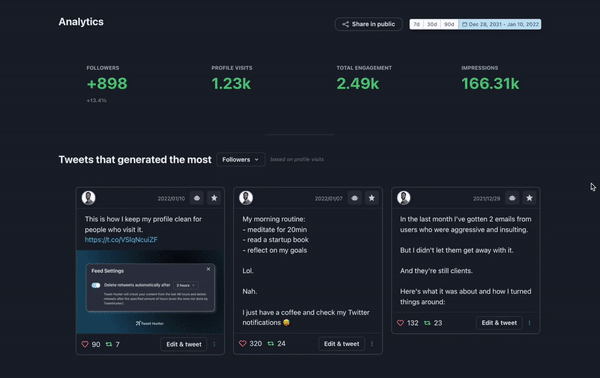 CRM– Identify and Engage with Potential Leads
A fairly new feature but a very interesting one. Tweethunter also gives you CRM capabilities:
Lead Finder– Add a few of your client or prospects and Tweethunter will find similar Twitter accounts using AI you can reach out to.
Segmentation– Segment your prospects into lists based on engagement, category or any criteria that fits your needs. Than you can decide how to followup with them. For example AUTO DM everyone who liked tweet "A" with the sentence "Thank you for liking my tweet".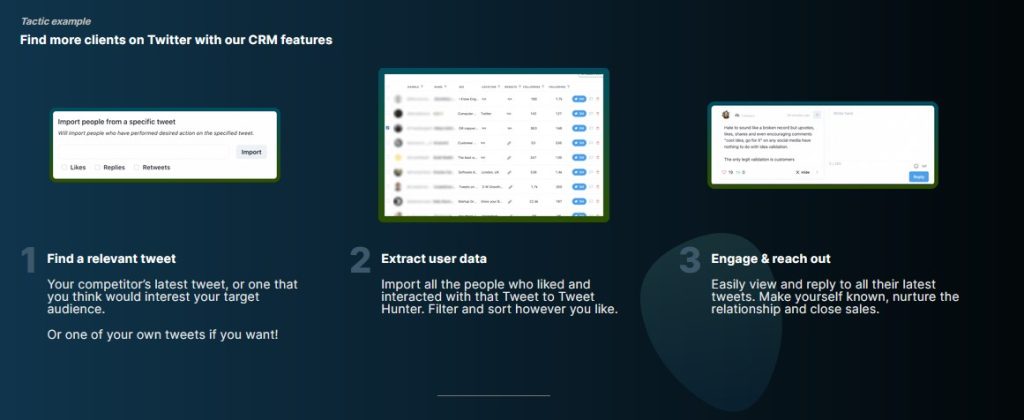 Auto Plug
You can auto insert a link to your product or service once it reaches a certain amount of reach/likes. This is useful because if you first insert your link into your tweet it will receive limited exposure.

Auto Retweets
Automatically retweet your best tweets and reach to more people with your best content.
Auto DM
You can automatically send DMs to people who interact with your tweets. Think about how much time you can save and the potential reach. If 100 people liked your tweet you can automatically send them a DM thanking them or making them an offer.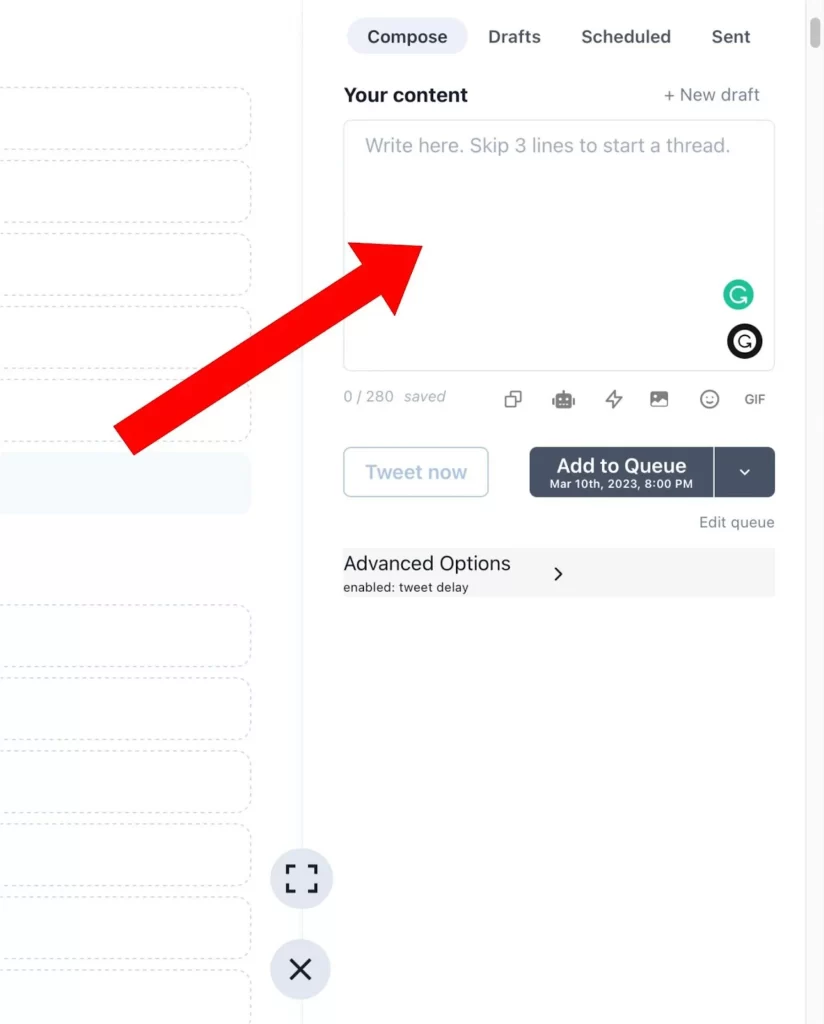 In addition to all these features Tweethunter also offers a variety of free tools that are very helpful for twitter users:
Tweet Hunter X | Sidebar for Twitter: This is a free browser extension that adds a sidebar to your Twitter account. The sidebar contains a variety of tools, such as the AI tweet generator, the best time to tweet tool, and the Twitter thread finder.
Best Time To Tweet: This tool helps you find the best times to tweet to reach your audience. It uses data from Twitter to show you when your tweets are most likely to be seen and engaged with.
Unretweet All Your Tweets: This tool allows you to unretweet all of your tweets in one go. This can be useful if you want to start fresh with your Twitter account or if you want to remove old tweets that are no longer relevant.
AI Tweet Generator: This tool uses artificial intelligence to generate engaging and viral tweets. It can help you come up with new ideas for tweets, or it can help you improve the quality of your existing tweets.
Dynamic Twitter Banner: This tool allows you to create a dynamic Twitter banner that changes based on your tweets. This can be a great way to keep your banner fresh and engaging.
Twitter Thread Finder: This tool helps you find Twitter threads that are relevant to your interests. You can search for threads by topic, keyword, or Twitter handle.
Twitter Video Downloader: This tool allows you to download Twitter videos. This can be useful if you want to save a video to watch later or if you want to share it with others.
How Much Is My Twitter Worth? : This tool estimates the value of your Twitter account. This can be useful if you're thinking about selling your Twitter account. Or if you want to know how much your Twitter presence is worth.
Twitter Streak: This tool tracks your Twitter streak. A Twitter streak is the number of consecutive days that you've tweeted. This can be a fun way to stay motivated to tweet regularly.
TweetHunter pricing options
Getting started with TweetHunter is a straightforward process. First, you need to sign up for an account on their website. Once you have created an account, you will be guided through the setup process, which includes connecting your Twitter/X account to TweetHunter. This allows the tool to access your Twitter data and provide you with the necessary insights and features.
Once your account is set up, you can start exploring the various features and functionalities of TweetHunter. Take some time to familiarize yourself with the dashboard and the different options available to you. Experiment with scheduling tweets, monitoring analytics, and tracking keywords to get a feel for how the tool can benefit your Twitter strategy. You have 7 days FREE trial and than you have 3 pricing options:
Includes:
Over 2M viral tweets library
4,000 staff-picked viral tweets across 10 categories
Custom tweet inspirations
Engage w/ other people 5x faster
Tweet and thread scheduling
Evergreen tweets
Auto-DM
Auto-plug
Auto-retweet
Thread delay
Hide URL previews
Complete Twitter Analytics
Add unlimited Twitter accounts
*1000 followers or more? Get 50% off GROW
Includes:
Everything in DISCOVER
+
AI WRITER
Daily AI-written tweets
Re-write tweets
Finish writing a tweet
Thread ideas & hooks
TweetPredict™
Unlimited use
+
TWITTER CRM
Create lists of people
Import from previous tweet & DM interactions
Engage with tweets from specific lists
Includes:
Everything in GROW
+
BEST-IN-CLASS AI
Train a custom model of our AI engine to fit your exact needs and niche.
AI generated replies to engage faster
Generate new leads and prospects on Twitter
+
CHATGPT
Get ChatGPT directly in Tweet Hunter
Use the best-in-class AI to improve your writing
User Reviews and Testimonials
On product hunt you can see 1404 upvotes for Tweethunter and is rated 4.95 out of 5 stars. You can also find a lot of positive feedback on Twitter. Most of the negative feedback refers to the pricing which some people find too expensive.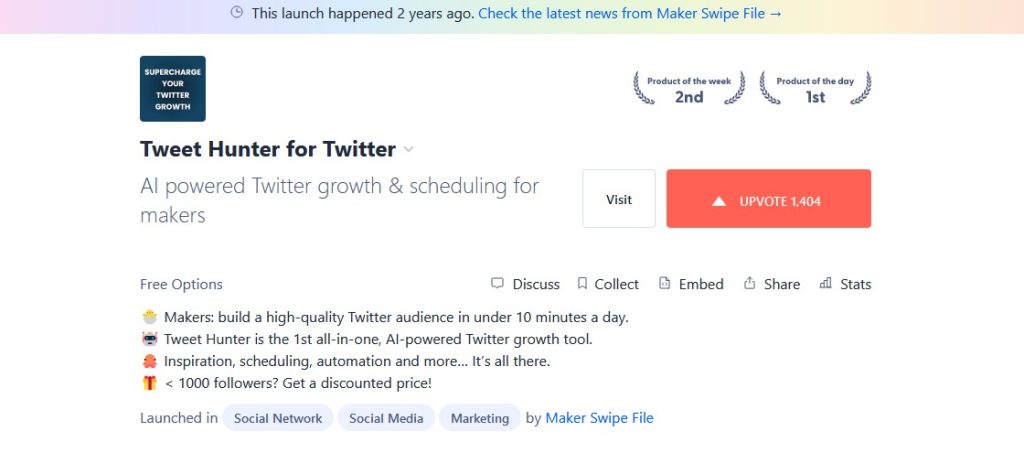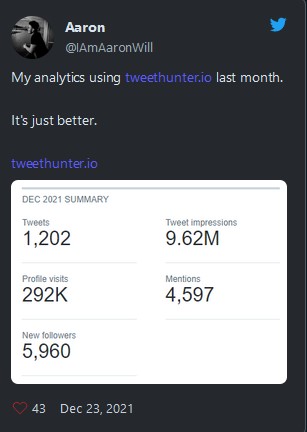 TweetHunter Alternatives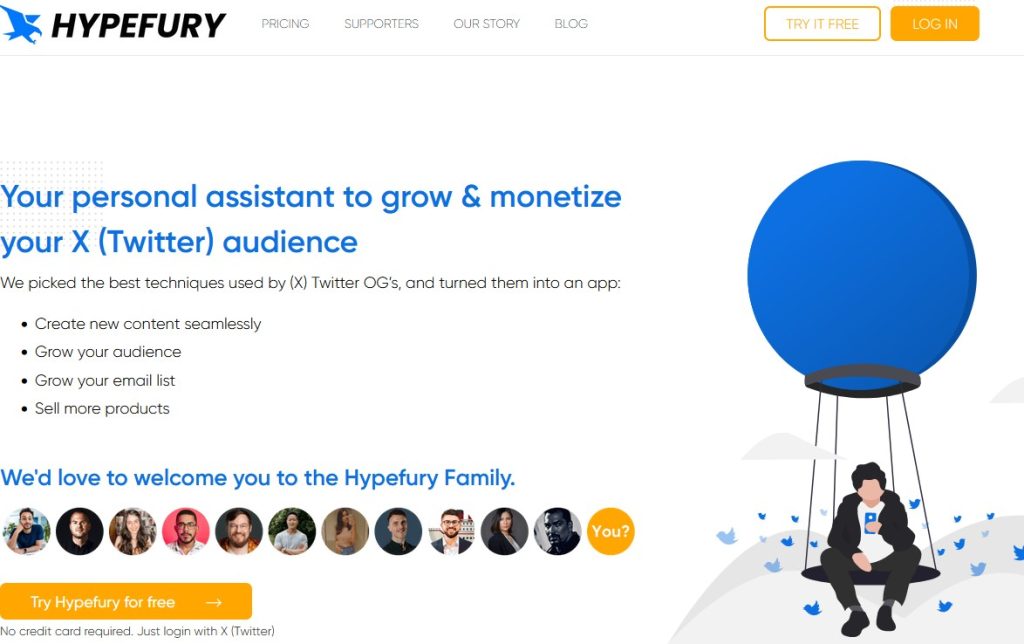 Very similar with its feature to Tweethunter, pricing is about the same also. They do offer a free version but with limited features.
TweetyAI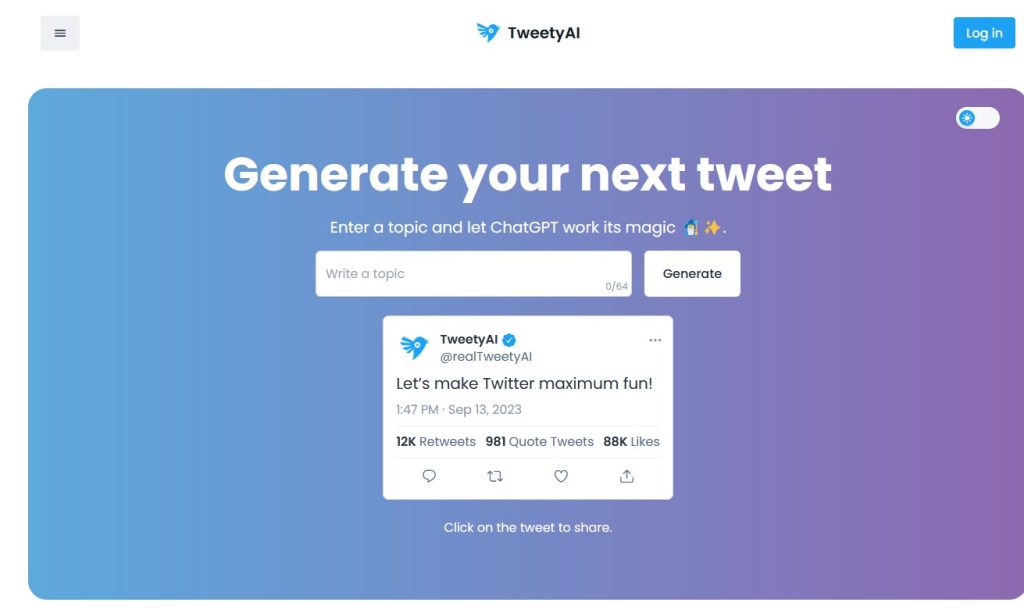 TweetyAI is mostly an AI tweet generator and it doesn't really offer any of the advanced features like Tweethunter or Hypefury.
TweetHunter Review – Conclusion and Final Thoughts
While there are several Twitter management tools available in the market, TweetHunter stands out for its comprehensive features, user-friendly interface, and excellent customer support. Unlike some other tools that focus solely on scheduling, tweet generation or analytics, TweetHunter offers a complete package that covers all aspects of Twitter management and growth.
Moreover, TweetHunter's keyword tracking capabilities set it apart from the competition. By identifying trending topics and relevant keywords, you can tailor your content to resonate with your audience and stay ahead of your competitors.
If Twitter (X) is one of your marketing channels, Tweethunter certainly worth at least a try.
FAQ
How much does tweethunter.io costs?
The most basic plan-"discover" starts at $49 the next plan-"growth" is $99 but if you have 1000 followers or more you can get it at 50% discount. Than you have "Enterprise" at $200/Month. If you need CRM capabilities and unlimited use than you need more than the basic "discover" plan.
What are X (Twitter) creator eligibility for monetization?
In order to be eligible for Twitter's Creator Monetization program you must have at least 500 followers, a Twitter account that has been active for at least 3 months, Have posted Tweets in the past 30 days, have at least 5 million impressions overall in the past 3 months, and a Twitter Blue subscription (there are other criteria but these are the main ones. While Twitter doesn't share how the commissions are calculated some estimate , some users report that the revenue per thousands impressions is only around a few cents which is considered low compared to other influencer channels like Youtube or Tiktok.
How much is my twitter account worth?
You can try a tool like How much is my twitter worth this tools looks at different factors like followers count, the topics you tweet about, the number of views your tweets are getting, and the engagement rate.