AI Presentation Maker: The Future of Presentations
Last Updated on October 24, 2023
Creating presentations is a common task in the work space, schools and even social media. It can be a time-consuming and daunting task. But what if there was a way to create professional-looking presentations in minutes, with just a few clicks? That's where an AI presentation maker comes in. This innovative tool use artificial intelligence to generate slides, images, and text for you, based on your topic and preferences.
What is an AI presentation maker and how does it work?
An AI presentation maker is a software tool that uses artificial intelligence to help you create presentations. It can help you with a variety of presentation related tasks, including:
Generating content for your slides.
Choosing the right design and layout for your presentation.
Adding images, videos, and other multimedia elements.
Proofreading and editing your presentation.
AI presentation makers work by using a variety of techniques, including natural language processing, machine learning, and computer vision. These techniques allow the ai presentation software to understand your input and generate content that is relevant, informative, and visually appealing.
Best AI Presentation Tools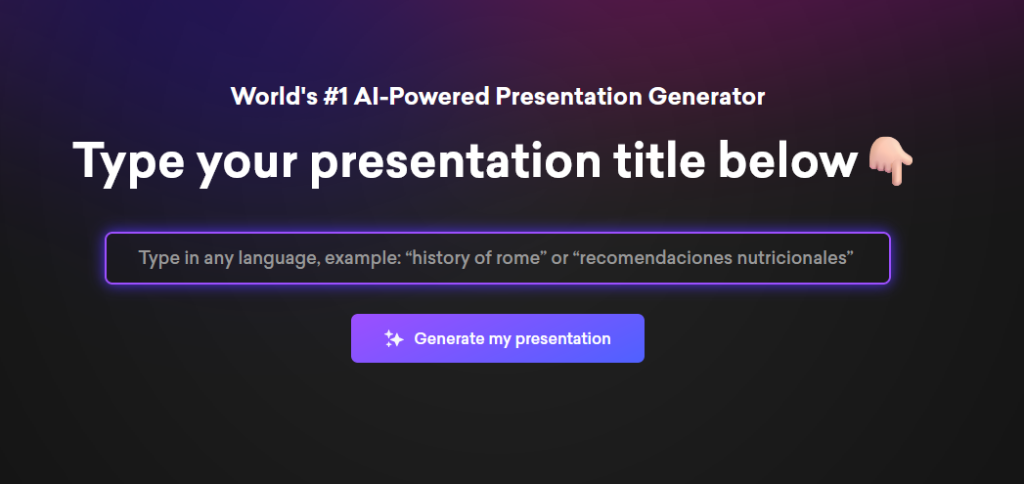 Key Features:
AI presentation generator– Decktopus offers an easy presentation creation workflow for any purpose.
AI Portfolio Maker: Create a customizable website portfolio fast.
Bio link tool: For your social media profiles and lead generation.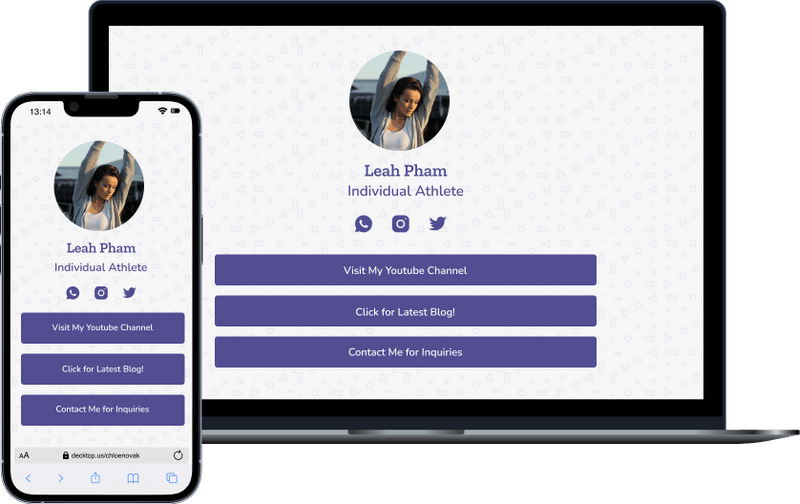 Pricing:
Decktopus offers monthly plan at $14.99/month called Pro AI and a Business Pro plan at $48/month. Annual billing will give 4 months free at $9.99/month for the first plan and $36/month for the second plan.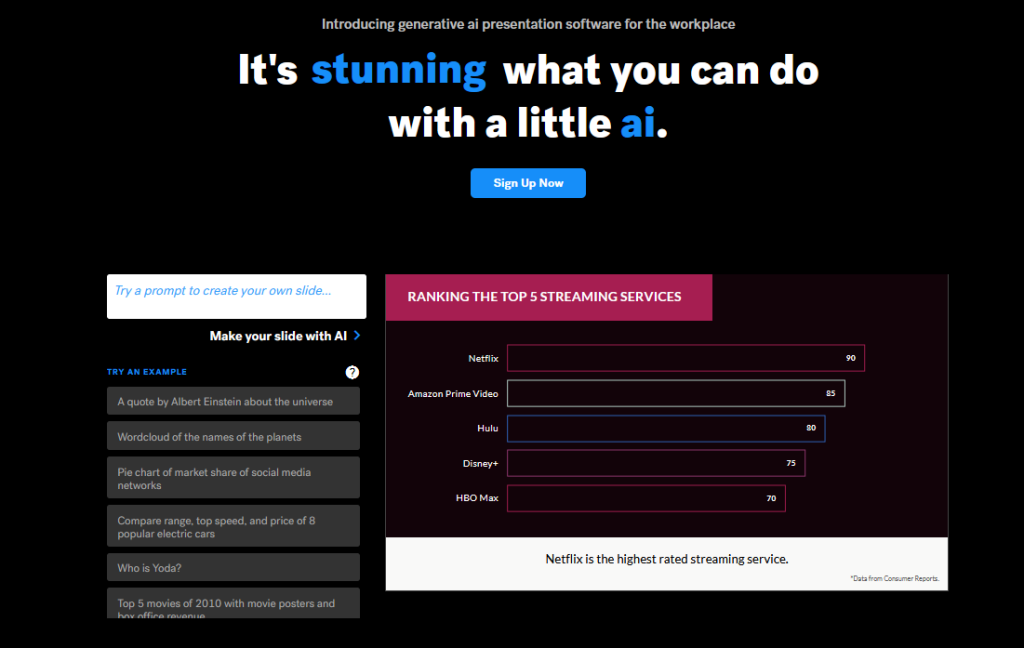 Key Features:
Hundreds of pre-built slides and templates- get inspired by 100's of ready to use slides.
Data visualization tools– Visualize your data with dozens of beautiful charts and graphs.
Audio tools: Add audio or narration to your slides for context.
Pricing:
Annual plan starts at $12/month for the prop plan and $40/month for the team plan (billed annually).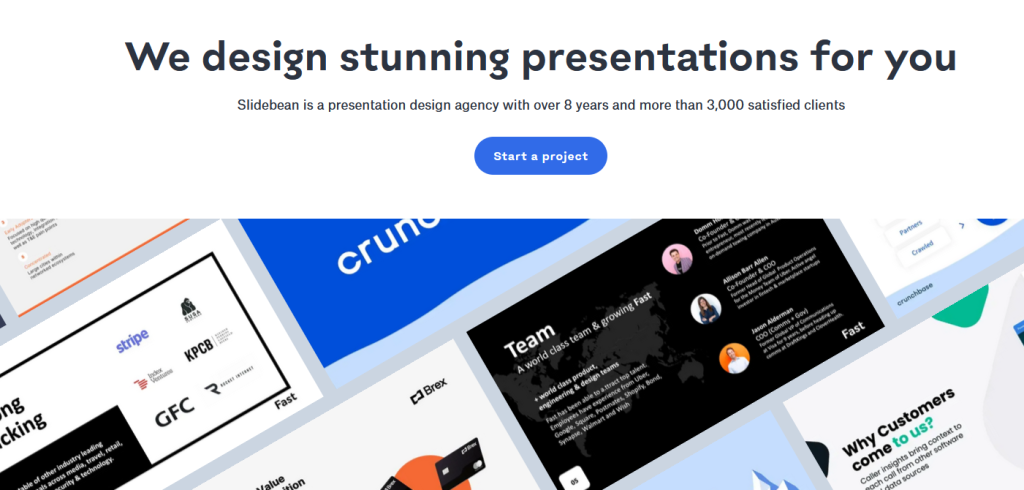 Key Features:
Online collaboration tools: Work with your teammates on your presentation.
Smart design: Slidesbean will automatically choose the right design and layout for your presentation based on your content.
Analytics: Track slide activity (views, time spent)
Pricing:
Slidesbean offers annual plans at $199/year (all access) and $499/year (Accelerate).
Prezi -Best AI presentation maker for teachers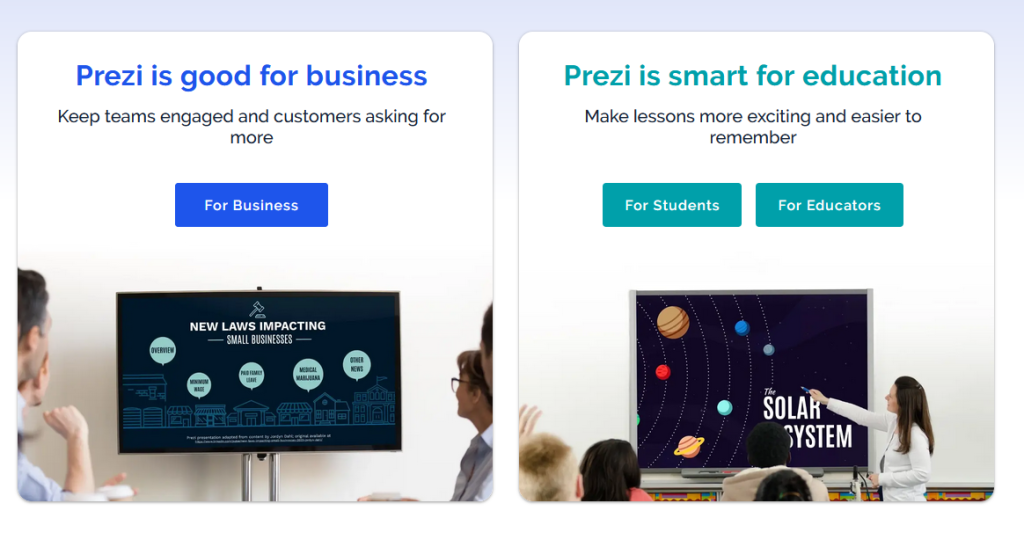 Key Features:
Drag and drop presentation builder: 100's of themes and templates to choose from.
Infographic creator: Create engaging infographics, reports, and maps using Infogram.
Video creation tool: Create videos at ease for business, education and social media (go live option).
Pricing:
Prezi offers different pricing plans for indviduals, students and teachers and Businesses.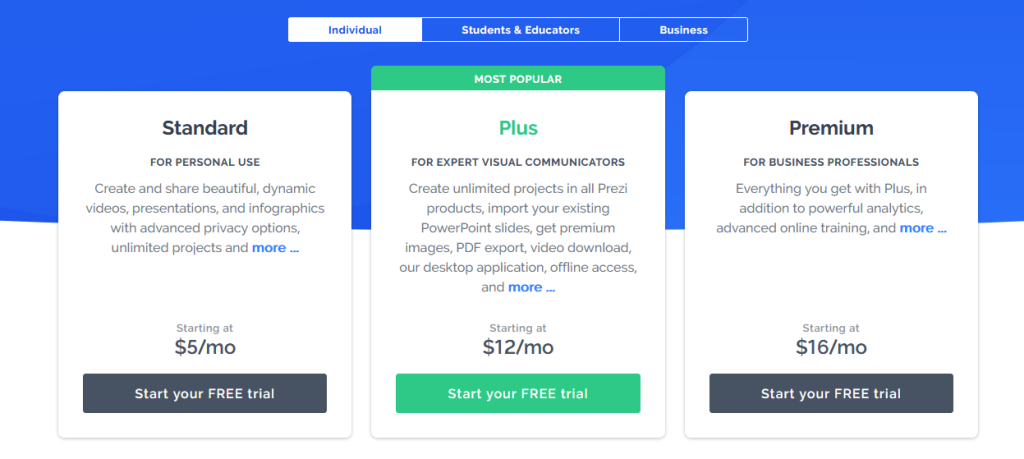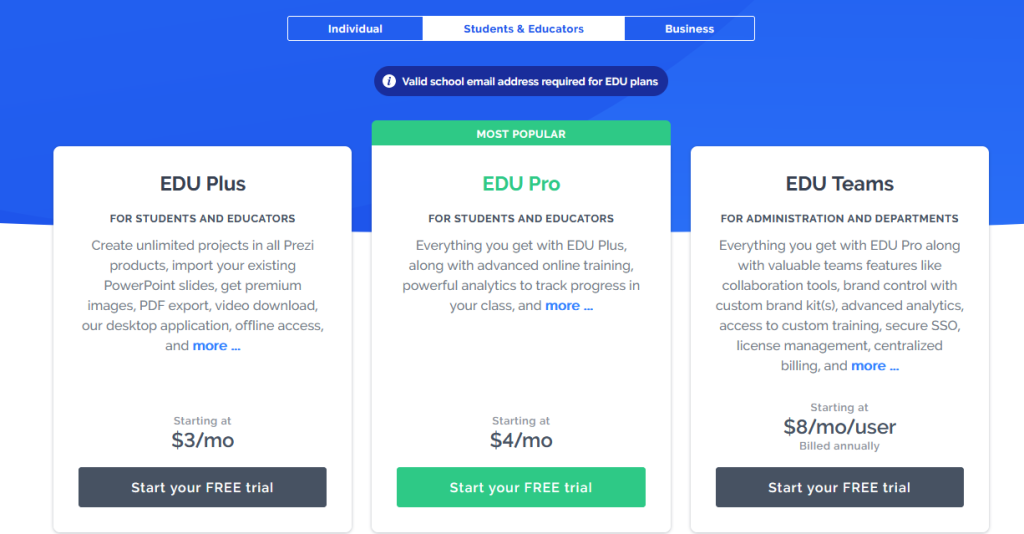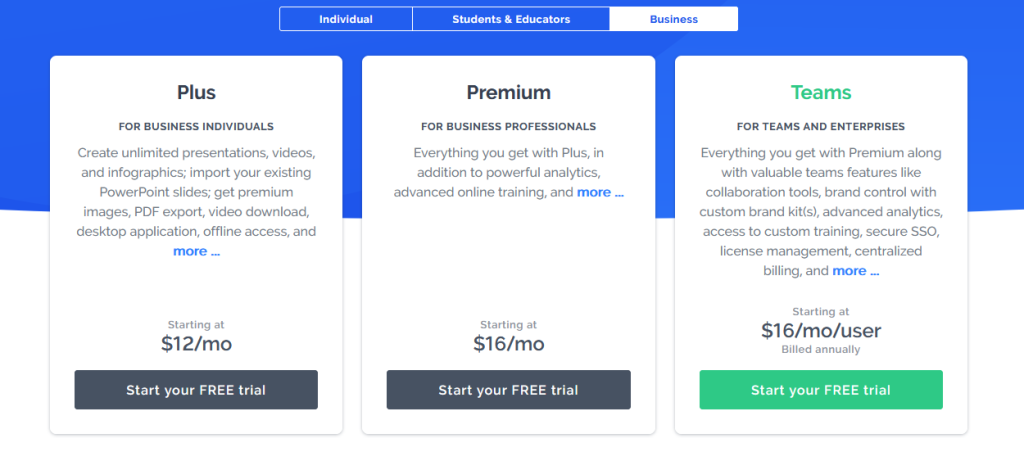 Haiku Deck – Best Presentation Maker For Mobile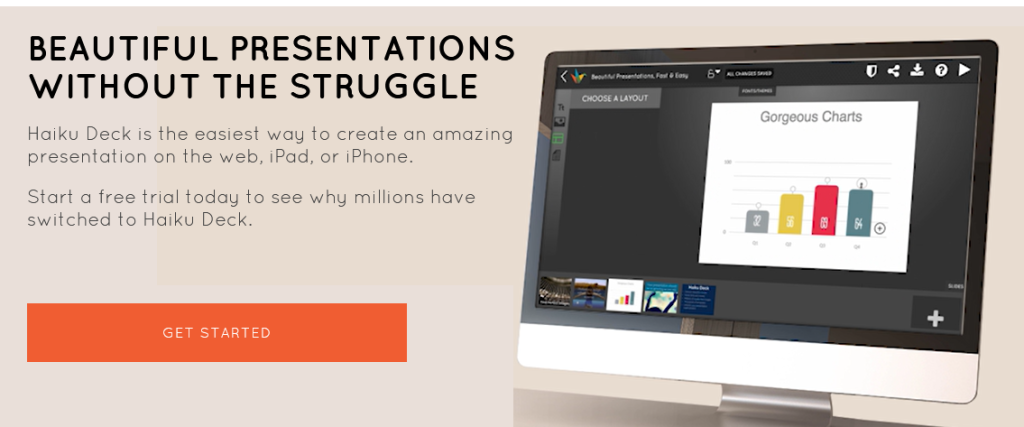 Key Features:
40M+ royalty free images and thousands of professionally designed templates.
iOS App: create presentations on the go with an intuitive IOS app.
Live Presentation mode: Haiku Deck's users can broadcast live and interact with their viewers (i.e teachers and students)
Pricing:
Haiku Deck offers a $119.88 billed annually or 19.99 a month for the basic plan. Premium plan is available at $359.88 billed annually.
Pitch.com -Best AI presentation maker for Businesses and Startups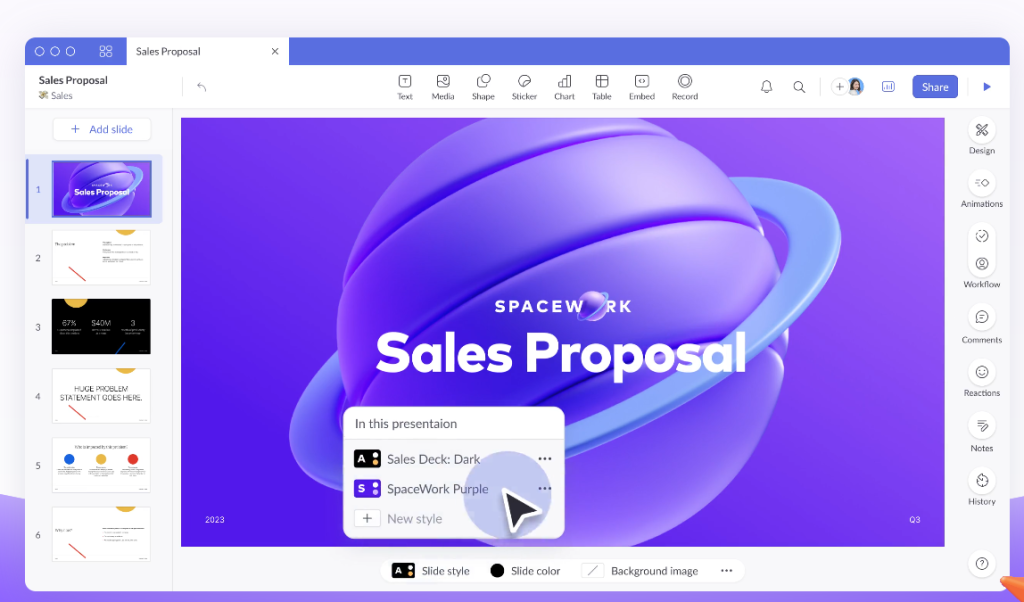 Key Features:
Real-time collaboration: Pitch allows multiple users to work on the same presentation simultaneously, in real time. This makes it easy for teams to collaborate on presentations, even if team members are located in different parts of the world.
Smart workflows: Pitch offers a variety of smart workflows that can help users save time and create better presentations. For example, Pitch can automatically generate charts and graphs from data in Google Sheets, and it can also translate text into multiple languages.
Customizable templates and presentation styles: Pitch offers a wide variety of customizable templates and presentation styles to choose from. This makes it easy for users to create presentations that match their brand and style.
Pricing:
Pitch offers a free plan with limited features for individuals. If you need more business features like Workspace roles and analytics you can start at $8/month (billed annualy)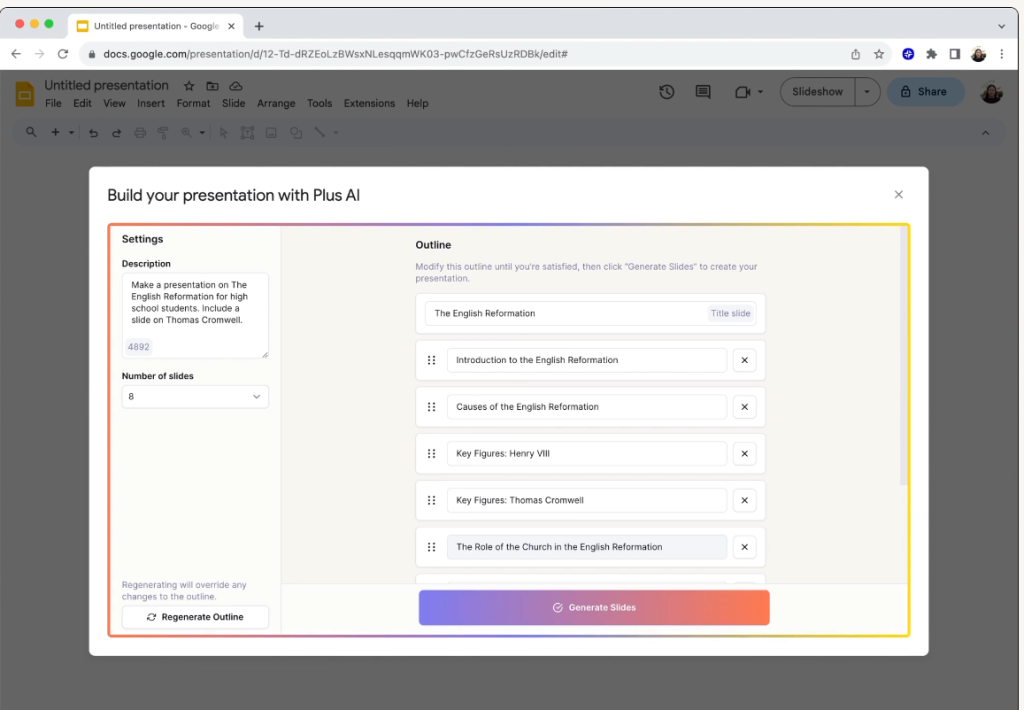 Key Features:
AI-generated outlines and content: PlusDocs can automatically generate outlines and content for presentations, based on a user's input.
User-friendly interface: PlusDocs has a user-friendly interface that is easy to learn and use. This makes it a good choice for users of all skill levels.
Collaboration tools: PlusDocs allows multiple users to collaborate on presentations in real time.
Pricing:
PlusDocs offers a free plan limited for 3 presentations. Paid plans start at $10 and $20 per month billed annually.
Benefits of using an AI presentation maker
There are many benefits to using an AI presentation maker, including:
Save time and effort: AI presentation makers can save you a lot of time and effort by automating many of the tasks involved in creating presentations: Design, idea, copywriting. Allowing you to focus on adding your own unique takes, and making sure the presentation is up to your standards.
Create professional-looking presentations: AI presentation makers can help you create professional-looking presentations, even if you have no design skills. They offer a variety of templates and design options that you can choose from.
Improve your presentation skills: AI presentation makers can help you improve your presentation skills by providing feedback on your content and delivery. For example, AI presentation makers can provide you with user analytics on the engagement of your presentation , hence helping you identify where you can improve your delivery.
How to use an AI presentation maker to create a stunning presentation
Each ai presentation software has it's own workfflow but generally speaking this is how it goes:
Choose an AI presentation maker and create an account.
Select a template or design for your presentation.
Enter the content for your slides.
Add images, videos, and other multimedia elements to your presentation.
Proofread and edit your presentation.
Export your presentation to a file or share it online.
Tips for creating an effective presentation
Here are a few tips for creating an effective presentation with an AI presentation maker:
Use clear and concise language: AI presentation makers can generate a lot of text, so it is important to use clear and concise language. Avoid using jargon and technical terms that your audience may not understand.
Focus on your audience: When creating your presentation, keep your audience in mind. What do they need to know? What are they interested in? Make sure your presentation is relevant and informative for your audience.
Use visuals: Visuals can help to make your presentation more engaging and informative. Use images, videos, and other multimedia elements to illustrate your points and make your presentation more visually appealing.
Practice your delivery: Once you have created your presentation, practice your delivery. This will help you to ensure that your presentation is smooth and engaging.
Conclusion: What is the future of AI presentation makers?
AI presentation makers are a powerful tool that can help you to create better presentations, faster. If you're work or current occupation requires you to create presentations regularly using an ai presentation software can save you time and improve your presentations content and delivery.
As AI presentation makers continue to develop, we can expect to see even more powerful and sophisticated features. For example, AI presentation makers may be able to generate personalized presentations for each audience member, or they may be able to provide real-time feedback on the delivery of a presentation.
Happy presentation creation!
FAQs:
What are the key features to look for in an AI presentation maker?


Ease of use: The tool should be easy to use and navigate, even for users with no prior experience with presentation software.
Template library: A wide selection of templates can help you create a professional-looking presentation quickly and easily.
Customization options: The tool should allow you to customize the templates to your liking, including adding your own branding and content.
AI features: The tool should offer a variety of AI features to help you create a more engaging and informative presentation, such as automated content generation, slide design suggestions, and speaker notes.
Collaboration features: If you need to collaborate with others on your presentation, the tool should offer features such as real-time editing and commenting.
Export options: The tool should allow you to export your presentation in a variety of formats, such as PDF, PowerPoint, and Google Slides.
What are some tips for creating an effective presentation?

Know your audience. Tailor your presentation to your audience's interests and needs. What do they already know about your topic? What do they need to know?
Have a clear message. What is the one key thing you want your audience to take away from your presentation? Make sure your message is clear and concise.
Structure your presentation well. Start with a strong introduction that grabs your audience's attention. Then, present your main points in a logical order. Be sure to provide supporting evidence for your claims. Finally, conclude with a summary of your key points and a call to action.
Use visuals effectively. Visuals can help to engage your audience and make your presentation more memorable. Use images, charts, and graphs to support your points and illustrate your ideas.
Practice your delivery. Practice your presentation beforehand so that you can deliver it smoothly and confidently. Be sure to pause and make eye contact with your audience.
Be enthusiastic. Show your audience that you are passionate about your topic. Your enthusiasm will be contagious and will help to keep your audience engaged.