Best Referral Marketing Software-To Boost Your Business
Last Updated on November 29, 2022
Referral marketing is one of the most cost effective ways to get customers in your business. Today the process of recruiting new customers via referral marketing is much easier thanks to technology. Today we like to discuss the best referral marketing software out there and how you can use that kind of software to boost your business.
What is referral marketing
You probably heard the term referral marketing once or twice before and if you are not sure what it is let's briefly define it. Referral marketing is basically a marketing method of getting new customers into your business using your existing customers. You do that by incentivizing your existing customers to introduce your product or service to their friends, family or anyone they think might be interested in it. This creates a win win situation for both sides. (the business and the existing customers).

For example:
Let's say you own a pet store and you send an email to your current customers saying: "For any new customer that you will send our way and make a purchase you will be given a $25 gift card to use in our store"
You probably thinking "oh I get it, it's basically word of mouth" and you're right. But unlike traditional word of mouth which can take a long time to get results, with referral marketing software you can get very fast results and you can also track this marketing channel (this is important because maybe you have a customer that refers a lot of high paying clients to you and if know that you can better incentivize him/her)
Pros of Referral Marketing
Cost Effective
Think about it , you only pay for actual customers, not leads/sign ups who may or may not become paying customers. Moreover you choose how you pay, it can be a discount, it can be a gift card to your store, so even in terms of cash flow it's a great way to acquire new customers.
It's Easy to implement
Today there are hundreds if not thousands of referral marketing software, and it is very easy to create your own referral program and have customers sign up to it and start driving new customers to your business.
Referral Customers are the Best Kind of Customers
According to a Nielsen report Word-of-mouth recommendations from friends and family are still considered the most influential (84% respondents said word of mouth advertising is the most trustworthy kind of advertising).
What is a Referral Marketing Software
The benefits of referral marketing are obvious. The referral marketing software simply leverages technology to boost word of mouth advertising. You create referral campaigns where you decide on the incentive (Discount, Gift, Cash), let your current customers know, and have them start sending new customers your way.
Best Referral Marketing Software- Top 10

Upviral gives you all the tools you need to run effective viral campaigns such as:
Viral sweepstakes campaigns.

Viral Rewards campaigns.

Viral waiting lists campaigns.
And all campaigns are equipped with done for you templates, emails, and share options, guaranteed you won't miss a referral.
Upviral is one of the best tools out there for a complete automated referral ecosystem for your business.
One cool feature worth mentioning is the smart leaderboard, which basically shows your customers who send you referrals their current ranking and encourage them to compete against one another which will result in more referrals for you.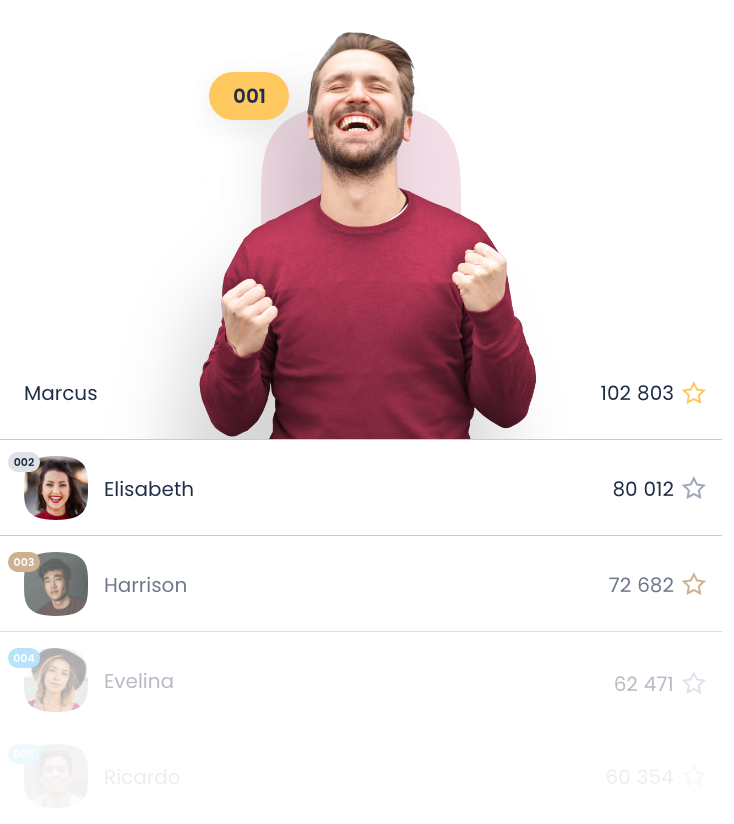 Pros
Triple A/B Testing

User friendly dashboard-Track all important metric of your referral campaigns.

Fully Mobile optimized .

Detailed analytics and reporting makes it easy to analyze the performance of campaigns.

Smart Leaderboard to boost referrals

Multi Language support

1000+

zapier

integrations

Run Unlimited Campaigns

$1 Free Trial available.
Cons
Customization options are limited.
Price: Starts at $1 (14 days). Starts at $49/month or $39/Month (Annually paid)
Ambassador is more targeted towards startups and big enterprises, so you can definitely expect an all in one platform, high quality support easy onboarding and quality customer support.
Pros
All plans offer unlimited campaigns and referrals.

Unlimited integrations and advanced API.

Multiple Languages and Currencies.

Done for you templates.

Dedicated Onboarding Specialist on pro and enterprise plans.

Dedicated success manager on pro and enterprise plans.

Smart Segmentation.
Cons
High priced (starting at $800/Year).

No live chat.
Referral Factory has more than 1000+ referral program templates for any type of industry. They have a very user friendly dashboard and theme builder. All of which makes this referral software very beginner friendly. Creating rewards like cash discount, discount codes, coupons etc is easy to create as well as to track performance of your campaigns.

Pros
Over 1,000 templates for almost any industry.

Multi Language support.

Robust reporting and tracking.

Advanced API

Free 15 days trial
Cons
Lowest price point is $95/month.

Post affiliate pro is a bit more than just a referral marketing software. It's a turn key solution to run an affiliate program or network. If you only need to run a standard referral program for your business, post affiliate pro might be too much for you. You can create smartlinks, set recurring commissions offer banner creatives and if all that sounds Chinese than it is probably more than you need for your business. If you are looking to expend your marketing channels to more sophisticated affiliate than post affiliate pro can answer all your needs in that regard.
Pros
Advanced features for affiliates.

Great customer support (24/7).

Great value for money.

14 days free trial.
Cons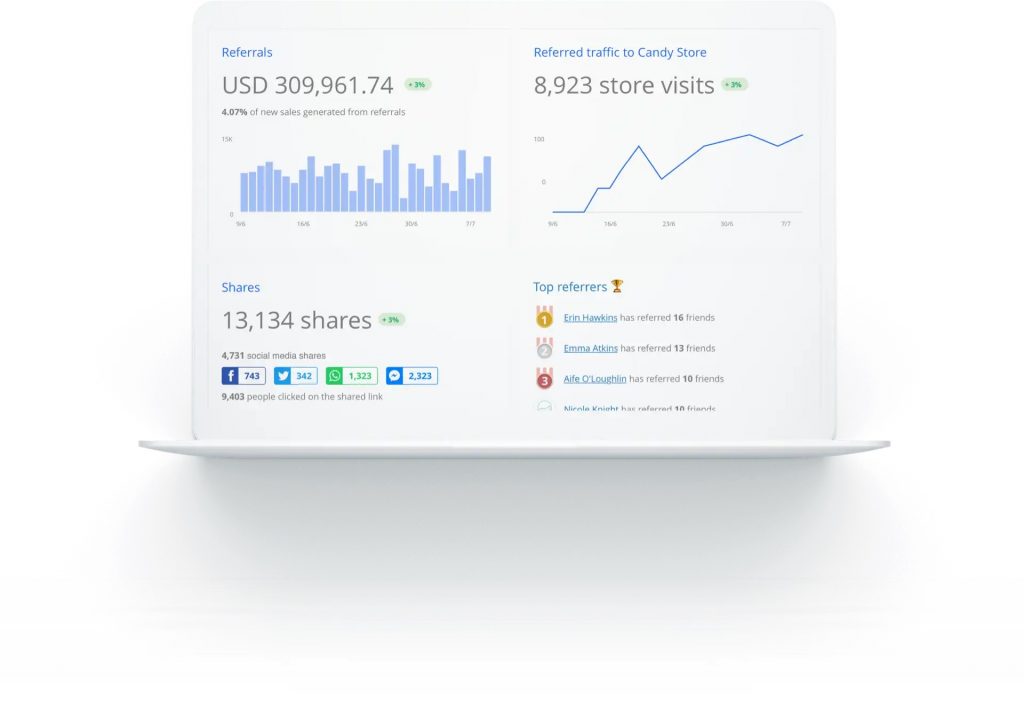 This is a great option for beginners, great price unlimited customers, live support, user friendly dashboard and reporting, even fraud protection.
Pros
Easy to set up referral campaigns.

Turn key solution for beginners.

Affordable pricing.

Unlimited customer.

30 days free trial.
Cons
Tiered charges on your referrals sales (as high as 5%)
In terms of features it resembles post affiliate pro, which means it's on the more advanced end of the Best Referral Marketing Software. You can create personal referral links and coupons, manage promo materials (banners, text links) , create sharable social media posts, create branded dashboard for your affiliates, and integrate with practically any 3rd party software.
Pros
User friendly interface.

Multi currency and language support.

Affordable pricing.

Custom sign up fields and payout options.

No transaction fees.

14 days free trial.
Cons
Clicks Overage Fee ($0.45 per 1000).

Support could be more responsive.
Price start at $69/Month.

Very powerful yet simple referral software. they got a testimonial from Neil Patel so that's something you simply can't ignore. Integration with your website/online assets is very simple, reports are detailed and easy to analyze, you can reward affiliates on multiple events (app install, share, registration, sales, leads) and can even create 2 way reward system (reward the referral and the affiliate).
Pros
Great reporting dashboard.

Reward affiliates on multiple event.

Unlimited Sharing and Transactions in all Plans.

Easy set up.

14 days free trial.
Cons
Only 3 campaigns on the basic plan.

Support could be more responsive.
Price start at $99/Month.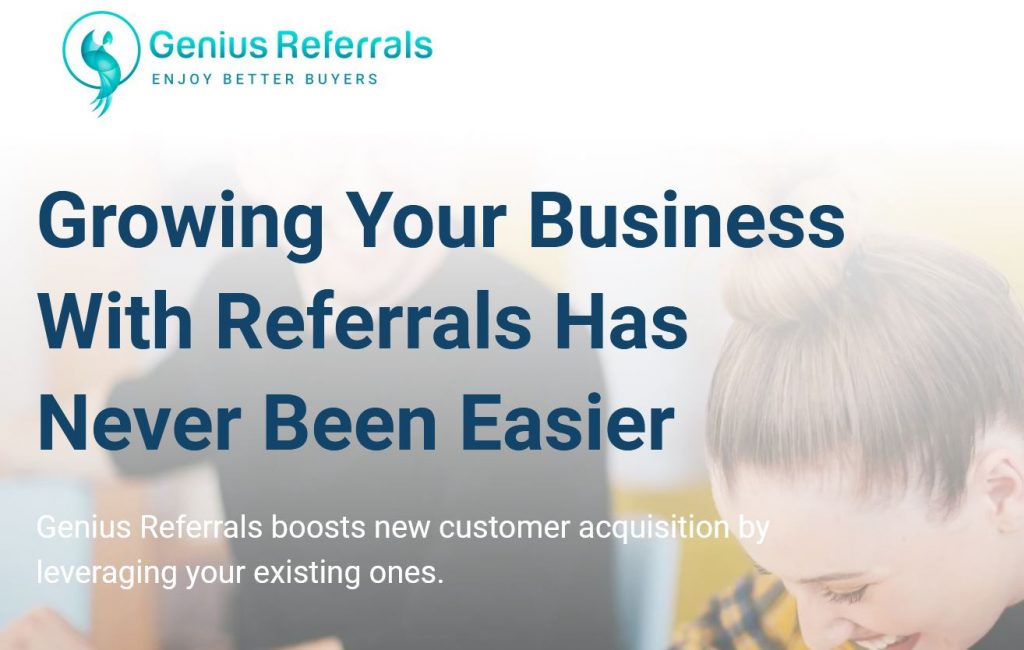 One of the most complete referral marketing software out there. We really like the wide variety of Rewards Incentive Model like multi tiered campaigns, multi level campaigns, One Sided & Double Sided Rewards and Fixed & Percentage Rewards. Fraud protection is available on all plans, and the website, template builder is great.
Pros
Affordable basic plan.

Large variety of incentive options.

Large variety of payment methods.

Great support staff.

30 days free trial.
Cons
Starter plan has limited options.
Price start at $49/Month.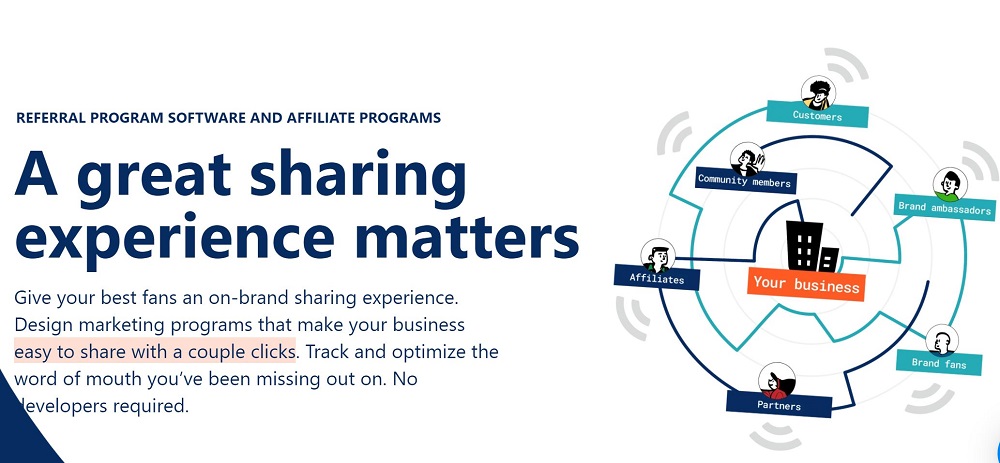 Referral Rock helps you create a tailor made referral program for you business. One of the perks of joining Referral Rock is getting a dedicated customer success manager in all plans. They work with a lot of brand names like Tripadvisor, Fidelity, AT&T and others so they definitely know what they are doing.

Pros
Dedicated account manager and on boarding with every plan.

Refer-a-friend widgets + Member Portal.

Gift cards, coupons, and in-app rewards.

Fast setup and integration.
Cons
Starting plan is $200/Month.

Basic reporting system.
Viral loops has some interesting unique features like newsletter referral , landing page builder and real time dashboard reporting. While it's not packed with features as the software above it still gives you the basic tools to run referrals campaigns.
Pros
Great customer support

Unique pre built templates.

Landing page builder
Cons
Customization is limited.

Number of built in integrations is limited.
Buyers Guide-What to Consider when getting a Referral Marketing Software



1. Business size and needs.
small local business will have different needs and requirements than a large enterprise. Number of campaigns , referrals, API access, reporting , types of rewards available. If you're a small business you probably don't need unlimited referrals and API access for example. So get an estimate of how you will use a referral marketing software so you don't pay for features you don't need. On the flip side a large enterprise will need to make sure it gets a software that can handle large volume, advanced reporting and dedicated support.
2. Ease of integration.
Consider how easy it is to integrate the software with your business. Ideally you would like a turn key solution and seamless integration. Check that the software you go with has built in integration with 3rd party software that you currently use in your business (CRM, Email marketing, ecommerce etc)
3. Customer support.
Does you referral marketing software has live chat? email support? phone support? how long does it take them to respond? check customers reviews and find out. contact them and see how long they take to respond.
4. Types of incentives.
Some businesses want to reward with gift cards, some with discounts , some with coupons others with cash and so on. Make sure that the software you choose supports the kind of incentives you intend to use in your business.
5. Templates and landing page builder.
Most software will offer you ready to go templates, some will let you build your own. Use the free trial most software will give you and see if you have enough templates that are right for you and/or you can customize your own with ease.
How to Create a Referral Program For Your Business.
1.Create a landing page
Where you will explain about how your referral program works, what the rewards are, how to grab a unique referral links, the terms and conditions, and what are the best practices to drive referrals.
2.Choose how you like to reward your referrers.
Are you going to reward them with gift cards? discounts? coupons? cash? choose the rewards and set up the rewards delivery option via your software.
3.Place the software tracking code on your website.
Your referral marketing software will instruct you on how to place a tracking pixel on your site in order to track referrals and referrers.
4.Write an invitation email
This email will be automatically sent from your referrers to their potential referrals inviting them to buy your product, sign up to your service and so on.
5. Write a referral notification email.
Automatically notify referrers that someone signed up via their link and they earned the reward you are giving away per referral.
This is the very basic set up but hopefully you get the idea and as your referral program grows you can make tweaks and improve the overall process so it can run on auto pilot.
Bottom line- Best Referral Marketing Software
Referral marketing is one of the best ways to get new customers into your business. It's cost effective, it's easy to set up a referral program and it bring in high value customers. One of the best examples on how effective a referral marketing program is , is the story of dropbox. With a simple referral marketing program they were able to go from 100k users to 4 million in just a bit over 1 year (3900% growth).
Ready to implement a referral marketing software in your business?
Our top 3 choices are:
We'd love to hear about your experience with referral marketing software in the comments!
FAQ
What is a referral marketing Software?
Referral marketing software is a type of software that helps businesses manage and track their referral marketing campaigns. It typically includes features like automated email templates, tracking and reporting tools, and landing pages.
Referral marketing software can be helpful for businesses that want to increase their referral traffic or conversions. It makes it easy to create and manage campaigns, track results, and optimize your efforts. And if you include a landing page in your campaign, you can also collect leads from referrals.
How to Create a Referral Program?
The best way to create a referral program is to start by planning what type of program you want and how it will work. There are many different ways to structure a referral program, so it's important to decide what will work best for your company.
Once you have an idea of how you want your referral program to work, the next step is to develop the necessary infrastructure. This includes creating marketing materials, setting up tracking methods, and choosing a software platform that will help run your program smoothly.
Finally, you need to promote your referral program to ensure that people are aware of it and can take advantage of it. The best way to do this is through social media, email marketing, or even word
What is referral marketing?
Referral marketing is a tactic designed to drive new customers into a business using the help of existing customers or affiliate partners. The business will offer an incentive in return for a successful referral. This can be cash incentive, coupon, discount, free product/service from the business etc.