Clickmagick vs Voluum- Clickmagick vs Voluum- Which Click Tracking Software is Better?
Last Updated on October 3, 2022
If you read our recent post –Best Click Tracking Software you probably know that we rated clickmagic and voluum as the top ones. So today we wanted to go into more details about their features, pricing and everything you need to know before choosing between the two.
After trying many click tracking software over the years Voluum and Clickmagick are definitely 2 of my favorites. A click tracking software (sometimes referred to as a tracker) is essential for online marketers in order to track the performance of their ads, landing pages, blog posts especially if you are running paid ads.
Clickmagick vs Voluum – Which I think is Best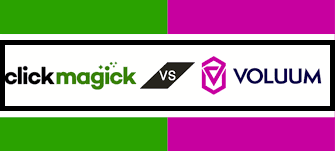 For me Voluum is the best click tracking software. When combining all the premium features we think are important in a click tracking software:
Flow and smartlink creator.

Organic traffic tracking.

Traffic Distribution AI.

A/B Split Tests.

Auto optimization tool.

Easy to generate an read reports

Quality support and knowledgeable.
They win all the other click tracking software easy.
Clickmagic on the other hand is not as advanced as voluum but is much more accessible for beginners in terms of ease of use and pricing.
You could say that Clickmagic is the best click tracking software for beginners and voluum is the best overall.
Let's look deeper into some of the top features of both software.
Click Limit
In the basic plan ($37/month) of clickmagic you get up to 10,000 clicks a month and unlimited conversions, In voluum basic plan ($69/month annual pricing or $89/month month by month pricing) you get 1 million events (which includes clicks and conversions)
the Overage charge in voluum, is $0.07 click. If you go over your click limit in clickmagic you will be automatically upgraded to the next plan.
So here you need to decide based on your needs, but keep in mind that clickmagic's most expenisve plan ($197) provides the click limit of voluum basic plan- 1 million. So if you are running high volume traffic than voluum is probably more worth it for you.
Tracking Domains
Tracking domain is the domain you will use to generate tracking links Clickmagic will give you 2 custom tracking links in their basic plan and voluum will give you 1. 1 is really all you need for the most part to be honest, that's probably why voluum only gives you 1 regardless of which plan you are on.
Date Retention
On the basic plan voluum will give you 3 months of data retention and clickmagick will give you 6 months. We would have liked it better if voluum would have given 6 months on their basic plan because we think it's the minimum amount of data you would want to access at any given time.
Live Support and Knowledgebase
Both platforms have great support but voluum gives better support throughout all of it's plans including onboarding support. Also voluum knowledge base is much more comprehensive than clickmagic's.
Traffic Distribution AI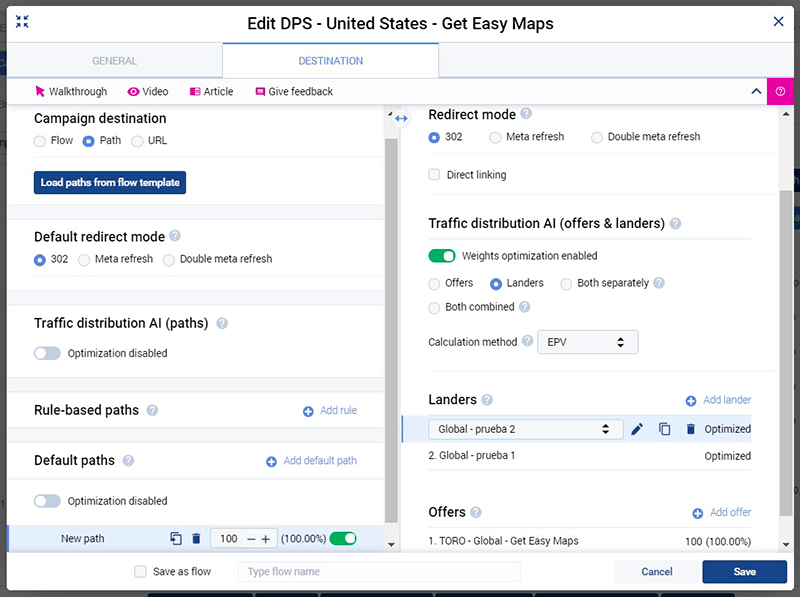 Automatically optimize campaign performance with AI. This gives you the option to rotate traffic between multiple offers, landing pages, and have Voluum optimize the performance of your campaigns based on pre determined criteria.

Traffic Sources Integration.
Really cool feature only available in voluum. Basically means you can integrate external traffic sources with voluum and perform certain actions on you advertising campaigns like excluding placement, changing bids, change budgets. Big time saver feature here.

Bot Filtering
Voluum and clickmagic can spot bots and mark them in your reports so they wouldn't interfere with your statistics.
Fraud detection
Both software have their own fraud detection system to keep you from paying on fake traffic or at least block it. clickmagic's PPC Click Shield™ and Voluum's Anti Fraud kit are available on the more advanced plans. If you are buying traffic this feature can save you a lot of money.

API Access
API access is not available in clickmagic and in voluum it is available in the more advance plans (profit and Grow)
So if you are an advanced use and or need to integrate your tracking software with other platforms than this is a big deal.
Number of Users
Voluum gives you more than 1 user access only on it's most expensive plan. Clickmagick will give you 3 in their standard (1 level higher than starter plan). If you're a beginner 1 user access is probably all you need.
Campaigns limit
Voluum basic plan actually limits the number of campaigns you can have (40) next plans don't. Clicmagick doesn't limit the number of campaigns you can have.
Rule Based Traffic Distribution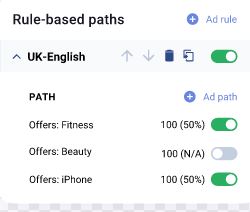 This is a really important feature that helps you monetize untargeted traffic. Say you are promoting an offer for people from the UK and you find that for some reason you also get visitors from different countries, if you can set up a rule that will send them to an offer that does accept that traffic than you can earn more from your traffic. In voluum you can set up rules based on many factors (Country, city, time of day, connection, ISP , carrrier, device type and more). In clickmagic that option is more limited and a lot harder to set up.
Mobile App
Voluum has a mobile app from which you perform all actions you can from your PC. Clickmagic currently doesn't have a mobile App. It's a nice feature to have as you can create and modigy campaigns on the go.

Reporting
Voluum's reporting is much advanced and in depth than clickmagick's. You can drill down the reports and gain meaningful insights about your traffic.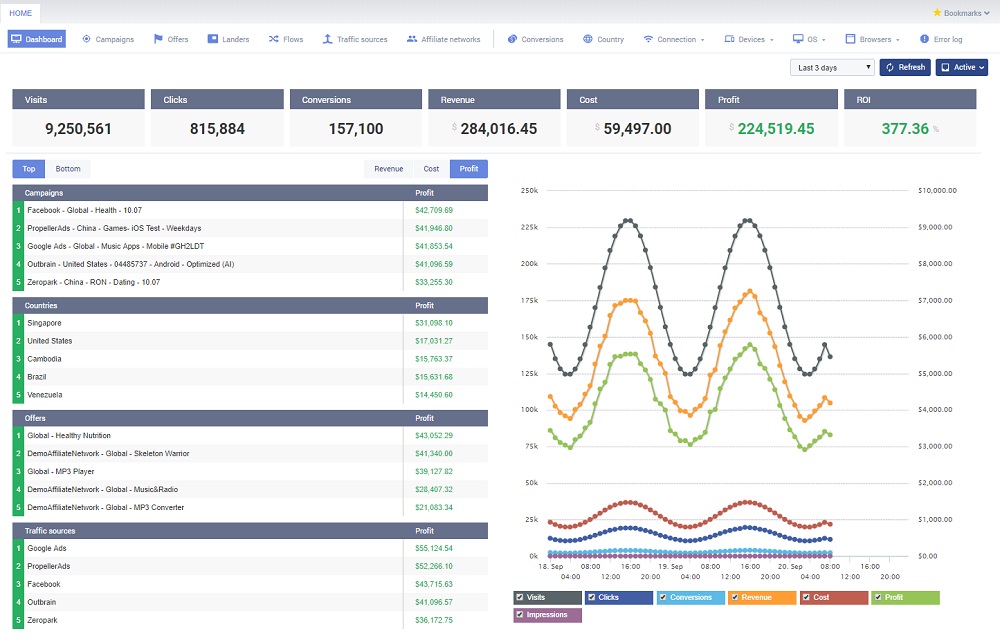 Pricing
As mentioned before voluum is more expensive than clickmagick but much more advanced. Also while voluum doesn't offer you a free trial clickmagick will give you a free trial of 14 days.
Voluum's Pricing


Clickmagick Pricing

Clickmagick vs Voluum-Best Overall
Overall voluum is better than clickmagick in almost every feature and has much more features to offer to begin with. If you are buying (media buyers, affiliate marketers) or planning to buy traffic we would go with voluum, it will be an investment that will pay itself back very fast.
However if you are just a beginner or have simple tracking needs (bloggers) clickmagick starter plan may be all you need to get started and it will only cost you $37/month compared to voluum $89 or $69 a month (monthly vs annual billing)
FAQ
Does Clickmagic Offers a Free Plan?
No, but it does offer a free trial (with c.c). You can test it here==>
Does Voluum Offers a Free Trial?
No. Voluum doesn't offer a free trial.
Is clickmagic cheaper than voluum?
Clickmagic plans are cheaper than voluum. Clickmagic starts at $37/month while voluum starts at $67/Month.