How to make money with affiliate marketing without a website in 2022?
Last Updated on September 26, 2022
A lot of people are looking to make money with affiliate marketing without a website, but they are not sure if it's possible. Well, the short answer is yes. But keep in mind that this is usually a get cash fast scheme and not a long-term business building strategy. If you're at that stage where you just need to see that it's possible to make money from affiliate marketing and or need the money than keep reading and will show you how this is possible.
Sign up to affiliate programs that don't require you to have a website
Post on Forums and Online Communities
Sign up to affiliate programs that don't require you to have a website
A lot of affiliate programs out there require you to own and operate your own website/s. especially the big ones like Amazon, Commission Junction, Share a Sale. They want to know where you are sending them traffic and if you have a legitimate website, they are less likely to deal with traffic quality issues. There are however (luckily) a lot of great affiliate programs out there that don't require you to have a website. Here a few of my favorite ones:
Clickbank is one of the oldes affiliate marketing programs out there. You can find almost any kind of product/service to promote there, from digital products like woodworking plans to enlarged prostate supplement. Commission rates depend on the sellers on clickbank and they can range anywhere from 50% to 90% of the product sale. You can really only sign up to clickbank if you're getting started because they have tens of thousands of products and services you can promote in almost any market.
Very similar to clickbank, but not as big. Commission rates run from 50% to 100% (if you drive really good traffic) and you will also find there a large variety of products you can promote there as an affiliate.
If you want to promote crypto currencies, Binance affiliate program is a good way to go. Binance is one of the largest exchanges out there for trading crypto currencies and they will pay you 10-40% Of Trading Fees Forever. So you will earn money from every trade people you referred there make.
Is an online education community , where instructors are selling their knowledge via courses to people looking to learn new skills. You can either earn money as an insturcutor- meaning creating a course and promote it there, or as an affiliate by promoting course on their platform, you will earn $7 CPA for every person who signs up to a free trial there.
Fiverr is an online marketplace for freelance services (called gigs on fiverr). You can find writers, video editors, singers, virtual assistants and almost any kind of freelance service you can think of. Promoting fiverr gigs will earn you either $15-150 CPA or $10 CPA + 10% RevShare (you will need to decide which when you sign up). This is another great option to make money with affiliate marketing without a website
Youtube channel
Believe it or not youtube is the second biggest site in the world right after google (which owns youtube).
On average people spend 41.8 minutes a day on youtube which is an amazing piece of statistics (Source-Hootsuite). The best Creators on youtube have millions of video views a days and millions (sometime hundreds of millions ) of subscribers. According to Forbes the top 10 youtube creators in 2020 made between $15- 30 million dollars that year.
If you have a subject you are passionate about and can consistently create video content around, you can start earning money on youtube either by posting related affiliate links in your videos and video description or once you have 1000 subscribers you can join youtube partners program and earn money from video views from yotube.
Social Media
Social media platforms are booming both in terms of reach and engagement. As we mentioned when we discussed youtube, it's all about creating quality engaging content consistently. Providing valuable information and adding your affiliate links in a form of recommendation to a video a post a tweet, a story. Instagram/Tiktok influencers with millions of followers, facebook group admins with tens of thousands of group members, have some series power in their hands. If you can grow an audience, you can than start promoting affiliate products and services.
Print on Demand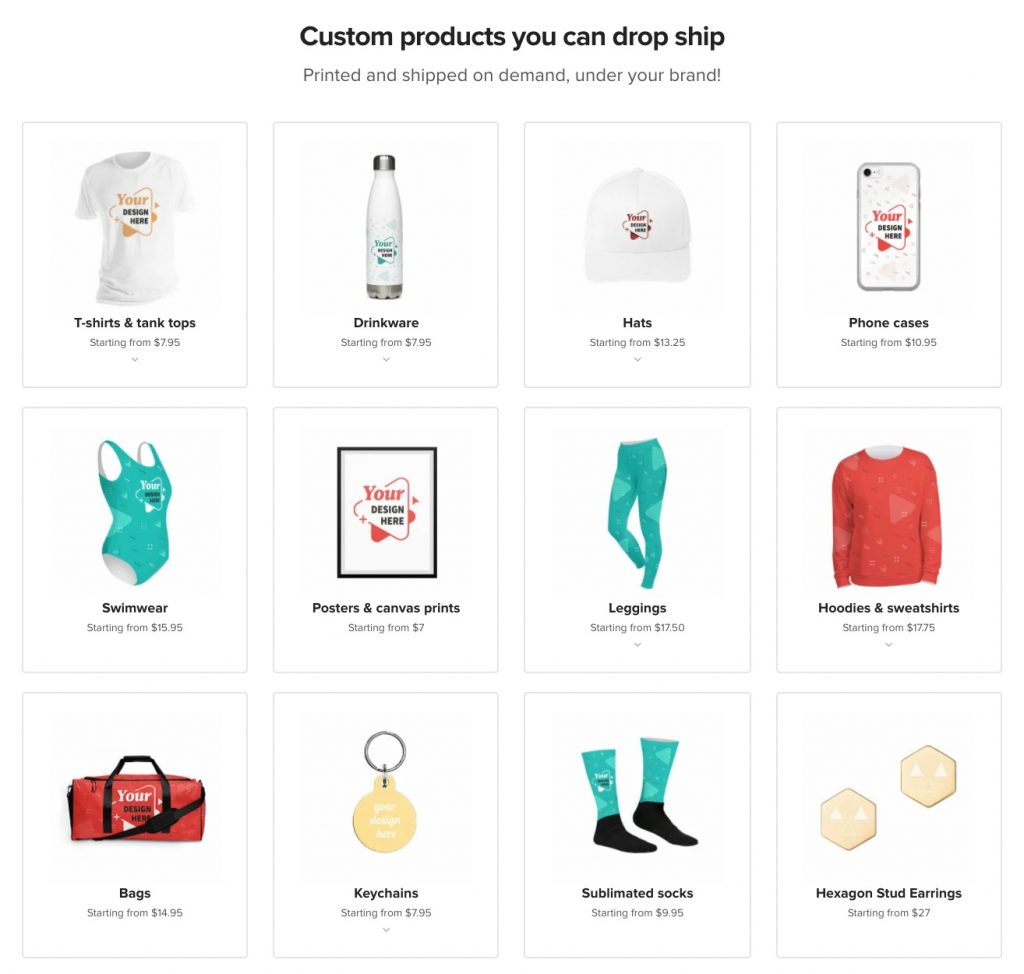 Print on demand is where you can create designs for t-shirts mugs, bags, bracelets and more and have a 3rd party vendor manufacturer them and ship them. So you don't need to deal with inventory, customer support and all of that. You can use sites like Redbubble , teepublic, printful. If you're not a designer and you still like the print on demand option, you can always outsource the design creation on sites like Fiverr.
Email Marketing
Email marketing is still one of the best marketing channels in terms of ROI. You can go and buy email traffic clicks from companies like udimi and market affiliate offers but this is an expensive kind of traffic and I wouldn't recommend trying it unless you have the budget of a few thousands dollars.
The second way is to build your email list. One way to go about is to create a sales funnel and integrate it with your autoresponder that offers some kind of free gift in exchange to an email list. Let's say you're in the dog training niche , you can offer a free PDF guide :" 5 mistakes to avoid when training your dog" and on the thank you page you can offer the users a complete dog training course from clickbank or skillshare. And once they sign up you can also start promoting related affiliate offers to them via email.
Post on Forums and Online Communities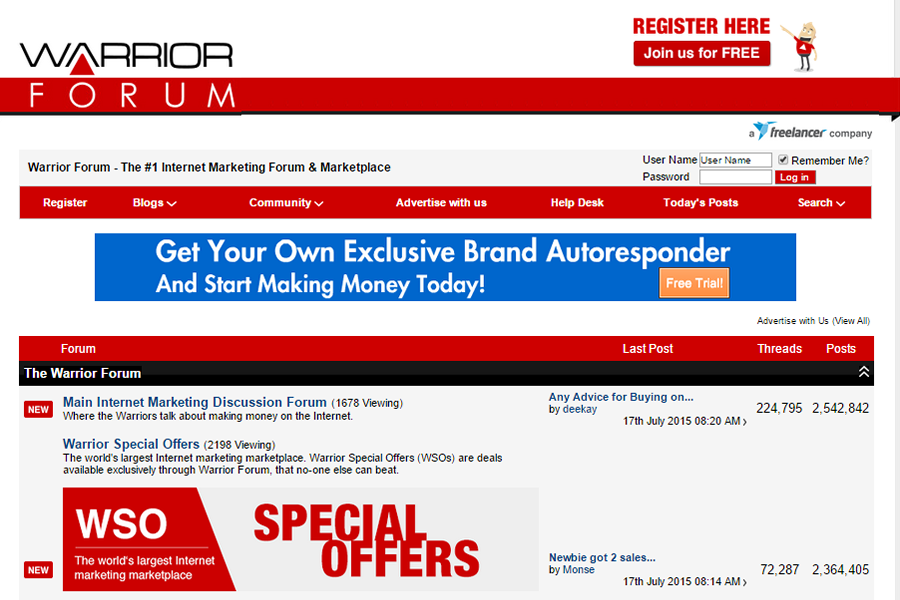 An old tactic but still works today. You can join forums, communities, social media groups around specific topics, engage with them, provide some valuable content and every now and than add an affiliate link that is related to the topic of the conversation. The key here is to build a relationship and establish trust. Before you start promoting offers, give some value, and give people a reason to trust you and your recommendations.
Content Publishing Platforms
content publishing platforms like Medium or Steemit allow you to publish your content to its 100 million users. As with other platforms we mentioned you need to provide original, engaging useful content on the subject you choose to write about. You can add your affiliate links to your article, but you do need to follow the platform guidelines which is usually informing the readers about affiliate links in your articles.
What's Your Next Move?
As you may have realized by now you can make money with affiliate marketing without a website. In the long run it is better to create a website and a brand around it.
Think about it, You can have a huge following on Instagram of youtube and make decent money but if some day they decide to close your account for whatever reason (and it happens) you're left with nothing. When you have your own website, you are the platform and you control the content, plus it is much easier and cheaper than you may think, we wrote a detailed guide on how to start your own blog here.
But if you're just getting started and are trying to make a quick buck, you can definitely explore one or more of the ways we mentioned. Just make sure you are:
1. Follow the platform guidelines.
2. Provide quality, relevant content.
3. Consistent with the content creation.
Best of luck!