How To Start a Shopify Store That Actually Sells in 24 Hours
Last Updated on August 5, 2023
You probably been seeing beautiful online shops popping up like mushrooms after the rain. and you may have heard a thing or 2 about Shopify and wondered how you can start a Shopify store, but more importantly one that actually sells. well my friend you're in luck, because we created a guide that shows you exactly that!
What you will learn?
Intro- What is Shopify?
Part 1: What Will You Sell?
Part 2: Set up your new store- Basic store setup
Part 3: Add Products, Categories &Pricing
Part 4: Get Customers-Make the first sale.
Part 5: The Next Step.
First off What is Shopify Exactly?
Shopify is a complete eCommerce solution. It allows anyone to set up a beautiful online store to sell your product or service with all eCommerce functionalities: add and organize your products, customize your storefront, accept credit card payments, track orders — all with a few clicks of the mouse and without any coding or design skills required. And of course you don't need to worry about things like servers, hosting, and domains, shopify takes care of it all for you.
In fact it is such a great solution that even people who do have the skills to open an online store on their own choose because it saves them a lot of time and effort.
The main reason opening an eCommerce store has become such a great business is DROPSHIPPING.
Dropshipping allows you to sell products without having to hold it. It means you can sell about anything as long as you have a manufacturer/supplier who can deliver it to the customer, so you don't need to buy the product until you sell it! It also means that you don't need to spend money on storing the inventory or worrying about getting stuck with unsold inventory.
How it works?
When a store sells a product, it purchases the item from a third party usually from a Chinese manufacturer they ship it directly to the final customer. As a result, the store owner never sees or handles the product. Shopify of course will connect you to those manufacturers.
For all those reasons Shopify has become the number one solution for many companies, entrepreneurs and individuals to sell products and services. You can become a digital entrepreneur in a matter of minutes with Shopify.
Ready to start your Shopify store? Let's do this!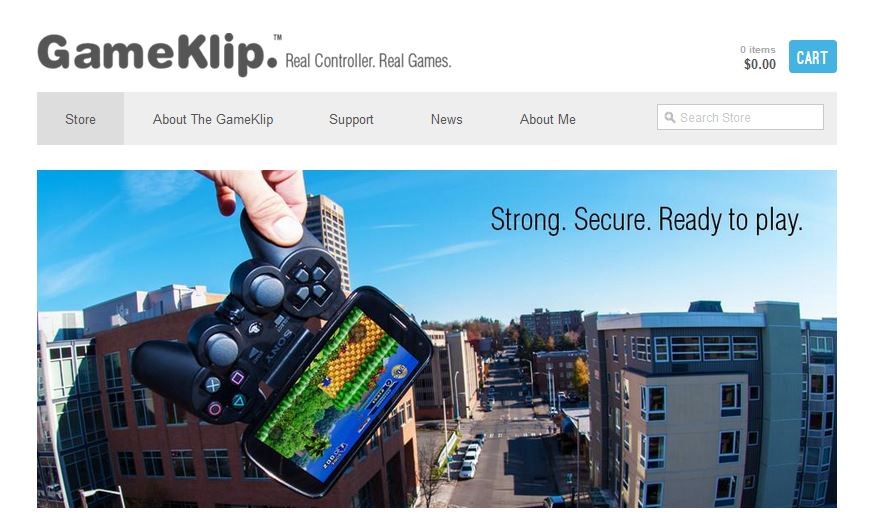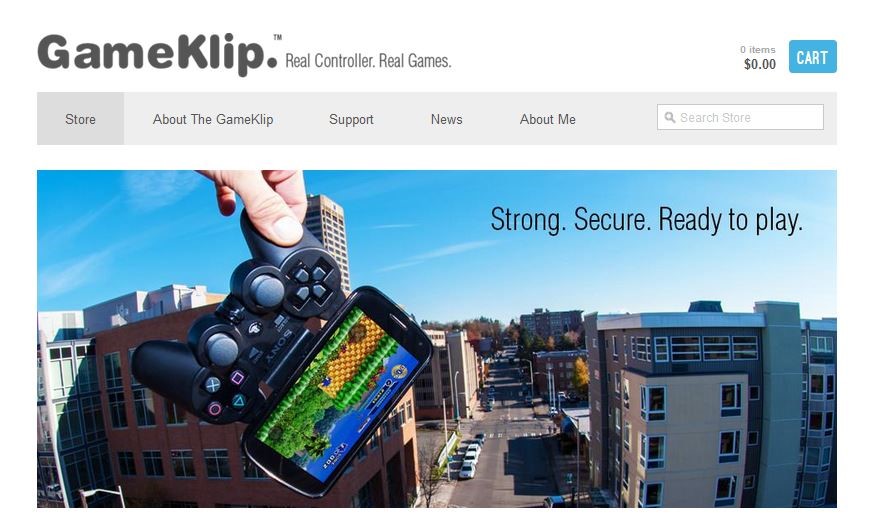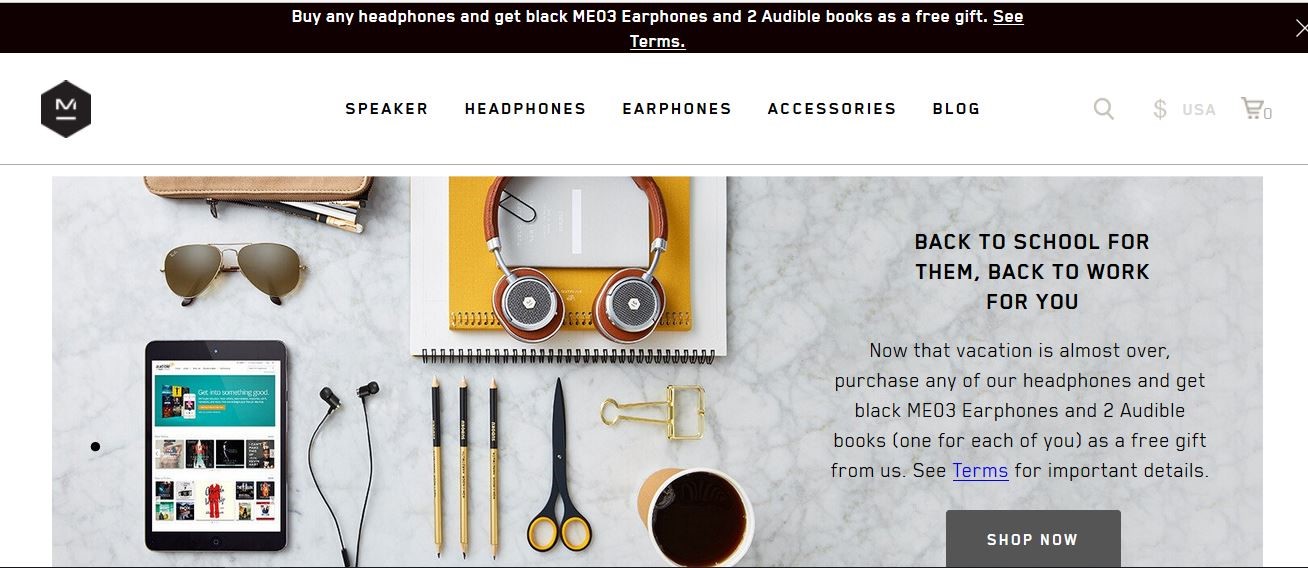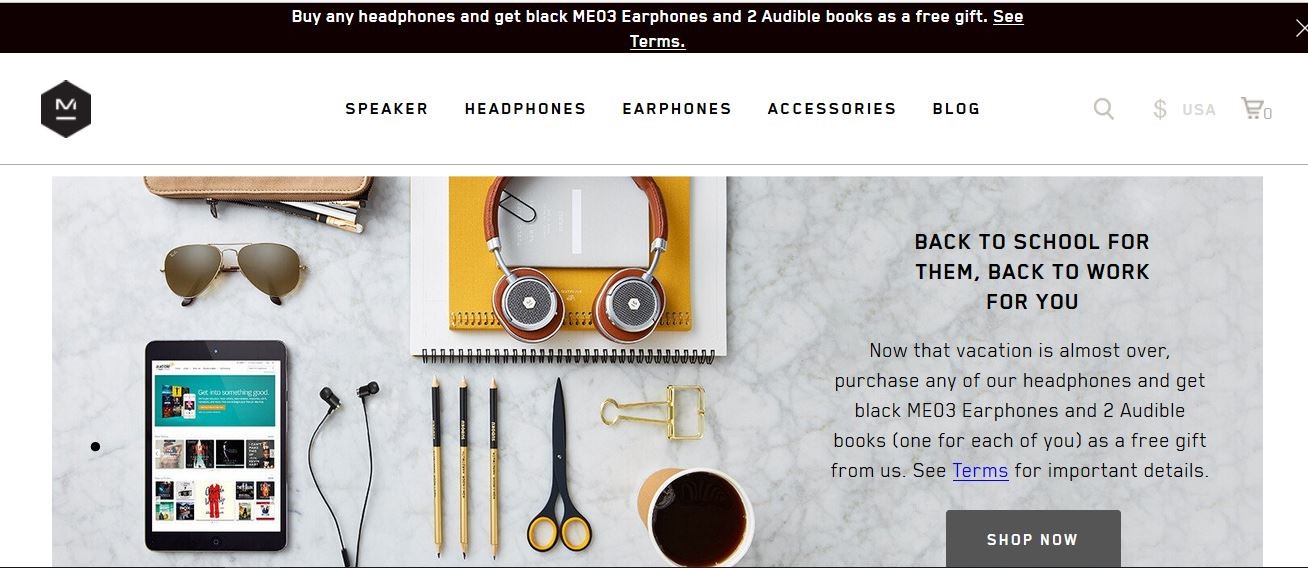 Part 1- Research: What will you sell? (Don't Skip This!!!)
The reason a lot of eCommerce entrepreneurs like you are failing with their e-commerce business is that they skip this very important step! The research in this step will help you decide which product/s you should be selling. Please take the time to follow these simple steps, it can be the difference between failure to massive success. The only exception to skip these step is if you already selling something online or offline and want to expend your business to shopify. If that is the case you can skip to part 2.
So if you like to increase your chance to succeed with your online store, the first step in your is not to start an online store! It's to generate a whole bunch of ideas for potential eCommerce stores, then find the idea out of all of those that's most likely to succeed.
Step 1: Generate ideas
Start off by sitting down at your computer and make a list of "stuff" that you know something about. By "stuff" here I mean anything that you could theme a store around:
*note: You do not need to be currently passionate about any of these things. In fact, it can be a problem if you are passionate about the field you start your store in – it's almost better to start a store selling stuff you don't care about. Think about:
• Your hobbies/interests.
• Family's hobbies and interests. i.e your dad likes fishing, your mom likes knitting, your brother likes soccer etc.
• Problems that can be solved by a physical product: Drone batteries for drone enthusiasts, running earphones that don't fall off, waterproof MP3 players, think you're not fit to drive cause you drank too much- buy an Alcohol Detector Breathalyzer. Problems that could potentially be solved by a physical product-Write them down.
Still not enough ideas? Try these idea generating methods also:
• Google "List of hobbies" and Pick a list, than pick a few hobbies from that list which jump out at you as potential store ideas. Don't overthink this: you'll narrow down later.
• Go to Shopify Blog and check out their most successful stores
• Go to Google Trends or nicheminer.co and see what people are talking about in different categories, think what you can sell products around those trends.
You should now have a list of 20+ ideas. Let's narrow them down.
Step 2: Selecting your product
Start a new spreadsheet called "Shop Ideas"
Go to  ALIEXPRESS=>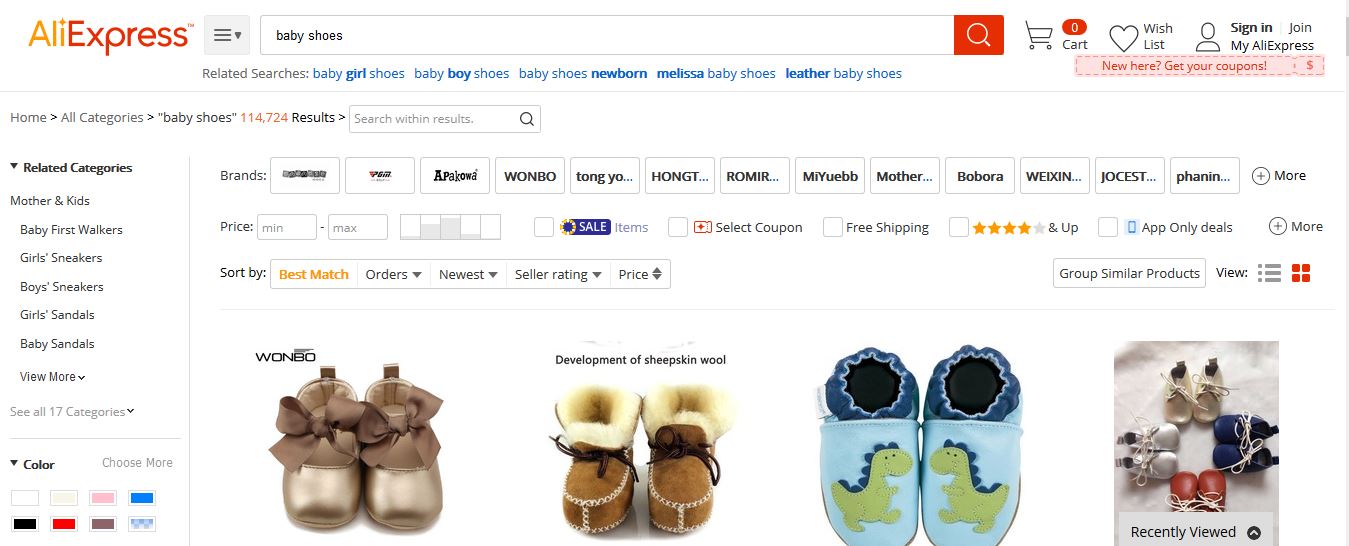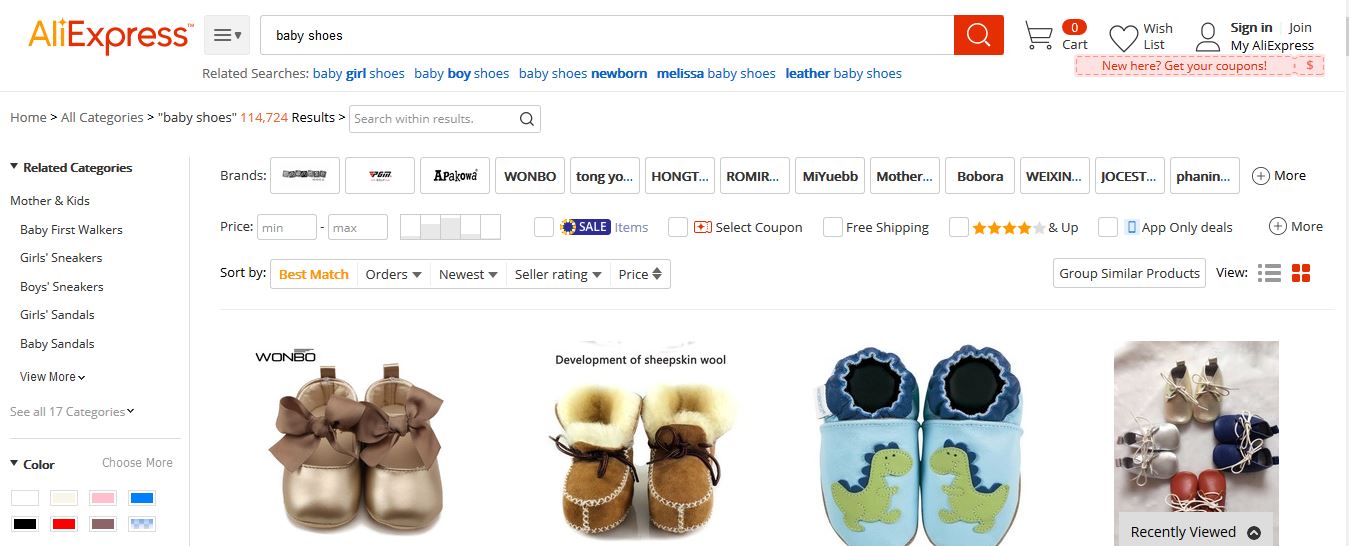 For each of the ideas on your list, spend some time -exploring the available options for things to sell to them.
There are a few of things to be aware of here:
• Don't sell things that people eat. It's just not worth the potential legal liability.
• Don't sell things that are too heavy -Shipping will be a nightmare.
• Don't sell things that are priced over $75 or so on AliExpress, it will require a very big advertising testing budget and it's not recommended in the beginning at least.
• Don't sell stuff that's obviously associated with a big non-Chinese brand. There are lots of fakes on AliExpress and they are likely to result in disgruntle customers, stick to unbranded stuff.
If you can find at least 10 things you could potentially sell to people with that interest or problem, and that don't encounter any of the problems mentioned above, add them to your spreadsheet.
Next, go looking for places where people with that interest or problem gather.
• Facebook groups-Around the interest or problem
• Subreddits- on Reddit
• Google-Magazines,Forums, youtube channels.
• Quera- Popular questions around the interest or problem.
If you see groups/communities with more than 1 million members try to narrow your topic down. For example you may be interested in selling smartphones covers online but that's a bit too broad, it may be wiser to start a store for animated smartphone covers for example.
Also try to see from the group's discussions/comments if people are willing to spend money in your potential store. i.e "that iphone cover costs $5 and it's a rip off" vs "I love those iphone covers I bought 10 for $50"
*Pro tip: check http://www.watchcount.com/ and http://nicheminer.co/ to see if there's a lot of interest in products for this problem or interest. Note your results down, including specific counts for Likes or bids on items.
Step 3-Making the final Decision
Ok, this took us some time but this is an essential part of starting an eCommerce store and shouldn't be skipped- unless you want to increase your chances of failure which , we assume you don't (:
Now we'll make the final decision.
Look over your list, and pick out the three or four hobbies or problem areas for it that most closely match the following:
• Plenty of appropriate products on AliExpress to sell them. The more the better. A mixture of cheaper and more expensive items is ideal.
• Lots of medium to large communities for the hobby or interest. Actual print publications for the hobby or interest are a particularly good sign.
• Communities aren't TOO large. See above – if it's over 1 million strong, it's probably too broad.
• People with this problem or interest have money. They say they have money, they're older (35-55 is probably the sweet spot), or they are in reasonably well-paid professions.
• People with this problem or interest spend money regularly.
• The problem or interest isn't seasonal i.e Selling Christmas lights store sill probably only make money 2-3 months out of the whole year.
• The problem or interest is worldwide, or at least present in more than 7 countries.
• The problem or interest isn't likely to go away in a few years- you don't want to build a store about a fidget spinner as the buzz around it will likely go away soon.
Got three or four options written down? Great stuff! Now just choose one you like best and keep the others as potential stores as soon as you succeed with your first one.
You're now ready to not only start a store, but ready to start a store with the best chance of success.
Part 2: Set up your new store- Basic store setup
Step 1: Signup to Shopify and pick a store name
Go to Shopify==> and sign up using this link (It will get 14 days free-no credit card required).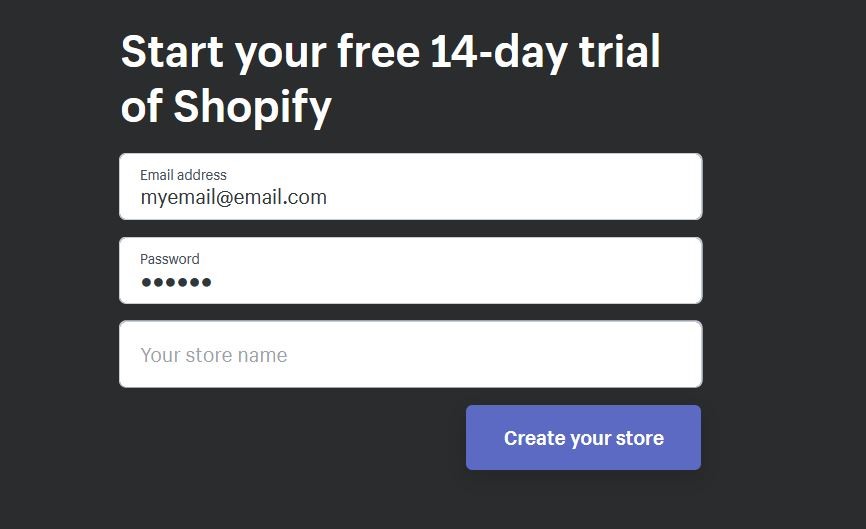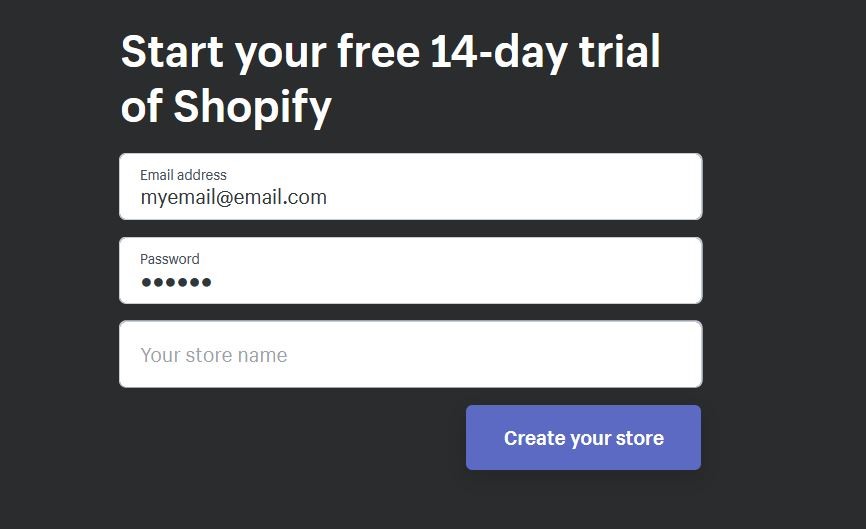 Picking a name is important but don't spend too much time on it. Think of something simple and catchy. Make sure the name you come up with isn't trademarked and has an available .com domain address. Dot com domains usually rank better in search engines. If you having trouble finding an available name try adding shop or store after your chosen name, i.e BrandedBottlesStore
Pro tip: You can also use the Shopify Shopify Business Name Generatorto generate store name ideas.
Next: Choose Online store: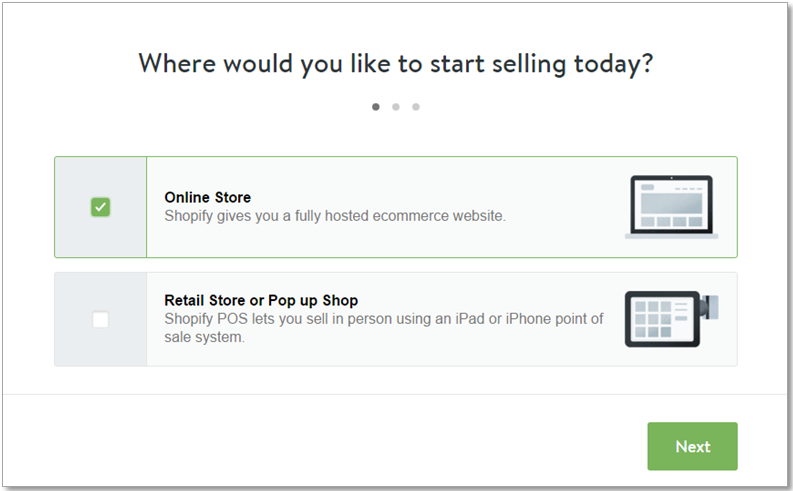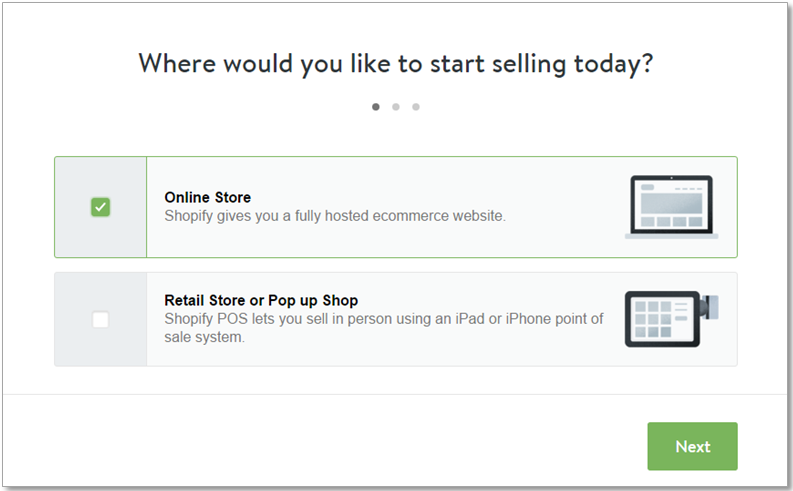 You will also need to sign up for (if you don't have accounts there already):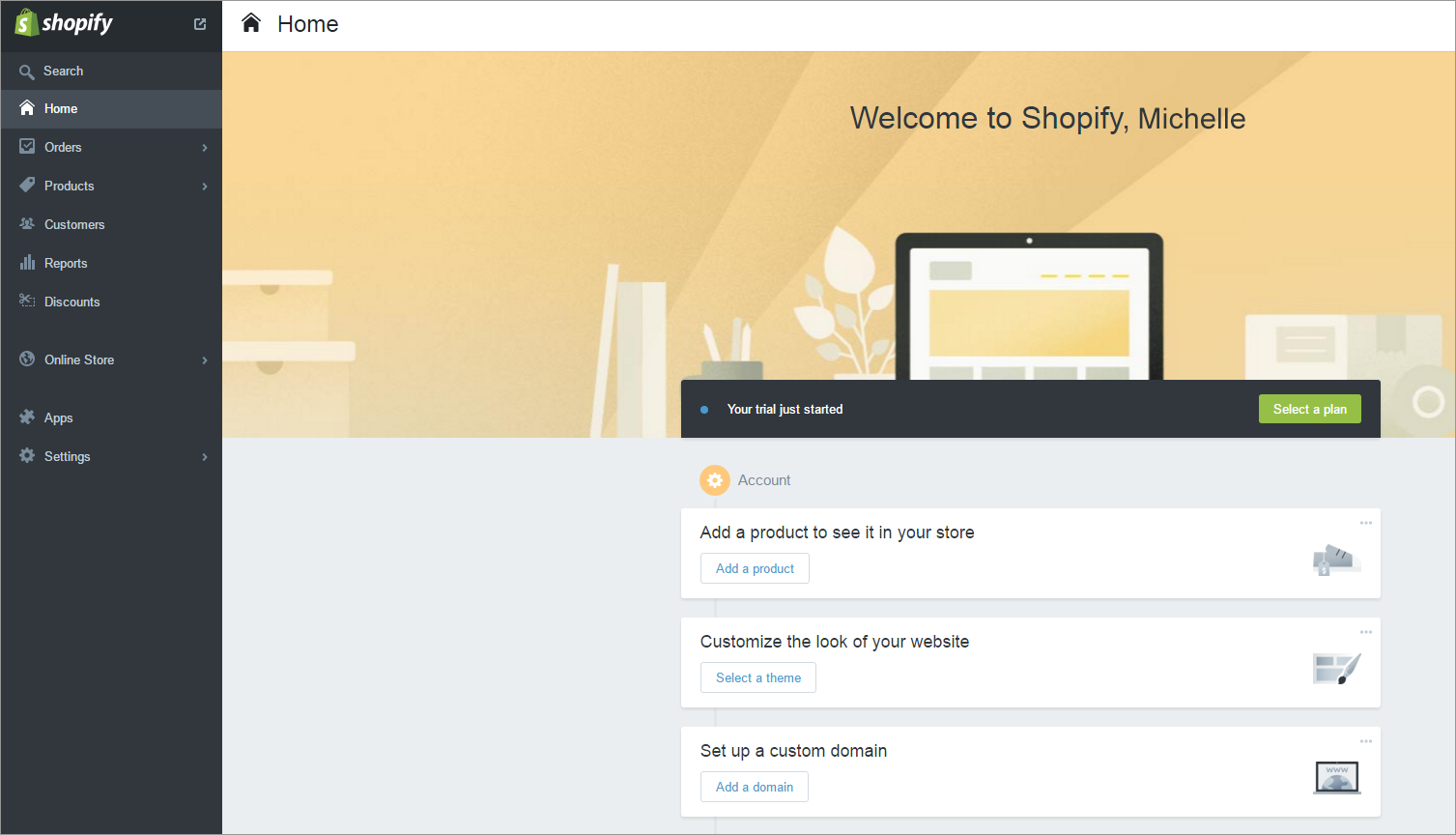 Step 2- Add your payment options
Add your PayPal email address under Shopify Settings > Payments Section. Later, you can change, remove, or add additional payment options.
Step 3- Generate Required Policies
Go to Settings -> Checkout on Shopify, and generate a Returns Policy, a Terms of Service, and a Privacy Policy. Review them to make sure you're happy with them. Those are of course a must for every online store so don't skip this step.
Step 4- Add Free Shipping
You can charge for shipping, but if you can, it is better to offer free shipping if possible, customers love it and your competition is most likely to offer it. You can also offer free shipping over a certain $ amount but again that's up to you. Go to Shopify Settings > Shipping and delete all shipping zones that are "Domestic," and under the "Rest of World' select 'Free International Shipping' under 'Price based rates.' Don't forget to check off "Rate: Free shipping rate."
Step 5- Logos and Themes
Choose a theme for you store, "Supply" or "Minimal" theme should be good enough and they are free!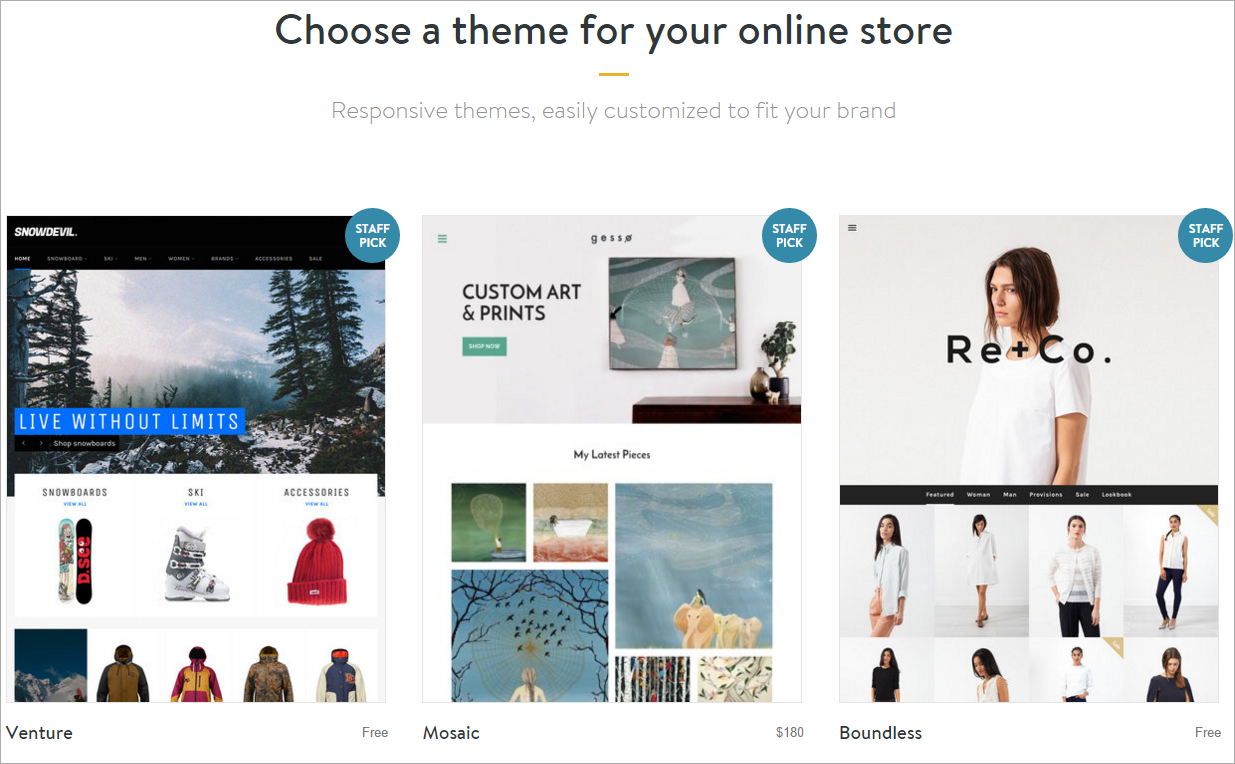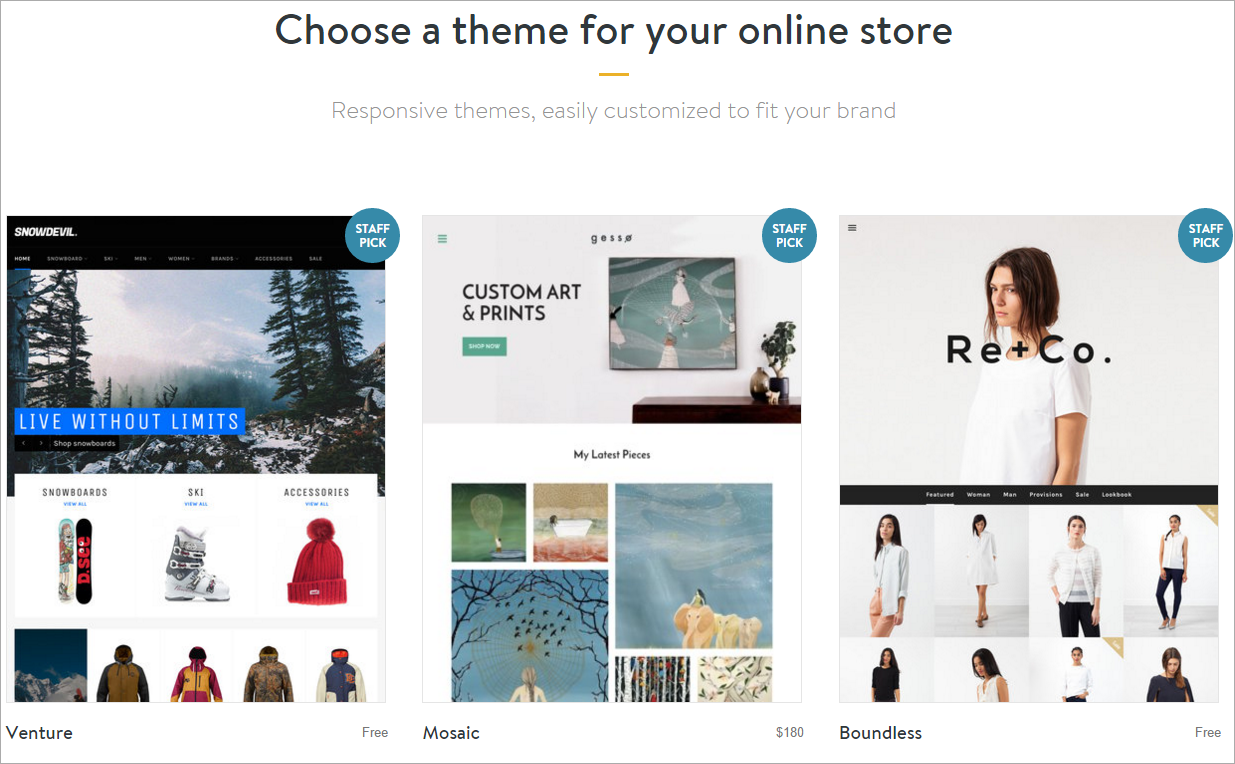 Also create a logo for you brand, you can get one on Fiverr for $5 or create one yourself on Photoshop if you are familiar with it.
Step 6- Create Product Categories
Product categories are called collections on Shopify. Let's say you are selling watches, so you can have women's category, men's category, Children, Gift, etc.
Go to Products > Collections > Add New Collection > enter your collection name and select your collection conditions.
Step 7- Install essential apps.
There are many apps you can use with your shopify store but let's start with the most essential ones. Go to "Apps" at the bottom left of the Shopify menu, then click "Visit Shopify App Store".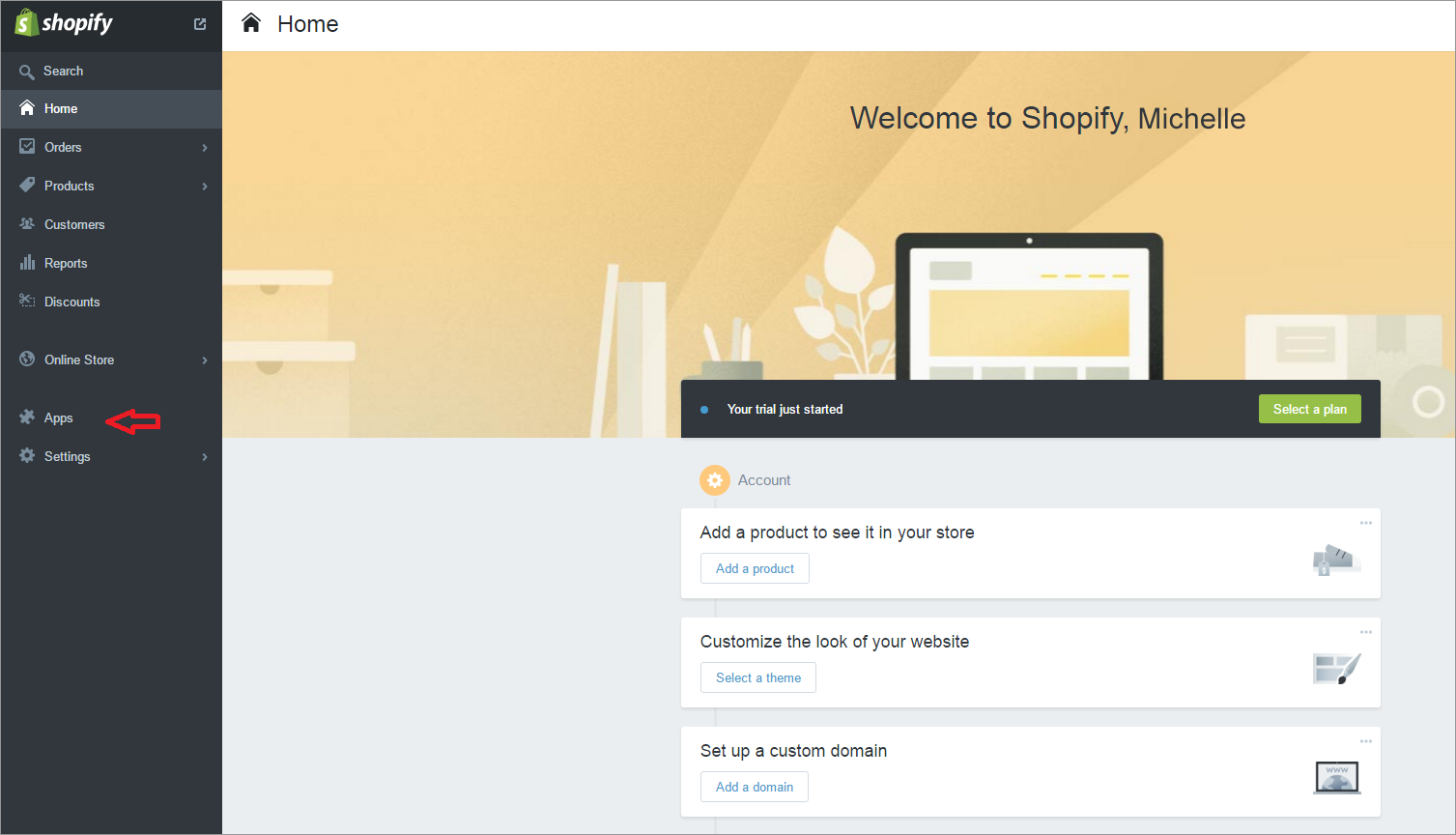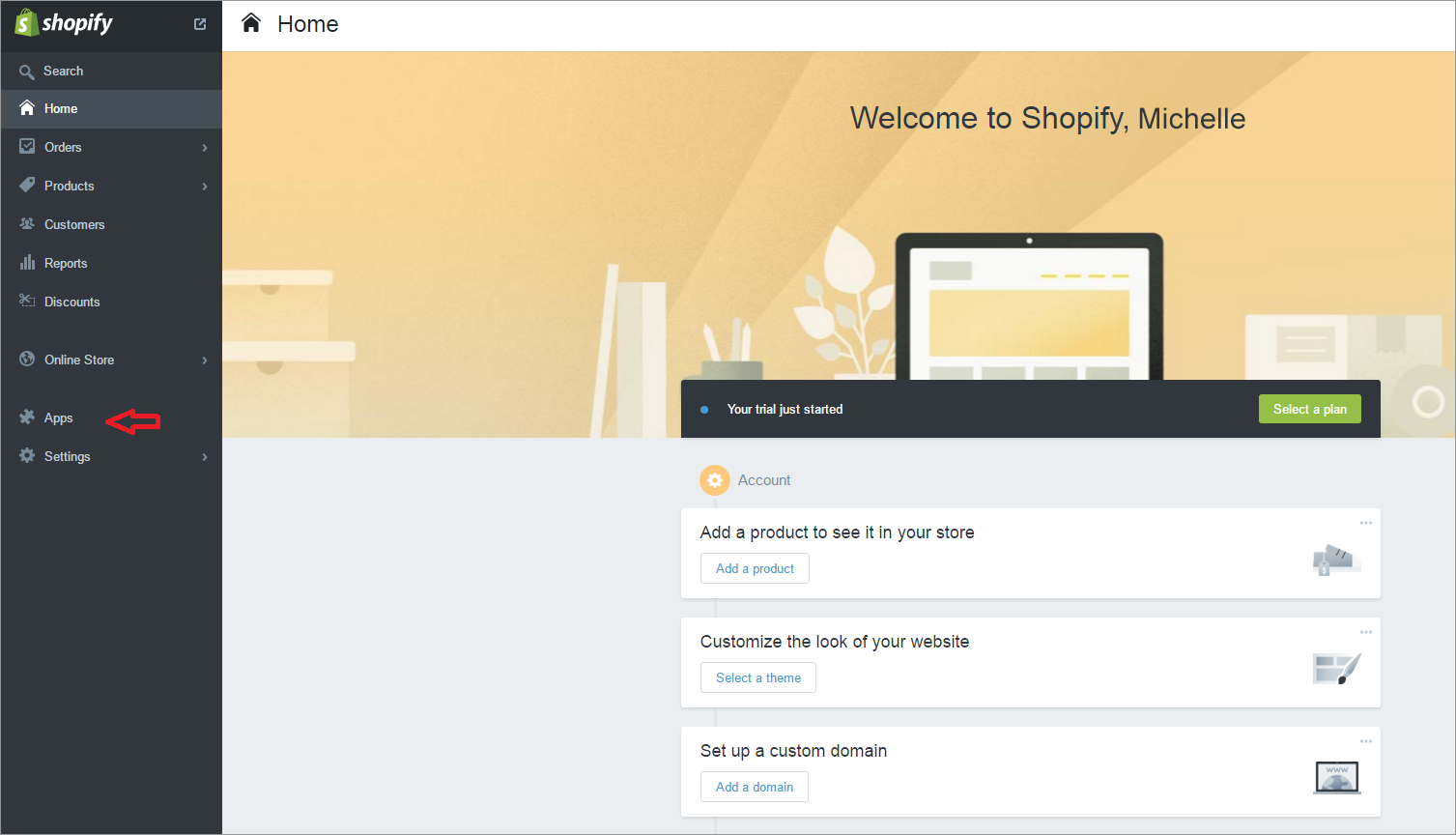 Oberlo: Oberlo allows you to easily import dropshipped products directly into your store and ship them directly to your customers in a few clicks so it's one of the most important apps for your store. First sign up to Oberlo

app. We'll use this app to find the products you're going to sell. In their Settings page, add your credit card for orders, and select "ePacket" as the default shipping option.

Aftership: Install, and go through their signup process. Add "China Post" and "China EMS" to the frequently used couriers list.
Abandonment Protector Plus: Abandonment Protector is a specialized App that detects when your customers abandon a shopping cart. There are a lot of cart abandonment plugins, but this one is one of the best. Sign up for their basic plan.
GetResponse: you're looking for " GetResponse Email Marketing Automation by Combidesk Install and connect to your Getresponse

account.
Step 8-Add Essential Pages
At minimum you want to have this pages to make your store look professional. About Us, Terms and Conditions, Privacy and Returns Policy, Shipping & Delivery Information, Track Your Order link, Contact Us.
To create a page, go to Shopify Online Store > Pages > Add Page.
1) About Us
Try to make this page look unique by telling a story around your store. When did you start it? Why did you start it? What is your mission etc.
You can use something generic like this and improve it as you progress
We are [SHOP NAME], a small but motivated company specializing in [PRODUCTS CATEGORY NAME]. We believe passionately in great bargains and excellent service, which is why we commit ourselves to giving you the best of both.
If you're looking for something new, you're in the right place. We strive to be industrious and innovative, offering our customers something they want, putting their desires at the top of our priority list.
Here is an example of a good about us page: luxyhair.
2) Shipping & Delivery Information
Most of the sellers you will import products from have very similar delivery prices and timeframes, so it is best to copy and paste this standardized shipping & delivery page:
Our goal is to offer you the best shipping options, no matter where you live. Every day, we deliver to hundreds of customers across the world, ensuring that we provide the very highest levels of responsiveness to you at all times.
The time frame for order delivery is divided into two parts:
Processing time: Order verification, tailoring, quality check and packaging. All orders are sent to the manufacturer for dispatch within 24 hours after the order is placed. The manufacturer and China Post process the orders, which takes an additional 2–4 days.
Shipping time: This refers to the time it takes for items to be shipped from our warehouse to the destination. International delivery usually takes about 15–30 business days. US orders are shipped by e-packet, which is a US Postal Service product. After processing and leaving the warehouse, items usually take between 7 and 14 days to arrive at their destination but can take longer from time to time.
3) Terms & Conditions and Policies
You may remember that these pages were generated during step 3 in part in this guide. Simply copy them from your settings page and paste into a separate page.
4) Contact Us
Your customers need to know they have someone they can speak with (product questions, refunds, etc). Make sure you place a clearly visible 'Contact Us' link on your store. To create a contact page, click the Add New Page button and change the page template to contact.
Great job, you are now ready to add products to your store!
Part 3- Add Products, Categories &Pricing
Now we will add products to our store! For that we will use the famous Oberlo app.
Let's talk about how you should select products for your store? Best way is to choose products based on high order volume, high star rating and shipping costs.
Order volume– Over 30 orders is good.
Star rating– 4+ only. You need to make sure that people are happy with the quality and the manufacturer.
Shipping costs– Free shipping is great but if ePacket is offered you can provide your customers with faster delivery times. ePacket delivery is one of the most popular, fastest shipping methods. And allows you to ship internationally.
Also look for:
A range of products in terms of pricing: Ideally you want some cheap products – a few dollars – and some more expensive products, up to about $30 – $40 cost from AliExpress. See "Pricing", below.
Nothing that you eat or that can explode – i.e lithium batteries. Check that anything electronic is compatible with regulations in the countries where you're selling it.
Products that people will order repeatedly. Drone blades for example: drone enthusiasts are always crashing their drones, so they'll keep buying them.

Once you find products you want to add, hit "add to import list".

Fine-Tune Products

Next, go to "Import List", and start going through the products.

You'll want to check each section: Product, Description, Variants, and Images.Under Product, change the name to something people are searching for if you feel the name doesn't reflect the product relevant search phrases by its potential buyers.
Under Description use the research you did in part 1 to make sure you address pain points of your potential buyers. Mention your great customer service too – feel free to contact us on Facebook/Twitter/Email etc.Under Variant, we'll price our products. See below: Pricing.Under Images-Make sure the image reflects the product best and that it is eye catching.
Pricing-

This can get a bit tricky so pay close attention.

In general, more is better- Higher prices simply mean you need to sell less items to hit a fixed profit. Also, higher prices mean you have more leverage in terms of customer acquisition costs, i.e the amount you spend on advertising.
You don't need to be cheapest, but you do need to be price competitive. A lot of people won't check AliExpress but they will check Amazon. You can be a bit more expensive if you have a nicely designed store with a good sales copy of your product and some nice reviews.
Compare the prices of similar stores using Nicheminer.co . Check three to five and see what price points are working for them.
Don't Forget- the cost of the item is not your only cost. Advertising, shipping and customer support are also costs. You need to have a decent margin to count them in.
Use psychological Tricks- chose short prices, choose prices just below rather than just above any round number (10, 20, 30, etc), try to avoid going above $99.


Still not sure? If in doubt, a 50% – 150% margin is reasonable. But do check if you can do more!

Less than that markup is unlikely to be very sustainable with paid traffic.

Set your prices for all products. If you like, also set "Compared At" prices a bit higher – these will be struck through in your store, implying they're a great deal.
Where You Can Go to Learn More
Shopify wants you to be successful, therefore they have a great education and support system for their users. You can start with Ecommerce University where you will find e-books, guides, tutorials, and videos to help you learn more about Shopify and online selling as a whole. Next, you can check out the Shopify Wiki, This section includes everything you need to know about using Shopify and the design/development of your store. The support section has over 200 articles to help you with any troubleshooting issues you may run into. If you don't find what you're looking for there, you can also try the forums, which contain thousands of topics on e-commerce, from accounting to wholesale, and all things Shopify.
Where You Can Get Help
Last, but not least, if you want professionals to help you build your store, you can refer to the Shopify Expert area. Here, you'll find setup experts, designers, developers, marketers, and photographers that can help you turn your e-commerce store into a thriving, successful business
Part 4: Make Your First Sale: Advertise your store
Before you continue to this section make sure you completed all the steps in this guide. You want to make sure that your store is as complete as possible before you start investing time and money in advertising it.
There are many ways to get your store in front of customers, some will cost only time, some will cost you money as well. We will discuss both methods and you can decide what's best for you to get started with.
Use the social power
Create pages/profiles for your new business on Facebook, Twitter, Pinetrest, Google Plus, Linkedin and get social there-Join into discussions in a helpful manner, like, follow and connect with your competitors or business related to your product or service, they will most likely follow you back along with their followers. Be sure to ask your friends and family help also in spreading the word around on your new store.
Submit to Product Feeds
Sites like The Find, Nextag, Shopzilla, and Google Merchant, aggregate product information and prices so that consumers can find and compare prices easily. Adding your feed these sites and could get new customres in your store.
Create a Coupon Code
People love coupons, that's a given, so give the people what they love. head over to a site like RetailMeNot or RedFlagDeals and post your deal.
Facebook and Google Advertising
We don't recommend this option before you learn how to work with Google or Facebook advertising systems. You must learn the basics at least before spending money on advertising. You can check out:
How to spend your first $100 on Google Adwords (Every new Shopify store owner receives a $100 Google AdWords Credit upon signing up)
Promote your shopify store on Facebook
Use relevant product descriptions and categories to hit higher ranking on search engines
To optimize your online store for search engines, follow these few basic steps:
Find keywords that are relevant to your products and your brand. What search terms will customers use to find your store? You can use Google Keyword Planner to research

Add the keywords into your content, including page titles, descriptions, and image alt text.

Make sure that your URLs and filenames match the content.

Create content that's relevant to your products and encourage other websites to link back to your online store.
You can also use shopify SEO apps like:
If you want to save time.
Create a blog to promote your store
Content marketing is a very effective way to engage customers with your brand. If you sell child safety products you can create blog that publishes articles about child safety. "Top 5 products Every New Parent Must buy" or "The most common safety hazards in your home", this way your providing valuable information to your customers, and they will become more inclined in purchasing your product, share your articles and give you free publicity.
You can create a blog in 27 minutes following this guide (You can skip step 1)
Part 5-The Next Step
Well, you took the leap, you created your own online store, congratulations. Believe it or not, that was the easy part. Now you need to actively get new customers, retain existing ones, provide great customer support, you need to actually run a business. But don't be scared, take the time to learn, fail, draw conclusions and push forward. There are many ecommerce entrepreneurs out there making thousand and hundred of thousands dollars a month, but it's not easy and it takes time and effort.
Those who put in the work are making great income. You can check out stores like:
Tattly– In 2015, the company sold 2.6 million temporary tattoos ranging from $5 to $15 per sale!
Sugarfina– Already making millions in revenue.
Pure Cycle– $4 Million Revenue a year!
Beardbrand– In less than a year the company was making $120k in monthly sales.
Khara Kapas– selling Indian-culture clothing they make $1500 a day in sales.
Hope you can see the potential in running your own shopify store by now.
This guide is meant to provide you with solid foundations to start your ecommerce journey, but there are a lot more information you will need to pick up along the way in order to be successful as an ecommerce entrepreneur.
How to Start a Shopify Store- Final Thoughts
We hope this Start a Shopify Store guide was beneficial to you. We would love to hear how your ecommerce journey progress and if you have any comments or questions please write us at [email protected] and of course share this guide with people you think can benefit from it as well please (: