Adcreative.ai Review – Will this AI Software Replace Graphic Designers?
Last Updated on September 6, 2023
We like reviewing AI marketing tools here as you may have noticed and today is not different. In this adcreative ai review we will explore a tool that is designed to help you generate marketing creatives in a quick and easy way. For better engagement, conversions and overall results in your marketing/advertising campaigns.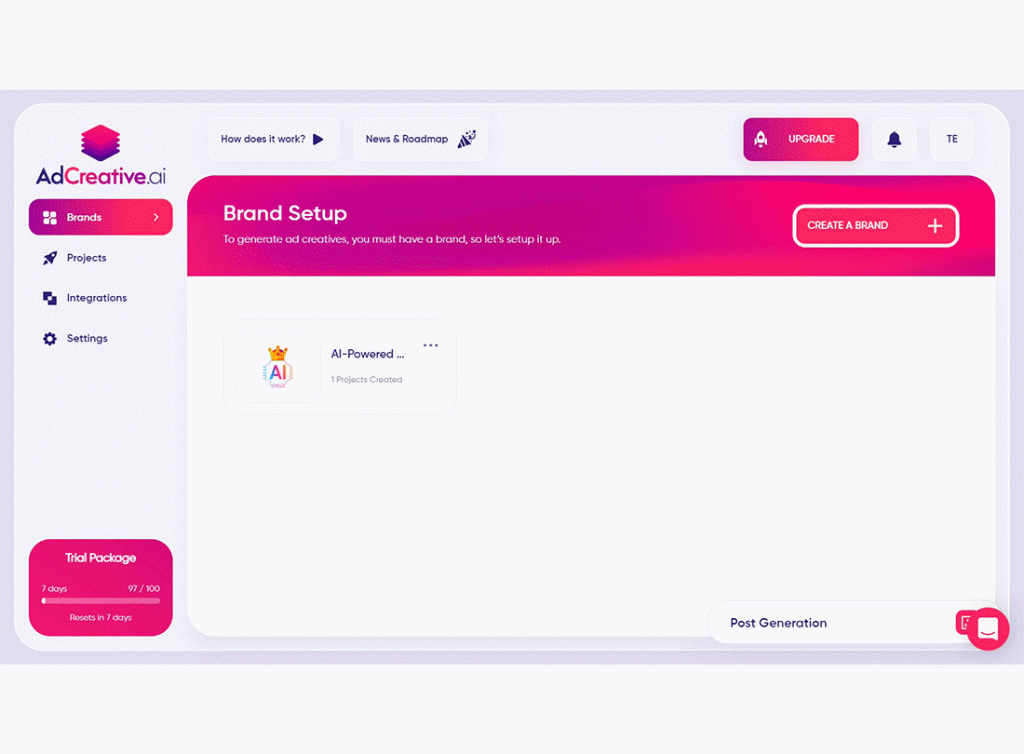 Adcreative.ai is a cloud-based ad creation platform that helps businesses and agencies create ad campaigns in minutes using artificial intelligence. Not only is it fast and easy to use, but the results are quite impressive
In this Adcreative.ai review, we'll look at how Adcreative.ai works, who can use it, the costs associated with using it, its best features, and three alternatives to consider.
Adcreative.ai What Does It Do?
Adcreative.ai is an ad creation platform that uses artificial intelligence marketing to help you create better ad copy and creative faster faster. It does this by understanding your product, what your customers want, and using that data to automatically generate ad copy that is more likely to convert.
Using Adcreative.ai, you can build ad creatives in only minutes. Rather than labor for hours putting together ad text, social posts, stories and banners, you can generate these marketing assets quickly. Not only will you work faster, but the artificial intelligence factor provides an advantage over your competition.
Artificial intelligence uses data to understand the context of a situation, then pulls information from a variety of sources to provide the best solution. So Adcreative.ai will ask you some basic information about your product/service and than use that information to create ad copy/creatives that are most likely to convert.
Who Uses Adcreative.ai?
Various brands and companies can and do use Adcreative.ai to build their advertising campaigns. For example, Tesla used the software to help it come up with its "The Quickest Production Car Ever" campaign. Other companies using Adcreative.ai include WeWork and LinkedIn.

Instead of using expensive ad agencies, your company can use the ad creation platform. Use it whether you're a small business owner, startup, coach, affiliate marketer, blogger, eCommerce company, course creator, social media influencer, or a Fortune 5000 company. Even major ad agencies can use it to serve more clients while delivering superior performance.
Really any business using that is creating advertising campaigns on a regular basis to market services and products should consider Adcreative.ai to speed up its ad campaign creation process. However, it isn't only the speed that matters.
Once you upload your brand logo, colors, company description, project description, and target market into the software, the AI-driven process takes over to write the copy for you. You can adjust it, of course. Combining the intelligence of machine learning and AI provides the copy that you typically won't think of sitting alone at your desk.
Remember that competition inside your industry will only increase in the future. To compete, you must become proficient at creating high-quality advertising and marketing campaigns. If you want to invest less time thinking up converting copy, consider adding Adcreative.ai as one of your business tools.
Features
Let's review the features of Adcreative.ai so you can make an educated decision about using it.
Simple Interface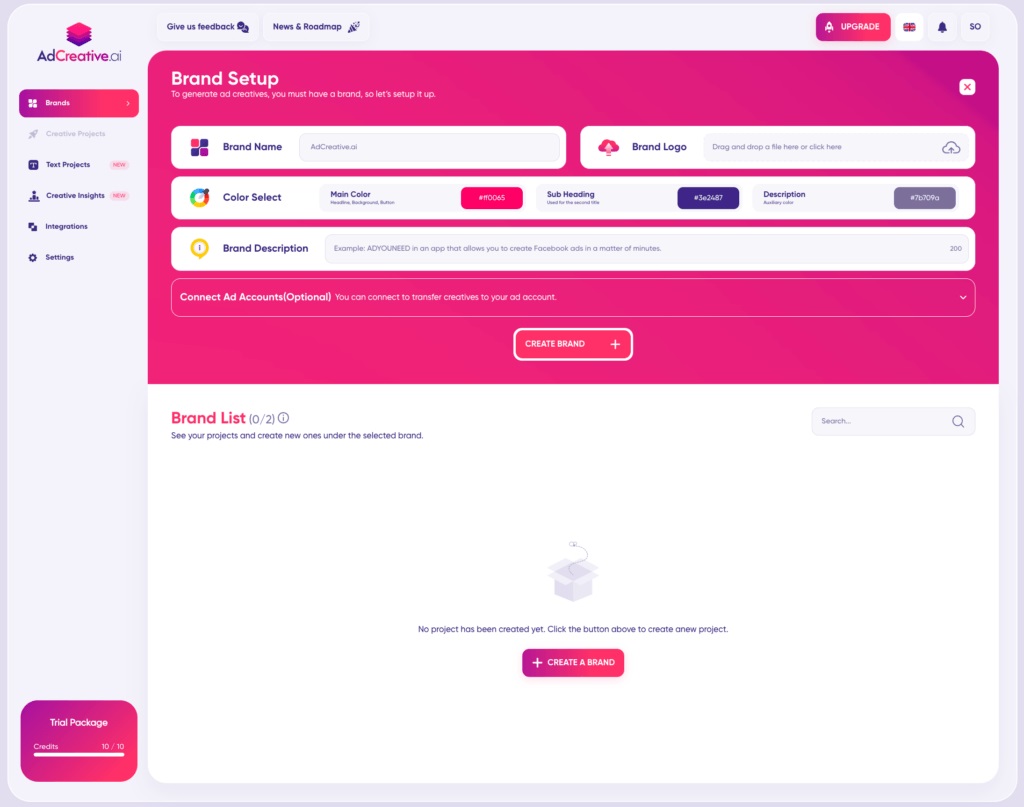 The dashboard is easy to use. It makes it simple to upload items like the aforementioned brand information and target market data. You don't need any skills except the ability to click dashboard options or upload buttons.
As you begin the ad-creation process, you go through three steps.
Step One: Click a button to tell the platform whether you want to build any of the following ad types.
Landscape
Story
Post
Pin
Vertical
Step Two: Fill in the information for your texts and buttons. You can give the software something to go on by inputting an ad headline. Or, you can click the "Text AI" button and let Adcreative.ai take over immediately.
Step Three: Upload the images that relate to your product or service.
Step Four: Click on the "Generate Ad Creatives" button. The platform will generate over 100 ad creatives within seconds.
Image Library
When it comes time to upload your ad images, you can upload images you have ready. Or, you can use the Adcreative.ai free and premium image library.
The AI image maker includes more than 35 million images to choose from. You don't need to switch back and forth from other stock image services when using Adcreative.ai. The image library feature keeps you inside the same dashboard at all times.
Text Project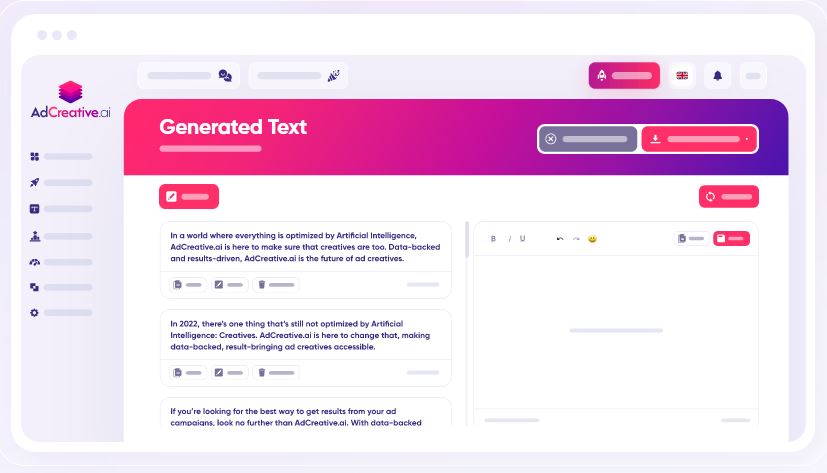 Use the text project feature to quickly generate ad text that resonates with your best-fit prospects. When it comes to writing effective ads, it's critical to use top-notch copywriting. If you're like most business owners, however, copywriting isn't a natural skill.
Copywriting skills include the ability to write headlines that make people want to click and ad text that sells without sounding salesy and off-putting.
You might not know how to craft messaging that gets to the heart of answering why you have the best solution to your prospect's problems. You can use Adcreative.ai to improve your ad copywriting skills without spending years learning the ropes. The more you use it, you will pick up on winning copywriting to help you spur the software into even more effective ads over time.
Insights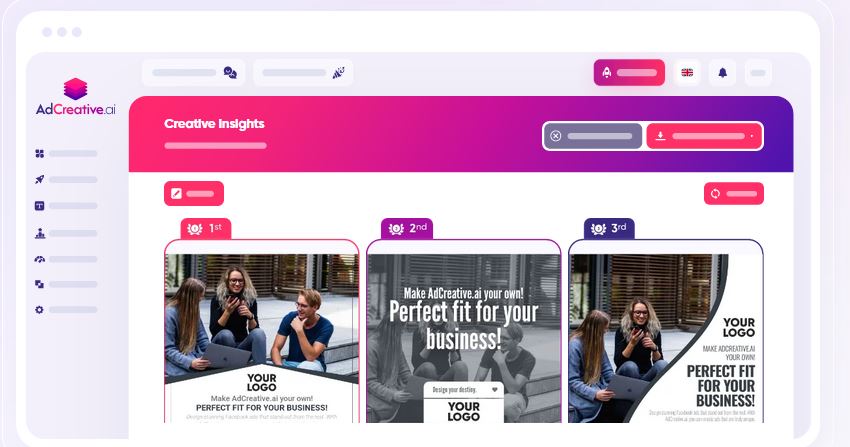 One of the best aspects of Adcreative.ai is its Creative Insights feature. You can use the power of artificial intelligence to analyze all of your ads. It will look at each ad you have created inside Adcreative.ai, Facebook Ads, and Google Ads. Over time, it works to identify which ads perform best.
The insights feature analyzes ad copy, ad images, and ad targeting. It gives you suggestions for what to change in your ad campaigns to improve performance. The software will show you step-by-step how to make those changes.
You can use the information from Creative Insights to not only improve ad performance but also to improve your ad-writing skills. The more you use Adcreative.ai, the better it gets at helping you create effective ad campaigns.
Use this feature before placing ads as well. It lets you upload as many images and creatives into the account as desired, scan them with AI technology, provide each creative with a score, and help you select which one to use on your next ad. You will see a score that ranges from one to 100 on each creative's view. Rank them by this score to make your decisions.
Collaboration Tools
If you're working with a team, you can add each team member to your Adcreative.ai account. That way, you can work on ad campaigns together in one place. The collaboration tools make it simple to give feedback and approve ad creatives before they go live.
You can also use the platform's "Creative Brief" feature. It is an AI-powered assistant that helps you develop ad campaigns by asking questions about your target market, ad goals, and ad images. It then takes that information to generate ad creatives for you.
You can use the "Creative Brief" feature alone or with a team. If you're working with a team, each team member can provide their ideas before finalizing each ad.
Google and Facebook Integrations
You can easily integrate your Google Ads and Facebook Ads into your Adcreative.ai account. Manage all of your ad campaigns in one place using this feature. The integrations make it simple to track ad performance and get insights into what's working and what's not.
You can also use the "Sync" feature to automatically sync your Google Ads and Facebook Ads with Adcreative.ai. That way, you can keep all of your ad campaigns up-to-date and consistent without having to manually make changes.
Google ads 500 credit
If you don't have a Google Ads account yet, creating it through Adcreative.ai provides an additional advantage of credits to use on your Google ads.
The benefit here is substantial. You will receive $500 in free ad spend on Google. You will need to first spend $500 of your own money on Google Ads. Once you do, Google will provide you with an additional $500 to use inside your account. Essentially, you get $1,000 of ads for $500.
Claim $500 Google Ads credits From Adcreative.ai==>
Google Analytics Integration
To truly understand how well your ads perform, you need to review data like conversion rates and click-through rates. Using this type of information, you can make changes to ad campaigns to improve results.
Adcreative.ai integrates with Google Analytics so you can track ad performance and understand what's working and what's not. Your dashboard makes it easy to do with the push of a couple of buttons.
Reviewing this data inside Adcreative.ai is simple and easy to understand. You can also export it for further analysis if desired.
Create Social Media Posts
Posting on social media isn't the easiest process to navigate. Each social media platform includes different size requirements that make it a hassle to quickly upload images.
Inside your Adcreative.ai account, you can generate social media post creatives in minutes. The artificial intelligence that drives the ad-creation process will also go to work to generate creatives for social media websites like the following.
Facebook
Tiktok
LinkedIn
Pinterest
Instagram
Twitter
You won't need to worry about sizing issues. Tell Adcreative.ai which platform you're working on and it will automatically generate the correct sizes for you.
Additionally, the artificial intelligence feature focuses on creating social media posts designed to not only improve engagement but also encourage clicks to your lead generation and sales funnel landing pages.
Adcreative.ai Google Chrome Extension
The company offers a Chrome extension. It is a color picker extension. Locating the precise hex code is one of the most difficult and frustrating aspects of selecting the perfect colors for creatives.
The AI Creative Chrome extension will reveal the hex code from any website. If you forget your brand color hex codes, go to your website to retrieve the correct information in seconds.
The extension will scan the CSS code to hone in on hex codes. You can use it on any third-party website where you want to know the exact colors used. Grab the hex codes and use them inside your Adcreative.ai ad creatives.
White Labeling
Are you an ad agency looking to get a leg up on the competition? Adcreative.ai offers a Whitelabel option where you can put your agency's logo on the Adcreative.ai platform. You can also use your domain name.
If you're an ad agency, you know how important it is to stand out from the competition. The Whitelabel feature helps you do just that. It also lets you offer ad creation services to your clients without them ever knowing that you're using Adcreative.ai.
Dark Mode
The Adcreative.ai team brings a sense of humor to the table. If you like that type of thing, you can use its Dark Mode feature. At the top right, you'll notice a Batman signal as you work inside your account.
Adcreative.ai Pricing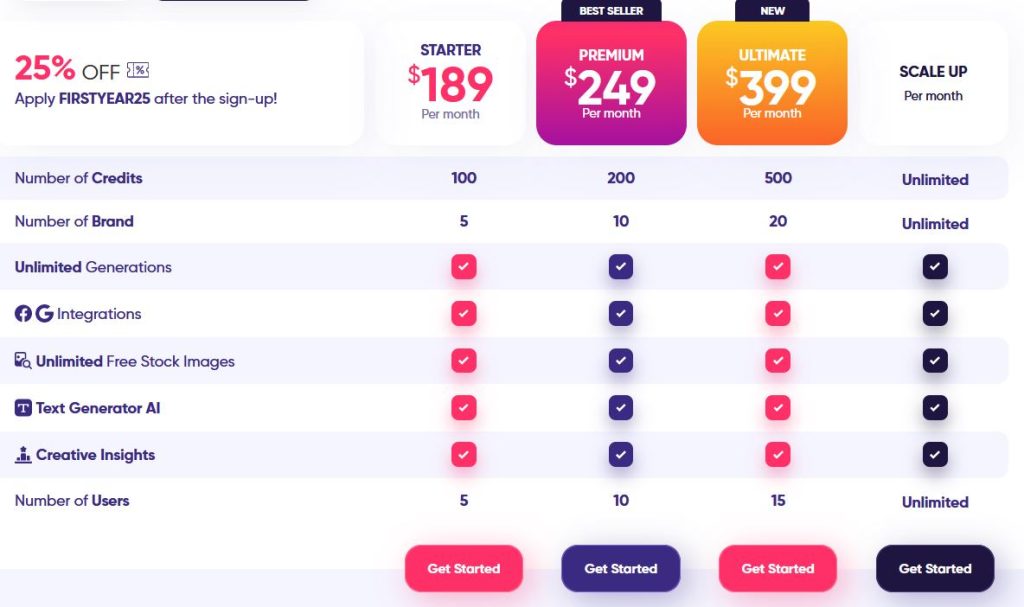 Adcreative.ai gives you the option of choosing between four pricing plans inside what it calls its Startup option. With its Professionals option, you can also select from four pricing plans.
Here is a breakdown of each plan in the Startup category, including pricing and features. Use one of these plans if you're a smaller business, beginning blogger, a freelancer, or in the startup phase as a coach, course creator, or SaaS owner.
Starter Plan
Here are the features included with the Starter plan.
One brand
10 credits
Google Ads and Facebook Ads integrations
Unlimited generations
AI text generator
Unlimited free stock images
Creative Insights
One user
Pricing: $29 per month
Premium Plan
The Premium plan adds the following features to the Starter plan.
Up to two brands
25 credits
Up to two users
Pricing: $59 per month
Ultimate Plan
You get everything from the Premium plan when selecting the Ultimate plan. The only difference is you will receive 50 credits instead of 25 credits.
Pricing: $99 per month
Scale Up
With the Scale Up plan, Adcreative.ai adds these features to the Ultimate plan.
100 credits
Up to four users
Pricing: $149 per month
What follows are the four plans you select under the Adcreative.ai Professionals pricing model. Use this if you're an ad agency or a larger business.
Starter Plan
Here are the features included with the Professionals Starter plan.
Up to five brands
100 credits
Google Ads and Facebook Ads integrations
Unlimited generations
AI text generator
Unlimited free stock images
Creative Insights
Up to five users
Pricing: $189 per month
Premium Plan
The Professionals Premium plan includes the following features added to the Starter plan features.
Up to 10 brands
200 credits
Up to 10 users
Pricing: $249 per month
Ultimate Plan
The Professionals Ultimate plan adds these features to the Premium plan.
Up to 20 brands
500 credits
Up to 15 users
Pricing: $399 per month
Custom Plan
If you need unlimited credits, brands, and users, you can choose the Custom plan. You'll need to contact the Adcreative.ai team for custom pricing details. 
Adcreative AI Cons
Most of the negative feedback on Adcreative AI is regarding slow customer service and billing issues.
Adcreative AI Alternatives
As you consider using Adcreative.ai, you should know about potential alternatives. Let's round out our Adcreative.ai review by discussing three platforms to compare against Adcreative.ai.
Jasper art is a creative solution from Jasper.ai. It is mostly known as an AI copywriting tool has decided to use its "ai powers" for creative creation. With Jasper art you basically tell Jasper what kind of image you like to create and let AI do the rest. It is definitely an interesting tool to check out since Jasper AI copywriting software is superb.

Pricing: Jasper art is a feature within Jasper so you need to have a Jasper account (starts at $24/month) and than you can add Jasper Art to your account for just $20/month.
An all-round AI design platform, designs.ai allows you to create logos, social media posts, voiceovers and even full videos using artificial inteligence. It also has a few additional tools that can help you create your designs, such as a color palette maker.
Overall, it's an affordable tool that helps save time on graphics creation. The star of the show is definitely the video – while the graphic design application is similar to others, a tool that creates useful, fully-edited videos in a few minutes is not something you encounter often.
Pricing: The basic plan costs $29/month, and the pro, $69/month. designs.ai also offers customized plans.
Celtra
Using Celtra, you can manage ad campaigns. The platform offers ad personalization, ad creation, ad optimization, and rich media ads. Celtra also provides an AI text generator that can help you create ad copy quickly.
With this platform, the focus is on scaling your advertising campaigns across all possible platforms while speeding up the process for your business. A few big brands use Celtra, including CNN, Spotify, Trip Advisor, and Adidas.
Pricing: Book a demo to learn more.
Adcreative ai Review – The Bottom Line
Adcreative.ai is a powerful ad creation platform that can save you time and money while increasing your bottom line. As AI tools are gaining more popularity adcreative.ai is definitely an interesting tool for ad agencies, freelancers, social media managers, ecommerce businesses and really anyone who is creating advertising campaign on a regular basis. If you compare adcreative ai cost to the cost of hiring a full or even a part time designer it really is a no brainer.
Ready to give Adcreative.ai a try? Tell us how you like it!
---
FAQ
How artificial intelligence is used in marketing?
Artificial Intelligence is constantly gathering data in order to make decisions. In marketing we can see it used in creative generation (adcreative.ai), copywriting (Jasper), campaign data analysis and optimization.
What is adcreative.ai?
Adcreative.ai is a platform that uses artificial intelligence to create marketing creatives (banners, stories, text, headlines) . Think of it as an
artificial intelligence image/text generator Different businesses uses it to generate dozens of creatives at a click of a button and run advertising campaigns on Facebook, Instagram, Linkedin, Google , Tiktok and more.
Does adcreative.ai has an affiliate program?
Yes adcreative ai has an affiliate program on partner stack. You will earn 30% recurring commission from each transaction you referr to them. They have great marketing resources for affiliate like detailed demogrphics, email swipes, custom links,active facebook group, banners and more. You can get more details here- Adcreative ai Affiliate program