GetResponse Ecommerce Review – Marketing Automation Solution for Ecommerce
Last Updated on July 7, 2022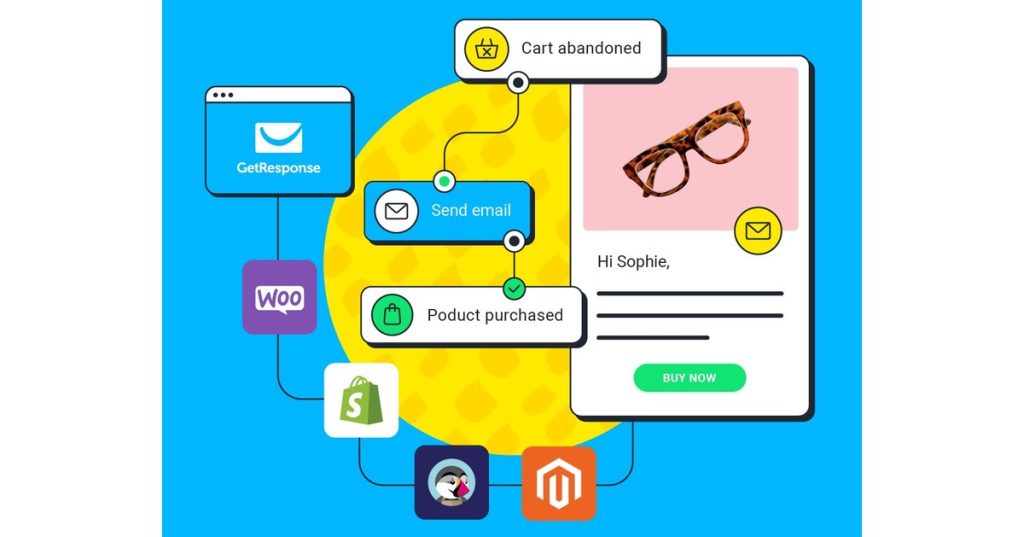 In this review we will explore GetResponse eCommerce features, and how you can use them for your ecom business.
GetResponse has been operating successful email marketing solutions since 1999, helping over 350,000 businesses run marketing campaigns for increased profitability. Their growing popularity and positive reviews attest to their successful products for small and medium-sized businesses.
I found GetResponse to be an excellent choice for eCommerce businesses and marketing automation solutions to increase website traffic, improve conversion rates, and advance sales overall.
GetResponse provides users with simple-to-use customer engagement tools that drive sales through an interconnected automation system. Instead of clicking through several channels to manage and market products, everything is synced and automated at the push of a button.
GetResponse makes marketing automation easy to understand and implement. Additionally, they offer individual solutions and features based on who you are and your goals for your merchandise and services.
Keep reading this GetResponse eCommerce review to see if it is the right service for your ecom business. We will explore their unique features, usability, and alternative competitors. 
Overview
GetResponse is an automated online marketing service designed to grow sales for businesses whether they sell goods, services, or a combination of both. Their comprehensive eCommerce solutions connect businesses' online stores to GetResponse with just one click, allowing clients to gather data to customize their marketing to their audience better. 
These features include email marketing, automation, texting, web notifications, and more. Clients can sync information about their products and customer data through these features to gain valuable insights and drive sales. 
Seamless communication between your available products or services, collected customer data, and past orders can aid in automating solutions for success. All pertinent information resides in one place to make it easy to analyze and adjust to improve your business' marketing efforts.
One-click integration with popular platforms makes marketing simple for businesses and their online customers. GetResponse offers easy communication between well-known portals like Shopify, Magento, PrestaShop, and WooCommerce.
GetResponse is an above-average marketing automation service based on customer feedback and reviews. Customers mention how easy it is to use, how accessible their customer service and chat features are, and the variety of templates.
Overall, the positive comments outweigh the negatives, but some complaints from users include the desire for more features and issues with the landing page builder.
Features
GetResponse understands the need for automated solutions that will enhance marketing efforts for small and medium-sized businesses. Unlike large organizations, these companies often do not have a dedicated team of marketing specialists, making automation necessary for eCommerce.
Their multi-channel customer engagement platform uses several features to boost eCommerce and drive success. These elements are:
Email marketing
Event-based automation
Advanced eCommerce segmentation
Contact scoring
Sales funnels
Abandon cart recovery
Promo codes
Product recommendations
Web push notifications
Email Marketing
GetResponse offers free email marketing to increase open rates, click-through rates, and overall sales. Their email marketing package includes easy-to-use templates and design functions, so you do not need graphic design or coding experience to use it. It uses a drag-and-drop creator to compile messaging and design quickly, and all of its emails are mobile-optimized.
Design features include professional, aesthetically-appealing templates, free imagery and GIFs, and saved branding options so you can easily customize your emails to your liking.
The emails you can create through their email marketing feature include:

Newsletters
Autoresponders
Automation emails
Automated blog digest
Timed emails to reach your audience at strategic points
Transactional emails
Abandoned cart emails
Event-Based Automation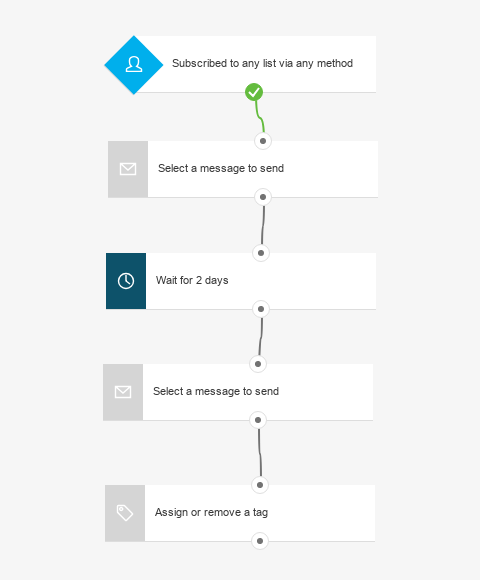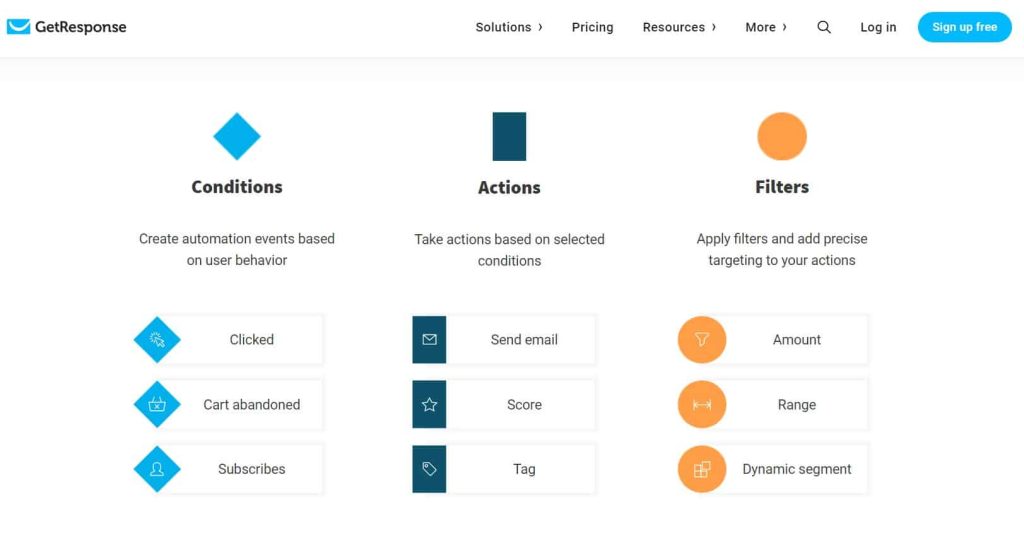 The event-based automation tools from GetResponse help drive sales with market automation by promoting your products or services and customizing offers based on your customer's actions on your website to suit their needs.
Advanced Ecommerce Segmentation
Their eCommerce marketing automation also syncs with advanced eCommerce segmentation that customizes content to specific audiences. This trait makes the messaging as targeted and personalized as possible. This way, your recipients can also do their shopping right from their email.
Their marketing automation system also integrates with many web platforms, including PayPal, GetResponse Prestashop, GetResponse WooCommerce, GetResponse Magento, WordPress, and GetResponse Shopify, Zendesk, and more. These popular options help establish your business's authority and build trust with your audience.
Contact Scoring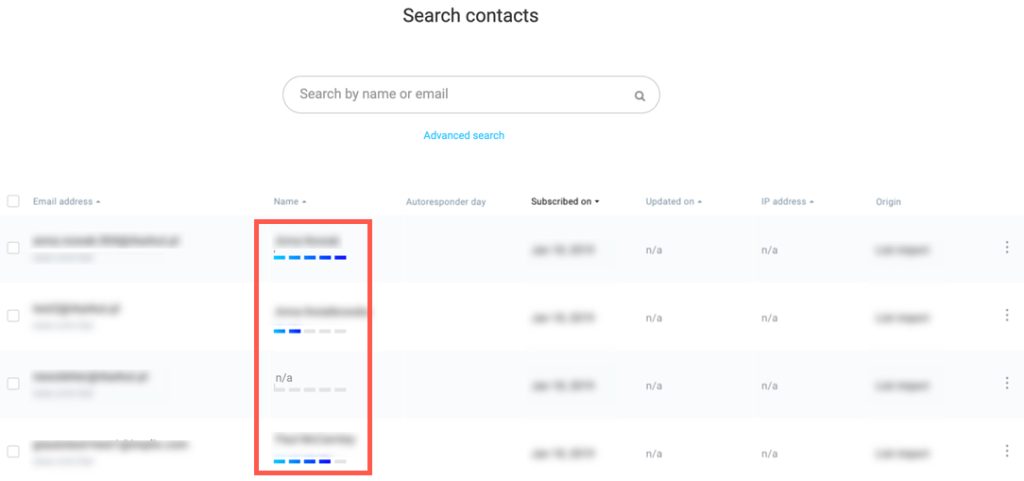 Getresponse Contact scoring is a method used to rate the likelihood that a contact will respond to an email campaign. The score is based on factors such as how recently a contact was contacted, how often they've been contacted, and what type of content was sent.
The higher the score, the more likely it is that the contact will respond to your campaign. This information can be used to create segmented lists of contacts who are more likely to take action, which can lead to better performance for your marketing efforts.
The data generated by your landing pages will be right at your fingertips for contact scoring. You have immediate and easy-to-understand access to customer data, including:

Number of visits
Number of clicks
Conversions
A/B testing results
Google Analytics integration
Google Tag Manager integration
Facebook Pixel integration
This detailed information will carry customer contact scores you outline based on their profile, website interactions, and campaign responses. 
Sales Funnels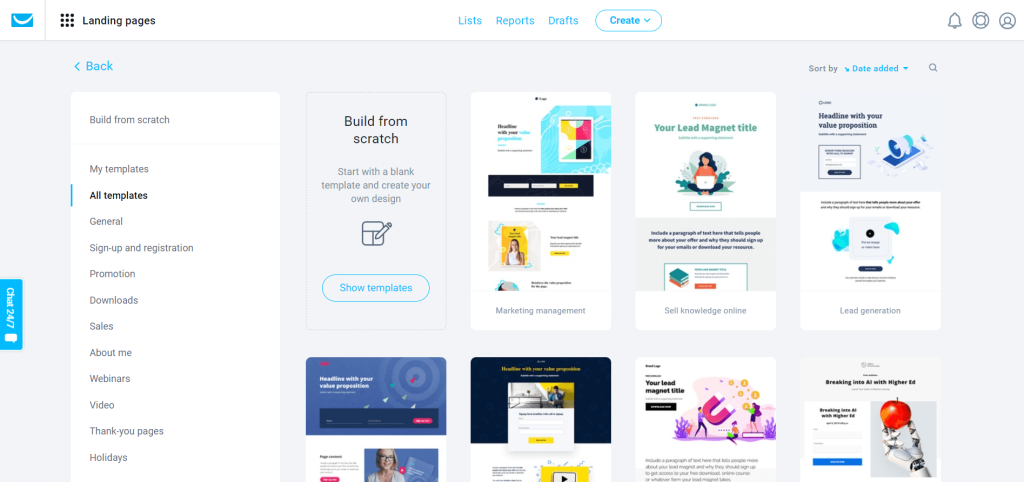 A good sales funnel is designed to increase conversion rates whatever your conversion goal may be.( Sale, lead, engagement, click, etc).
Get response sales funnel software will easily build for you:
Lead magnet funnels.
Webinar funnels.
Sales funnels.
Opt in funnels.
GetResponse uses comprehensive features with the following partners and tools to grow your audience and convert web traffic and clicks into real clients: 
Facebook and social media ads
Landing pages
Sign-up and exit forms
Email marketing
Webinars
Digital storefronts
Abandoned order emails
Product recommendations
Upsell pages
Payment processors
Order confirmations
Marketing automation means more connections and less effort to build honesty and confidence with your audience. This dynamic leads to more sales and repeat purchases.
Abandoned Cart Recovery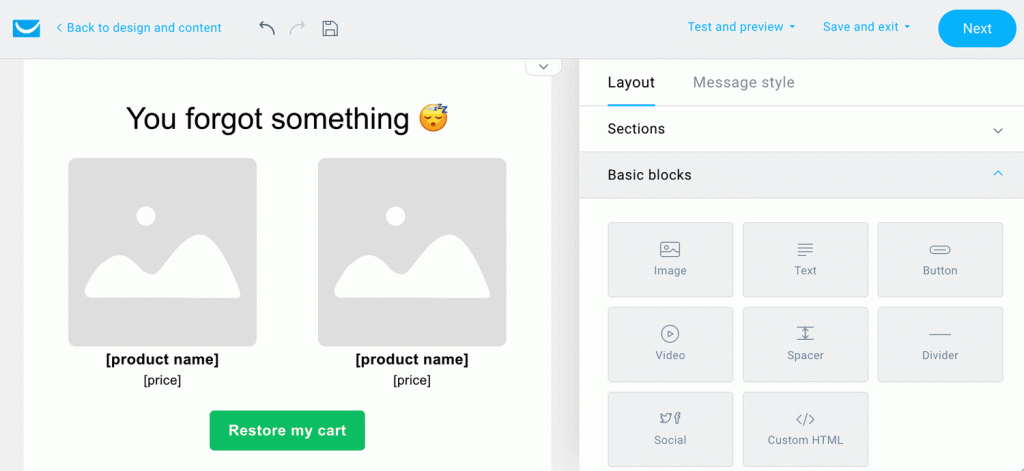 Their automated eCommerce tools like abandoned cart emails are simple to use and implement for success. In addition, they aid in improving sales by building brand loyalty with your clients and reminding them about unfinished purchases.
Promo Codes
Boosting revenue with a simple tool like using promo codes is easy with GetResponse. It automatically syncs from your eCommerce platform to quickly drag and drop to enhance the best eCommerce email marketing efforts, newsletters, automation messages, and autoresponders.
Product Recommendations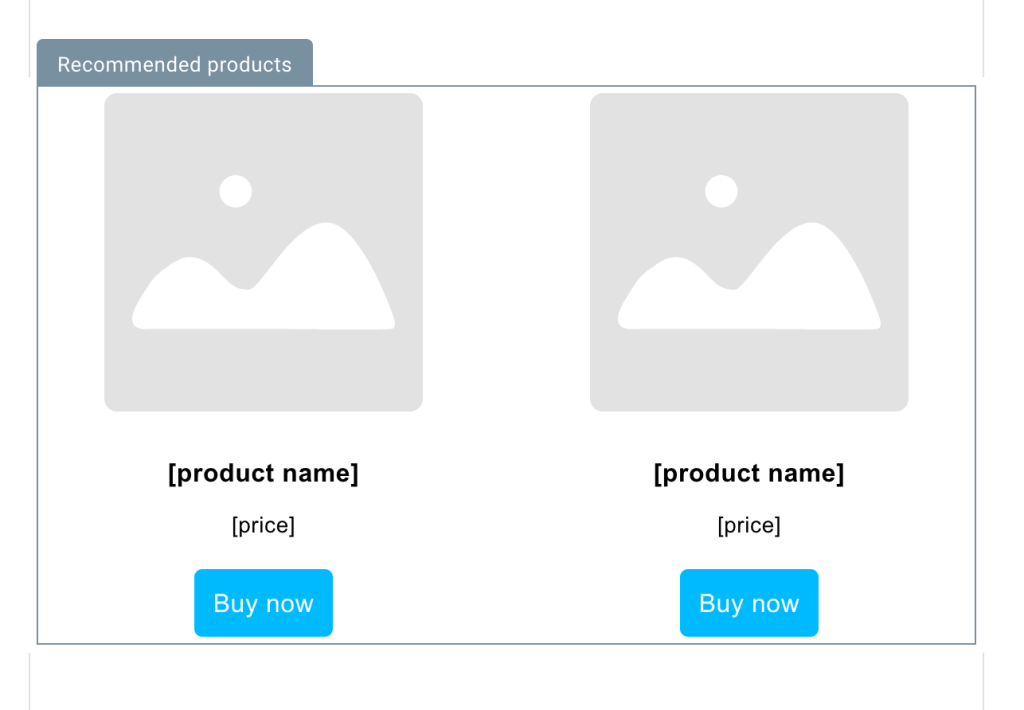 Businesses can fine-tune their eCommerce efforts using the built-in advanced segments that work with your stored data. It uses previous customer information and past sales to attract your optimal target market for better conversions with ideal product recommendations.
This way, companies can utilize proven marketing strategies based on personal experiences from customers and their behavior while on the website. These individualized efforts help build stronger relationships with customers and foster customer loyalty.
Web Push Notifications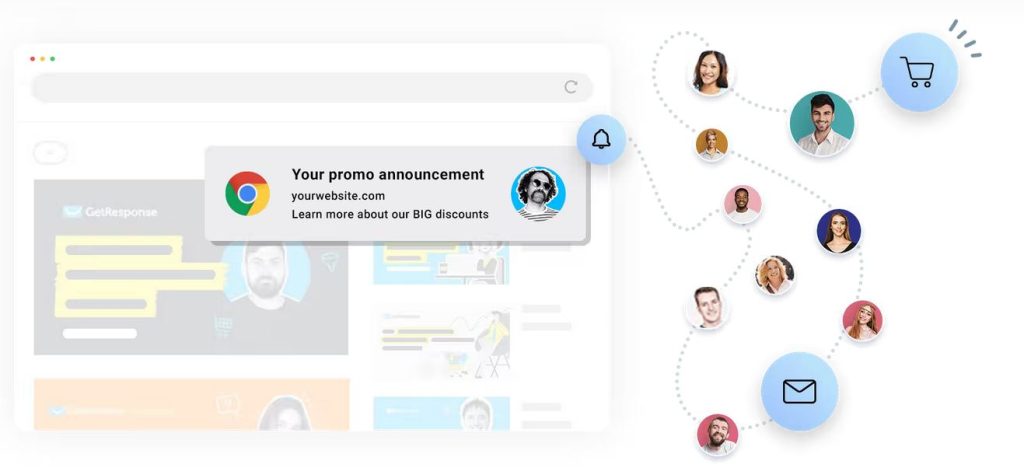 GetResponse's conversion funnel creates landing pages that connect to automated emails, put your products in your customer's carts faster, and convert leads to sales quickly and effectively.
Seamless communication between your available products or services, collected customer data, and past orders can aid in automating solutions for success with web push notifications. All pertinent information resides in one place to make it easy to analyze and adjust to improve your business' marketing efforts.
Benefits of Marketing Automation With GetResponse
Automating your marketing process with GetResponse comes with myriad benefits, including:
Saving valuable time and resources
Discovering new leads
Converting leads to sales
Making product recommendations to return customers
Completing sales on abandoned carts
Connecting with your customers in a personal way
You can achieve these benefits with their integrated marketing automation tools. You will get to know every one of your customers better through individual tags that let you know exactly what they are looking for. These details can help you send more personalized content their way.
This innovative automation software gains leads from your landing page, gathers email lists, sells your products, and even equips you with the tools to host webinars for your target customers.
GetResponse eCommerce Pricing
eCommerce pricing starts at $97/month for a 1000 contacts featuring:
Quick transactional emails
Ecommerce segmentation
Abandoned cart recovery
Promo codes
Product recommendations
Web push notifications
Birthday emails
Event-based automation
SMS marketing automation
Payment gateaway integration
E-product delivery
Getresponse also has a free forever plan with very limited features (and none of the ecommerce features), but if you want to start out risk free and just get a taste of the platform you can try it out==>
Alternatives to GetResponse
Comparing similar products can help you make the best decision for your business if you are shopping around for your ideal marketing automation eCommerce service.
I encourage you to check out the following alternatives.
Active Campaign
Zoho Campaigns 
Constant Contact
ActiveCampaign's ecommerce features are some of the most robust and user-friendly on the market. With ActiveCampaign, you can easily track customer behavior, engagement, and purchase history. This data can be used to create targeted marketing campaigns that will boost sales and conversion rates. Additionally, ActiveCampaign's automation capabilities make it easy to send personalized messages to customers based on their specific actions and behaviors. This allows you to create truly customized marketing experiences that will keep your customers engaged and coming back for more.
If you're looking for an ecommerce platform with powerful marketing features, ActiveCampaign is a great option. With its easy-to-use automation tools and extensive customer data tracking, ActiveCampaign can help you boost sales and conversion rates. Additionally, its robust API makes it easy to integrate ActiveCampaign with your existing systems.
Zoho Campaigns offers many attractive integrations, making it an all-inclusive solution for marketing automation for eCommerce. It includes a long list of built-in marketing and campaign tools for successful eCommerce results. This platform is best for intermediate marketers.
Constant Contact provides simple, easy-to-use automation solutions to enhance eCommerce through popular marketing channels. It is the ideal solution for small businesses. (up to 1 million in annual sales)
Wrapping Up
To conclude, the marketing automation solutions for eCommerce from GetResponse are stellar for small and mid-sized businesses. In addition, this platform offers an attractive price point with several integrations to make automating simple with the click of a button.
Its robust features combine customer data with precision targeting to provide exceptional results.
Want to further explore GetResponse and its features? Are you ready to use marketing automation at its finest? Head to their website to get started.