Jasper Art Review- Can AI Turn Anyone Into an Artist?
Last Updated on November 25, 2022
Artificial Intelligence (AI) is no longer a Sci-Fi plot device. It's now a tangible reality and poised to transform several industries, including digital marketing. Artificial intelligence marketing can include machine learning, AI marketing platforms, data analytics, and even AI-generated imagery.
Jasper Art is an AI image generator that produces original images from text prompts in seconds. Discover how it works, plus everything else you need to know about the Jasper AI art generator. Read on to explore an in-depth Jasper Art review before trying it yourself.
Jasper Art – What Does It Do?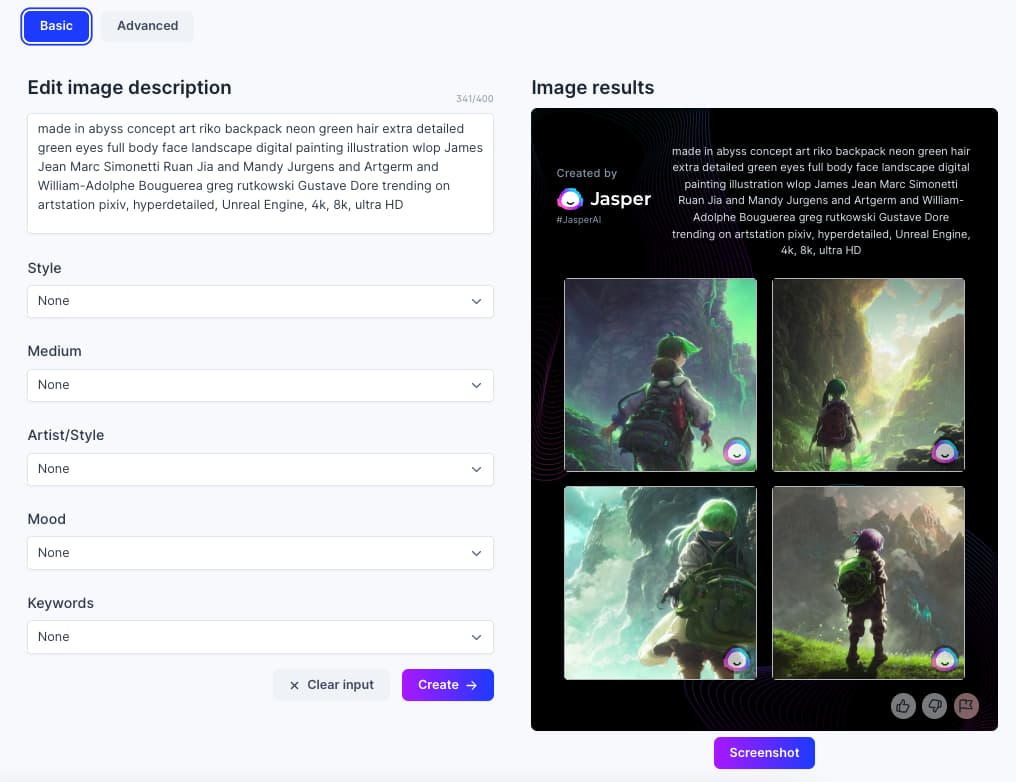 Jasper Art is the newest offering from Jasper AI, an artificial intelligence company based out of Austin, Texas.
Their AI image generator uses machine learning and AI technology to generate original digital images based on text prompts and descriptions. It's versatile and powerful, though it does have a bit of a learning curve,
It has endless designs and styles to choose from for you to create a beautiful, unique image in seconds.
Whether you need a sketch, a 3D animation, or even an abstract masterpiece, Jasper can create it for you with just a few clicks. In addition, you can make thumbnails, ad creatives, illustrations, and logos.
How Does It Work?
Jasper Art uses DALL-E 2 technology to create original images on demand.
DALL-E 2 is a machine learning model developed by OpenAI. It specializes in generating digital images using natural language descriptions.
The text prompts submitted should be as specific and detailed as possible to achieve the best results.
Vague prompts may result in lower quality images and frustrating results. The quality of the rendered image often hinges on how concise and creative you can be with text prompts.
You can only generate new images on Jasper Art. There is no way to upload your own or manipulate existing content.
Once you have created a Jasper Art account, using the service is so simple:
Click the Jasper Art button on the side navigation bar of your dashboard
Enter a description of your image in the text-to-image section
Generate a selection of digital images to choose from and download
Who Uses Jasper Art?
So, who might be interested in generating digital images on Jasper Art?
You'd be surprised just how versatile realistic AI-generated art can prove, with applications for small business owners, bloggers, content creators, authors, and digital marketers.
Small Business Owners
Small business owners can benefit from Jasper Art because it's easy to generate images for websites, digital advertising, and much more.
Businesses can rise above the competition and a sea of stock photos with AI-generated art that captures the imagination of their customers to make a lasting impression.
Content Creators
Many content creators use social media platforms to build their brands and make a good living in our new digital era. Digital creators can use Jasper Art to create thumbnails, channel assets, graphics, memes, and more.
Bloggers
Original images made on Jasper can feature in blog posts. Relevant text prompts can ground those images in the tone and setting of your work. You can use your creations to gain more readers and add a stunning aesthetic to your blog.
Digital Marketers
Marketers can use Jasper Art to create eye-catching images that hook viewers and potential customers.
Digital marketers could make images for social media pages, email newsletters, and whatever marketing materials they can dream up.
Authors
Book cover designs can be expensive. Even finding the right image is a time-consuming task that might feel overwhelming.
The unique images created by Jasper Art AI could propel your self-published book to the top of the bestseller list for a fraction of the cost.
Jasper Art Features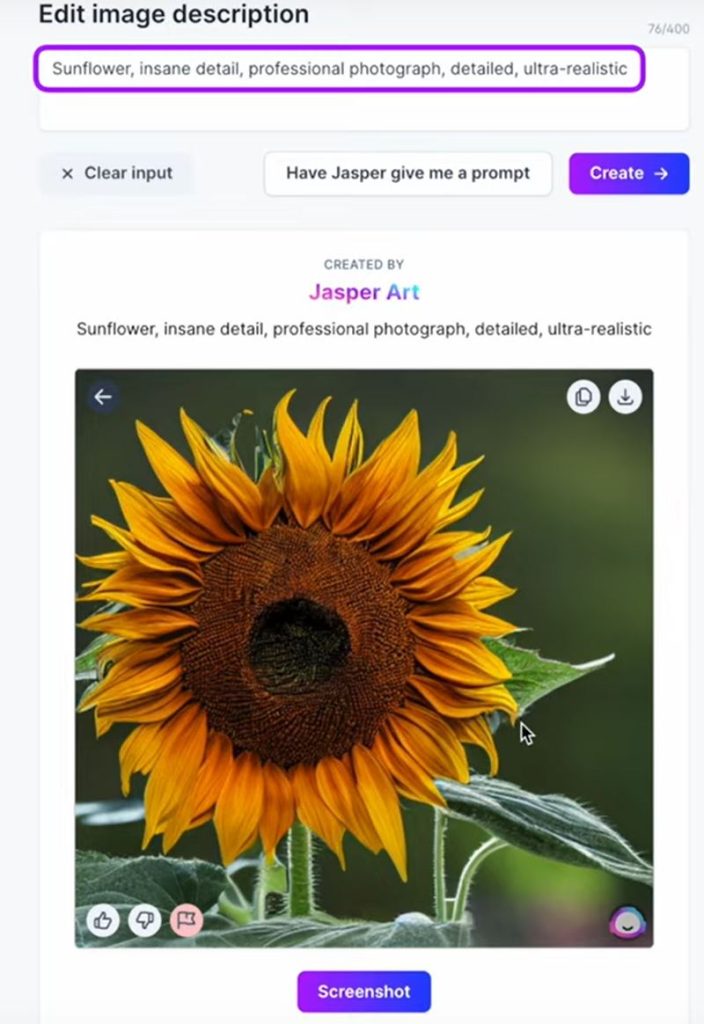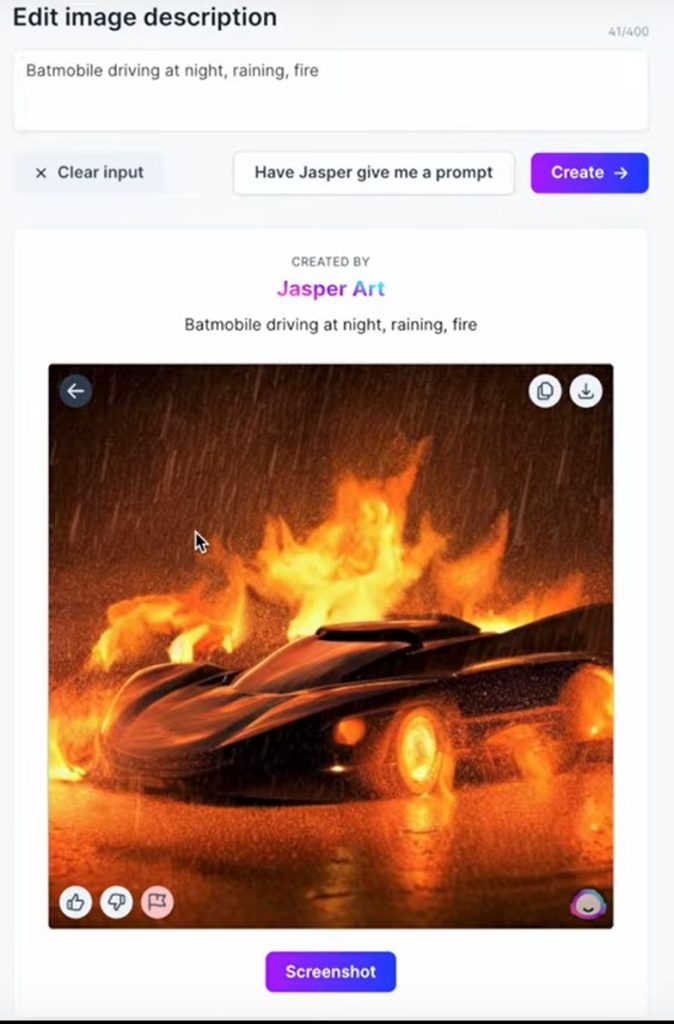 Jasper Art is intuitive and has a user-friendly interface that makes image creation easy.
While there is a bit of a learning curve to master the many features, you will be amazed at how quickly you can make one-of-a-kind images using text prompts once you get comfortable with Jaspert Art.
There are two main modes to choose between when using Jasper Art: Basic Mode and freeform. Each produces images of equal quality.
Basic Mode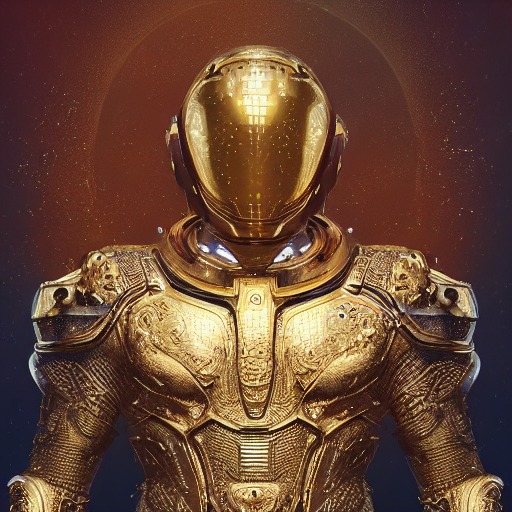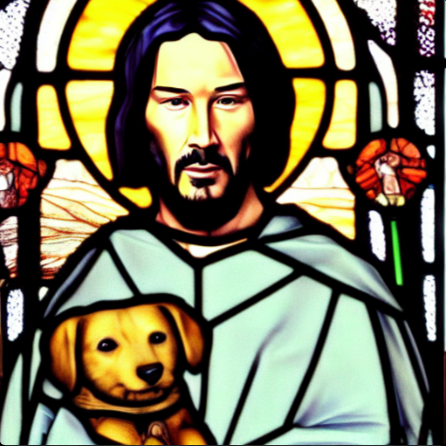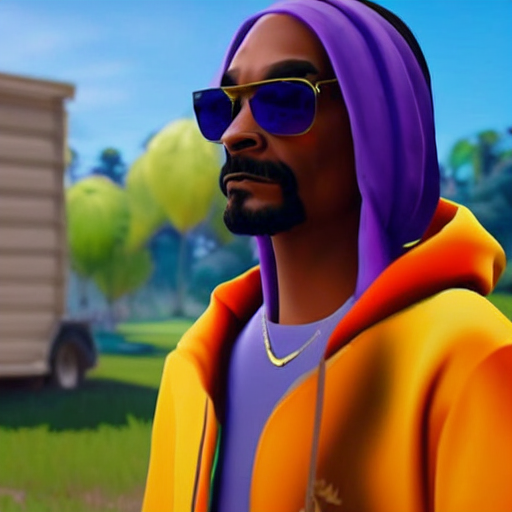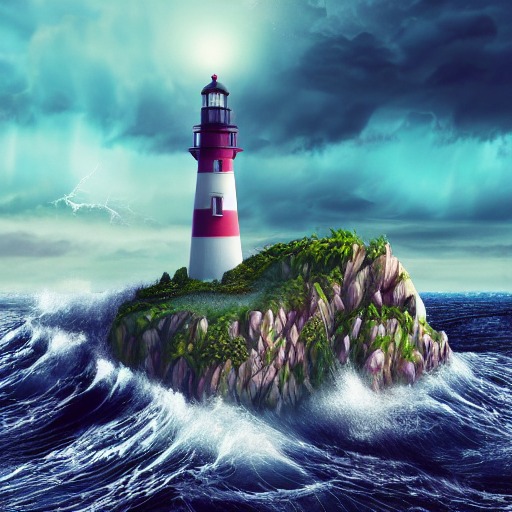 Jasper Art's Basic Mode starts with a simple image description. For example, "cat in the park."
You have a 400-character limit in Basic Mode, but it's best to keep your description simple when using it.
While a simple description works best, you also want to try and be as specific as possible. Famous characters or celebrities are okay to use, as long as they are somewhat well known with search results online.
Once you have typed your description, you will find several drop-down menus with further design options.
Style Options
There are 13 style options you can choose from. It influences the overall look of your image, giving you the option to have a stylish art deco aesthetic or opt for something on-trend, like pixel art. You could even take a minimalist or absurdist approach by choosing something like abstract, origami, or stick figures.
Medium
Next, you choose your medium. There are 15 different medium options to select from, ranging from canvas and modern oil painting to crayon and spray paint. Choosing the right medium can significantly impact the overall look of your AI-generated image.
Artist Style
You can choose an art style that imitates a famous artist in real life. You get eight options to play with, like Andy Warhol, Pablo Picasso, and Van Gogh. Combining this element with the myriad of other Basic Mode art features can produce remarkable results.
Mood
You can choose a mood to design your AI-generated images, and Jasper Art gives you a large selection of mood choices. As the name suggests, choosing a specific mood option can drastically alter the tone and impression of your image. So, for instance, opting for an "aggressive" or "angry" frog will produce something with a much darker theme.
In contrast, you could choose "exciting, "joyful," or "bright" to create an image that is positive and uplifting. Jasper Art's mood options are continuously being refined, thanks to machine-learning algorithms.
Keywords
Finally, you will choose keyword descriptors for your AI-generated art. Basic Mode gives you nine keywords to choose from. These will overlap with your style and media options, giving you further nuance to make your image black and white or photorealistic.
Freeform Mode
If you are familiar with AI creative prompts or have used DALL-E 2's AI, you might prefer freeform to Jasper Basic Mode.
Freeform doesn't have any filters to add after your prompts. You can use any prompt you want, using whatever language you want.
Your results may vary, but it also opens up an infinite creative space to design whatever images your imagination can dream up. Keep in mind there is still a 400-character limit in freeform mode.
Jasper Art Pricing
The next part of our Jasper Art review is pricing. Jasper Art is available for $20 per month. If you already use Jasper ai for your copywriting needs and starts at $29/month (read the full review here) you can add Jasper art to your account also for $20/month.
Nevertheless, Jasper Art lets you create unlimited AI-generated images with no hidden fees or surcharges. Compared to some of the alternative products available, Jasper Art is an affordable service that will quickly pay for itself.
Frequently Asked Questions
Do you still have more questions about Jasper Art? We have the answers to some of the most commonly asked! You can also visit the Jasper Art Help Center for more helpful info.
Who owns the Jasper Art images?
All images created when Jasper Art is in beta are considered to be subject to a Creative Commons license. What that means is that you can use the images in whatever way you wish, but the license allows other people to use your creation in accordance with the stipulations of Creative Commons.
Jasper has stated it wants to revisit the copyright issue to give users the option to have exclusive ownership of their images.
Can other people use my images?
Because Jasper Art is publicly available, the images generated there are open to the public and available for remixing.
Jasper Art and all its customers have permission to use any images created on the platform, and you can use anyone else's images, too.
What about commercial copyrights?
You can use Jasper Art-generated images for personal use or commercial use. There are no limitations on where you can use the media as long as you follow their terms and conditions.
The terms and conditions give you a permanent, royalty-free copyright license. You alone are responsible for the content generated, including its reliability, appropriateness, and legality.
Does Jasper Art offer a free trial?
You can try Jasper Art risk free for 5 days. And you can also test Jasper AI copywriting features within those 5 days. Jasper Free Trial==>
Will Jasper Art refund me after five days?
Jasper does not issue refunds for its tool after the five-day money-back guarantee period.
Instead, if you cancel the service after five days, you will have access to Jasper Art for the rest of the month.
How do I cancel Jasper Art?
If you want to cancel your subscription, go to the Billing section of your account and find the Jasper Art subscription tab. There you will find a "cancel plan" button.
Is there anything I can't generate?
Jasper Art has a content filter to detect any text the company deems unsafe or sensitive, so some themes and content will not be generated.
You can learn more about the content filter on Jasper's official website.
Tips and Tricks
The sky's the limit with Jasper Art, but you could get even more out of your AI-generated images by following the tips below.
Be Very Specific
The more specific you are with your text prompts, the better your results will be. Since Jasper uses machine learning, specific details can help it better interpret your text and generate an image you love. For instance, rather than typing in "frog," you could instead input "frog sitting on a leaf in a swamp." That is more likely to yield the best results.
Fine Tune Your Results
Make sure you take advantage of all the modifiers. Test them out and get used to their effect before using them, so you produce an image that is most consistent with the one in your head.
Look to combine this approach with a highly specific prompt to get the most out of Jasper Art.
Use Several Keywords
If you can't seem to generate the image you are looking for, try to use more keywords to get a better result. Be sure to separate each keyword with a comma.
Try New Methods
Don't be afraid to experiment and take full advantage of Jasper's flexibility. You can let your creative impulses run wild, so don't worry about not getting a finished product on your first try.
Use Jasper ai Copywriting
If you need image description ideas, you can use Jasper headline generator or paragraph generator to get great descriptions that will generate great images.
Check Out the Jasper Art Gallery
Jasper Art has a thriving online community, so consider exploring it if you need a little creative inspiration from the best AI-generated pictures around.
All the art is separated into categories so you can find whatever you need without any hassle.
Alternatives
AI-generated art is a relatively new concept, but Jasper Art is not the only platform out there.
If Jasper Art doesn't sound like a good fit for you, several alternatives have similar features. Read on to learn about some suitable Jasper Art alternatives.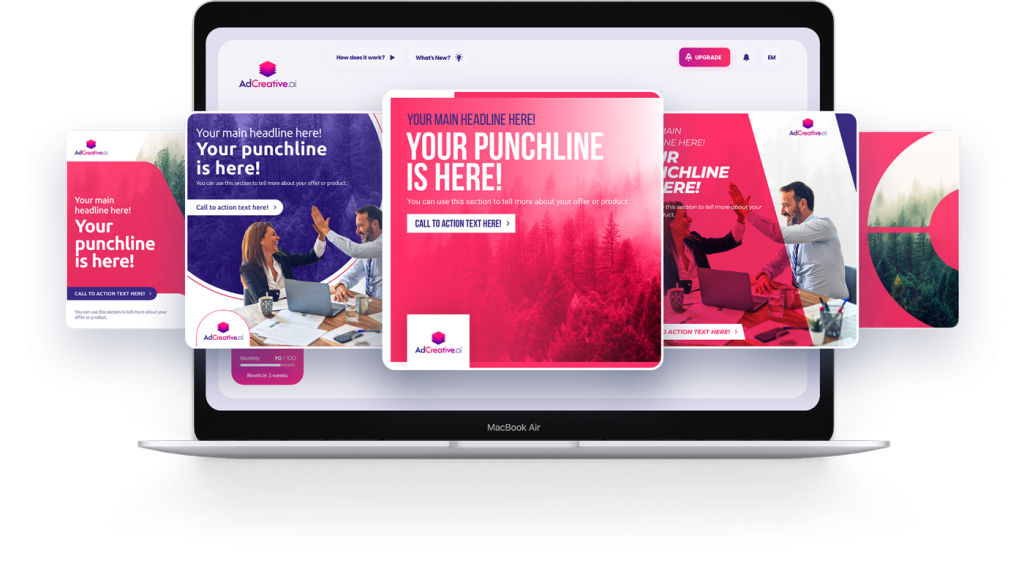 AdCreative specializes in AI-powered digital graphics like creatives and banners. These images are generated by highly trained AI and produce conversion-focused ads in minutes. Using AdCreative could elevate your brand and transform your digital marketing strategy. With a few clicks of your mouse, you can create professional-looking banners and creatives for any advertising platform.
AdCreative lets you create more than 100 creatives in seconds without any graphic design skills. These could be used for Google Ads, Linkedin, Twitter, Facebook, Instagram, or Pinterest. The company maintains four price tiers, with higher levels offering additional features and perks:
Starter: $29 per month
Premium: $59 per month
Ultimate: $99 per month
Scale Up: $149 per month
You can try AdCreative AI for free for seven days and cancel anytime within that period without incurring any fees.
Hypotenuse.ai
Hypotenuse.ai delivers highly personalized, unique digital images using text descriptions like Jasper Art. This AI is trained and guided by professional graphic designers and artists. It has access to millions of online images and can create any picture from scratch. Simply input your description, point, click, and generate. Hypotenuse AI understands how to create relevant images based on your prompts without stealing or duplicating.
This AI is not the best at creating faces, but the team is working to resolve the issue. They offer different styles and aesthetic choices like "Cyberpunk," "Pixel Art," "Photorealistic," "Cartoon," and "Abstraction." As with several other platforms, Hypotenuse.ai has various tiers to offer users the most flexibility:
Starter plan: $29 per month
Growth plan: $49 per month
The growth plan gives users unlimited creations and priority email support. Both tiers are watermark-free. If you pay annually, your subscription is free for two months.
Hotpot.ai
With Hotpot AI, you can create art with ease, including illustrations, images, and paintings. To start, you type in the description of your image, and Hotpot's AI Art Remixer helps you bring your unique creation to life. Hotpot even provides an AI Art and Image Generator Guide so you can discover custom style templates and handy creation tips for your AI-generated images.
You can use the Hotpot AI image generator for free, but you may experience slower request responses. In contrast, paid users tend to get their images in 20 seconds to two minutes.
Buying credits allows for faster wait times as paid users subsidize free-to-use functions for all. You will need to purchase credits if you plan to use an image for commercial purposes. Images created with credits are considered licensed images. Free users are required to credit Hotspot AI.
The Big Picture- Jasper Art Review
Jasper Art has opened the door for those who are looking for realistic and photorealistic images fast. It offers a vast library of styles and mediums to choose from. Our Jasper Art review found the versatility of the platform and its ability to produce AI-generated art in minutes advantageous for bloggers, marketers, content creators, and anyone who wants to harness the power of AI.
Moreover, Jasper Art has a base price without hidden fees or gated features. You won't have to rely on searching through stock photos for subpar images. With Jasper Art, if you can imagine it, you can create it. If you want an infinite supply of AI-generated art for an affordable monthly price, we recommend testing Jasper free for 5 days ==>