ClickFunnels 2.0 Review: Is it Worth The Upgrade?
Last Updated on September 16, 2023
If you are in the marketing space there's no way you didn't cross paths with clickfunnels. The company coined the term sales funnels and built an amazing community of loyal fans in a very short period of time. But over time as competitors entered and some parts of the software were just outdated and overpriced, there was need for a change.
That's where ClickFunnels 2.0 cam into the world in October of 2022. In this review I like to go over the top features of clickfunnels 2.0, pricing , pros and cons and how it can help your business.
Exploring the Features of ClickFunnels 2.0
Visual Funnel Builder
It's no secret that visuals are much more easier to "digest" by most people. The new visual funnel builder shows you exactly how the customer/lead journey looks like. You can also trigger different actions based on customers behavior and optimize your funnel.

Landing Page Builder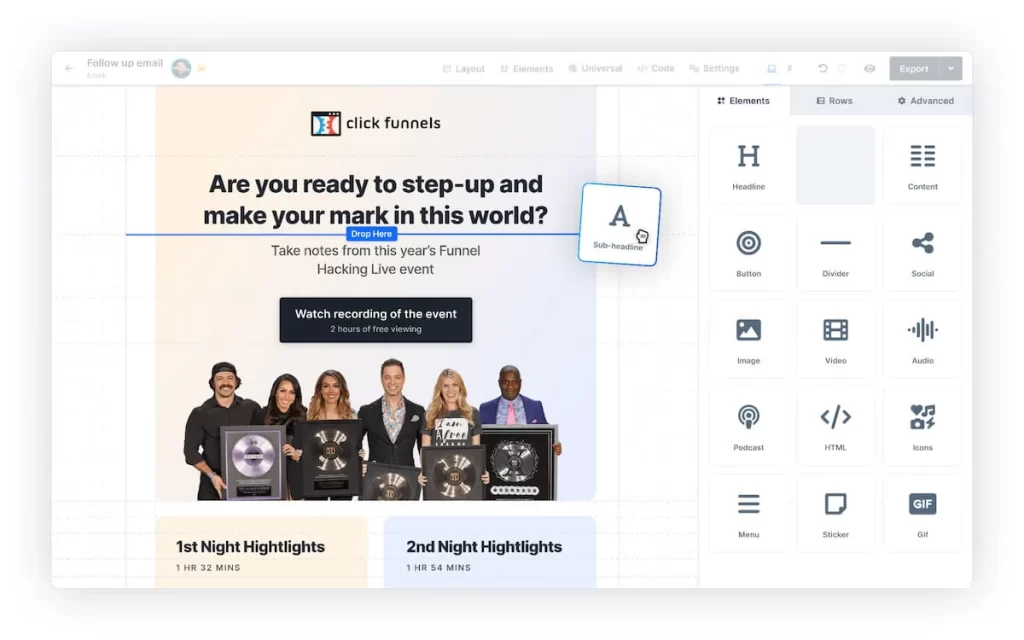 Not much new here, the drag and drop editor was upgraded, plus new landing page templates to collect leads and sell your offers and services. If there's one thing Clickfunnels always did a good job at is the sales funnels/landing page builder.
New and Improved CRM

Every business needs a CRM no doubt it, the new CRM in clickfunnels now lets you track your customers journey much better. You can see how each and every customer is being managed (Phone calls , emails, appointments, lead scoring). Also lead/customer opportunities are presented to you in a clear and easy way- where the customer is in the sales pipeline? have they made a purchase yet? if they have can I upsell them? If a lead left their details and didn't respond to emails , maybe call them. And so on.
Ecommerce Store Builder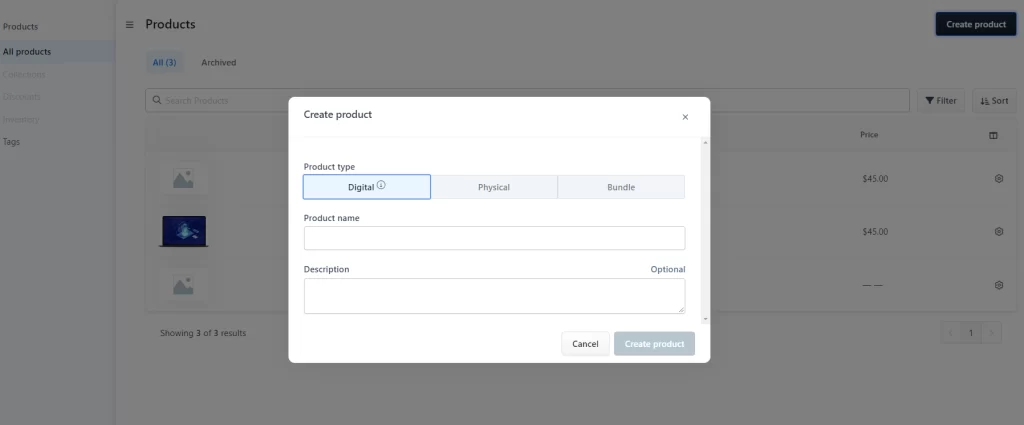 One of the major new features in CF 2.0 is the ecom store builder. This is a much more complete solution for eCommerce businesses compared to CF 1.0 version. You have everything you need from creating product pages, manage inventory, create coupon codes, upsells flows, shopping cart builder. Definitely looks like they're trying to bite into the customers base of the established eCommerce platforms like Shopify, Weebly, Woocommerce etc.
The Course Creator

The new course creator allows you to create and launch online courses quickly. Clickfunnels new course creator provides a variety of ready to use templates that users can choose from to create their courses. Users can also create their own templates and sell them to others. ClickFunnels allows you to schedule courses to be published on specific dates and drip content to customers over time. Also you can manage user enrollment directly inside courses, modify user access, and see a user's completed sessions. When building a course in ClickFunnels, users can take notes on each specific course lesson inside the software for internal use.
A/B Testing
Split testing is an important feature for any marketing professional. You always want to test new variations of your offer in order to improve your conversion rates. The A/B testing feature is very user friendly and lets you choose traffic distribution while displaying the stats of each version but that feature also available for testing email subject lines which is a nice addition. In my opinion they should have added another testing option , meaning A/B/C testing as well as automatically choosing a winner based on per-defined criteria.
Blog Builder

One of the reasons a lot of "old" users of Clickfunnels never abandoned their WordPress sites is due to limited SEO features and blog creation options. While I still think WordPress is still a superior option for running a blog especially due to SEO reasons. This new feature is a good onattempt to capture new audiences and trying to get more users to rely solely on clickfunnels.
Customer Center

The customer center is where customers can view and manage all their products/purchases, get updates, contact support and manage billing and contact information. It's like a CRM but for the customers.
Analytics Dashboard

The new analytics dashboard is very appealing visually. Here you can view statistics about your A/B test, product sales, conversion rates etc. One new analytics features added is real time analytics.
Email Marketing Tools and Automation workflows
Email marketing is still one of the most profitable channels for businesses. Clickfunnels 2.0 makes the integration of email campaigns directly into your sales funnels very easy. Some of the main email marketing features:
Drag and Drop builder.
A/B testing of email and subject line variations.
Autoresponders (also known as followup funnels)- Automated email sequences.
Newsletters (brodcasts).
Templates– Variety of email templates to choose from by categories.
The automation workflow lets you create simple as well as complex workflows to optimize your marketing campaigns. For example, if a customer signed up , send him a welcome email, if he clicked put him/her in a segment of engaged leads.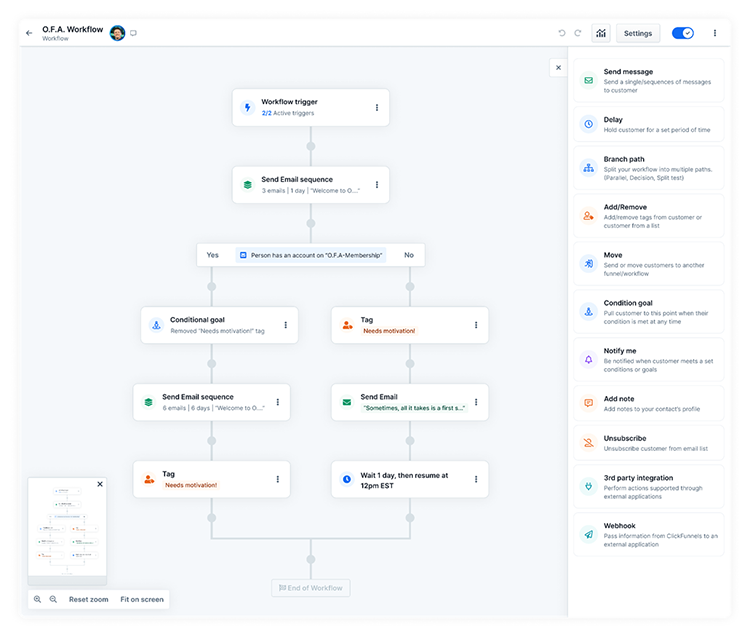 Creating Membership Sites with Ease

The idea of building a membership site might seem daunting but not when using Clickfunnels 2.0. This feature is most useful generally for course creators. Here you can create a membership area and manage members content, products, and offers.
Affiliate Program Management
A lot of businesses today are discovering the power of running an affiliate program. Clickfunnels gives you the tool to run your own affiliate program. You can create affiliate area, set commission rates, payments, promo tools. You should have everything you need to run an affiliate program. This feature is not available though on the basic plan.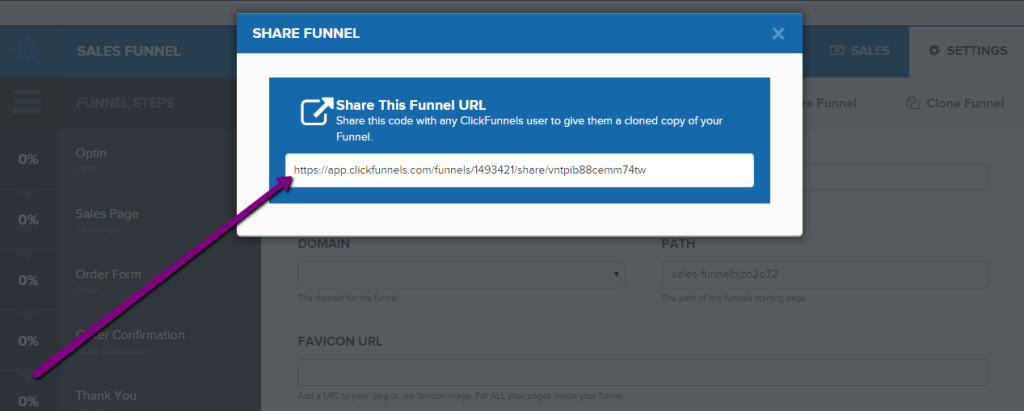 One of the most popular features of clickfunnels 1.0. Aside from being able to copy a funnel for your own purposes , you can also share it with others (a friend, a client, your community members and so on). A lot of funnel hackers use this feature to share popular funnels and drive affiliate sign ups and revenue as clickfunnels affiliates.
Pros and Cons of Using ClickFunnels 2.0
If you're considering using ClickFunnels 2.0, it's essential to weigh the pros and cons. The right tool for your online marketing needs should be both easy to use and powerful enough to handle all your requirements.
Overcoming Coding Challenges with ClickFunnels
ClickFunnels stands out for its simplicity, making it possible to create professional-looking pages with no coding experience required. Building landing pages or sales funnels usually requires a decent understanding of coding, in the age of no code software you can achieve almost any online task using a drag-and-drop editor.
Despite its user-friendliness, this may not be ideal for experienced users who want more customization.
The Pros
No need for any technical skills: Whether you are an experienced marketer or a beginner trying out digital marketing tools for the first time; ease-of-use will always top the list when we talk about clickfunnel's strengths.
Full marketing suite: From building custom landing pages/sales funnels from scratch through A/B testing features that help improve conversions rates, advanced CRM , analytics and eCommerce functionalities – everything seems pretty straightforward and accessible on the new platform.
The Cons
Limited Customization Options: While beginners may love how user-friendly things are, more experienced marketers might find the limited customization options a bit frustrating.
Cost: While ClickFunnels 2.0 does offer a lot of functionality in one package, it can be quite pricey compared to other tools on the market. Basic plan starts at $147/month and is limited to 1 website and 20 funnels. That being said it does provide you with a set of tools that if each one bought separately (landing page builder, crm , email marketing software, etc) could cost you 5 times as much.
Unable to migrate from 1.0 version: If you're a Clickfunnels 1.0 user you can't migrate your funnels and landing pages to the 2.0 version (although you can import your contacts and customers). You can still continue using clickfunnels 1.0 but most of the attention and resources of clickfunnels are going towards improving the 2.0 version and it is more than likely that the 1.0 version will vanish over time.
ClickFunnels 2.0 Pricing Structure
When it comes to online marketing tools, the price tag can often make or break your decision. ClickFunnels 2.0 has 3 pricing plans.
Start Up
$127/month
1 Website
20 Funnels
3 Users
1 Domain
10,000 Contacts
Unlimited Courses
Unlimited Workflows
Unlimited Pages
Unlimited Products
Unlimited Email Sequences
ShareFunnels
Analytics
CF1 Maintenance Mode Plan
Most Popular
Full Suite
$197/month
1 Website
100 Funnels
5 Users
3 Domains
25,000 Contacts
Unlimited Courses
Unlimited Workflows
Unlimited Pages
Unlimited Products
Unlimited Email Sequences
ShareFunnels
Analytics
CF1 Maintenance Mode Plan
API Access
Funnel Hacker
$208/month
3 Websites
Unlimited Funnels
15 Users
9 Domains
100,000 200,000 Contacts
Unlimited Courses
Unlimited Workflows
Unlimited Pages
Unlimited Products
Unlimited Email Sequences
ShareFunnels
Analytics
CF1 Maintenance Mode Plan
API Access
Are you asking yourself if there's any way to try before you buy? Good news – you can try before you buy with a 14-day free trial on each of these plans. Each of these plans comes with a 14-day free trial. This way, you can test the waters before diving in. There's a way you can get a Clickfunnels 2.0 30 day free trial if you sign up to "Your First Funnel Challenge " (highly recommended, especially if you're just getting started) , " class="eafl-link">you can check it out here==>
Key Takeaway:
The main difference between the pro and funnel hacker plans is additional website funnels which doesn't justify the extra $50 a month in my opinion. If you're just getting started the basic plan is more than enough. You can always upgrade to the Pro plan.
How Online Businesses Can Benefit from ClickFunnels 2.0
Navigating the online business landscape requires effective tools to succeed – ClickFunnels 2.0 is aiming to be your Swiss Army knife for online marketing.
Making Sales Funnels Work For You
Selling products or services online? Then consider sales funnels as indispensable parts of your arsenal in capturing potential customers' interest and guiding them towards making purchases.
Think of these funnels as well-oiled machines that lead prospects on a journey where they end up converting from browsers into buyers – and eventually brand ambassadors. But building one could be tricky if not outright daunting… unless we're talking about using clickfunnels for online businesses.
You see, ClickFunnels 2.0 simplifies the process of creating and managing sales funnels. It's like having a digital marketing team at your disposal, minus the exorbitant salaries.
As if that wasn't enough to make you giddy with excitement, let's throw in affiliate programs into the mix too. With ClickFunnels' comprehensive suite, you can easily set up an affiliate program and turn customers/businesses into brand advocates – talk about hitting two birds with one stone. Just an affiliate program creation could cost you $100/Month on a platform like rewardful for example.
Key Takeaway:
Think of ClickFunnels 2.0 as your growth partner in the online business world. It's more than a tool – it's an arsenal, ready to help you craft stunning landing pages, run personalized email campaigns with ease, and perform A/B tests for conversion optimization. And that's not all. It also makes setting up sales funnels and affiliate programs a breeze.
ClickFunnels 2.0 vs. ClickFunnels Classic 1.0
Chances are, if you're a digital entrepreneur, you've come across ClickFunnels. But what's the difference between the shiny new ClickFunnels 2.0 and its predecessor? Let's get into it.
The Fresh Coat of Paint: User Interface
The first thing that'll catch your eye in ClickFunnels 2.0 is its revamped user interface (UI). It's cleaner, more intuitive, and definitely easier on the eyes than the classic version.
This doesn't just make for a prettier workspace – it also streamlines navigation and enhances productivity.
New Features to Play With
Beyond looks, ClickFunnel 2.0 packs some powerful new features under its hood too. We discussed most of these features already like Customer Center, E-commerce site builder, Real-time analytics,Funnel stats and more.
We also have 'Funnel Flix', which serves as a hub for training materials and resources to help level up your funnel game (also available in 1.0).
Speed Improvements
Remember those minor hiccups with loading times in the classic version? Well, they're history now. Speed has been significantly improved in this update because nobody likes waiting around all day for pages to load.
Moreover, issues regarding integration glitches have been addressed effectively so there won't be any unexpected surprises messing up your workflow anymore.
Ease of Use Remains Paramount
In terms of functionality though – both versions stick true to their promise; making funnel creation a breeze for non-techies. ClickFunnels 2.0 continues to uphold the no-coding-required policy that has made this tool a favorite among marketers.
ClickFunnels Classic: Still Going Strong
But let's not discount the classic version just yet. It might lack some of the new features and sleek design, but it remains reliable, straightforward, and gets the job done without fuss.
But hey, if you're all good with what you've got and value ease over newness, there's no real rush to change.
| Feature | ClickFunnels 1.0 | ClickFunnels 2.0 |
| --- | --- | --- |
| Funnel Hub | Not available | Available |
| Funnel Flows | Not available | Available |
| Universal Section | Not available | Available |
| Funnel Stats | Not available | Available |
| eCommerce Site Builder | Not available | Available |
| Cart Funnels | Not available | Available |
| Multi-User Team Collaboration | Not available | Available |
| Membership sites | Available | Available |
| Affiliate Program Creation | Available | Available |
| Funnel Flix | Available | Available |
| Marketing Automation | Limited | Available |
| Trial Period | 14 days | 30 days using this link |
| Price | Start at $97/Month | Start at $147/Month |
Clickfunnels 2.0 Reviews
Here are some reviews from across the web of clickfunnels 2.0.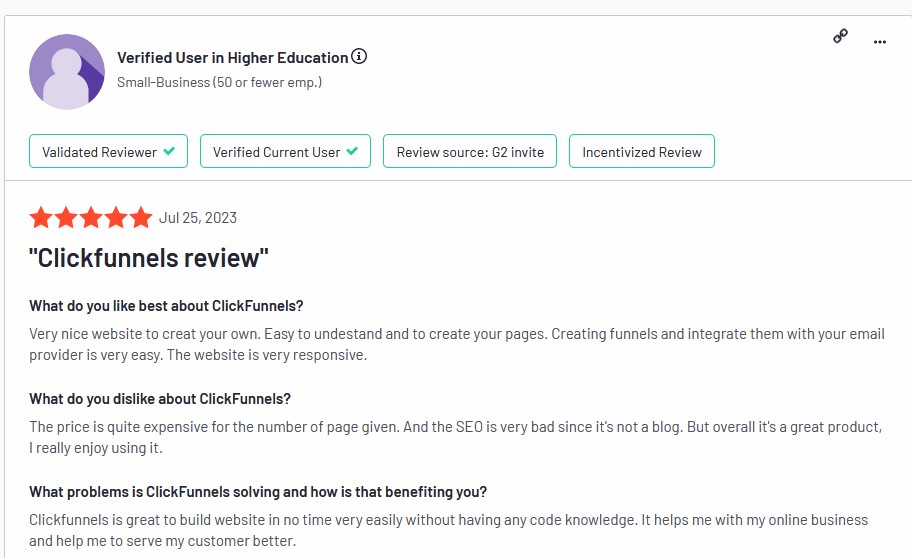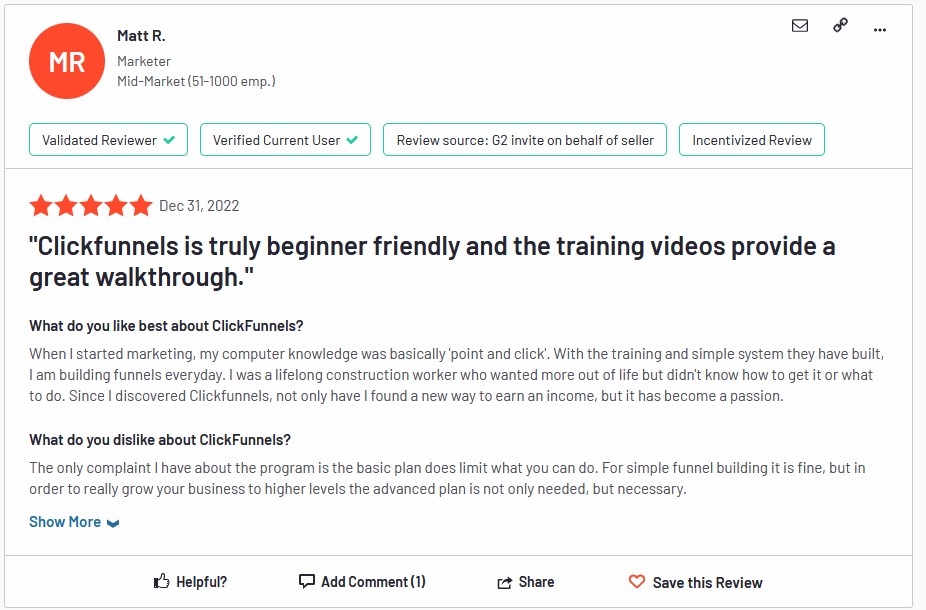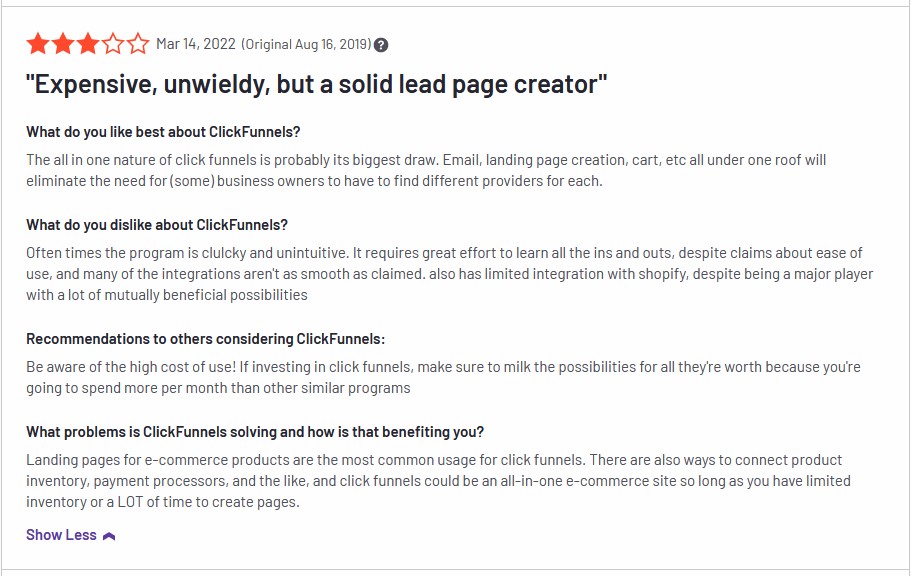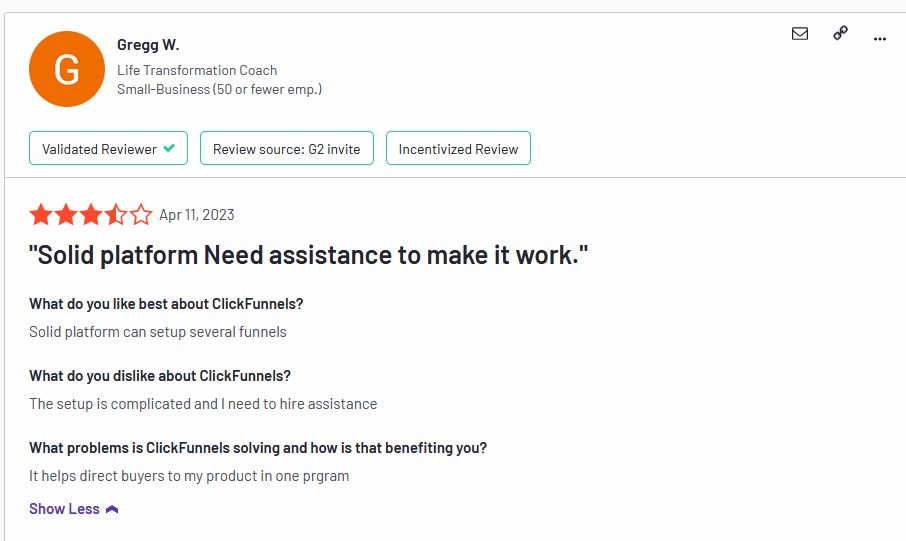 FAQs in Relation to Clickfunnels 2.0 Review
Is ClickFunnels worth the money?
If you're after a all in one marketing tool, then yes. ClickFunnels 2.0 can potentially ramp up sales and conversions. And considering the costs of all the features compounded compared to having to get them in 5 different software than it's worth the investment.
Why are people leaving ClickFunnels?
Pricing has been an issue mentioned as well as page load times. It has been reported however by users that clickfunnels 2.0 is much faster.
Is ClickFunnels 2.0 free?
Nope, there's no free version of this software—though they do offer a generous 14-day trial that lets you test-drive all its bells and whistles first-hand or a 30 days free trial when you sign up here.
When was Clickfunnels 2.0 release date?
October 2022 Clickfunnels 2.0 was launched.
Clickfunnels 2.0 Review -Key Takeaways
So, you've journeyed with me through this ClickFunnels 2.0 review.
We explored ClickFunnels' robust features, like funnel creation, email marketing, ecommerce site builder and easy membership site creation. It's clear these tools offer great value to businesses big or small.
ClickFunnels isn't without its challenges though. But remember – no coding is required!
For small businesses and online ventures alike, the benefits are obvious. Increased efficiency, boosted performance and basically a all in one marketing platform.
Ready to test drive clickfunnels 2.0? " class="eafl-link">Get an exclusive 30 days free trial here==>