Muvi One – OTT Platform Review: Pros and Cons, Pricing (2023)
Last Updated on August 22, 2023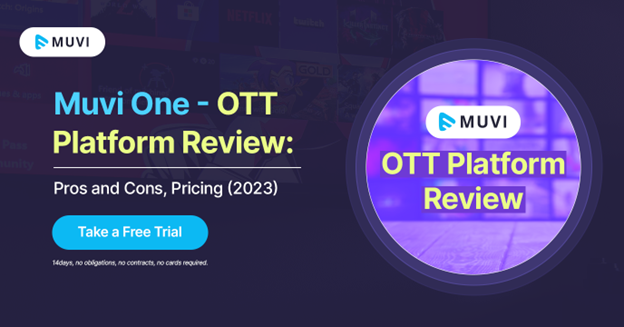 We recently reviewed the best OTT platforms. Today, we are going to do a thorough review of Muvi One – One of the market leaders amongst no-code OTT platforms, as declared by G2.
In this blog, we are going to discuss the top features that make Muvi One the global leader in this space. Also, we would let you know about Muvi One's current pricing structure, and the pros and cons. So, let's begin.
Muvi One OTT Overview
For those unversed, Muvi One is a no-code OTT SaaS platform, that provides built-in cloud infrastructure for developing and launching a white-label video or audio streaming platform without writing a single line of code. Headquartered in Ashburn, Virginia, Muvi One has been a consistent performer in this space for the past 10+ years.
With Muvi One, you will get most of the infrastructure built-in, like an AWS CDN, multi-DRM Security, encoder and transcoder, Video CMS, Meta-Data Management, Online Video / Audio Player, Monetization & Billing, as well as Website and Apps for Mobile & TV! Thus, you literally don't have to do anything, just register to Muvi One, set up your backend from Muvi One CMS, upload your content, add your logo, and you are good enough to launch your platform.
Speaking purely from a user's perspective, I personally find it very convenient and easy to use. You just need a few mouse clicks to complete the entire setup. And, as the OTT universe is expanding rapidly, you will need to develop OTT applications for multiple App OS. Muvi One lets you develop your own OTT platform for 16+ App OS Environments, including Android mobile and TV, iOS mobile and Apple TV, Samsung TV, Fire TV and stick, Roku, and the list goes on and on.
Currently, Muvi caters to customers all over the world and is the highest-rated OTT platform in G2. Thus, we can say that for Muvi One, performance speaks louder than words! Let's see what we can do at Muvi One.
What All You Can Do With Muvi One – OTT Platform Provider?
With Muvi One, you can develop literally any type of audio or video streaming OTT platform, and cater to multiple industries, including sports, religion, eLearning, and more! It is a unique platform that lets you develop an all-in-one OTT platform, that can cater to on-demand video/audio streaming as well as live streaming.
With Muvi One, you can:
Develop a complete OTT platform like NetFlix, ESPN+, or Udemy without coding
Develop Sports Streaming, Live Streaming, podcast platforms, audio streaming platform, music streaming, eLearning platform, and more!
Deliver both on-demand as well as live streaming content
Apply more than 5 monetization models
Use built-in templates to design your platform
Track the performance of your platform and content using Analytics
Manage your entire content library from a single place through MUVI CMS
Develop website & apps for 16+ ecosystems
Muvi One Top Features
Muvi One is packed with 100+ industry-leading features. You can go through the complete list of their features here. It was not possible for us to review each and every feature here on this blog, so, we have picked some of the most important features for this review.
Video CMS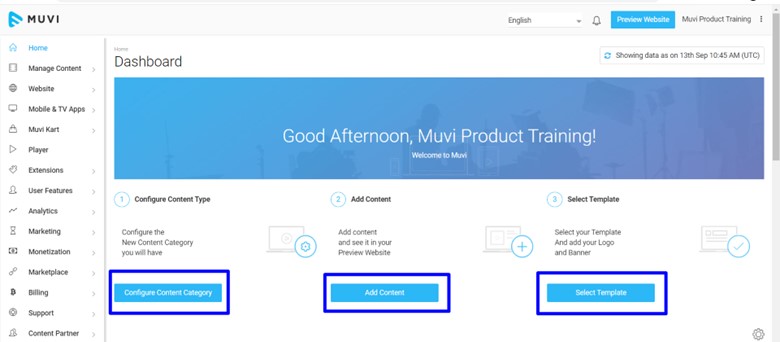 Muvi One provides you with a one-stop control center for controlling all the settings and features across all your applications and OTT platform. Using a single CMS, you can bulk upload and edit your content, manage content metadata, link related content, manage revenue and monetization, view analytics, and manage your user engagement measures from a single platform.
Some of the most dominating features of the Muvi One CMS are:
Muvi One CMS lets you import video and audio files along with their metadata in bulk, in the form of CSV files. Hence, you don't need to add or edit the content metadata individually every time.
Manage your front end, choose and edit templates, and decide the look and feel of your platform, directly from the Muvi One CMS.
In Muvi One, you can either release the content as soon as they are uploaded, or can schedule them to be released at a particular date and time. This process can be directly handled by the CMS.
Muvi One lets you link related content to each other. For example, you can link a movie video with the music album of that video. In doing so, the music album will be displayed on the movie page, below the main video. Hence, the viewers would be able to access both contents from the same page.
You can decide the monetization models that you want to set for content, and decide the priority of the monetization models too!
You can check out their CMS feature page to know more about the Muvi One CMS.
Built-In CDN & Cloud Infrastructure
If scalability and global performance are your priority, then Muvi One has something big for you. With Muvi One, you will get pre-integrated AWS CDN, which will be activated by default as soon as you start your free-trial process. Due to the highly scalable AWS CDN and robust cloud infrastructure, Muvi One claims to deliver content via 225+ points of presence to a global network of 42 availability zones connecting 16 geographic regions around the world. Hence, you can ensure a truly global presence with zero buffering and smooth access to content across the globe.
To more about their built-in CDN, click here.
Built-In DRM & Security to Protect Against Piracy
For all OTT content developers, security is a big issue nowadays. I am sure, you are also worried about the piracy attempts and mischief that are becoming more and more common nowadays.
But, if you are a Muvi One user, this threat will be a bit lower for you, due to their built-in multi-DRM protection. Muvi One's multi DRM protects your content from illegal downloads, copying, and piracy.
Muvi One's multi-DRM has the following sub-features:
Forensic Watermarking: Muvi One allows you to use cloud-based packaging services, and hence, you can apply forensic watermarking to your content. These forensic watermarks help you to track the unauthorized distribution of your content.
Dynamic Watermarking: Dynamic watermark is a type of watermark that never remains static, it keeps moving throughout the screen. It is particularly helpful if someone tries to record your content using any other device.
Protection against screen recording: You users will not be able to record their screens while watching the videos.
Offline Streaming Protection: Muvi One uses specific License keys to ensure that your videos remain protected even after they are downloaded by your viewers.
To know more about Muvi One's Multi-DRM protection, click here!
Built-in Encoder and Transcoder
Muvi One's built-in encoder and transcoder ensure a completely hassle-free content-uploading experience on your end. You can upload your content in literally any format, as their encoder is going to convert any video into their default MP4 video. Also, their transcoder auto-compresses the video files to adjust their size, hence you don't need to worry about the size of your videos too! Click here to read more about it!
Live Streaming
Muvi One supports live streaming through a camera or HLS feed. The live stream is DVR-enabled, which means that your users can pause, rewind, and replay the live video feeds. And when needed, you can schedule the live streams too!
Multiple Payment Gateways & Multi-Currency Transaction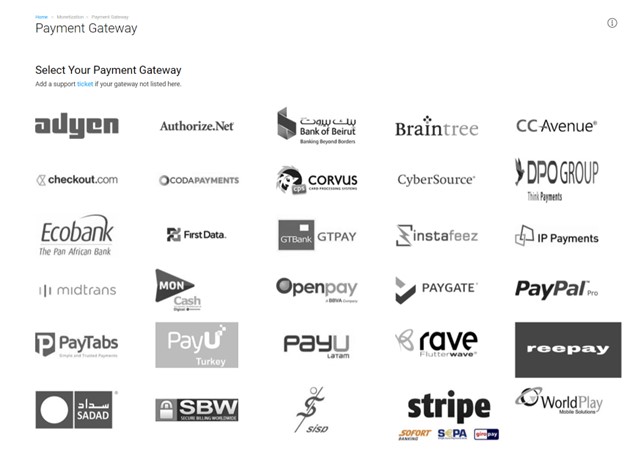 Muvi One supports integration with over 40 leading payment gateways like Adyen, Stripe, PayPal, Authorize.net, FirstData, InstaFeez, WorldPay, Braintree, Ecobank, Midtrans, Bank of Beirut, Paygate, PayU, CorvusPay, SOFORT*, GIROPAY*, Rave, PayTabs, and more! In addition to multiple payment gateways, you can also set up multiple payment modes and multiple currencies to support viewers from multiple geographies across the globe.
Click here to read more about the process.
SVOD, AVOD, TVOD, Coupons & Vouchers
Muvi One supports five amazing monetization models. You can set up subscription-based monetization (SVOD), Ad-based monetization (AVOD), ask your users to pay per view (TVOD) and provide them with coupons and vouchers. Hence, you can provide a lot of flexibility to your users in terms of payment modes, which will help them choose a plan that suits both their budget and needs. Also, these monetization models can be used in hybrid mode as well, so you can have an Ad-Supported Model along with a Subscription, similar to what Netflix has started to roll out – with an aim to lower subscription costs.
Built-in SEO Tools
Muvi One has given a lot of emphasis on developing a search-friendly website. You can add pre-defined sets of metadata to your content, which will help in enhancing the visibility of your page over the search engine. Also, you can integrate Google Analytics and Search Console into your platform, so that you can track the performance of your platform on different search and traffic parameters.
Another thing that I noticed is that Muvi One does not use dynamic URLs anywhere. All the URLs used and generated from your website are search friendly by default.
Muvi One helps you with SSL certification too! Click here to read about all the SEO features that they offer.
Built-in Analytics

Muvi One provides a dedicated analytics section in their CMS, from where you can track the browsing behavior of your viewers, content that is performing well, and the revenue you have generated. You can also integrate Google Analytics to have a more complete view on a single platform.
Geoblocking
Geo-block lets you block your website from a particular location altogether. It means, people living in that location will not be able to access your website or any of its content. Muvi One gives you two choices here, you can either block the entire website or block specific content. You can even whitelist or blacklist countries.
Device Management
Muvi One lets you control the number of devices your users can use to log in to your platform and access content. You can also decide the number of secondary devices that they can register under a single account. The device auto-delete feature will ensure that any additional secondary device will get auto-deleted after a specific duration of time. Click here to check out everything you can do with their device management feature.
Single Sign On
Single Sign On is a very convenient and trending feature, which is often demanded by many customers. Muvi One allows your customers to use a single login credential to sign in to all the applications. Also, they don't need to type the username and password separately every time. They can simply log in with a single click.
Currently Muvi One is integrating Single Sign On using SAML 2.0 (Security Assertion Markup Language) via COMCAST, MiniOrange, and WTVE identity provider and integrates OAuth 2.0 via Azure, Google, and Apple. Hence, this process is secure and seamless.
User-Generated Content
UGC (User Generated Content) is a very unique feature of Muvi One. Using this feature, you can allow your end-users (that is your viewers and subscribers) to upload their content to your platform. In fact, you can check the content before they are live, and if you are satisfied with its quality, you can publish them on your platform.
It is one of the very innovative features through which you can interact with your consumers directly, and provide them the platform to showcase their content too!
End User Support
Of all the features that Muvi One offers, I personally like this one the most. Being an OTT entrepreneur, one of your biggest concerns is providing help and support to your customer. Muvi One ease out this process for you.
They have developed a robust ticketing system and end-user support system, where their support executives handle the queries of your end users, and resolve them within a specific ETA. This support is available to your end user 24x2x365, and they can access the support system through chat, calls, emails, and the centralized ticketing system called Tattle.
Muvi One Pricing Plan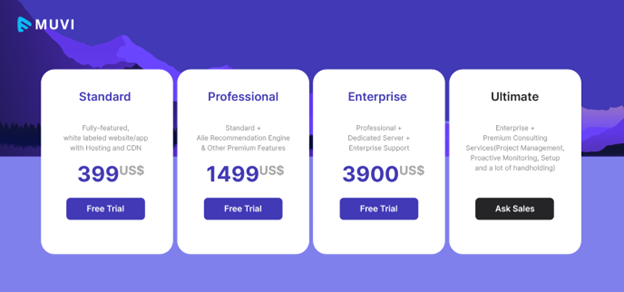 Currently, Muvi One offers 4 pricing plans, which are discussed below.
Standard Plan
With Muvi One Standard Subscription, you get a Fully-featured, white-labeled website/app with Hosting and CDN.
You need to pay $399/month. Also, if you need additional infrastructure, then you need to pay some additional charges accordingly.
Also, if you need more apps for your platform, you will have to pay $299 per app per month.
With this plan, you will get Unlimited Content, Users, a Shared Hosting Server, 2000 Concurrent Users, 1TB/mo Bandwidth, 1TB/mo Storage, 2 Admin accounts, Shared CDN, Monetization Engine (Includes SVOD, TVOD/PPV, AVOD, etc.).
Encoding will be free for up to 500GB/month, after that, you will be charged $0.5 per GB. DRM Charges will be $0.01 per view
Professional Plan
With Muvi One Professional Subscription, you get all the features of the Standard plan along with additional benefits like Alie Recommendation Engine & Other Premium Features.
You need to pay $1499/month. Also, if you need additional infrastructure, then you need to pay some additional charges accordingly.
Also, if you need more apps for your platform, you will have to pay $499 per app per month.
With this plan, you will get Unlimited Content, Users, a Shared Hosting Server, 10,000 Concurrent Users, 2TB/mo Bandwidth, 2TB/mo Storage, 5 Admin accounts, your own CDN, Monetization Engine (Includes SVOD, TVOD/PPV, AVOD, etc.).
Encoding will be free for up to 1 TB/month, after that, you will be charged $0.5 per GB. DRM Feature will be free for this plan.
Enterprise Plan
With Muvi One Enterprise Subscription, you will get all the features present in the Professional plan along with additional benefits like a Dedicated Server and Enterprise Support.
You need to pay $3900/month. Also, you will have to pay additional infrastructure charges if needed.
For more apps, you need to pay $499 per app per month.
With this plan, you will get Unlimited Content, Users, a dedicated server with auto-scaling, 50,000 Concurrent Users, 5TB/mo Bandwidth, 5TB/mo Storage, 10 Admin accounts, your own CDN, Monetization Engine (Includes SVOD, TVOD/PPV, AVOD, etc.).
Encoding will be free for up to 3 TB/month, after that, you will be charged $0.5 per GB. DRM Feature will be free for this plan.
Ultimate
The ultimate plan is the most coveted subscription plan of Muvi One. In this plan, you will first be meeting the sales team to decide on your requirements and what type of platform you need. Based on the discussion, the sales team will deliver a subscription plan with all the features currently available on Muvi One that are essential for your business. This means, you will already be getting whatever you get with an Enterprise plan, and in addition, you will be provided with additional benefits, whatever you need for successfully running your business.
For more details on the pricing structure of Muvi One, you can visit their pricing page.
Muvi One Pros and Cons
Muvi One OTT Platform has multiple pros, but a few cons too! Let's discuss them one by one.
Muvi One Pros:
With Muvi One, you can develop any application. They cater to some of the most unique but popular OS environments like Samsung Tizen TV, LG TV and WebOS, Roku TV, VEWD TV, Fire TV, or even the Ayoba App Market Space! The solutions for these OS environments are not easily available in the market. For me, this is one of the biggest pros of Muvi One.
Another unique feature of Muvi One is the user-generated content. You can let your users create content for you! Isn't it amazing!
Security is one of the biggest USPs of Muvi One. This platform probably has the most robust security infrastructure with multi-DRM protection and forensic and dynamic watermarking.
In terms of features, they are probably one of the most complete platforms, that offers everything an OTT platform developer would want to include in their setup.
They offer end-user support to your users. Hence, in a way, they are going out of the box to assist you in running a very successful OTT video streaming business.
They provide a free-trial period of 14 days when you can try all of their features free of cost.
Muvi One Cons
They are a bit expensive. But they do offer a range of features that is hard to compete with.
They could have a few more ready-made templates.
Wrapping It Up
It is safe to say that Muvi One is one of the most robust ott providers I have seen to date. Their depth of features and market coverage in terms of OS environments and industries is amazing. So, if you are looking to start your own OTT business, I highly recommend taking Muvi One for a test drive. They give you 14 days free trial and you can always cancel so there's really no risk involved. Get started with Muvi One 14 Days Free Trial ==>
FAQ
What is Muvi One?
Muvi is a cloud-based video on demand (VOD) platform that enables users to launch their own branded streaming service for movies, TV shows, and live events. It provides a range of features, including content management, monetization options, analytics, and user management tools. Muvi One is a subscription-based pricing plan offered by Muvi that includes access to all of the platform's features and tools, as well as support and training resources. Muvi One users can create and manage their own streaming service, upload and organize content, and customize the look and feel of their service to suit their branding and audience. They can also use the platform to monetize their content through subscriptions, rentals, and pay-per-view options, and track the performance of their service through the platform's analytics tools.
What are Muvi Pricing Plans?
Muvi offers 4 pricing plans at the moment:
Standard- $399
Professional- $1499
Enterprise- $3900
Ultimate- Contact sales team for custom pricing.
Learn more about each plan here==>
What is IPTV Solution?
IPTV, or Internet Protocol Television, is a technology that delivers television programming and other video content using an IP (Internet Protocol) network instead of traditional broadcast or cable methods. It's a system through which television services are delivered over a broadband connection, allowing viewers to stream content in real-time or on-demand.