10 Best High Ticket Affiliate Programs For 2023
Last Updated on October 17, 2023
If you're an affiliate, you've probably heard the saying high ticket = high commission. But what makes a high ticket affiliate program? And what are the best high ticket affiliate programs out there right now? In this article, I'll answer these questions, and also tell you which affiliate programs offer the highest commissions to their affiliates – both average and highest commission (so far this year) – so you can start taking advantage of these great high ticket affiliate programs for your business.
So what is a high ticket affiliate program Anyway?
A high ticket affiliate program is a program that offers big commission rates in order to incentivize affiliates and sell high-ticket items. Our main criteria for the list is a program that pays $1000+ per sale/ action or one that pays lucrative recurring commissions that can quickly add up to $1000+ per sale.
Why you should promote high ticket products?
High ticket affiliate marketing is a great way to earn huge commissions by promoting high ticket products. You can promote different types of products, including things like weight loss pills, vitamins, supplements and more. One of the best high tickets affiliate programs on the market right now is the Earnings Program that offers generous commission rates and an unmatchable 75% return rate.
High-ticket affiliate programs are a great way to make money because they often offer higher commission rates than low-ticket products and these types of programs can be more valuable to customers because they offer higher priced items that may last longer or provide more significant benefits.
Top best high ticket affiliate programs
Commission: 30% on every flight booked (average cost of a private jet is $1200/hour so do the math)
Cookie Life: 30 days.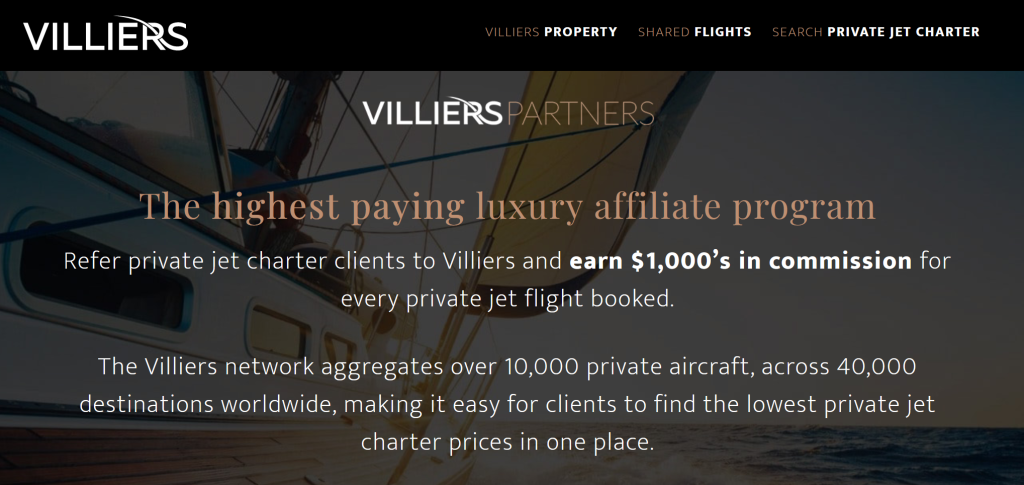 Villiers Jets offers a premium private jet experience. They aggregate a network of over 10,000 private jets and can take you to 40,000 different destinations. Flying private is not a luxury of the 1% anymore and it might even be a better deal for in some instances (flying with the whole family for example).
As an affiliate you will earn 30% commission for every flight booked plus recurring commission if that client books again. So if you have 1 client booking private flights for $20,000 in a year you will earn about $6000 from that client alone. So you can understand why it is such a lucrative affiliate program.
1 thing to note is that when applying for the program you will be required to deposit $15 which will be refunded to you once you earn your first commission. I actually like that they do that because it's a small barrier of entry to keep their program exclusive for serious affiliates.
Sign up For Villers Affiliate Program
Commission: Up to %40 in recurring commissions.
Cookie Life: 30 days.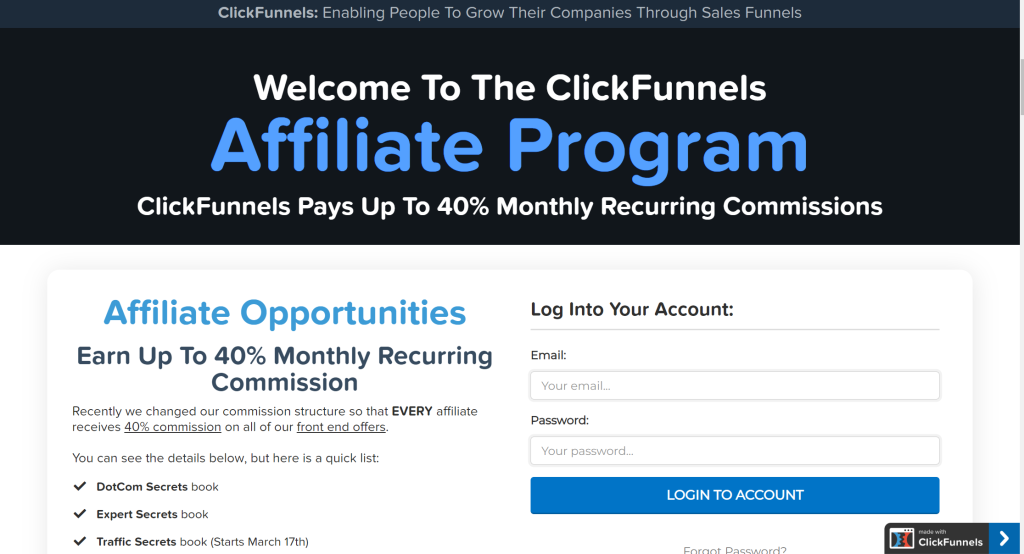 Clickfunnels is a funnel builder used by marketers, freelancers, and small business owners. They are one of the most successful funnel/landing page builders out there with over 100,000 paying customers. They have a monthly subscription of $97 and $297. New affiliate will earn 20% commission on purchases of ClickFunnels subscriptions. And once they reach $1000 in commissions they will be bumped to 30% rate. These are of course monthly recurring commissions so you earn each month the customer stays with clickfunnels. And once you have 40+ paying, active clickfunnels customers referred you will qualify for a 40% commission rate.
Clickfunnels also have what they call a "sticky cookie" and once you refer a customer you will earn commission not only for a subscription they purchase but also for other clickfunnels products:
And some of their products like the one funnel away challenge you will earn %100 commission $100 in this case. They do that because they have a very good backend and can upsell those customers to other products and services and make their money there.
So you can see how clickfunnels affiliate program can help you ramp up commissions very fast and for the long run.
Sign up For Clickfunnels Affiliate Program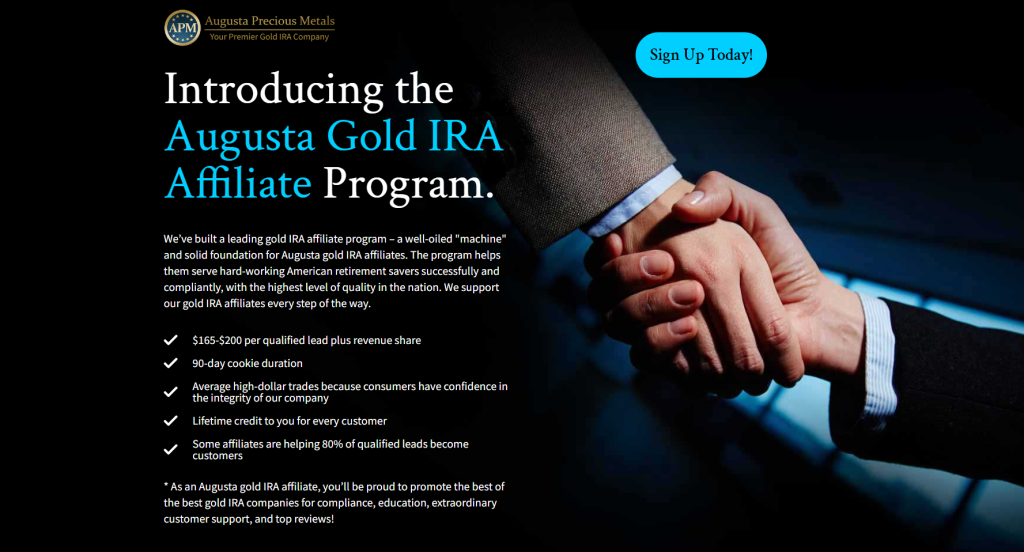 Commission: $165-$200 per qualified lead + 10% of each trade.
Cookie Life: 90 Days.
We did a full review on gold affiliate programs and Augusta precious metals is of course on that list. Augusta is a gold IRA company which helps people invest their IRA or 401K savings into precious metals mostly gold and silver. Some people view gold and silver as safer investments especially during times of inflation and recession and companies like Augusta help them diversify their retirement investments into precious metals.
The earning potential for affiliates is huge. For every qualified lead you earn $165-$200 and for every trade you earn 10% of the trade amount. Average trade in Augusta are usually around $200,000 so for that you get $20,000, not bad for 1 sale. In addition if that customer buys again you will earn again and even if a customer refers his wife, husband, relative you will earn commission for that also. They have affiliate making $500,000 a month in commissions. Definitely a high ticket affiliate program worth looking into.
Sign up For Augusta Affiliate Program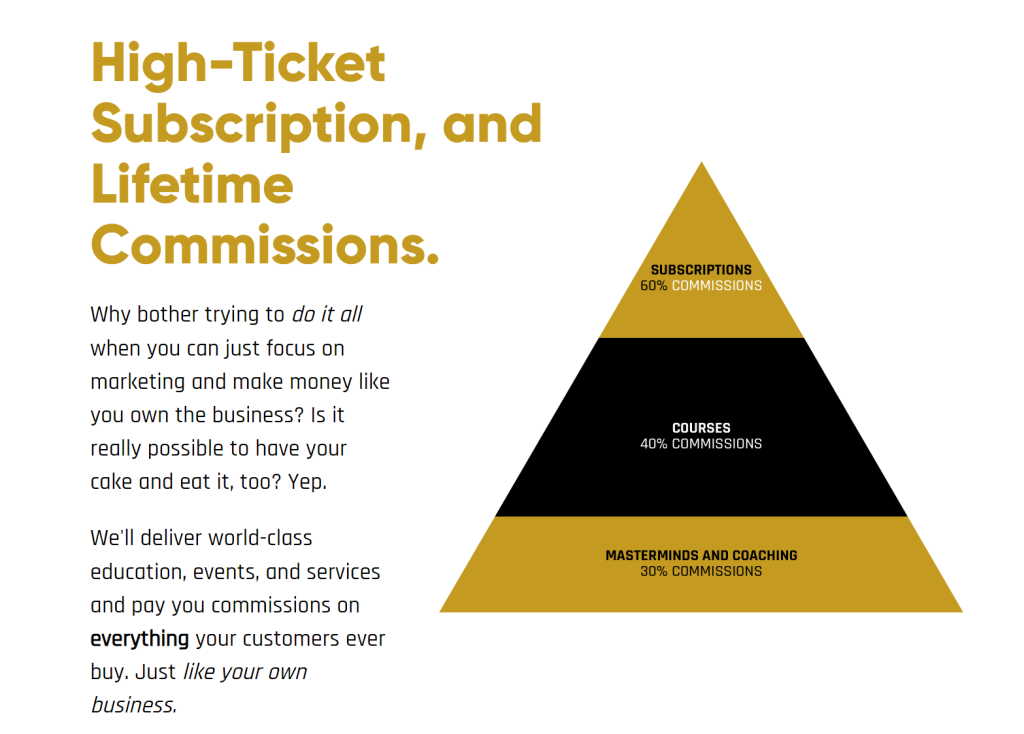 Commission:30-60%
Cookie Life: 90 Days.
Legendary marketer provides quality training in the online marketing space. They have a lot of low cost front end products and training but they have high end upsells like master minds, private training, done for you business ranging from $2500- $30,000. So while you may earn very low commissions in the beginning promoting them in the long run you could see 4 figure sales from their high end products.
Sign up for Legendary Marketer
Commission:20-30% recurring commission
Cookie Life: 90 days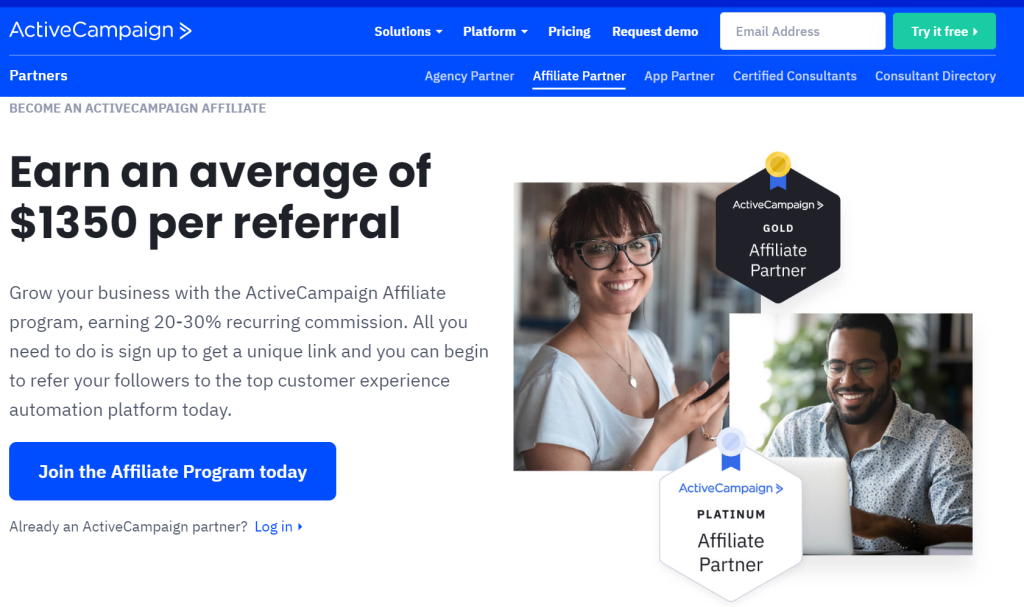 Active campaign is an email marketing and software for B2B B2C and eCommerce businesses.
If you refer a client to active campaign they are more than likely to stick for a few years which equals 4-5 figure affiliate commissions for you from just 1 client. New affiliate start at 20% commission rate and the better you do your rate will increase up to 30%. Basically there are 3 commission tiers:
Silver- New affiliates that referred at least $100 worth of new business in the last three months will earn 20% rate.
Gold- Affiliates that have referred $100 worth of new business in the past 3 months or have active accounts $500 worth will earn 25% commission.
Platinum- Affiliates that have referred $500 worth of new business in the past 3 months or have $2,000 worth of active accounts will earn 30% commission.
Sign up for Active Campaign Affiliate Program

Openscape Yachts (*Update- The affiliate program has been shut down)
Commission: %5 plus 2% for recurring customers.
Cookie Life: Lifetime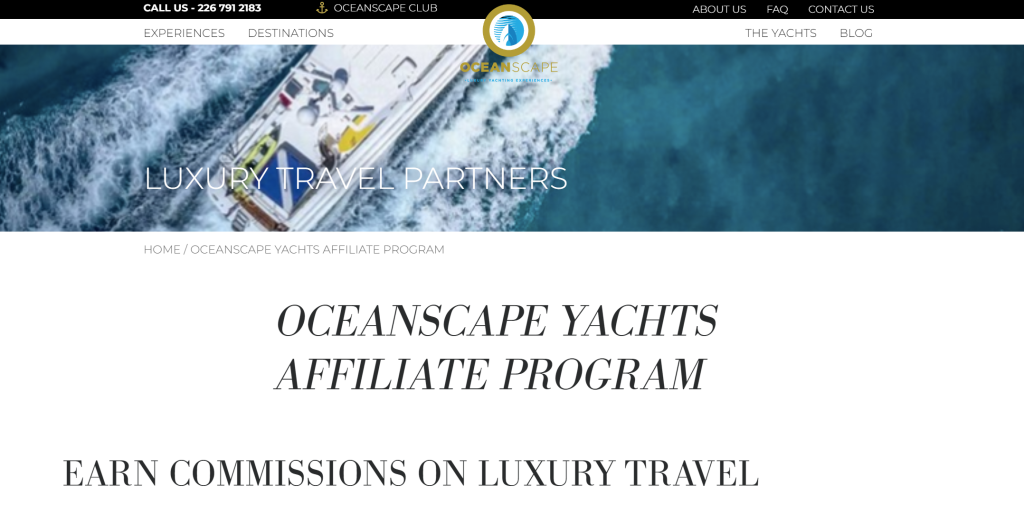 Did you know that you can make affiliate commissions by sending people to book a luxury yachts cruise? well I didn't , at least up until now. You can sail to your dream vacation on a private boat and feel like Jeff Bezos. At any case this is how you make money with Openscape yacht:
For every referral you earn 5% of the booking (The base charter rate for a week long yacht is at least $25,000 USD which means you make $1250) and 2% recurring commissions for every future booking from the same customer. Also you can earn an extra $500 per each customer who joins Openscape club premium membership.
Sign up for Openscape Yachts affiliate program

HubSpot
Commission: 15% Recurring for 12 month or 100% rate flat (first month payment)
Cookie Life: 90 Days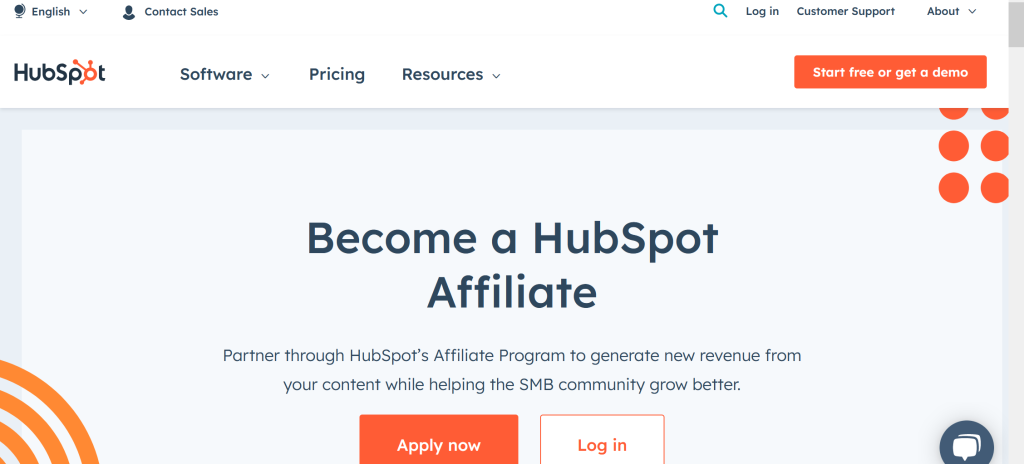 Hubspot is a all in one marketing platform that offers CRM, CMS, email marketing, automation and basically all the marketing tools a business needs. Pricing starts at $45/month all the way up to $3600/month which makes it a very lucrative product for affiliate to promote. They have great affiliate marketing portal with lots of marketing assets and tips to help you promote their product. They do require you to have a website or a content channel where you will promote their products. (Meaning you can't just send paid traffic for example directly to their affiliate link).
Sign Up to Hubspot Affiliate Program
Commission: 30%
Cookie Life: 90 days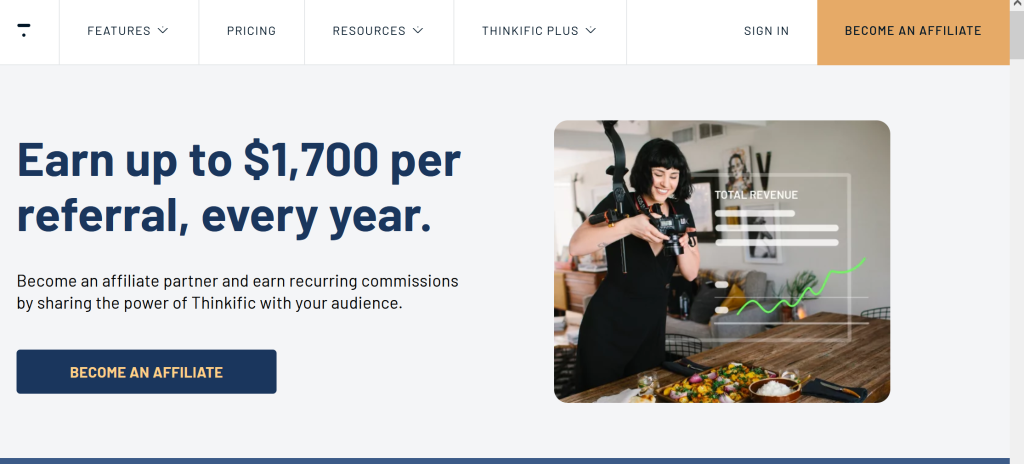 Thinkific as an online course creation platform. It is designed to help content creators, Entrepreneurs, teachers, students and business owners share their knowledge and expertise with their target audience. They provide you all the tools you need to create your online course. Drag and drop course builder, quizzes, Coupons & discounts, assignments, Live lessons, and payment processing.
Your referrals will get a free 30 days access to Thinkific platform and after that if they decide to stay will earn 30% commission of the program they purchase every month. According to thinkific you can earn you could earn up to $1700 per referral per year.
Sign Up to Thinkific Affiliate Program
Commission: %5 Per sale (capped at $1000)
Cookie Life: 14 days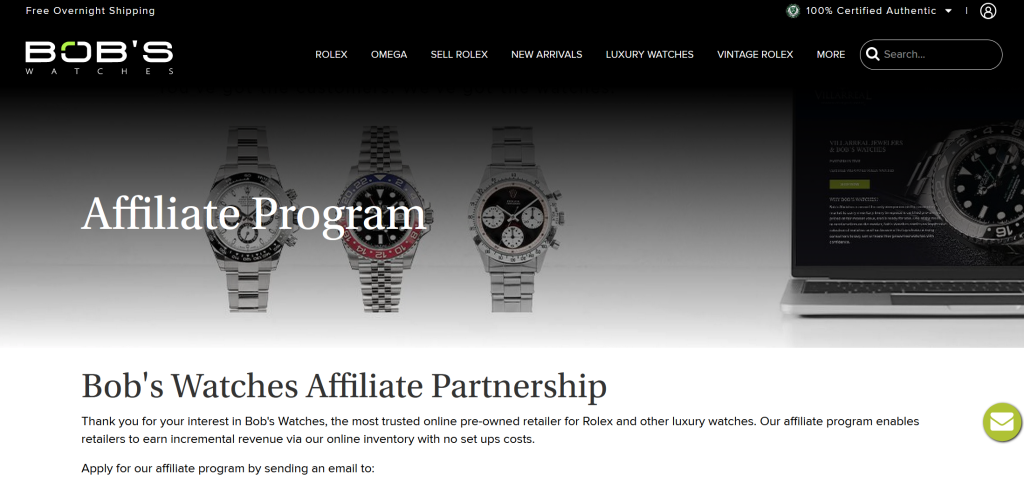 Bob's Watches is an pre-owned luxury watches marketplace. If you have traffic in the luxury or fashion business this might be an interesting affiliate program to promote. You can apply to their program via the pepperjam network and usually get approved within a few days. You earn 5% commission of each sale but this is capped at a $1000 which is kinda of a turnoff to be honest. But you can still make a nice income if you have the right traffic for it.
Sign Up to Bob's Watches Affiliate Program
Commission: $990 per sale
Cookie Life: 180 Days.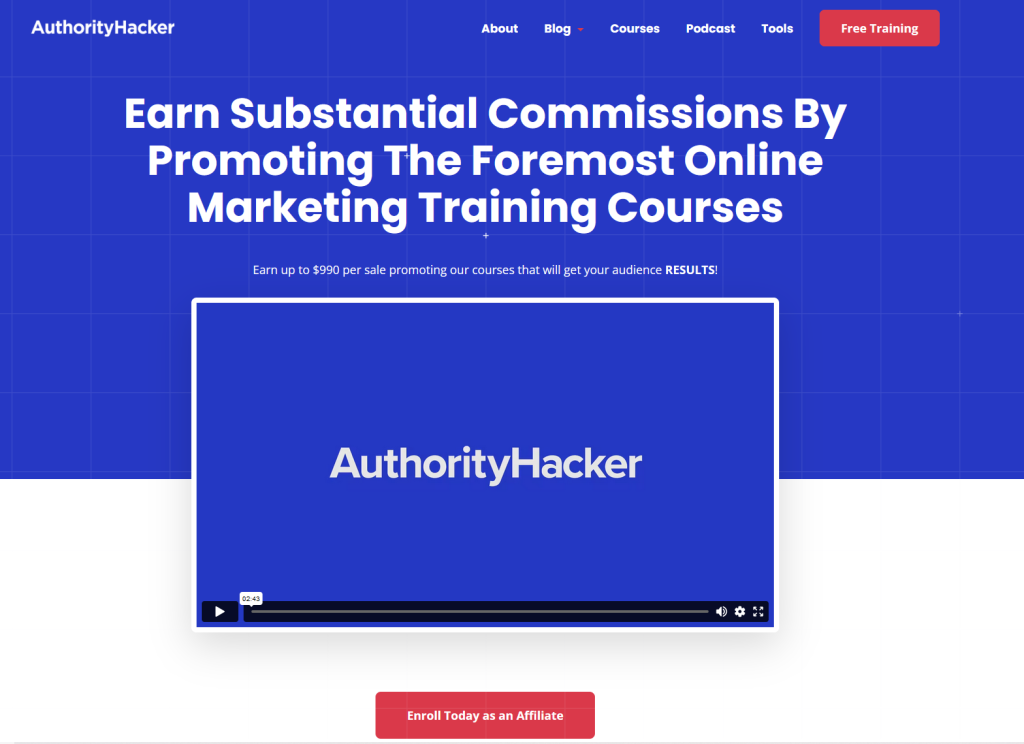 Authority Hacker is probably to most comprehensive course on how to build a legitimate authority website. As someone who went through their training I can tell you it is the most in depth training there is on how to build an authority site. They take you step by step all the way from choosing a domain through site structure, building backlinks, monetization, and building a team. You do however need to have an establish marketing channel such as an authority website related to online marketing in order to get accepted to their program .
Sign up to Authority Hacker Affiliate Program
How to Promote High Ticket Affiliate Programs?
Promoting high ticket affiliate products/services is actually not that different than promoting a low ticket item. and the basic set up is the same:
Define your target audience.
Craft a marketing message.
Create marketing assets (banners, landing pages, emails)
Create paid campaigns or SEO articles, videos.
And we can all agree that chasing a $1,000 commission is more exciting than chasing a $10 commission.
Statistics show that it takes at least 8 interactions with a potential customer before being able to close. If you promote a $10,000 item it might take more. but the reward potential is much bigger obviously.
That's why I think that if you have the budget you should invest in paid media (Google, Facebook, Twitter, Tiktok, Instagram, etc.) because you can get results much faster.
Another thing to pay attention to is how the sales/followup process of the program you promote works. You want to make sure they have a solid sales process in place that guarantees that every lead is being contacted, and followed up properly. You could easily test it by signing up as a lead to the high ticket affiliate program you like to promote. See if you get emails, phone calls, discounts etc. Basically test their sales process.
Also you want to make sure that the program you choose have a dedicated affiliate team with an affiliate portal with marketing assets and helpful information on how to promote.
Example- Promoting a High Ticket Affiliate Program
Let's take an affiliate program I really like – Augusta Precious Metals . They will pay you $200 per qualified lead plus 10% of a sale.
Whose the target audience?
45+ male or female US citizen, with at least $50,000 in an eligible retirement account- IRA/401 who is looking to diversify their retirement investments with precious metals.
What are potential marketing messages?
Diversify your retirement account.
Protect your retirement savings against inflation/recession.
The current administration is targeting your retirement savings with new taxation.
Marketing assets
Augusta has a lot of marketing assets in their portal you can use. You can also create your own landing pages, banners with your favorite software.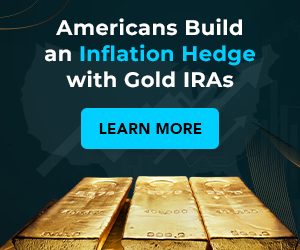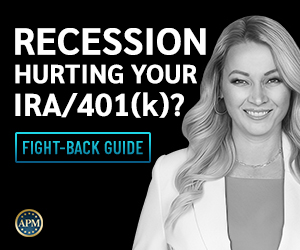 Create campaigns
You could create content around precious metals IRA (blog post, video, social media posts) or if you like faster results you could go to paid platforms like google ads and create search campaigns to promote Augusta. Going for search terms like "Best Gold IRA Companies" will probably be expensive. You could go after search terms like "best hedge against inflation" which might now be directly related but will be cheaper and has potential to generate leads in this market. Of course this is just a small example but hopefully you get the idea.
Next Steps to take Best High Ticket Affiliate Programs
High ticket affiliate marketing can increase your bottom line very fast. The effort required to promote a $10,000 products is not that much different than promoting a $10 product. Sure the $10,000 product might take longer to convert but the earning potential is much bigger. All you need to do is choose a program you like, research the product/service you like to promote and create a marketing plan. Now you have all the information you need about the highest paying affiliate programs, so you have no excuses not to take action.
Do you have experience promoting high ticket affiliate products/services? What is the largest commission you ever made? Please share it in the comments and inspire our readers!
FAQ
What is considered a high ticket affiliate program?
Usually we are talking about a program you can make over $1000 per transaction.
How should you promote a high ticket affiliate program?
You could use paid media (Search, social, push traffic) or you can create SEO content around the product/service you're promoting. You need to know the audience you're targeting, the right keywords, where you can find them and which marketing message they are most likely to respond to.
How much can you make promoting high ticket products?
Well it really depends on many factors (your experience, budget, the program). It can be 4 figures a month and it can be 6 figures a month. Some programs offer recurring commissions so you might get to these figures but it will take you longer (i.e earning $50/month commission from 1 referral for 2 years)
Is high ticket affiliate marketing legit?
High ticket affiliate marketing is a legit way to make money. But you do need to pay attention to the following things:
1. That you work with a reputable affiliate program (check for testimonials , talk to other affiliates)
2. Make sure they offer a number of payment methods from known payment platforms (paypal, wire, wise, stripe and so on).
3. They provide affiliate support (affiliate managers, promotion materials, tracking links).
4. They pay on time.